User IDs and Passwords allow you to set which constituents in Salsa CRM are set up as Salsa CRM users. These User IDs and Passwords are unique to each user.  When you assign someone as a Salsa CRM user you will also need to define their role as a user.  From viewing records only, entering donations and being the system administrator the options for your users' roles are configurable to your needs.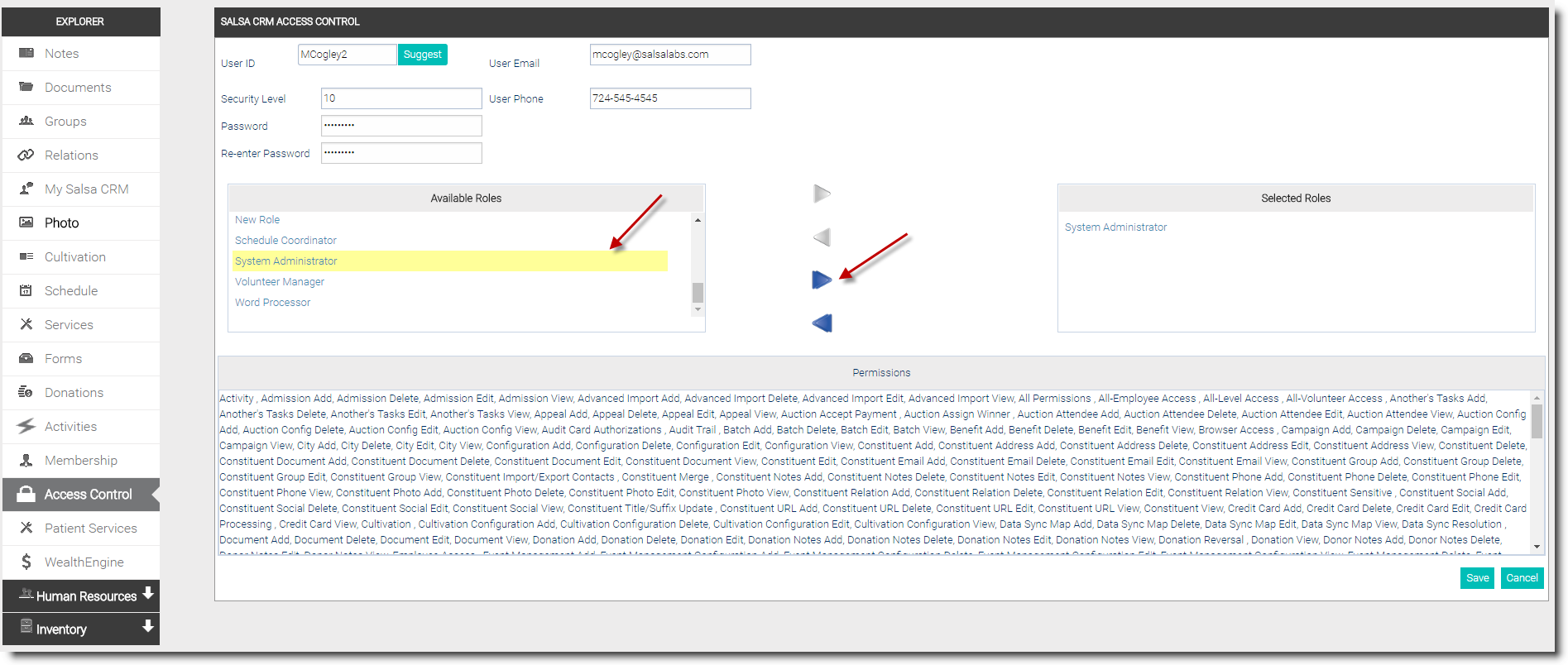 Add A New User to Salsa CRM
From the Constituent Explorer panel, select the Access Control node. The Salsa CRM Access Control panel is displayed.  NOTE:   Salsa CRM Access Control can only be accessed by someone with Access Control rights.
 Type a User ID or select the Suggest button and Salsa CRM will create a User ID consisting of the constituent's first initial and last name. NOTE:  If you use Suggest and a user has already been assigned that User ID, Salsa CRM will append the User ID with a valid numerical value. Example: You have a Constituent with the name of Jim Jones and a User ID of JJones, and then you add a new user, John Jones, and select Suggest.  Salsa CRM will suggest a User ID of JJones2.
Type a Password for the user and Re-enter the Password.  Remember the password requirements that were set in the general configuration set up.  If you assign a password that doesn't meet the minimum requirements, the user will not be able to log in.  
Under Available Roles is a list of the Roles currently defined in your system.  Highlight the Role you wish to assign to the constituent and select the right arrow button.  You may also double click on Available Roles to move them to the Selected Role column or vice-versa. NOTE:  If the desired Role is not displayed, it can be added under Role Management.  See the Roles article for instructions on configuring Roles.
The Role that you have just assigned will now be displayed in the Selected Roles column. NOTE:  Under Permissions, in the lower portion of the screen, the permissions assigned to the Role will be displayed. If you wish to remove a Role, either highlight the Selected Role and select the left arrow button or double-click on the Selected Role you wish to remove.
Select Save.