May 2021
Updated Twitter Integration for Targeted Actions!
Due to changes in Twitter's terms of service, the mechanism for tweeting legislators has changed. Previously, Twitter allowed applications like Salsa to publish tweets to multiple targets and append their Twitter handles, all with one click. Now, Twitter insists the supporter must be the one to take action for each tweet.
As before, you can provide default messaging, and supporters may personalize the content before clicking the "Tweet" button. Supporters no longer need to copy and paste the default messaging, and the content can be customized for each target. Clicking the "Tweet" button at least once per target will count as one tweet per target in the Targeted Action results (even if the supporter closes the window).
Action is required—any Targeted Action forms that include Twitter as a delivery channel must be republished for the Twitter integration to work.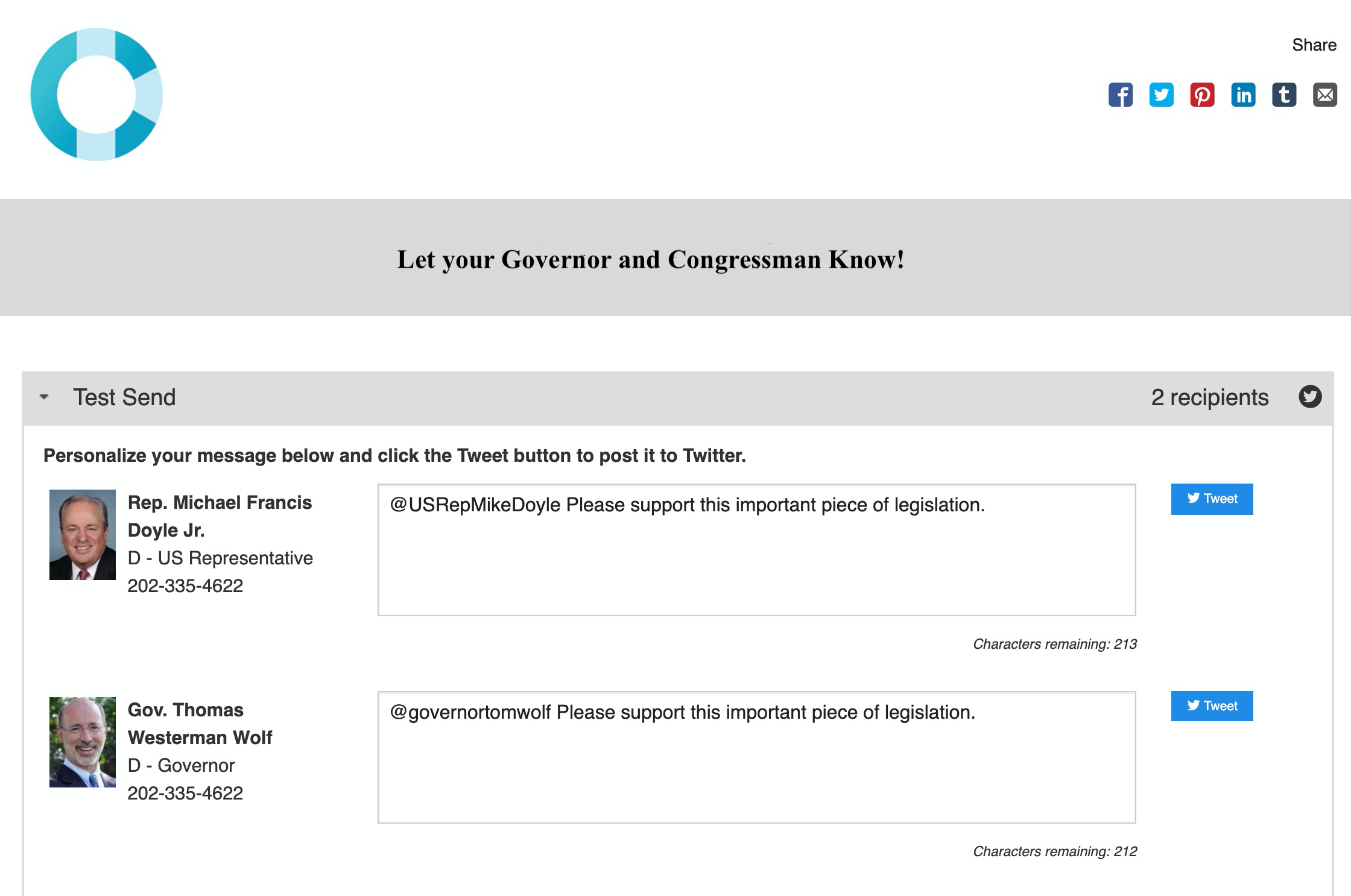 April 2021
Events Form More Flexible
You can use Engage for non-ticketed event registrations like webinar registrations. The Salsa Events public pages that your supporters see will soon refer to registration items as items instead of tickets. This change will affect active Event forms, so make sure to review your event forms to ensure that your unique content will still make sense. Again, this change will affect only what supporters see. Backend Engage Event references to tickets that Campaign Managers see will not change.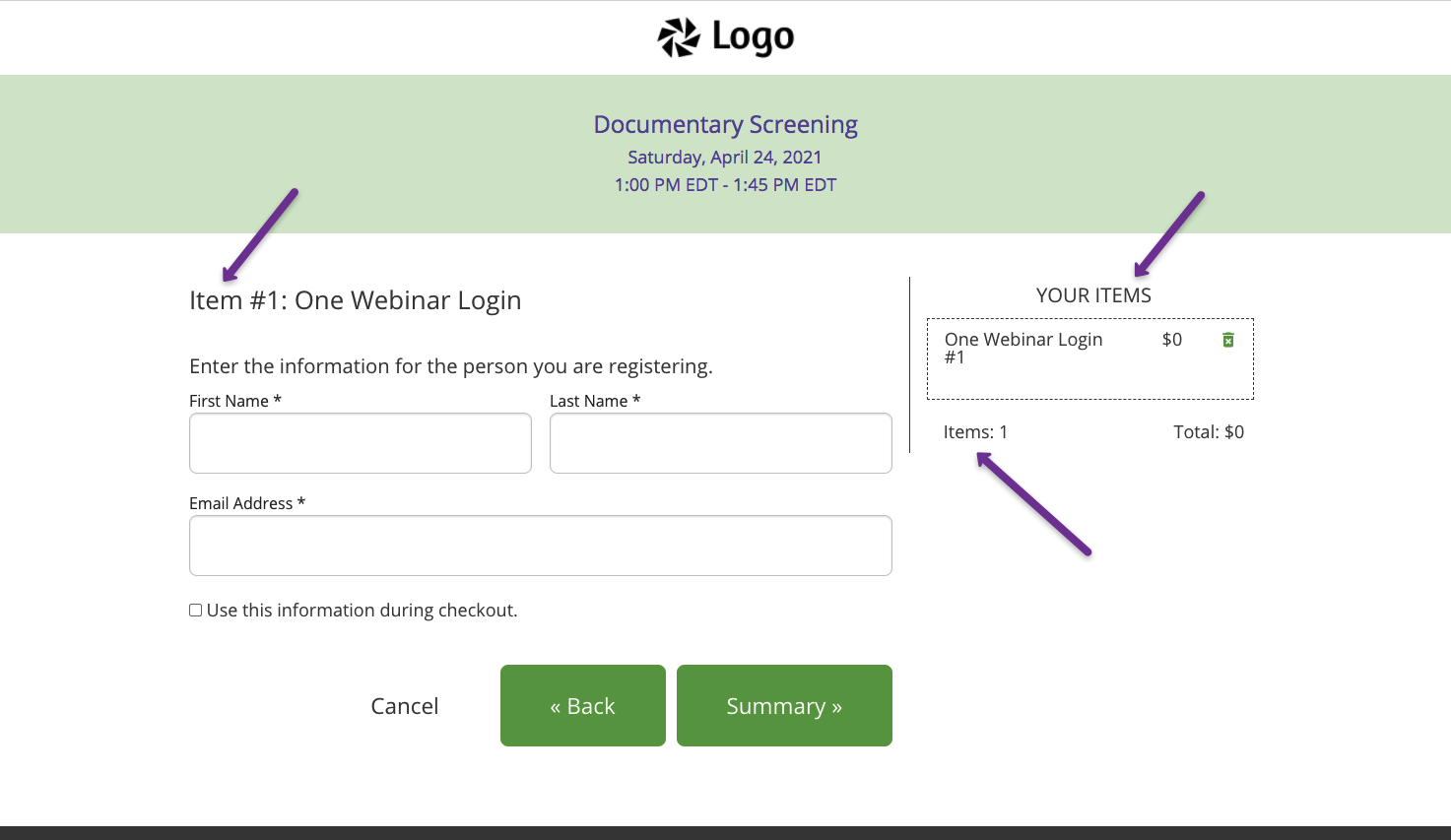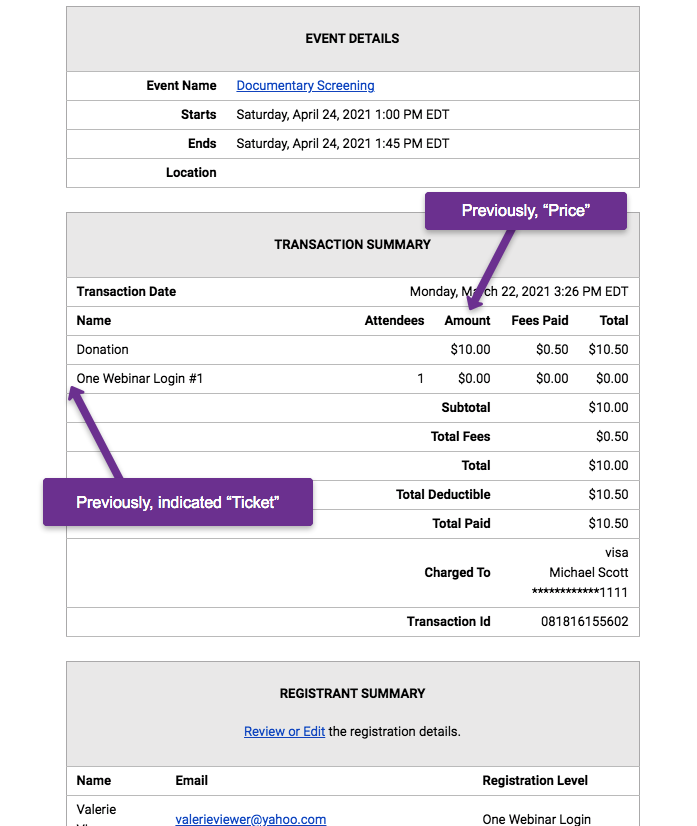 New Recurring Donation Frequency and Autoresponders
Your supporters will be able to pick their recurring credit card or e-check donation schedules by adding a form field to your fundraising forms. You will also have a new Quarterly (every three months) recurring option, in addition to Monthly or Yearly.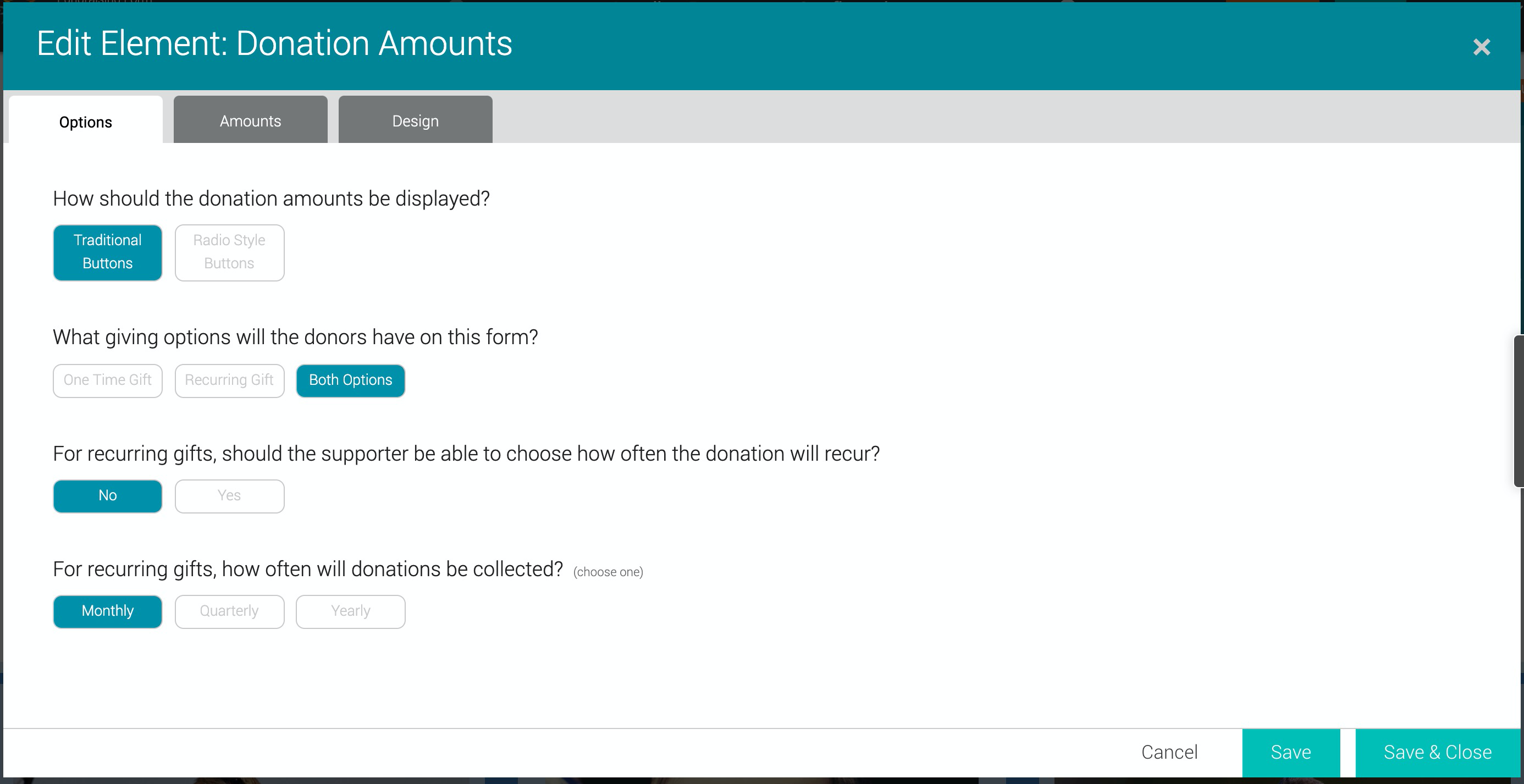 If you pass donation parameters in an email hyperlink, there will be new parameters to handle these new conditions.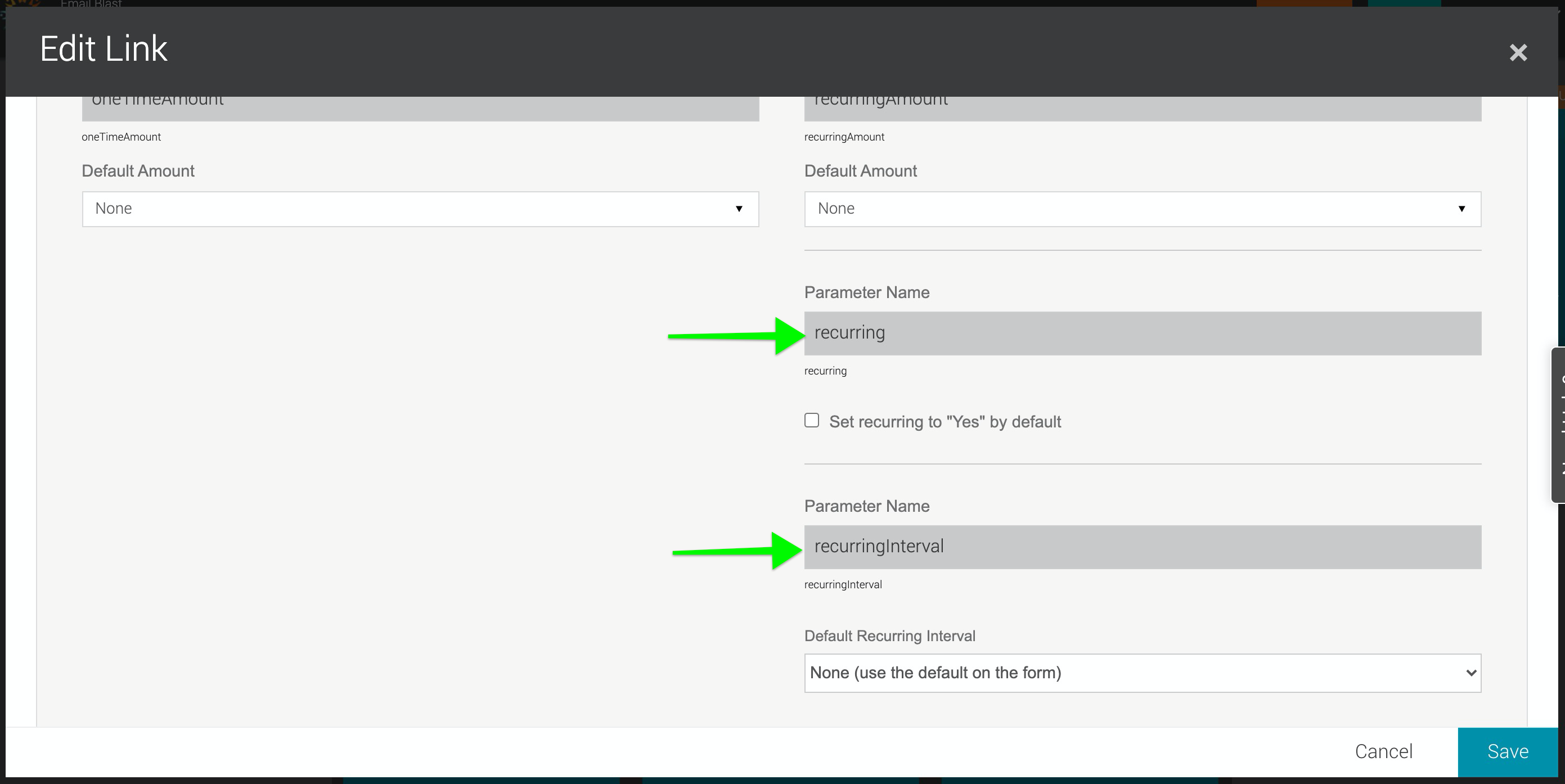 New distinct autoresponders are also coming. You will be able to have a separate one-time donation email and separate initial and recurring payment emails for those quarterly, monthly, or yearly donations. You will still have the option to use just one autoresponder message for any donations—recurring or one-time—if you wish.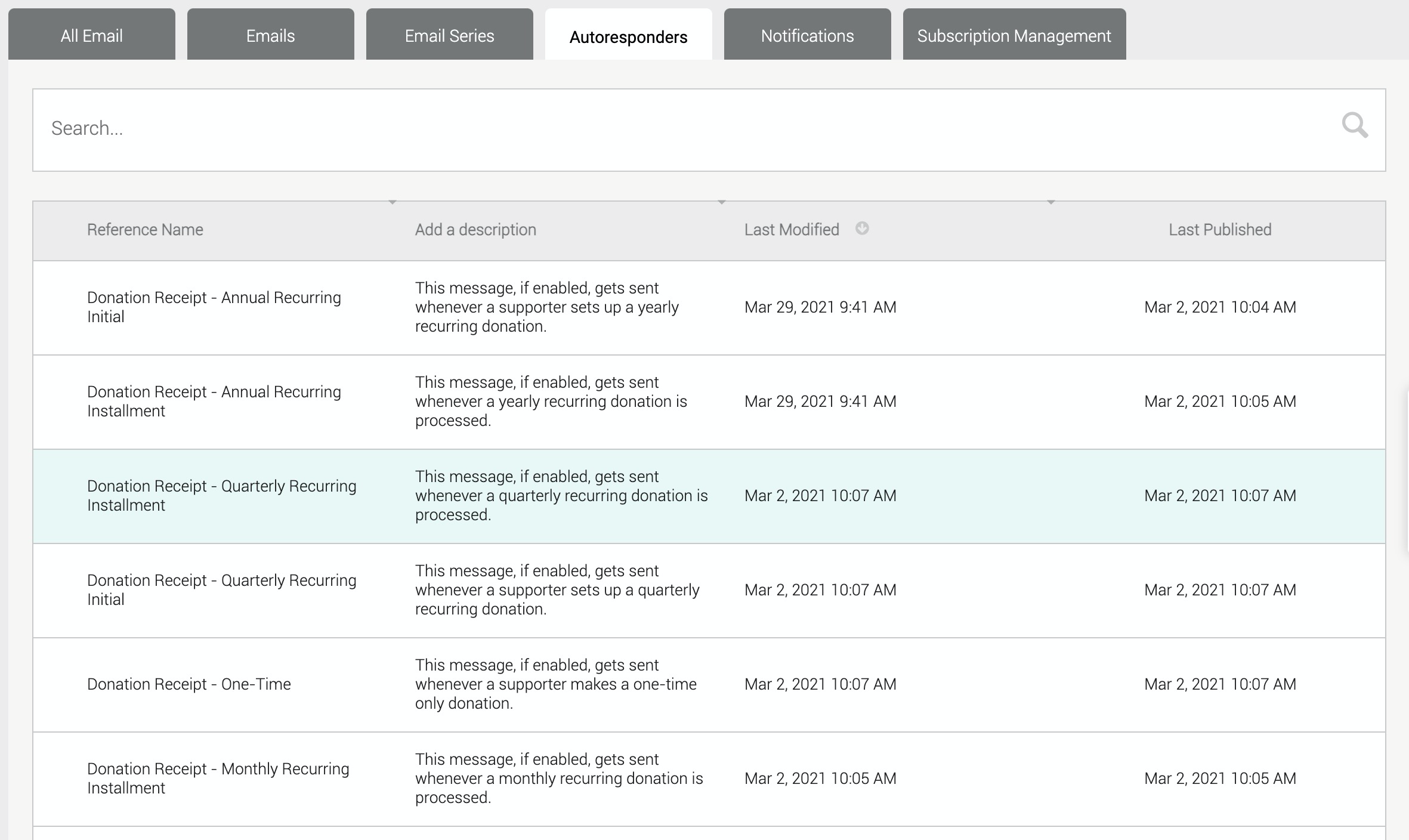 Along with those new recurring frequency options, you will be able to have separate static or dynamic ask strings for each frequency. SMART donation ask amounts remain available for one-time donations only.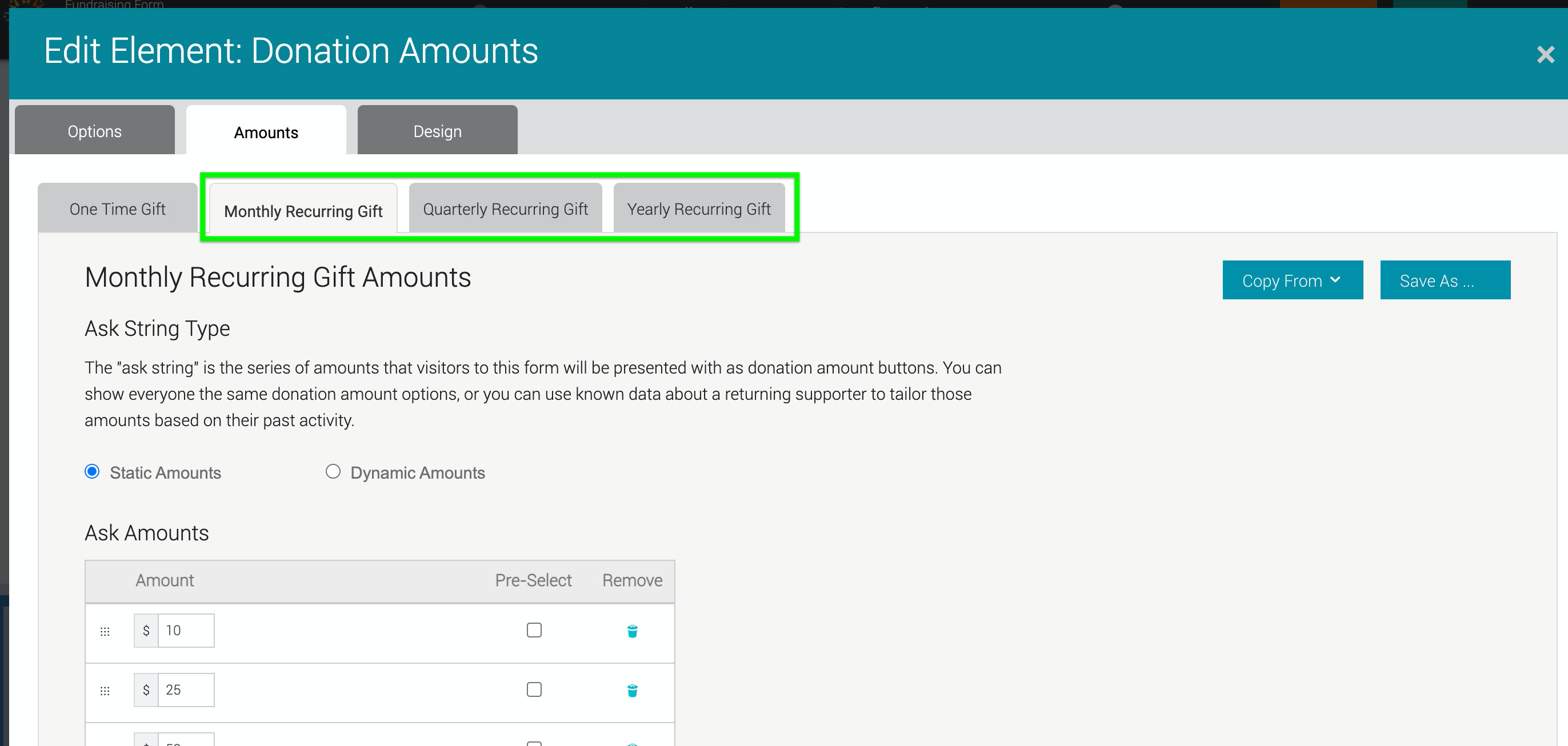 Map Activity Custom Fields to Salesforce Opportunity Custom Fields
You will be able to map your Engage Activity Custom Fields relating to Fundraising, P2P, Event, or General type custom fields to your Salesforce Opportunity custom fields through your Salesforce integration.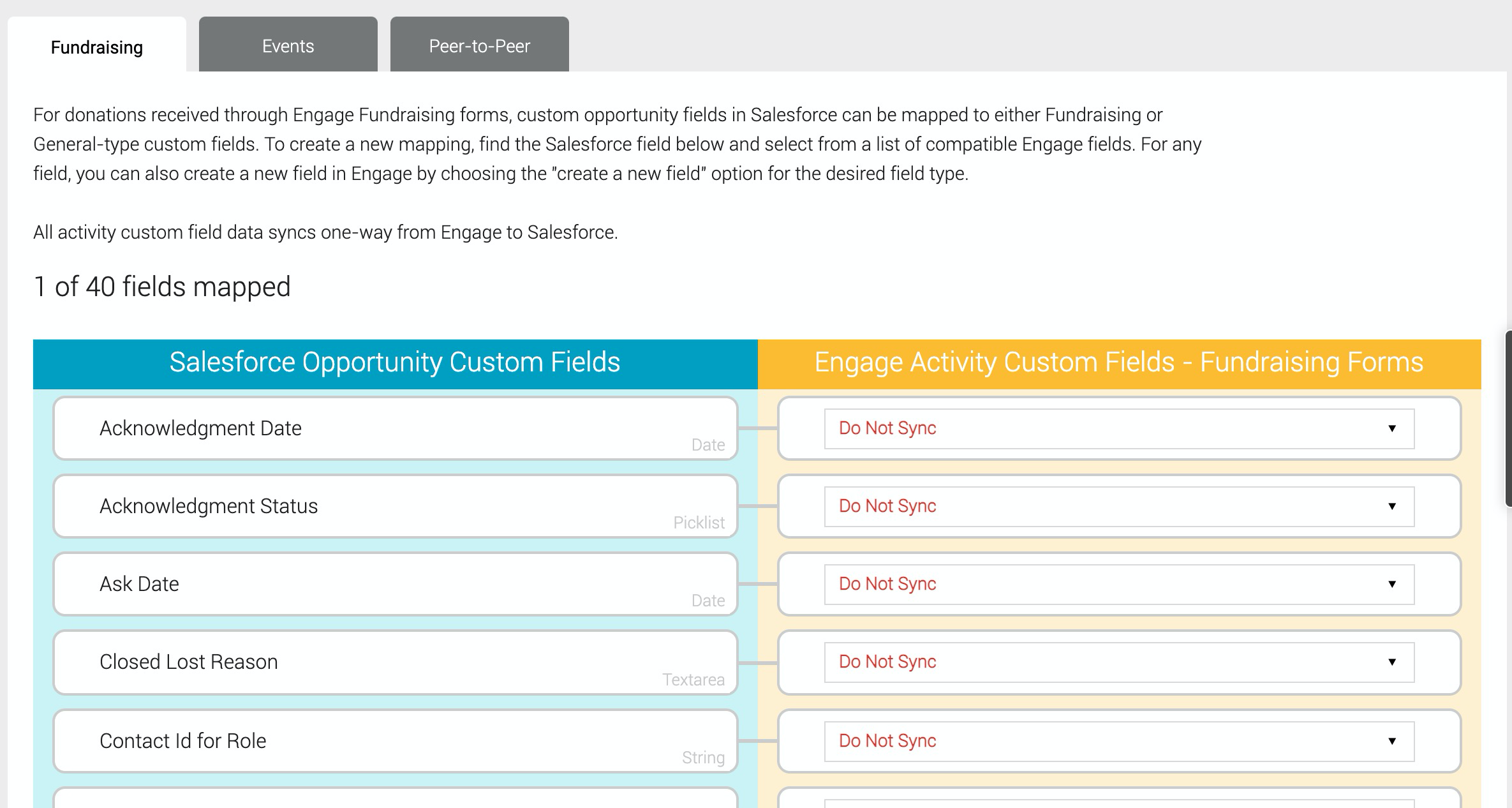 You will be able to use the existing Resend to Salesforce function to push historical data into Salesforce that hasn't historically synced.
Once the Salesforce connector enhancements are live, you will need to upgrade the app in order for the integration to continue syncing. Please check your email or the Salsa Knowledgebase for detailed directions.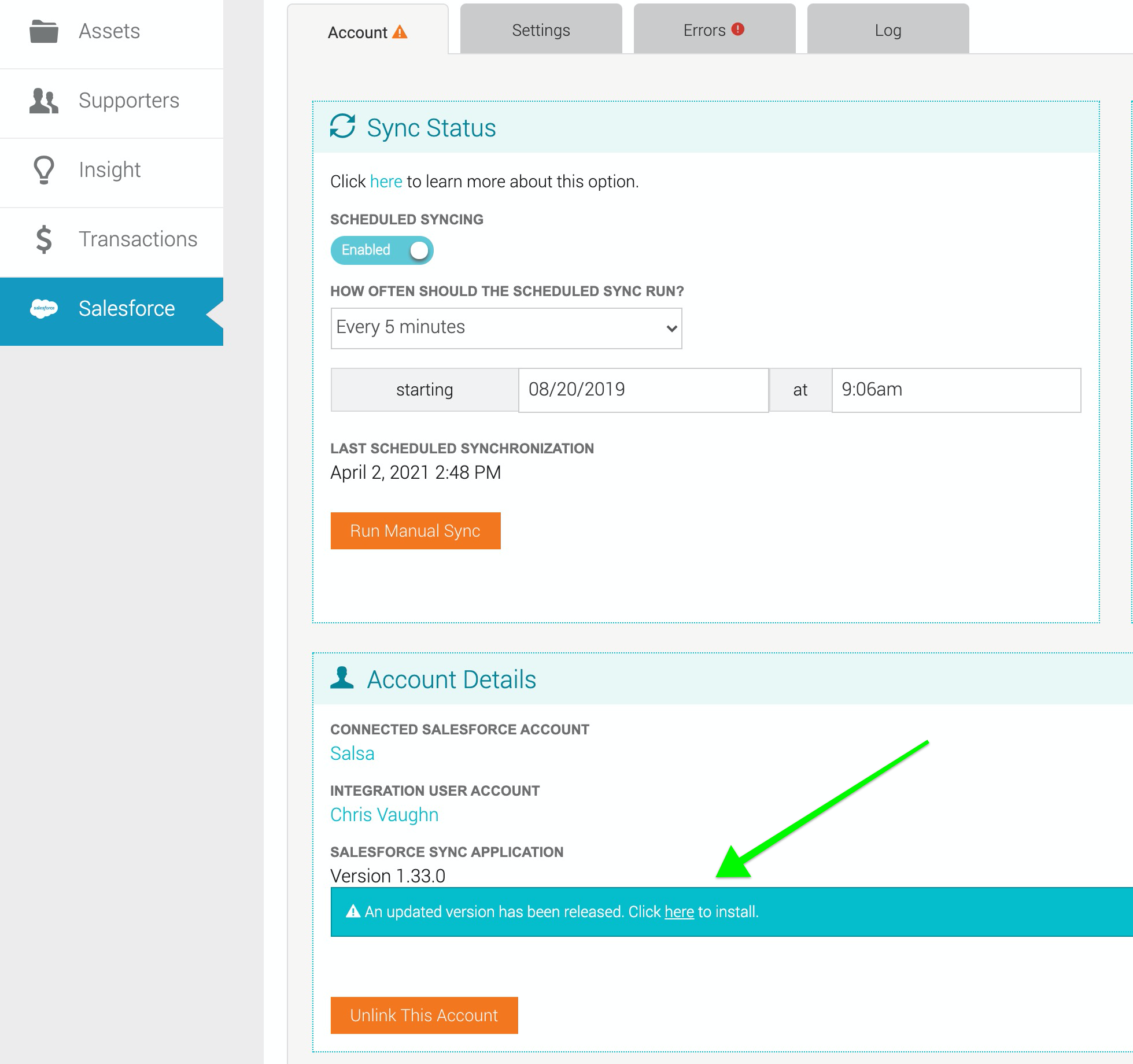 January 2021
Enhanced Subscription Management
Historically, Message Topics in Engage represented both...
A way to segment audiences who want to hear about a particular topic.
A way to label email blasts

based on the type of content within them

.
To make it easier for Engage users to collect and manage their supporters' email preferences, Salsa is making major changes to Subscription Management and introducing some new features. Check out our Step-by-Step guide for more details. You can also view a pre-recorded webinar.
Mailing List Groups with Supporter Opt-In
Salsa is splitting Message Topics into two distinct concepts:
Content Categories—labeling different types of email blasts for comparison.
Mailing Lists—special static groups for email audience segmentation.
The audience portion of Message Topics has now migrated to static Mailing List groups.
Supporters select Mailing Lists to Opt-In with a new element in your email blast Visual Editor.
Automatically "Add [Supporters] to Groups" as a new Activity configuration.
Optionally pass URL Parameters or hidden values to add Supporters to Groups.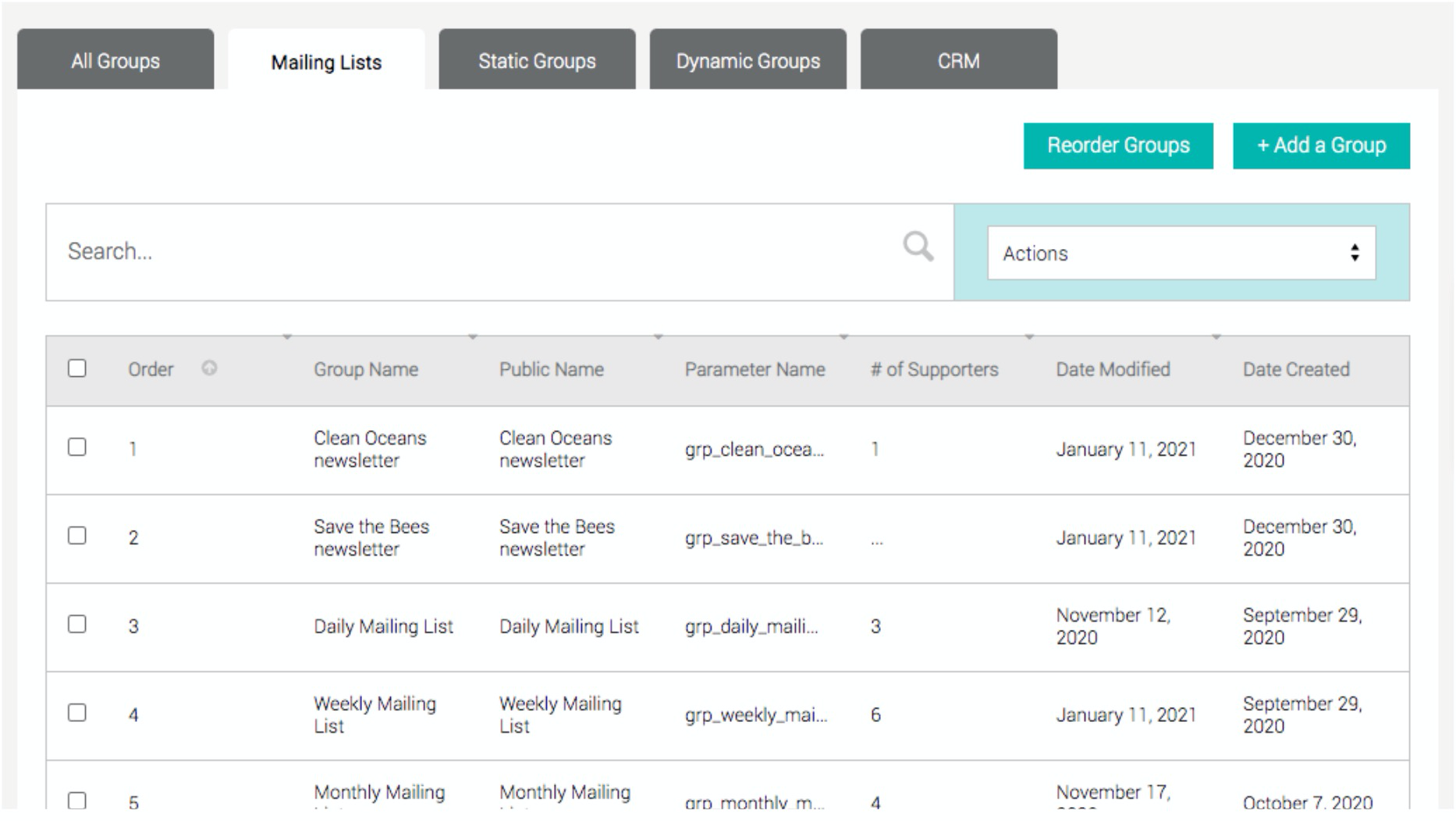 Custom Subscription Management Pages
Previously, Subscription Management pages were hard-coded into the system and couldn't be changed. Now, you can modify your own Subscription Management page so that it has the same look-and-feel of all your other Activity forms. This Setting has been relocated to the Email screen in its own tab.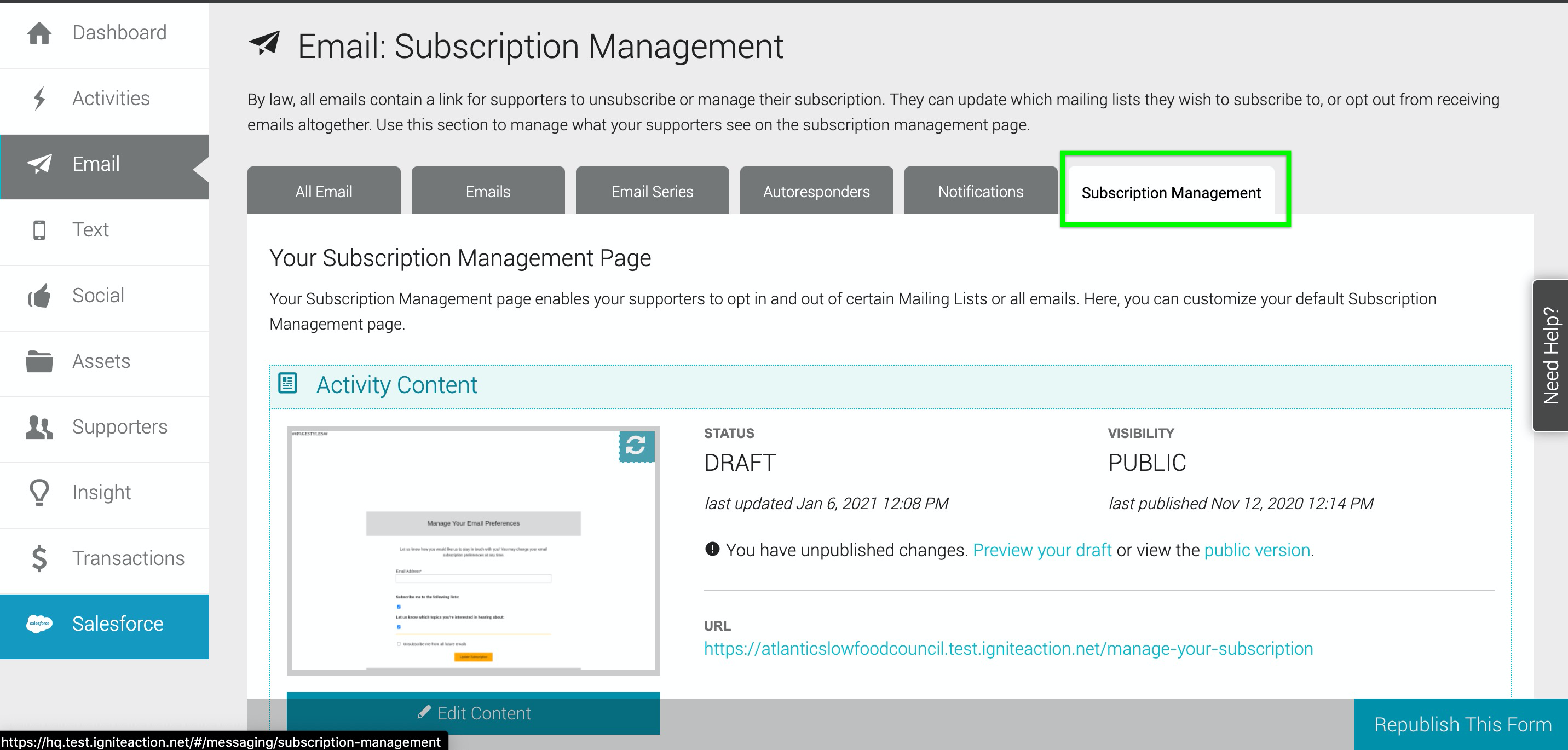 Your previous subscription management page has been converted into a form you can edit with the Visual Editor.
Message Topics Changed to Content Categories
Previously, Message Topics controlled not only the type of email message you were sending but partially controlled who would receive the message. Those concepts are now split into separate functionality. The message type is changed now from Message Topics to Content Categories.

Assess your Content Category performance through a Messaging Performance Insight Query.
Enhanced Supporter Groups Screen
We've redesigned the Supporter Groups tab on the Supporters record in order to better organize a supporter's group subscriptions. Static groups and Mailing Lists are organized under the Static Groups label. Built-in and Smart groups are organized under the Dynamic Groups label.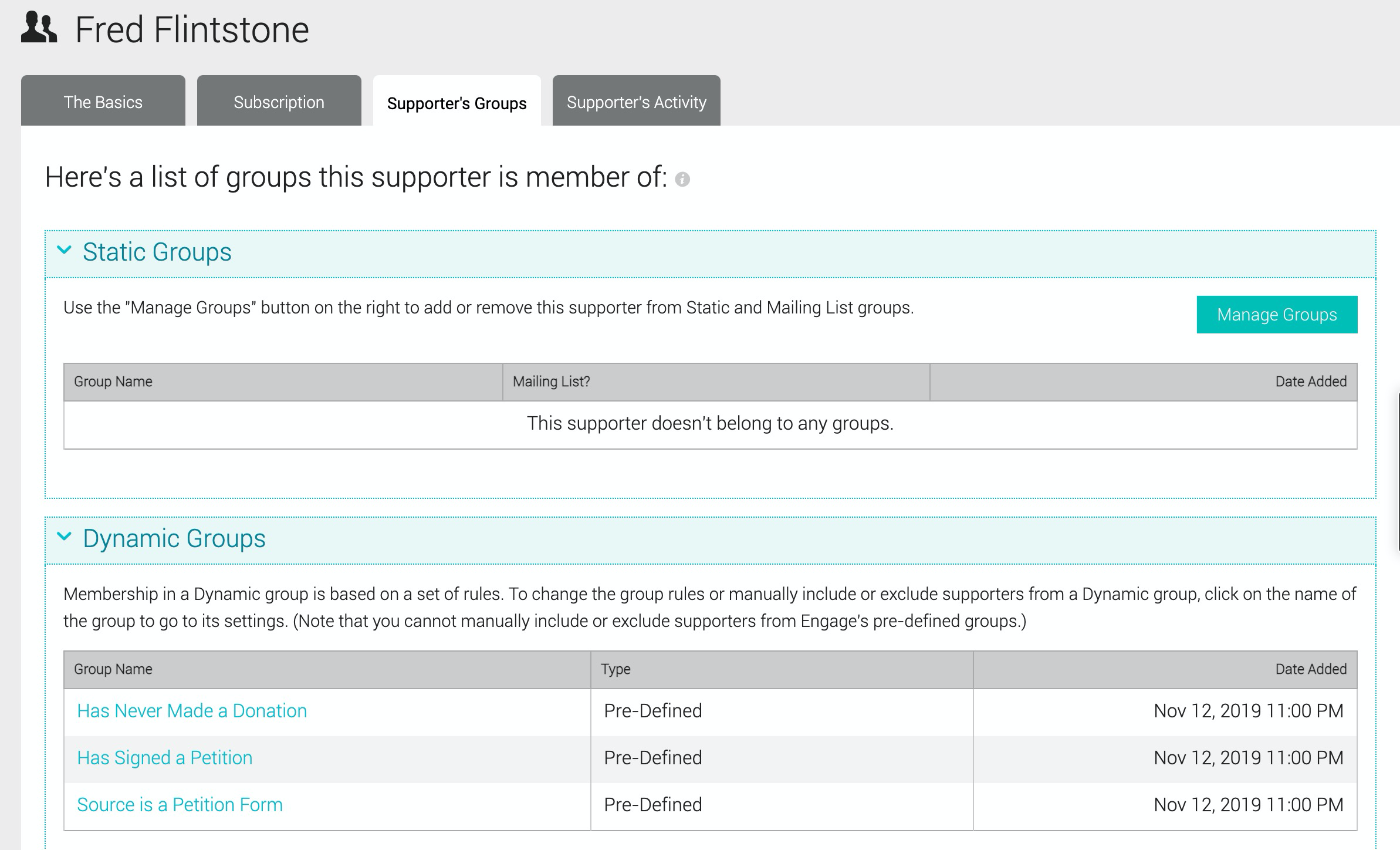 Use the Manage Groups button on the right to add or remove this supporter from Static and Mailing List groups.
Enhanced Fund Management in Engage
Unique nonprofit accounting standards require that nonprofits report contributed income with donor restrictions or without donor restrictions. Supporters may now assign funds themselves to their donation, indicating whether their contribution is with or without donor restriction.
Campaign managers can add Fund Selection fields to transaction pages which add fund selection choices. Campaign managers also can choose which funds are publicly available to supporters.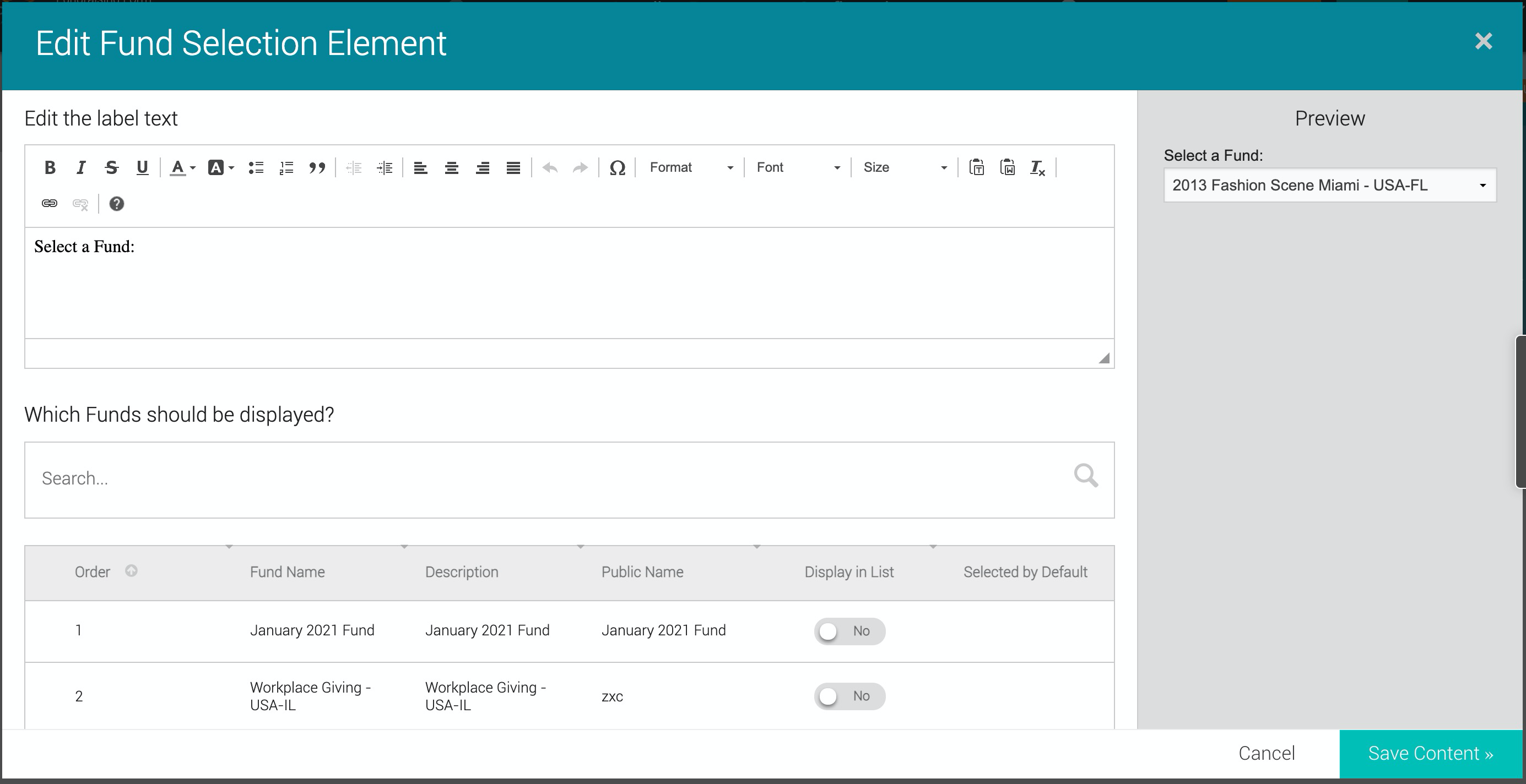 September 2020
NEW! SmartEngagement Technology
Salsa introduces machine learning tools for fundraising! One of the most difficult questions for a non-profit fundraising professional to answer is, "What is the right donation amount to ask for from this particular donor?" The answer requires an understanding of each donor's ability to give, propensity to give, connection to the cause, giving history, and various other factors. With SmartEngagement technology, Engage looks up all that information for you. Find mid to high-level donors you may not have realized you had. Offer supporters donation ask levels on fundraising forms at which they are apt to give.
Smart Groups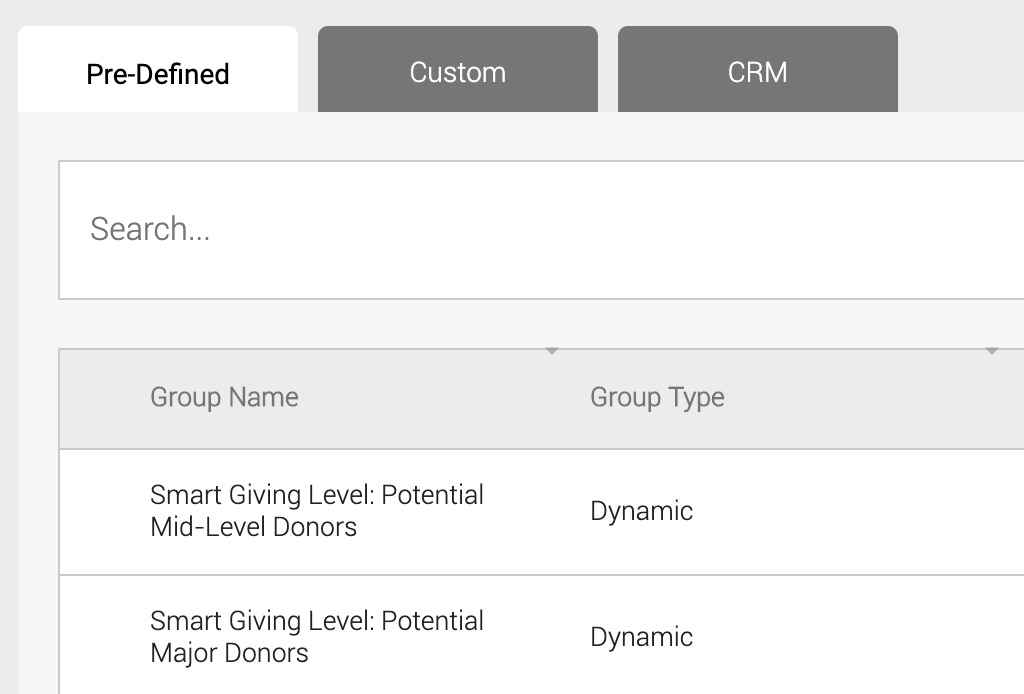 Utillizing Salsa's SmartEngagement technology, employ pre-defined groups for mid-level and major gift prospects. This allows your organization to see those segments that you may not have otherwise noticed:
Potential Major Donor—good chance they have the capacity and propensity to make a gift of $1,000 or greater.
Potential Mid-Level Donor—good chance they have the capacity and propensity to make a gift over $400.
Smart Donation Amounts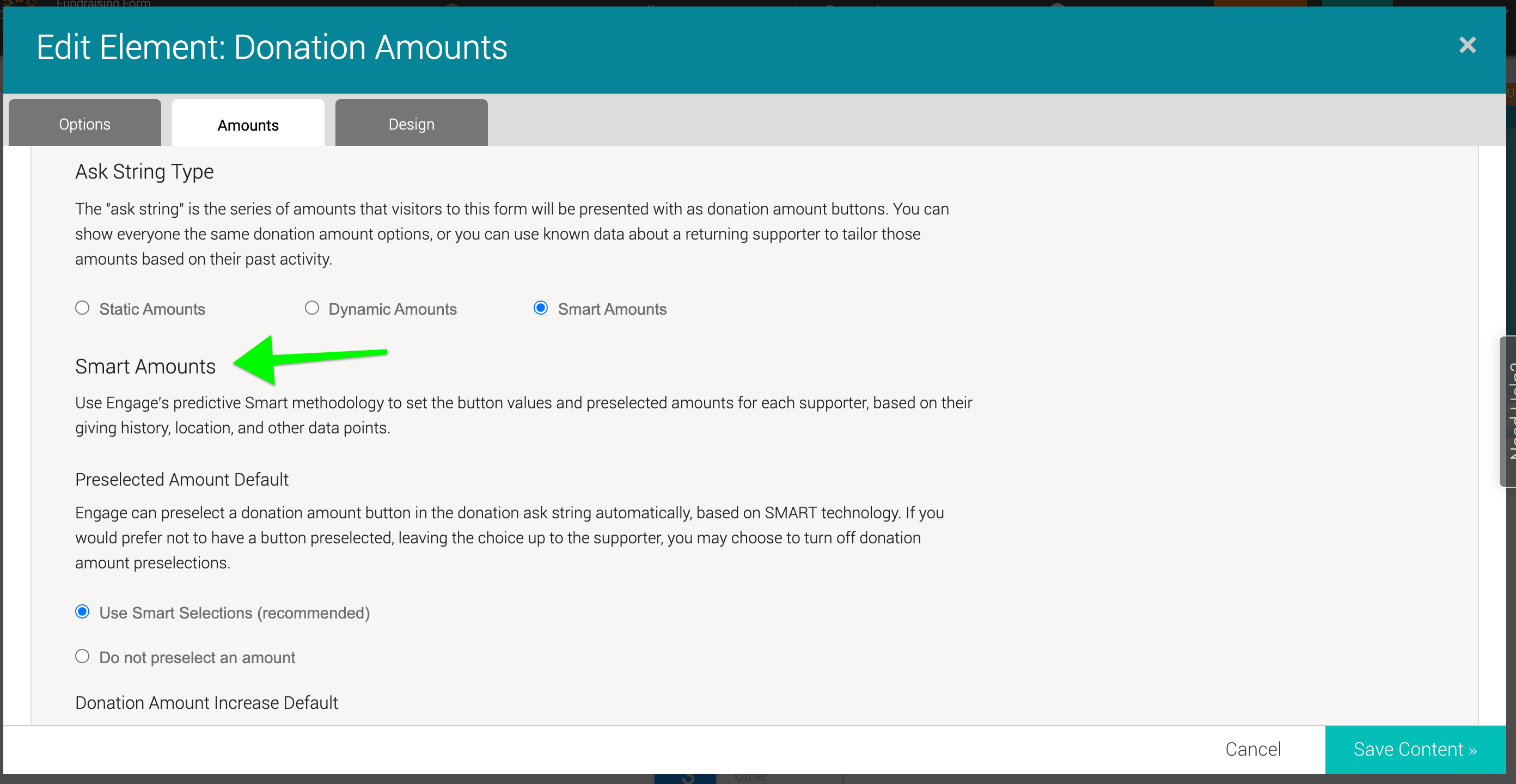 On fundraising form pages, when you set donation ask amount string buttons, use SmartEngagement Technology to customize the button ask amounts for known donors. See who was presented with Smart Amounts in their transaction details.
SMS Usage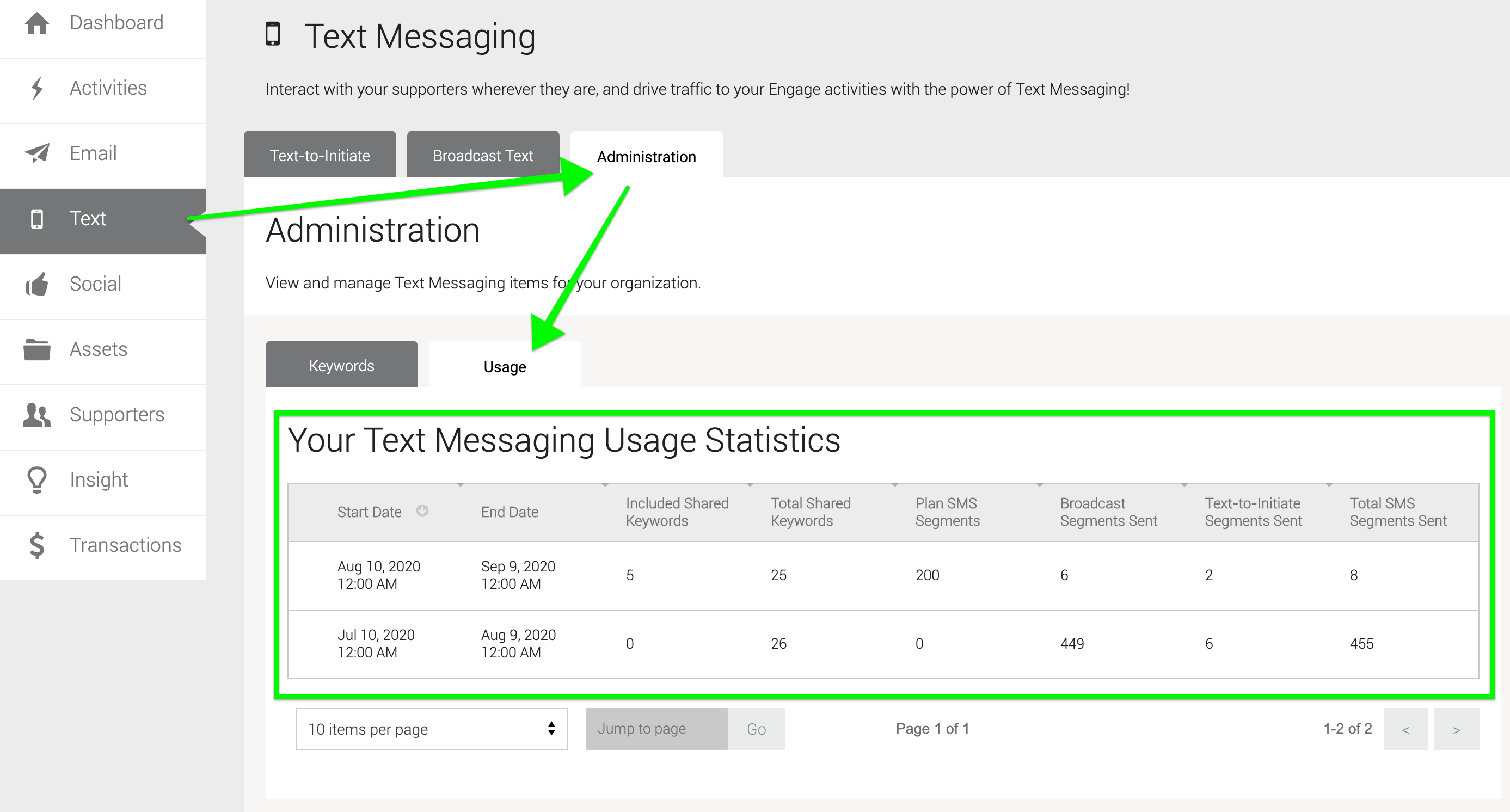 View past SMS usage for Broadcast Text and Text-to-Initiate. This table updates every night to cover daily usage statistics.
June 2020
New! Target Selection Workflow
Selecting targets for your targeted action is even easier. Select targets with multiple criteria, exclude certain targets, add individuals in bulk, and target the office (not necessarily the person).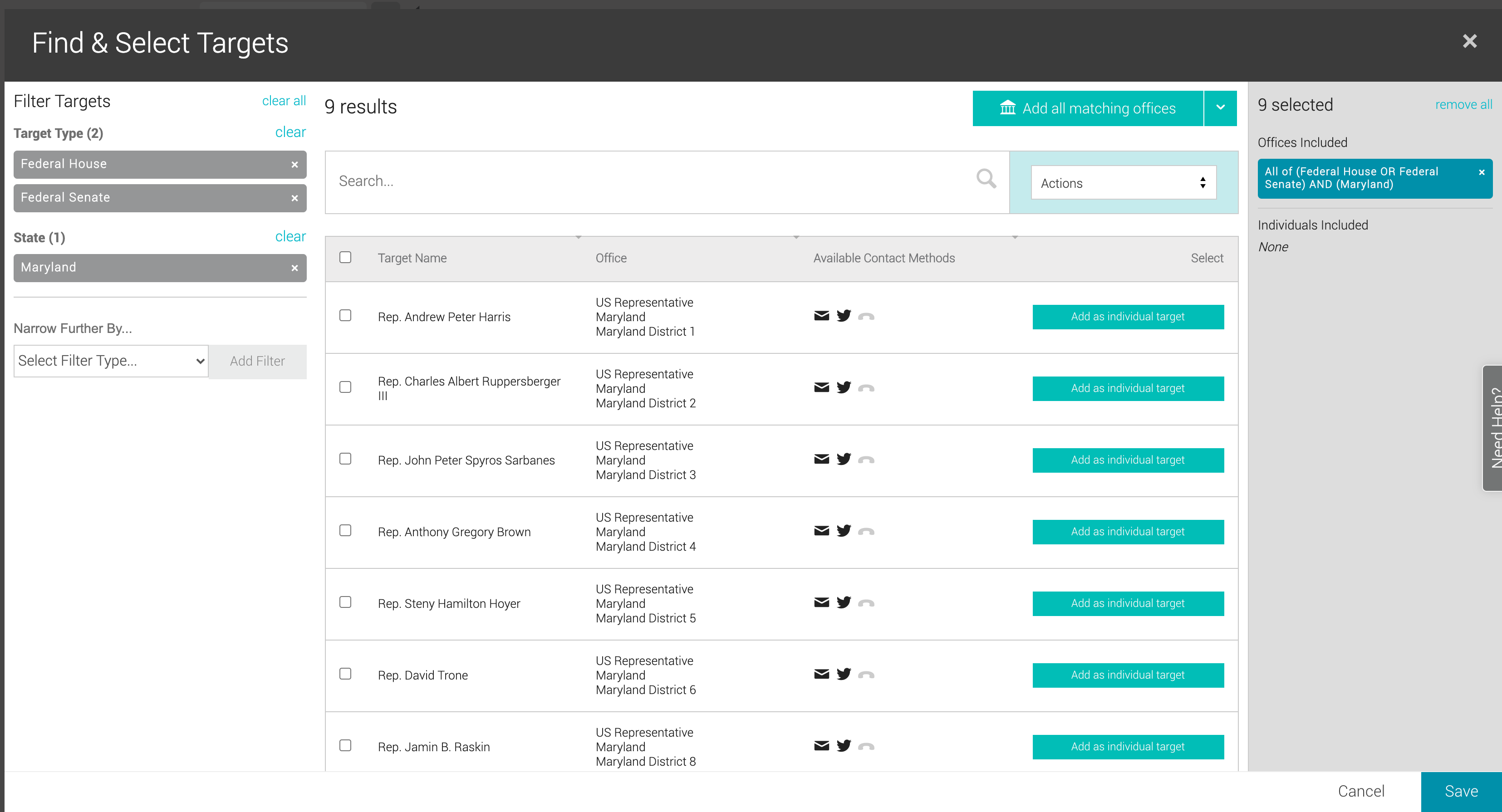 New! Goal Tracker for Fundraising/Event Activities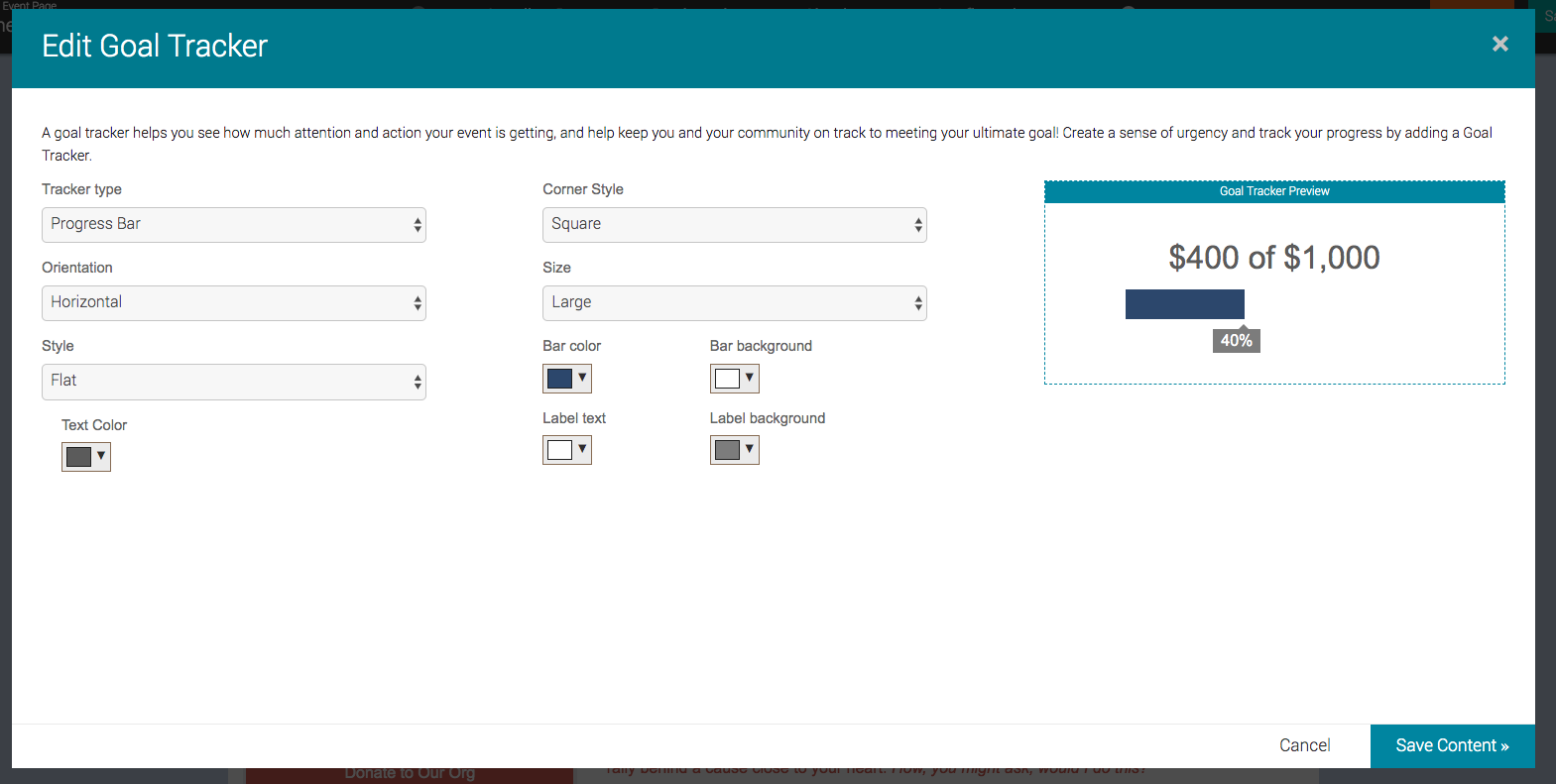 New! Email Preview Text
Supporters these days view more emails on mobile devices than on desktops. When supporters see your email in their inbox, they see your email address, the subject line, and a bit of your content called preview text. Previously, only custom code could override using the first bits of your email content as preview text. Now, create a completely custom preview text—including merge fields—as you are crafting your email blasts.
New! Edit P2P Fundraiser/Team Details
Easily edit your team or fundraiser page names, page URLs, and fundraising goals from with Salsa Engage.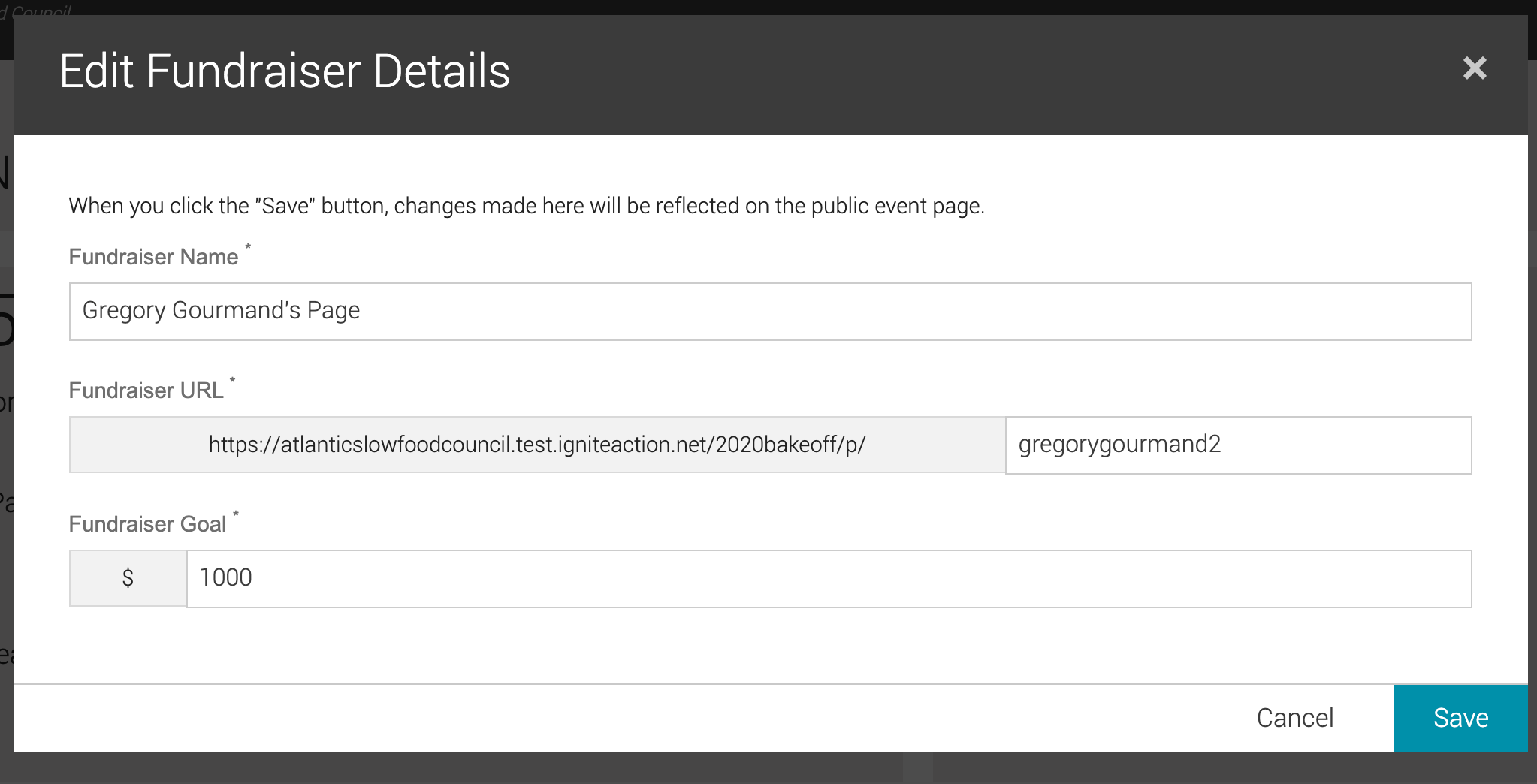 Visual Editor Text Changes
We have optimized what formatting is copied from rich text editors like Microsoft Word and Google Docs. Rather than bringing over font, line height, and other formatting that will conflict with your Visual Editor defaults, we will remove those formatting types when pasted. Some formatting will be copied over, but that formatting will be easily editable/adjustable in your content editing.
Insight Query Additions
We've added fundraising goals to fundraising performance insight queries. We've also added conversions and conversion rates to email insight queries.
April 2020
P2P Mobile App Retired
Due to some recent changes in the iOS and Android app stores, the Engage P2P mobile application have been retired from further development in favor of the mobile-friendly, web-based interface. Moving to a web-based solution enables us to increase the speed at which Salsa updates the fundraiser portal, while keeping security and mobile-friendliness as top priorities.
Any default autoresponders that referenced hyperlinks to the Android or iOS app stores have been updated with new text:
Old Text
If you haven't already, be sure to download the P2P Fundraising app for your mobile device. Using the app, you can check your progress, ask for donations, and thank donors quickly and easily while on the go. The app is free to download for Apple devices on iTunes as well as Android devices on Google Play.
New Text
If you haven't already, be sure to visit the Fundraiser Portal from any desktop or mobile device to easily track the progress toward your goal, share your page with friends and family, post updates, and thank your donors!
Import Custom Targets
Targeted Actions enable your supporters to quickly engage with lawmakers and other targets on important issues. Sometimes, you'll want to use custom targets to target individuals other than the federal government officials that we have in our database. Now you will be able to import lists of custom targets in much the same way you would import your supporters.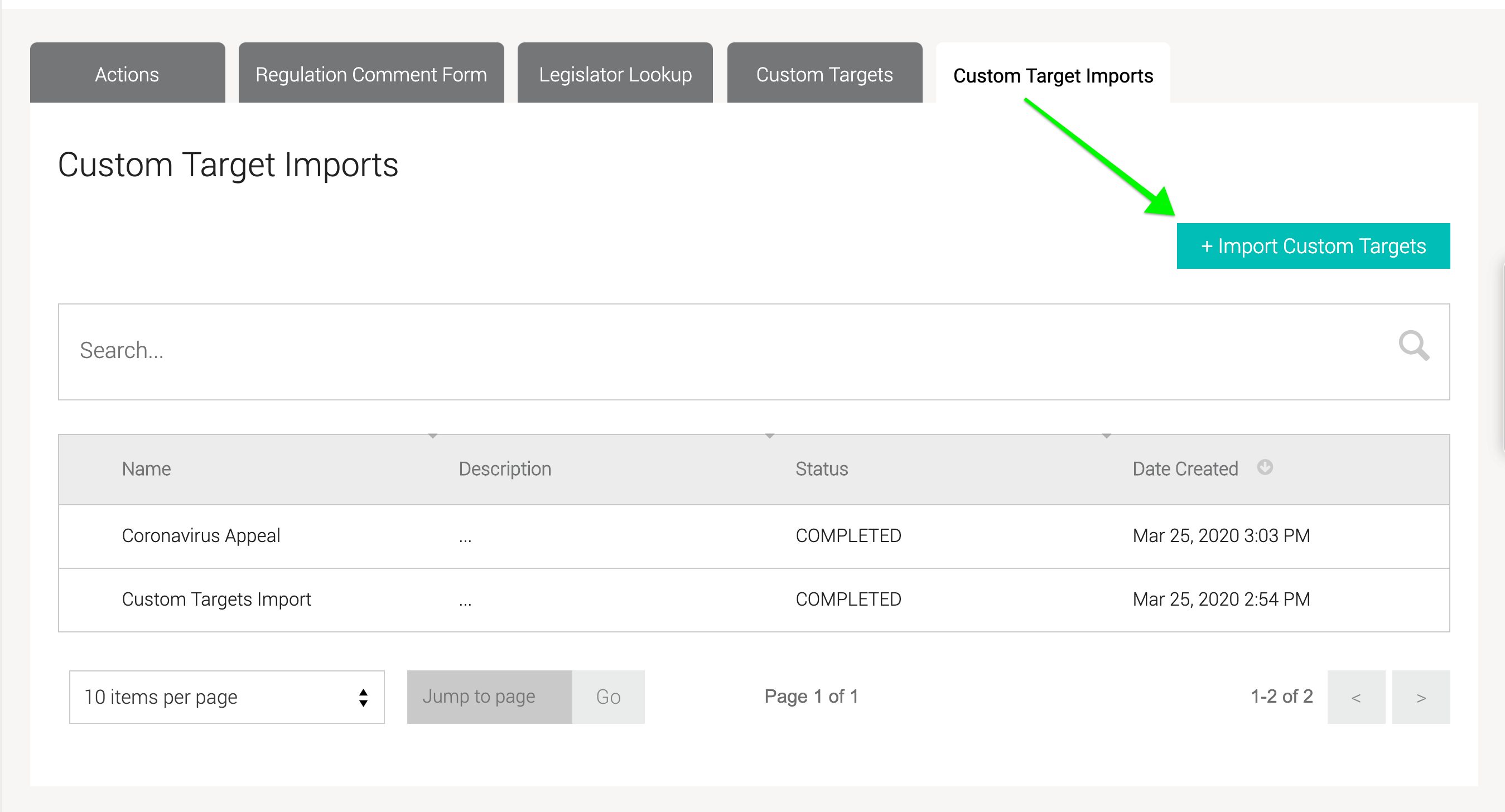 Search Filters for Supporters
Supporter Search filters will be "sticky"; keyword and Filter by Source parameters stick around for your entire Engage login session until you log out. Also, you can now open your supporter record in a new tab.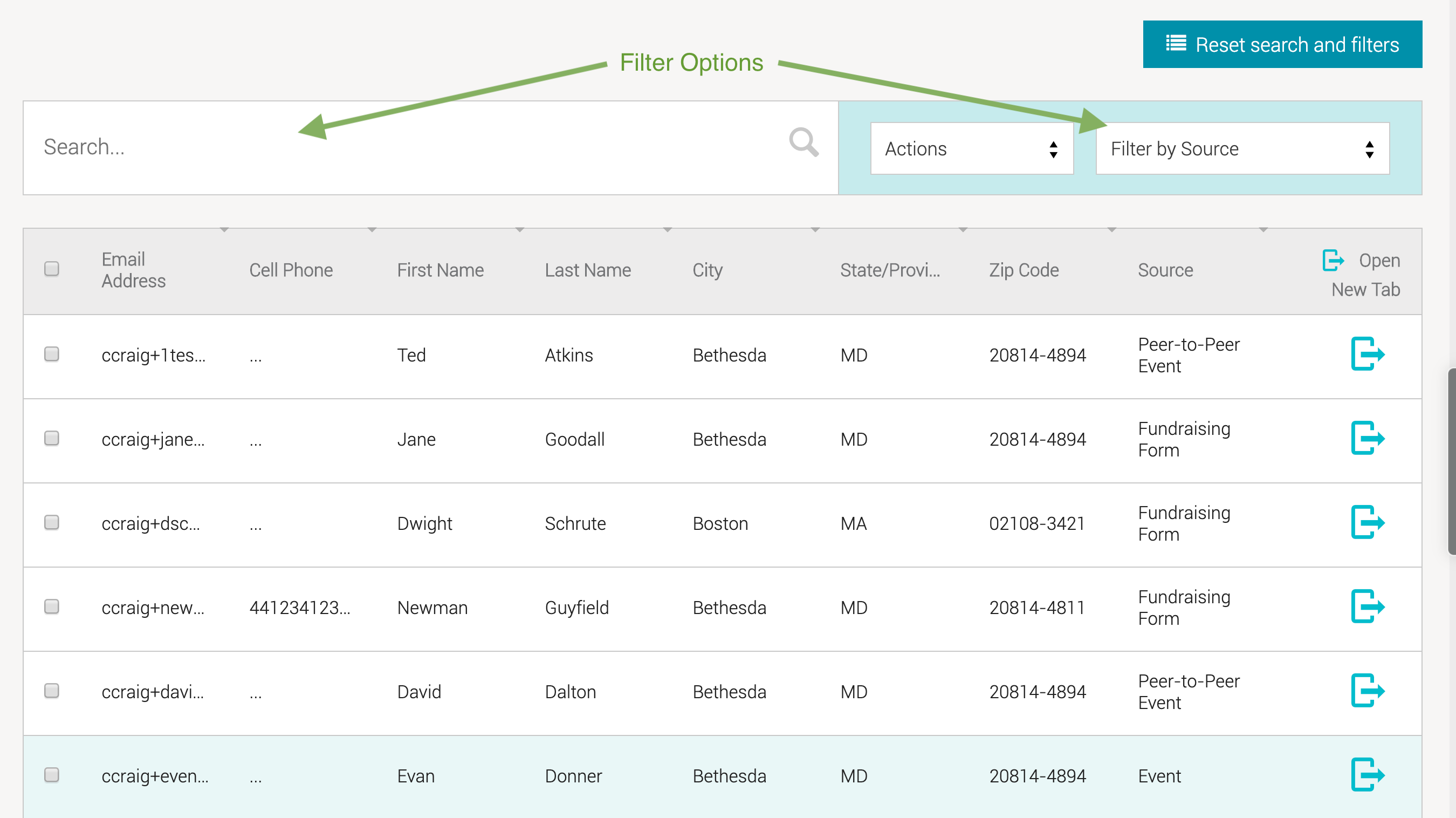 Supporter Edit and Save Updates
Three new buttons at the bottom of the screen will indicate what you can do next when you create a new supporter or edit an existing one:
Discard Changes—This option discards any new supporter you were attempting to add and returns you to the main Manage Your Supporters screen.
Save this Supporter!—This option saves the record and stays on the page for continuing edits to this new supporter.
Save & Close—This option saves the record and closes the add screen, returning you to the main Manage Your Supporters screen.

Message Topic in Insights Query
Messaging Insight Queries compare and contrast how your marketing efforts are resonating with your supporters. Now, Message Topic will be included by default as one of your report metrics.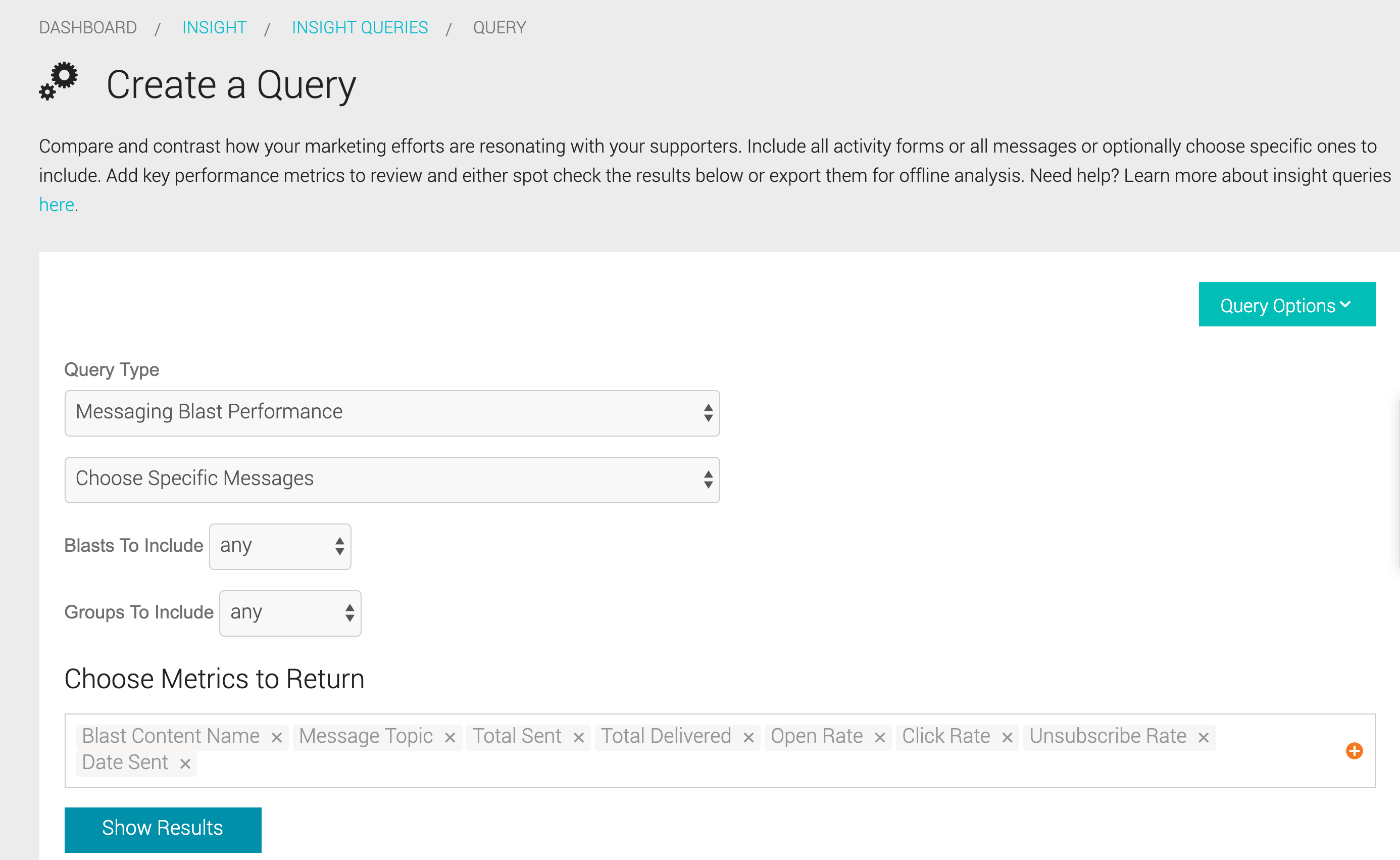 Logo now includes hyperlink and alt text
When you first log in to Engage, you have the opportunity to upload your organization's logo so that it can be added to your Activity forms. Now, logos—when integrated into your activity forms—will contain hyperlinks to other forms or (for example) to your website.
Logos will now include alt text. This is text that appears inside the image container when the image cannot be displayed. Alt text helps search engines understand what an image is about. Screen readers and accessibility devices recognize image alt text when reading a web page aloud to visually impaired supporters.

Get Ready to Send
Before you send your email blasts, you should send a test email, review your audience or split test groups (if you're doing a test), double-check your email copy and creative one last time, and schedule your blast to go to supporters now or sometime soon. This page will have a refreshing new look. There's a lot less white space and more logical workflow.
Edit URL in Fundraiser Portal Page Settings
Your peer-to-peer fundraisers have their own portal from which to manage their fundraising activities. They will be able to edit their own fundraising page URL.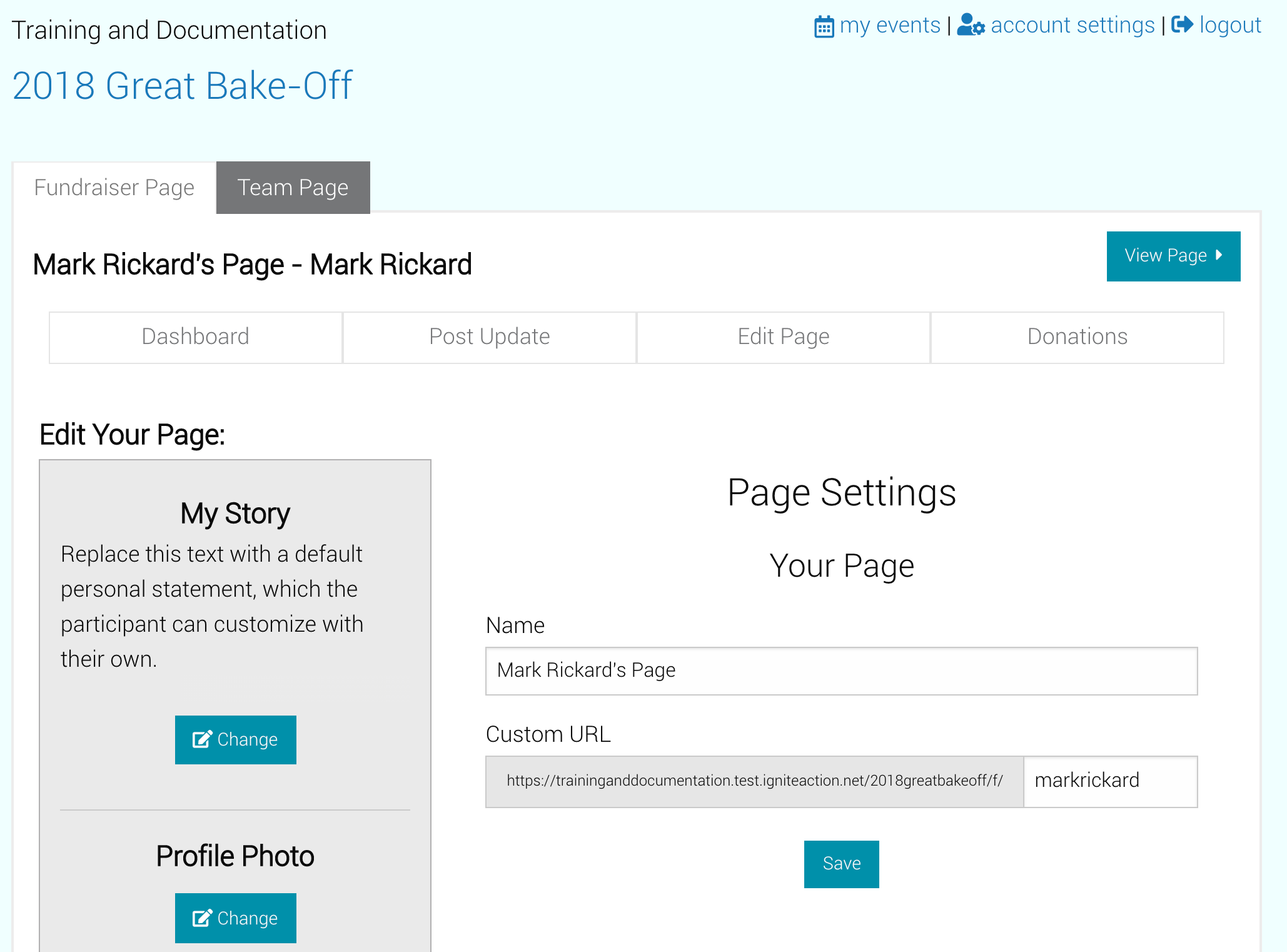 February 2020
Simplified Activity Form Layouts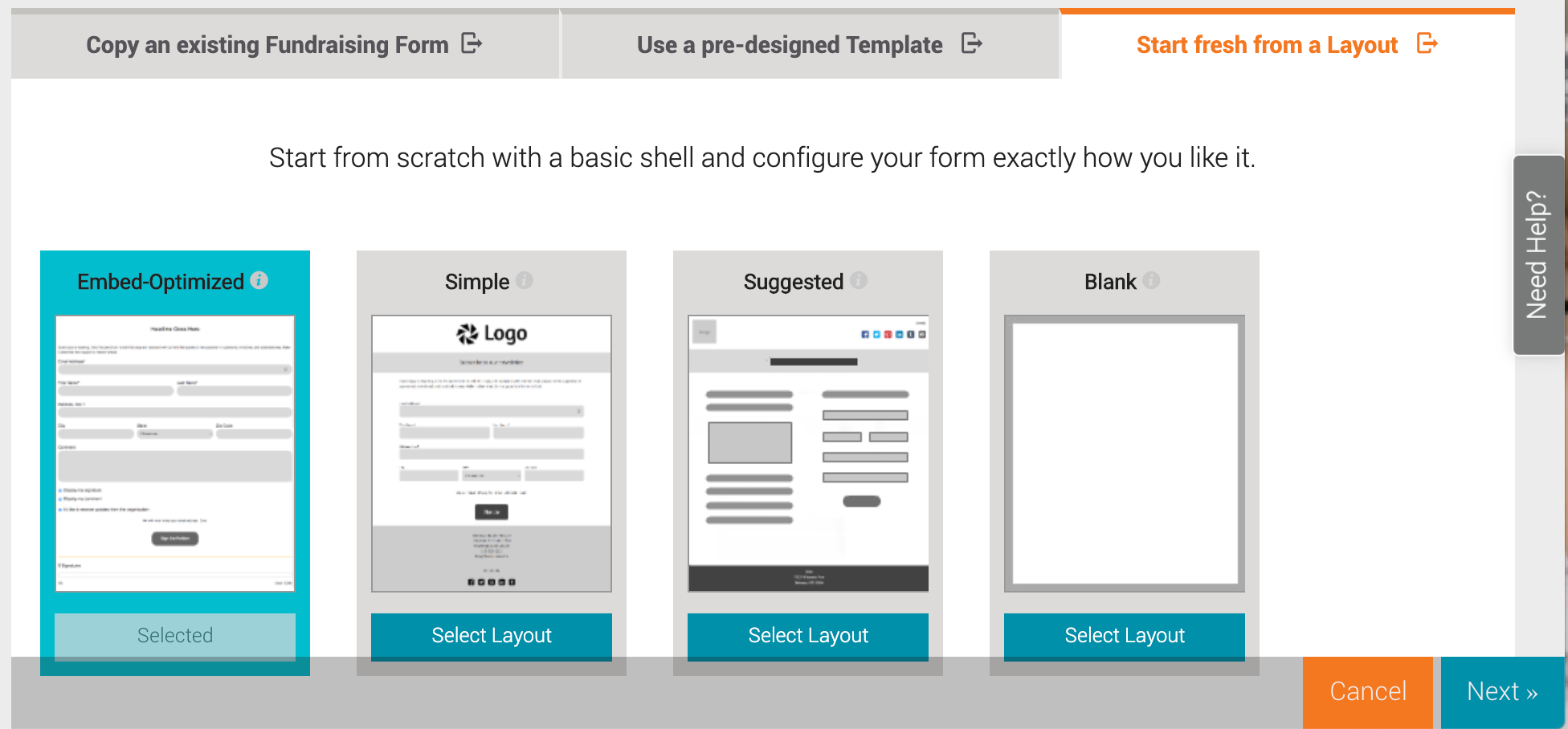 Choose one of four general layouts for your Engage forms from the following options:
The

Embed-Optimized

layout works best

for embedding the form in your own website.

The Simple layout is a no-frills, straightforward design, such as for a mobile-optimized environment.
The Suggested layout has a two-column design for more complex designs.
The

Blank

layout does not contain any of the Rows or Elements that are pre-populated in other layouts. You must build the form from scratch. For example, a fundraising layout includes donation-related elements, but the Blank format will not automatically start out with them in the form.
Disabling Theme Styles
If you are embedding your form onto your own website, you can disable your Engage theme styles so your form elements inherit the CSS styles from your own website.

January 2020
Broadcast Text Messaging
Create and send broadcast text messages through Salsa Engage to specific segments of supporters who have provided you with their mobile number and opted-in to receive text messages from you.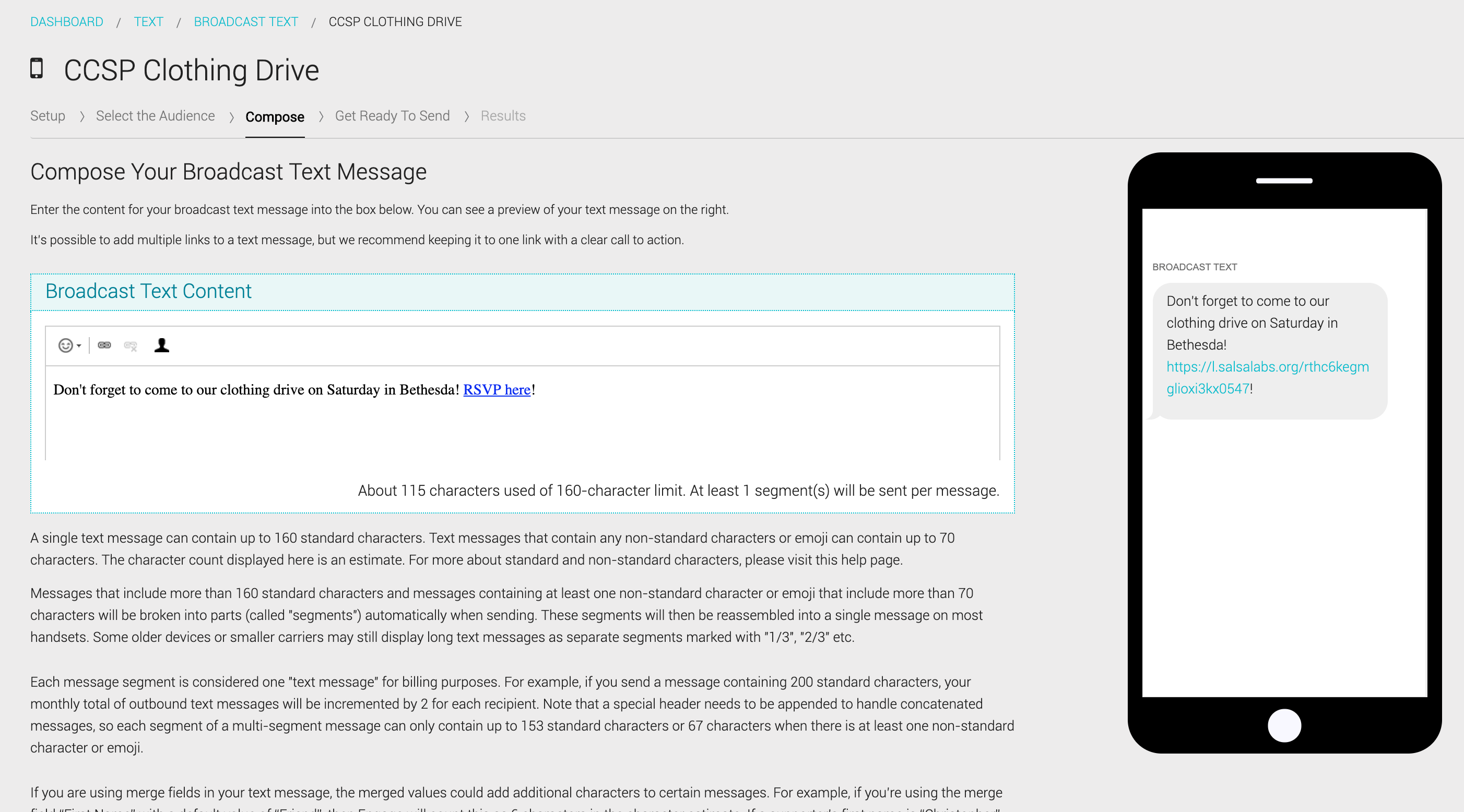 November 2019
Custom Target Boundaries
Configure a regional restriction for custom targets, so that only supporters in certain areas can send messages to those targets. You can also choose to omit supporter phone numbers or addresses to custom targets.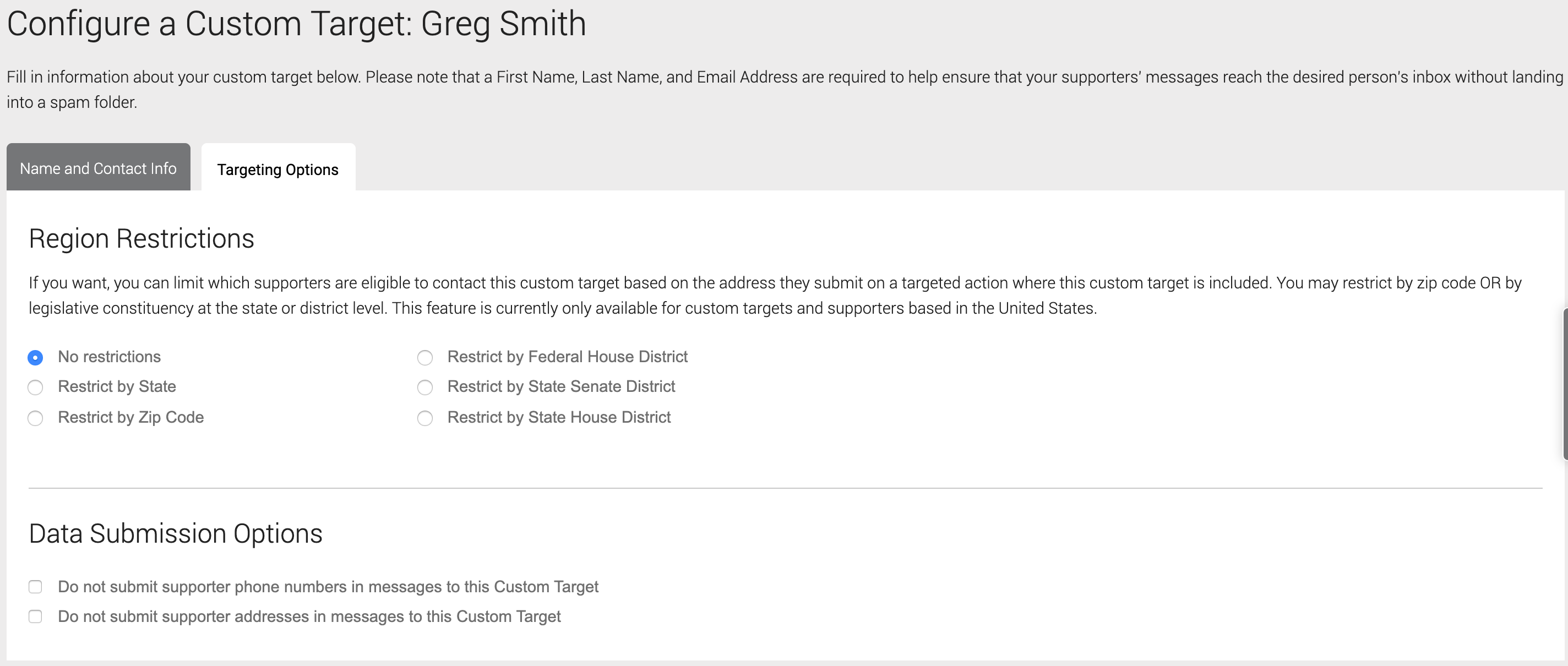 Confirmation When Sending Email Blast
Make absolutely sure you want to either send your email blast or schedule your blast for later.

Query on Vacant Legislative Seats
Previously, legislative districts where the seat was empty would not be included in your queries. Now, you will be able to query on legislative districts when there is not currently a representative for that district.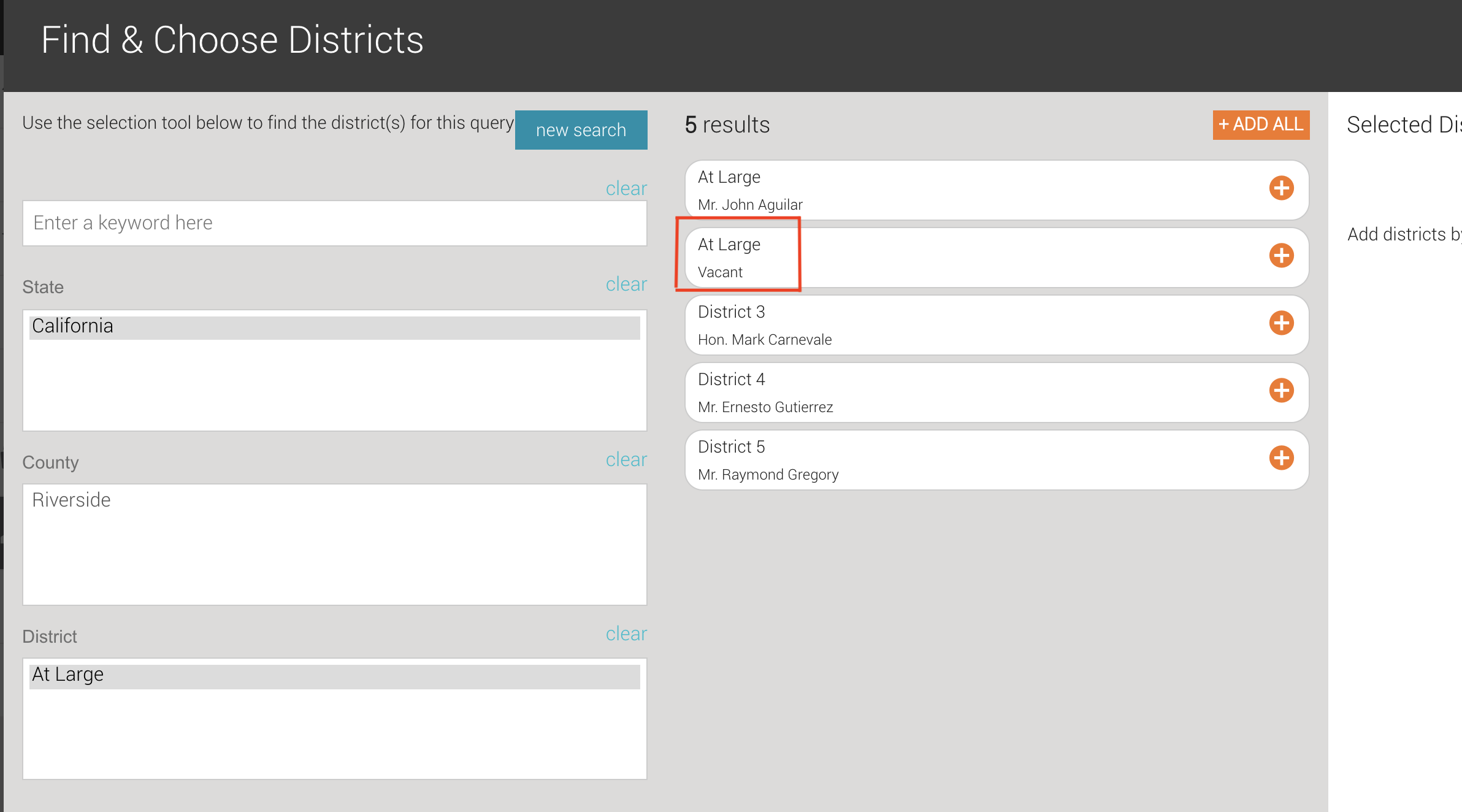 Exclude Legislative Districts in Queries
A new query operator for querying on Legislative Districts will allow you to exclude certain districts in your query. For instance, if you wanted to exclude supporters in a certain legislative district from your call-to-action because residents in that district cannot respond to you, use this new "not one of these" operators in your query.

Hyperlink Event Attendees Who Are Supporters
We have added a link on the Event Attendees tab when your event attendee is also a supporter record in your database.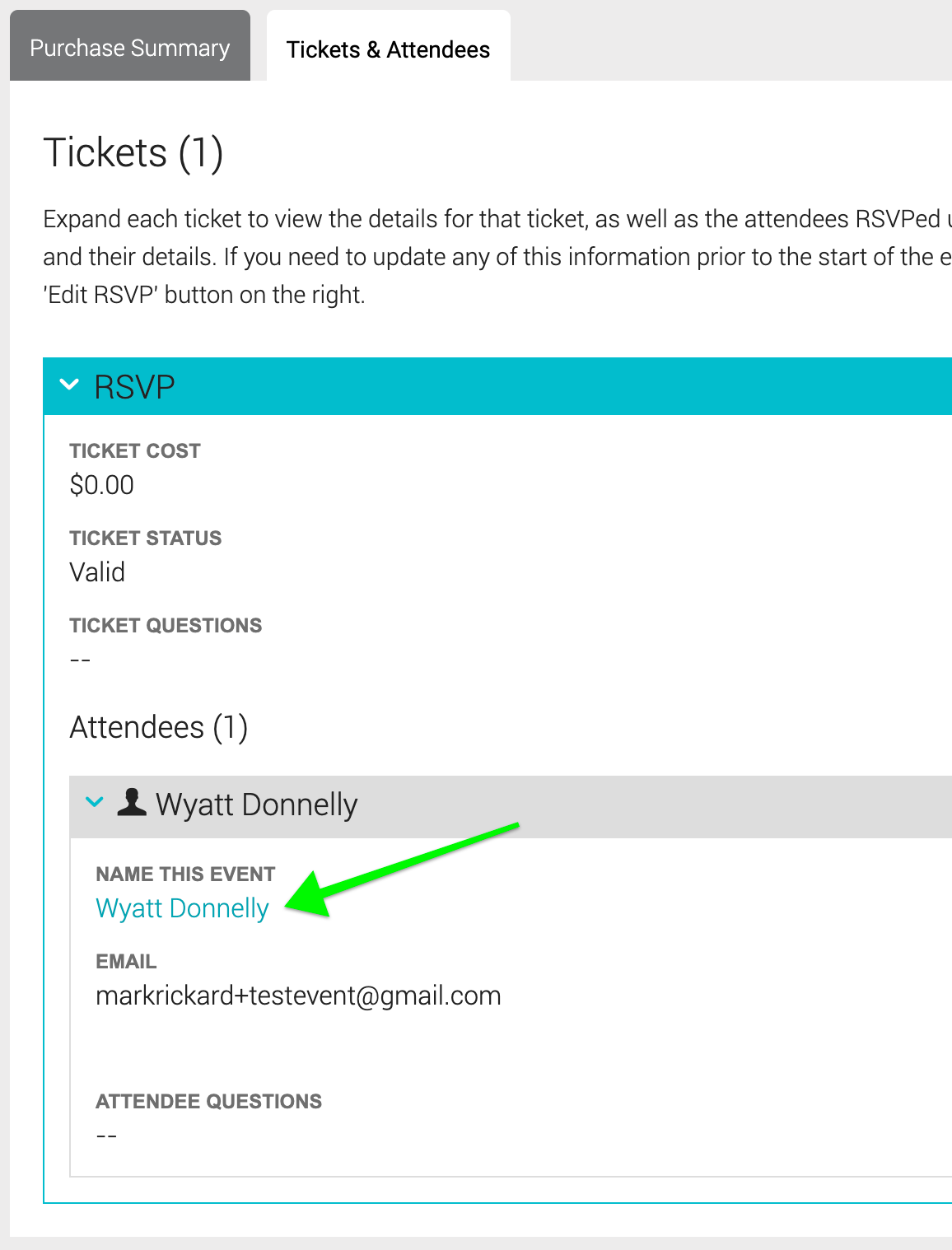 Fundraiser and Team Search Adjustments
Search on fundraiser name and email address on the Fundraiser and Team search fields on the Management tab of a P2P Event.

Unclaimed Fundraiser Wants to Reset Password
A P2P supporter tries to log in to their fundraiser, can't remember their password, and clicks the "reset password" link, but the fundraiser never responded to the initial event email to claim their fundraiser page, there is no password to reset. A notification now states that a "claim your fundraiser" autoresponder email is resent to them. They need to respond to that email and claim their fundraiser page first and set their password for the first time.
October 2019
Text to Initiate
In the first of Salsa's text messaging functionality releases for 2019, create a program where supporters text a keyword to a phone number. Supporters then receive replies to their text message with a link to one of your activity forms.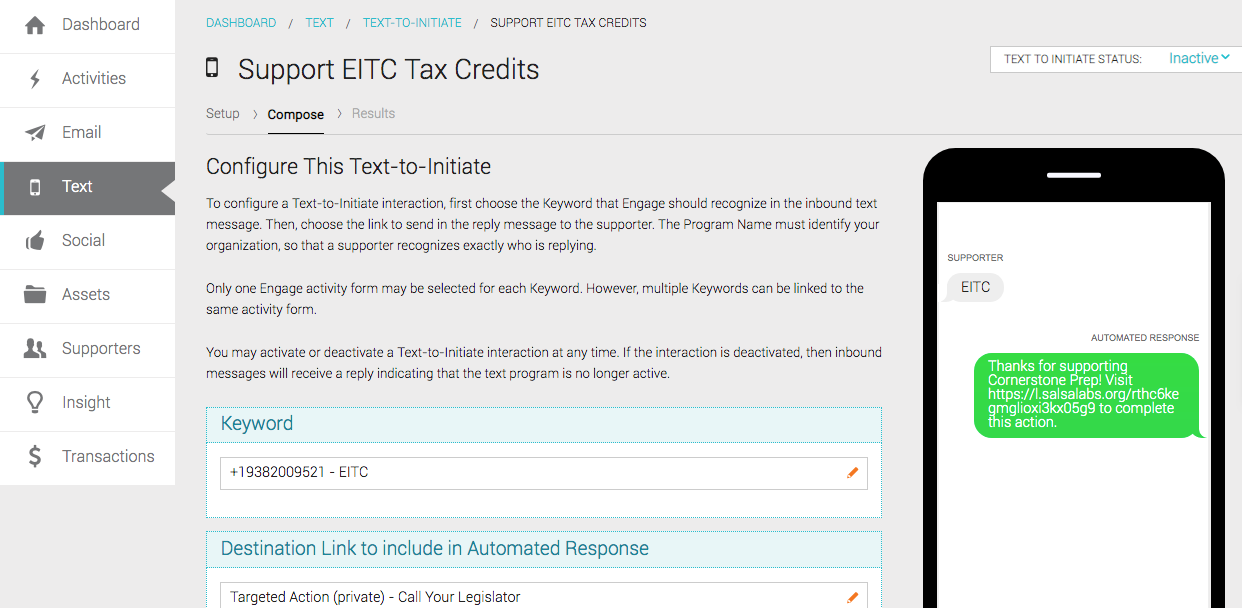 Fundraise Merge Fields Include Dollar Sign ($)
Engage will automatically add a $ to the front of a merged fundraising field value. Cents will not be displayed nor will a decimal point if the decimal value is zero. A ten-dollar average donation amount will display as $10 and not $10.00.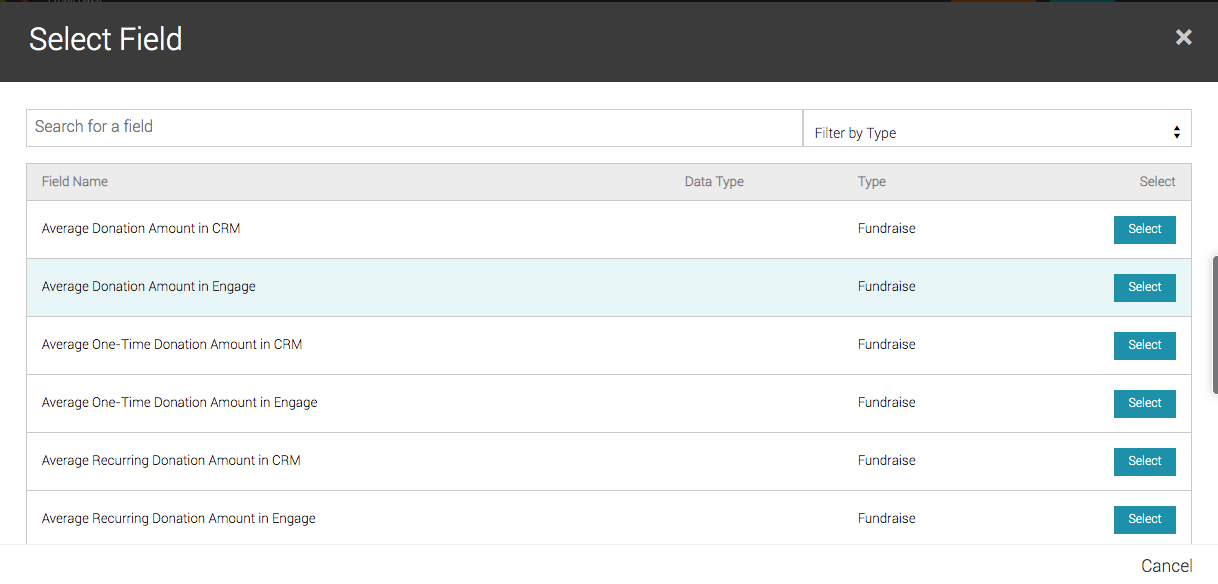 Split Test Descriptions
Design multiple versions of your email, so you have hard evidence that your supporters respond to one message or visual over another. With this update, each split test can receive a description to make each unique for reporting purposes.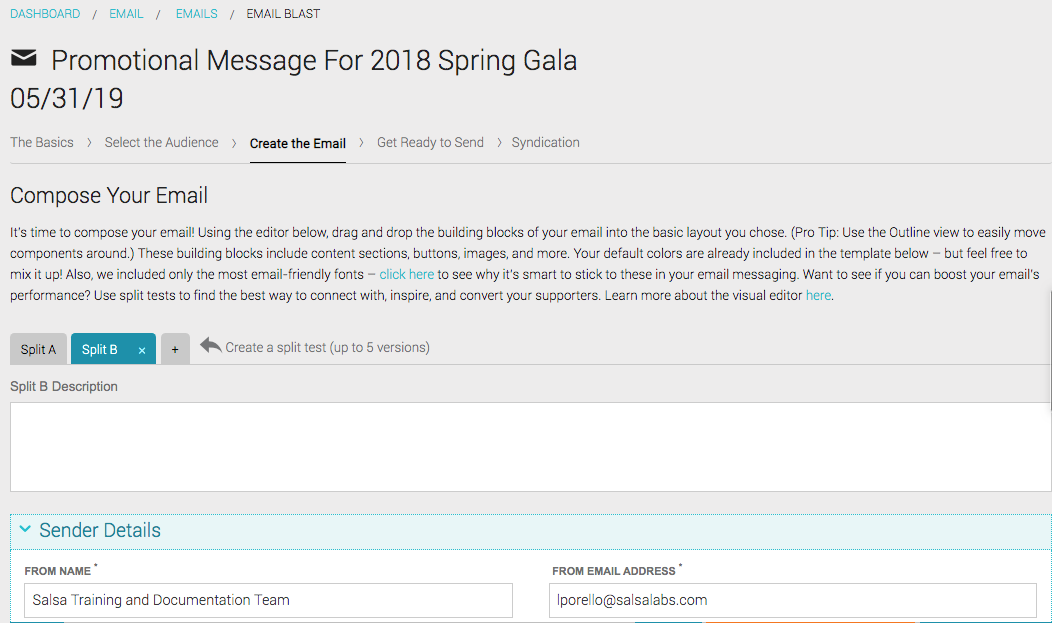 Update Workflow Text for Ticketed Events or Peer-to-Peer (P2P)
Guide your supporters through their Ticketed Event and P2P workflow as they sign themselves or others up for your events using customizable text. This allows you to better explain your event registration workflow to your supporters.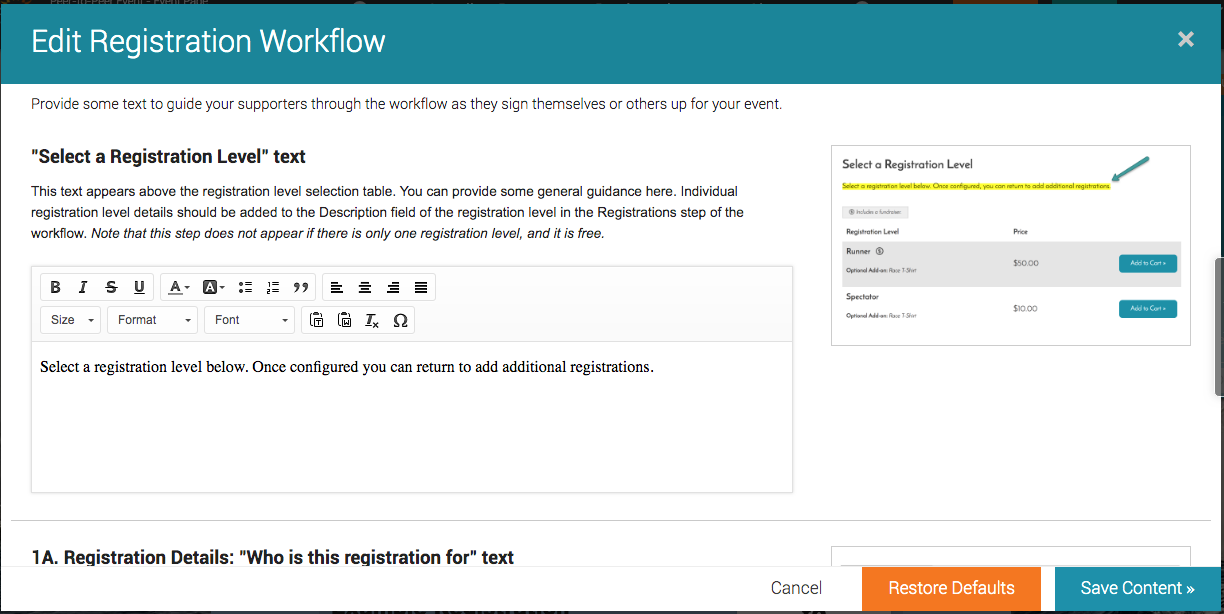 Team Element for P2P Individual Fundraiser Pages
Campaign Managers can add a Team Block to a Fundraiser Page. The Team Block shows the team to which the fundraiser belongs, a hyperlink to that team, the avatar for that team, and the fundraising progress of that team.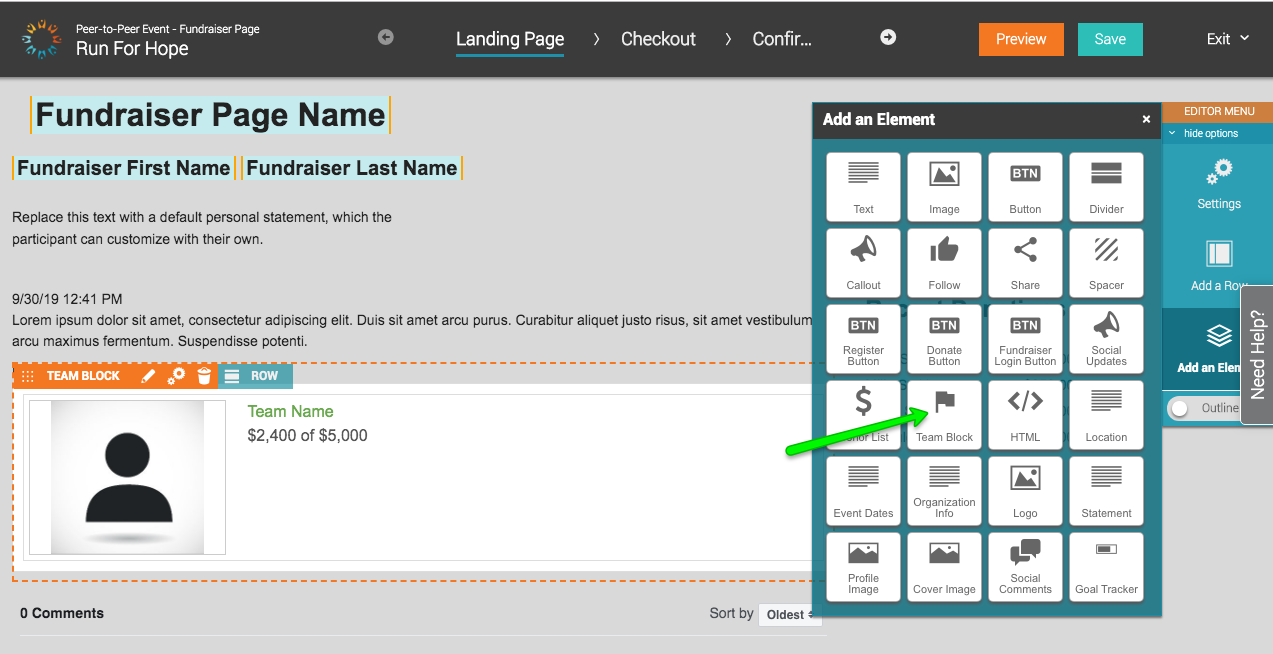 Supporter Query Update: Filter On All States/Provinces
When you need to filter your Supporter Query on a non-US state or province, select the Country first in the drop-down, then the appropriate state/province for that country.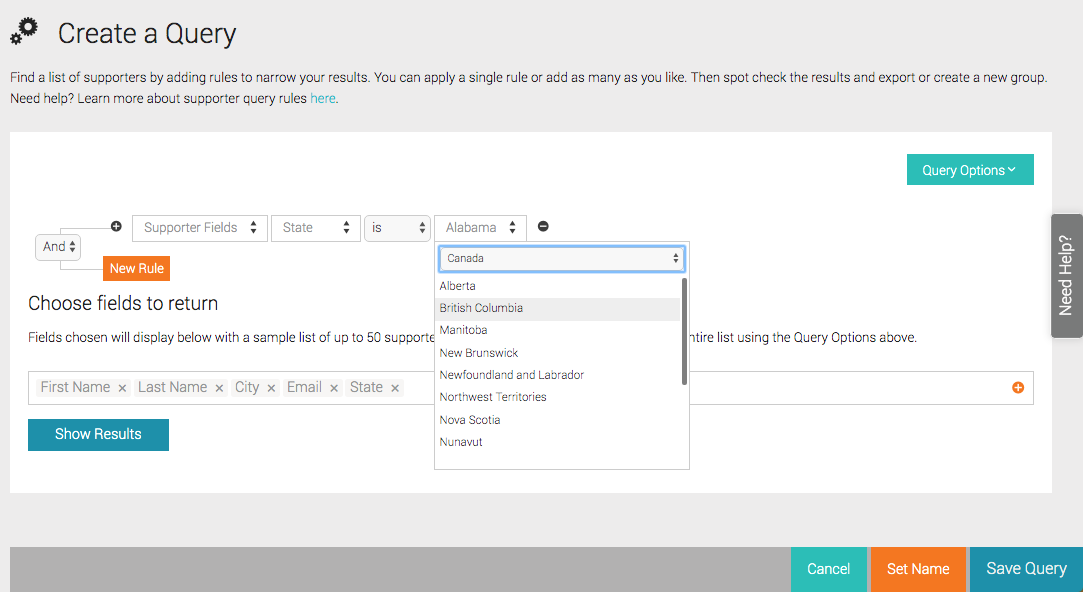 Supporter Query Update: Add All Legislative Districts
When you have filtered a Supporter Query by legislative district, now you can add all filtered legislative districts at once.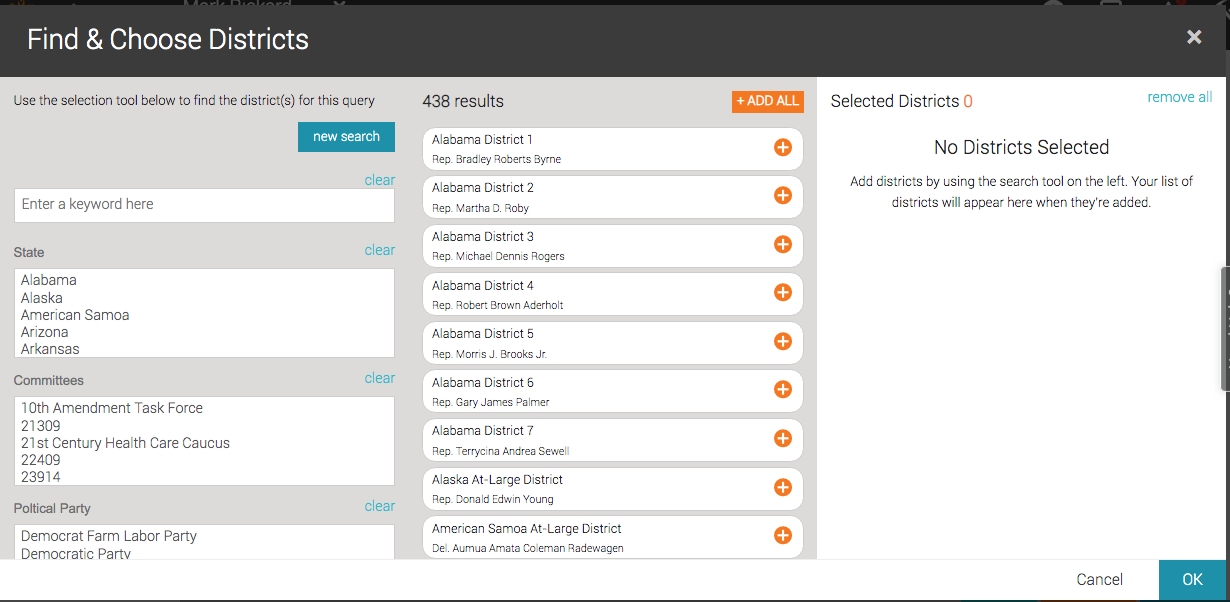 August 2019
Triggered Notifications
Configure email notifications to be sent to stakeholders based on certain activity criteria. This is useful, for example, for alerting staff members or board members when a high-dollar donation comes in.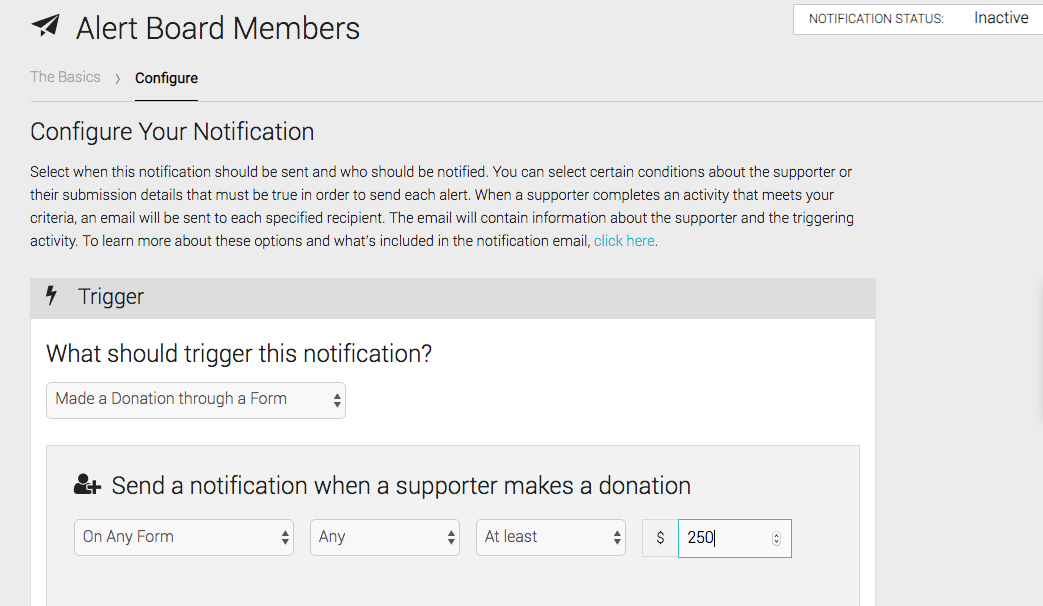 Suggested Giving Enhancements
Part of a healthy fundraising strategy is upgrading your existing donors to higher levels of support. You've spent the time and resources to build relationships with these supporters and ask them for referrals. This is the audience to ask for increased financial support, and we recommend asking for an upgrade from these supporters each year.
Two new enhancements bolster your ability to upgrade supporters: a Next Suggested Gift Amount merge field for email blasts and fundraising forms, and a Dynamic Ask String generator for fundraising forms.
Next Suggested Gift Calculator
Calculate a Next Suggested Gift amount for each supporter. This is useful for calculating an amount that will upgrade a supporter's donation amount, based on their past giving history.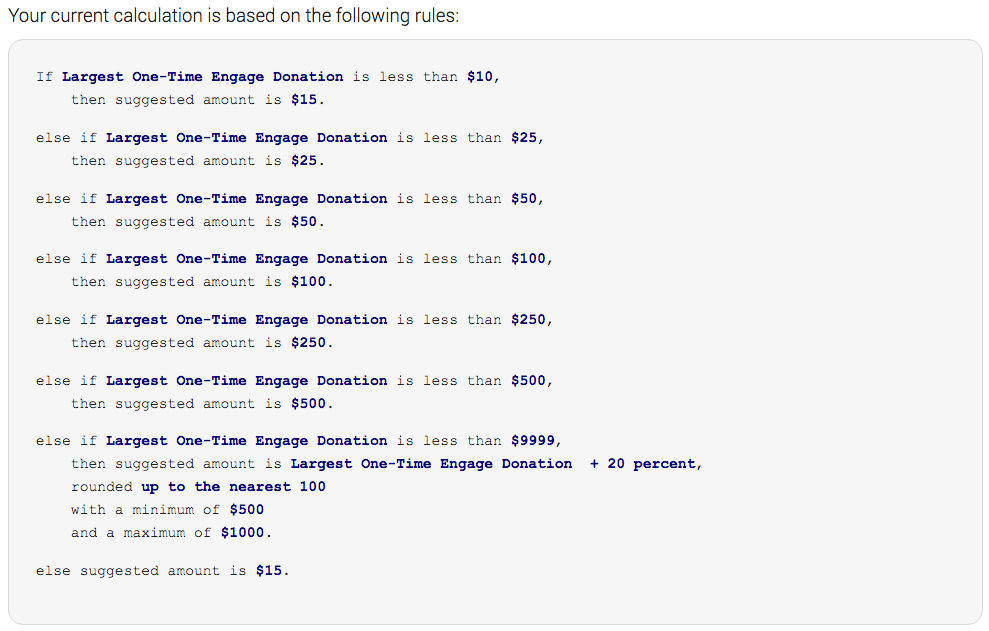 Dynamic Ask Strings
Configure Dynamic Ask Strings on forms that accept donations. This is useful for showing fundraising form visitors a set of donation amount buttons that make sense for them, based on their past giving history and Next Suggested Gift amounts.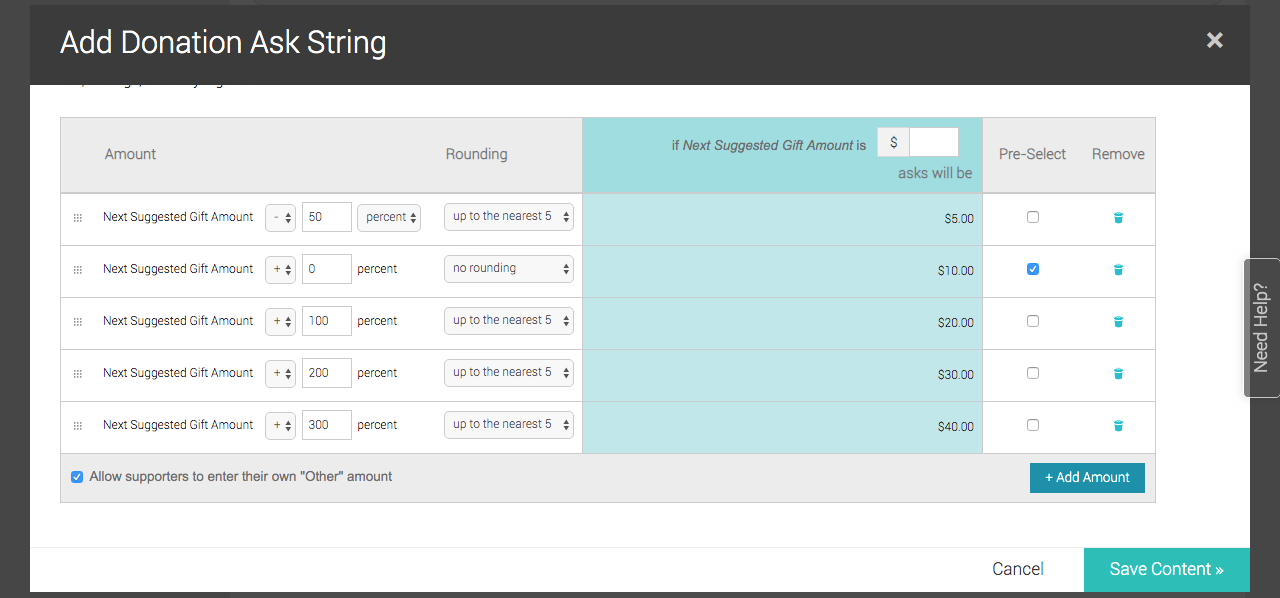 Default Tracking Codes for Activity Submissions
Add a Default Tracking Code to each Engage activity form. This is a unique value for your Activity forms, so that the supporters or transactions can be easily aggregated based on that tagged value.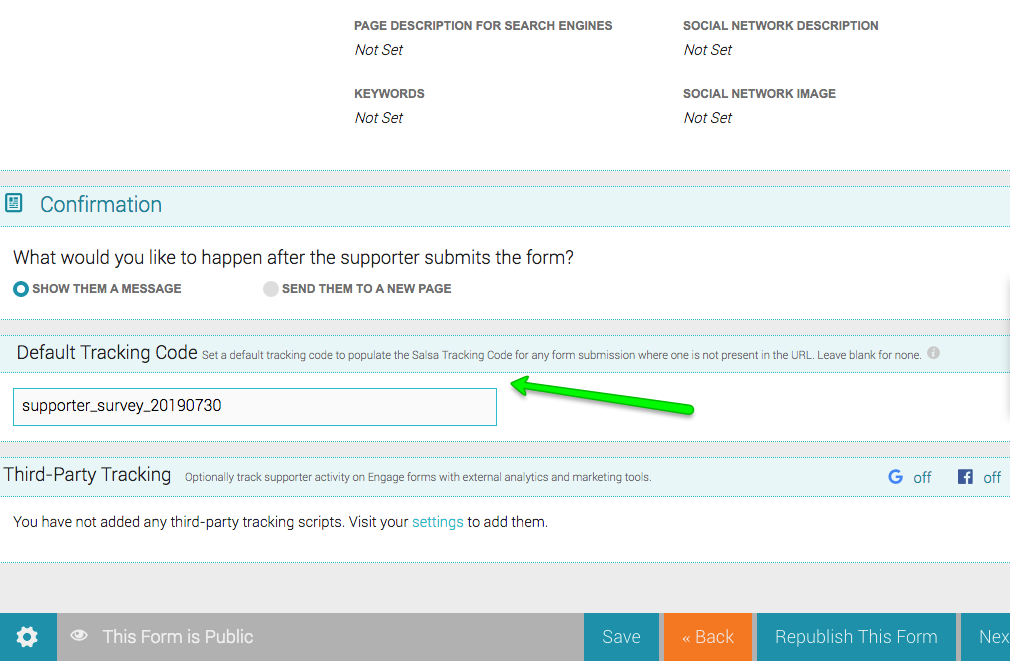 Source Tracking Codes on Supporter Records
When a supporter submits an activity that has a Salsa Tracking Code defined, either from one added to a link in an email or from the new default tracking code, then that tracking code will be permanently stored on the supporter record. This is useful for calculating the ROI of links that are distributed to different acquisition channels, i.e. "show me how many new supporters were acquired with the '2019GoogleAdBuy' tracking code". This happens automatically, but you can see the results in a new section on the Supporter record, called Source Details.

P2P | Embed fundraising pages
Fundraisers will be able to copy and paste code into their own website or blog, which will render their P2P fundraising page on that site. This is useful as another channel for any fundraiser to get visibility on and traffic to their fundraising page. This functionality will reside in the fundraiser portal at https://events.salsalabs.org/users/sign_in.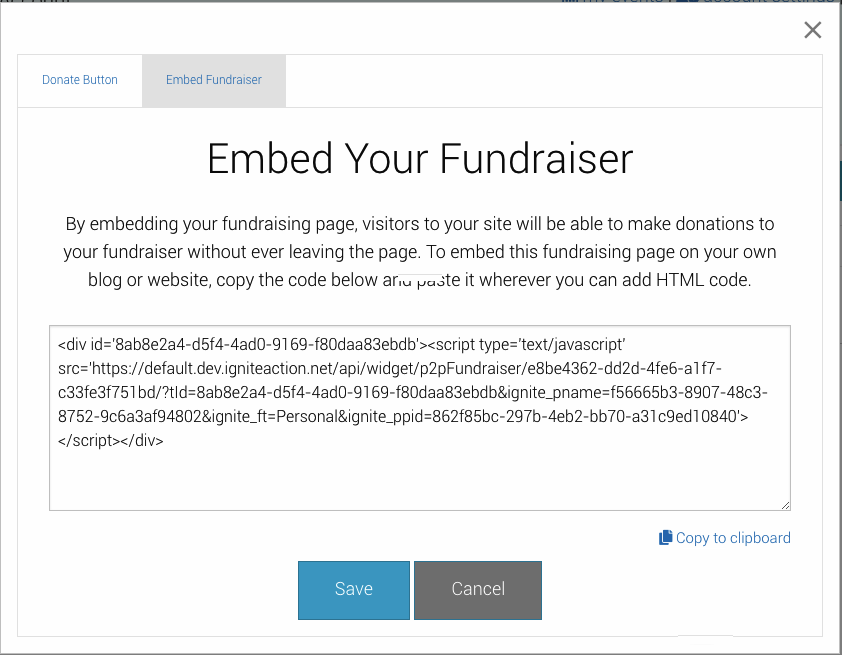 June 2019
Send Previously Composed Emails Using New Audience Sources
You can now use a previously composed email or one of your syndicated email compositions, as well as starting an email from scratch or coding your own, in any of the following scenarios:
Generate a Supporter Query, and you want to send an email to those supporters returned in the query results.

Send a follow-up email to your Event participants.

Create an Advanced Query in Salsa CRM, and you want to send an email to those constituents returned in the query results.
Support for Email Series will be added in a future release.
Integrate Double the Donation Into Your Fundraising Pages
Raise more money from corporate matching gifts by integrating a Double the Donation account into your Engage forms.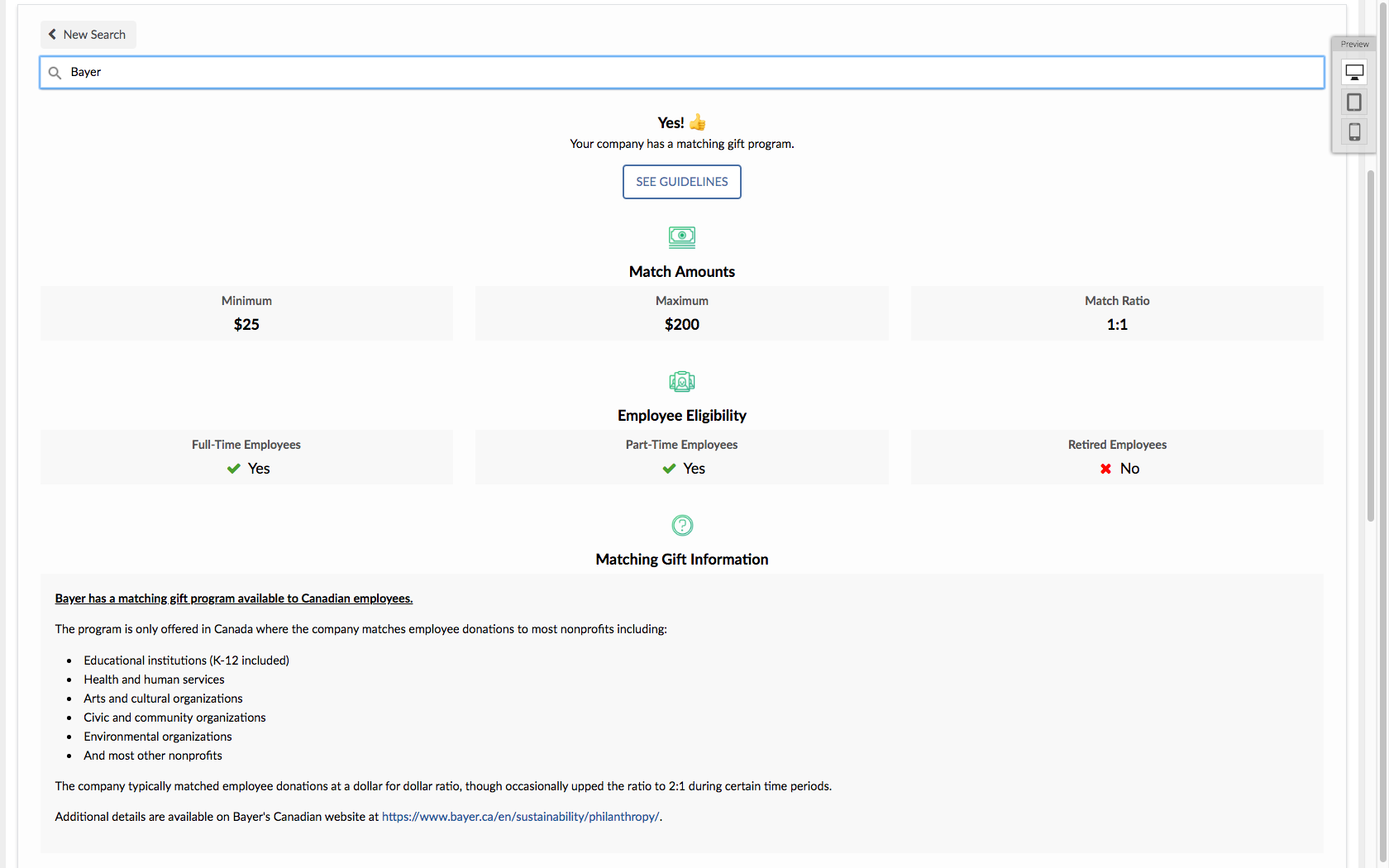 Donors can investigate corporate matching gift programs as you automate follow up, gain actionable insight, grow revenue, and more. Please note that this feature requires a subscription to 360MatchPro by Double the Donation. Interested in learning more? Join us on Wednesday, June 26th for a live webinar showcasing this new integration. Register here.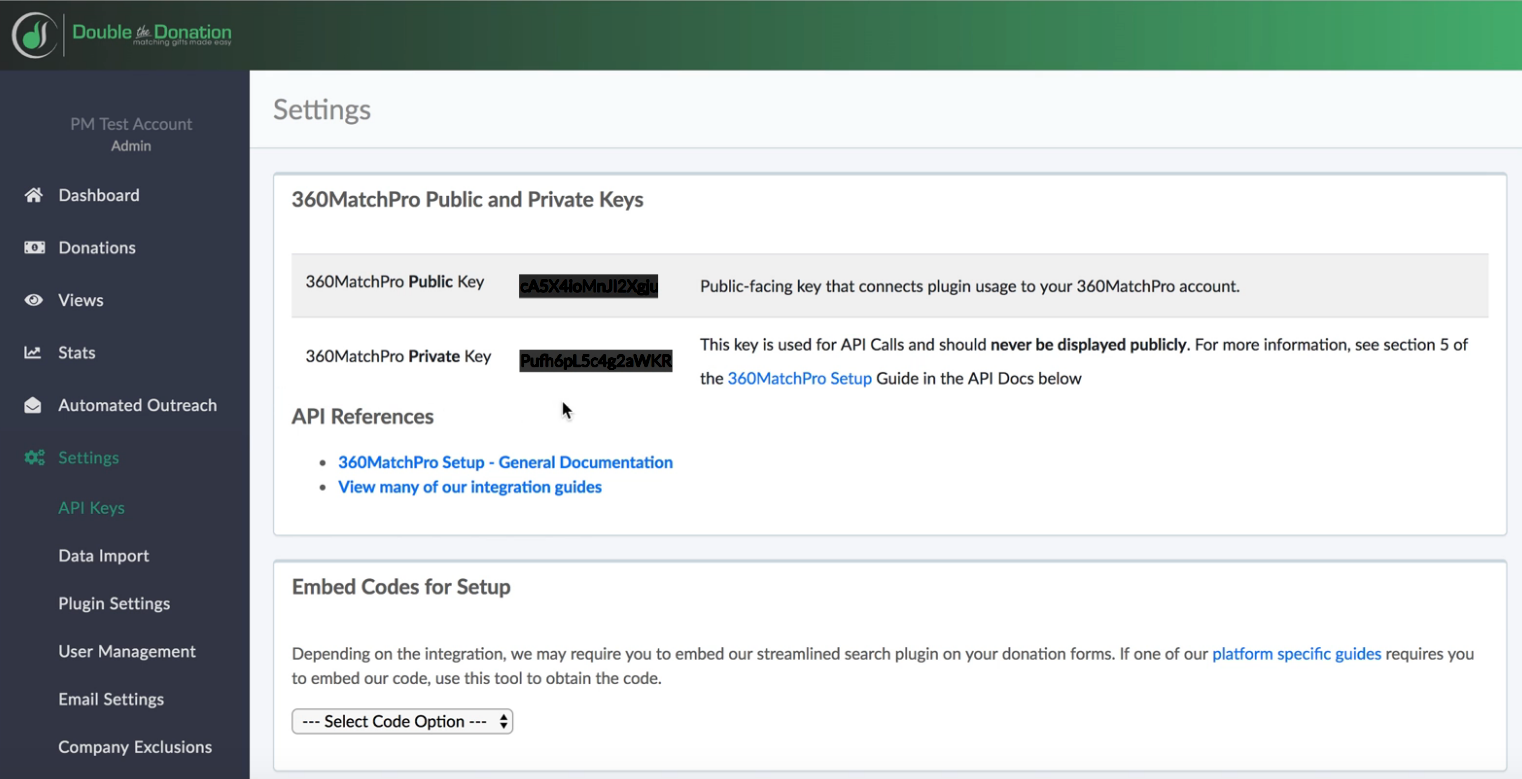 New Email Merge Fields
Supporter Custom Field Parameters
If you send fundraising emails and automate your ask amounts using email merge fields, you can now use number-based Supporter Custom Field parameters. For instance, you determine the largest previous contribution from your CRM supporters and want to send an email that stretches their giving capacity. Export their name, email, and largest gift from last year. Create some custom fields in the export file to import into Engage based on your fundraising goals (for example, HPC_100, HPC_125 and HPC_140, for whole dollar values that are 100%, 125% and 140% of their highest previous contribution). You'll be able to use those custom fields in your email template as a merge field.
New Fundraise Fields
We have also added the following fundraise fields:
Average One-Time Giving Amount
Average Recurring Giving Amount
Largest One-Time Giving Amount
Largest Recurring Giving Amount
Last One-Time Giving Amount
Last Recurring Giving Amount
New Peer-to-Peer Features
Increase goal progress and thermometer but do not send transaction details to the CRM
Donations such as event sponsorship or offline donations already entered in your CRM can now be entered as offline donations in your P2P event and optionally synced to your CRM. This option increases the goal progress and thermometer total for a fundraiser to reflect a donation that is already recorded in your CRM or to reflect an offline sponsorship check, for example. This avoids double-counting amounts in the CRM for donation amounts that have already been recorded. The export CSV file has a new Do Not Count column indicating that the value on the offline donation page was checked.

Dedicated Sharing Element For Autoresponders
You can now make it easy for a supporter to share their fundraising page with social media by adding the new share element to your fundraiser autoresponder. You can find this new element here, labeled P2P Share.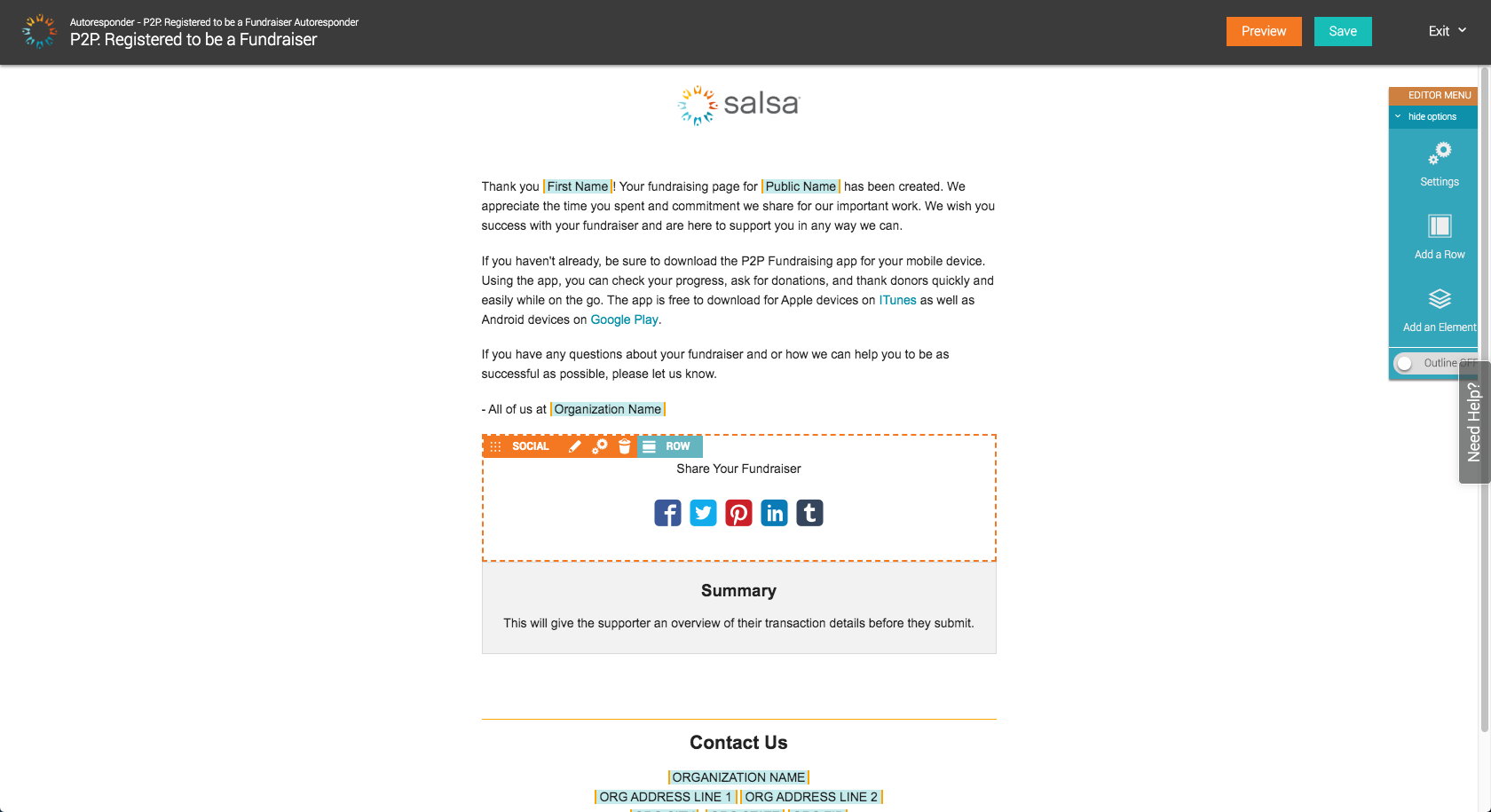 New Fundraiser Portal Updates
Donate Page Button Widget
Individuals and teams that want to embed their P2P fundraising page in an existing social media profile or web site (such as Twitch) can now generate button widget code from within their fundraiser portal. Under Promote Your Fundraiser, there is a new HTML icon </>, which pops up a window containing embed code to be copied to the Clipboard and pasted into the web page source.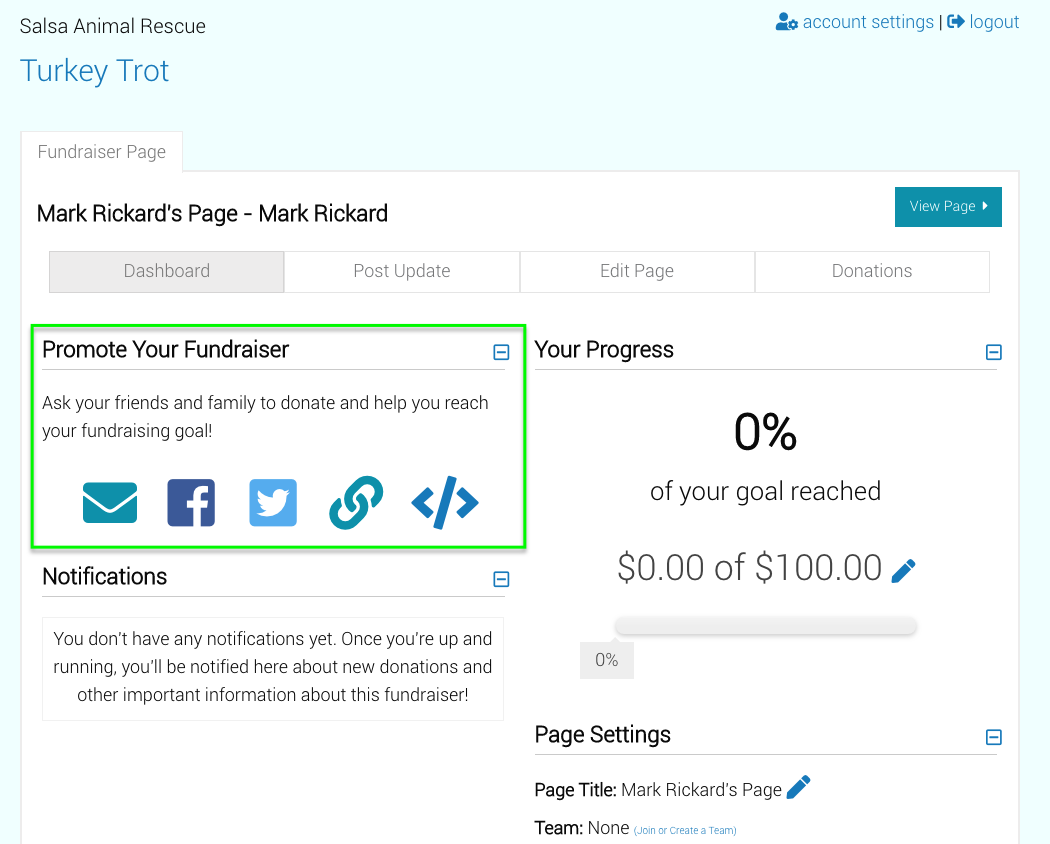 Add or Join A Team From The Fundraiser Portal
Your individual fundraisers can now join a team or create a new team after registration from the fundraiser portal.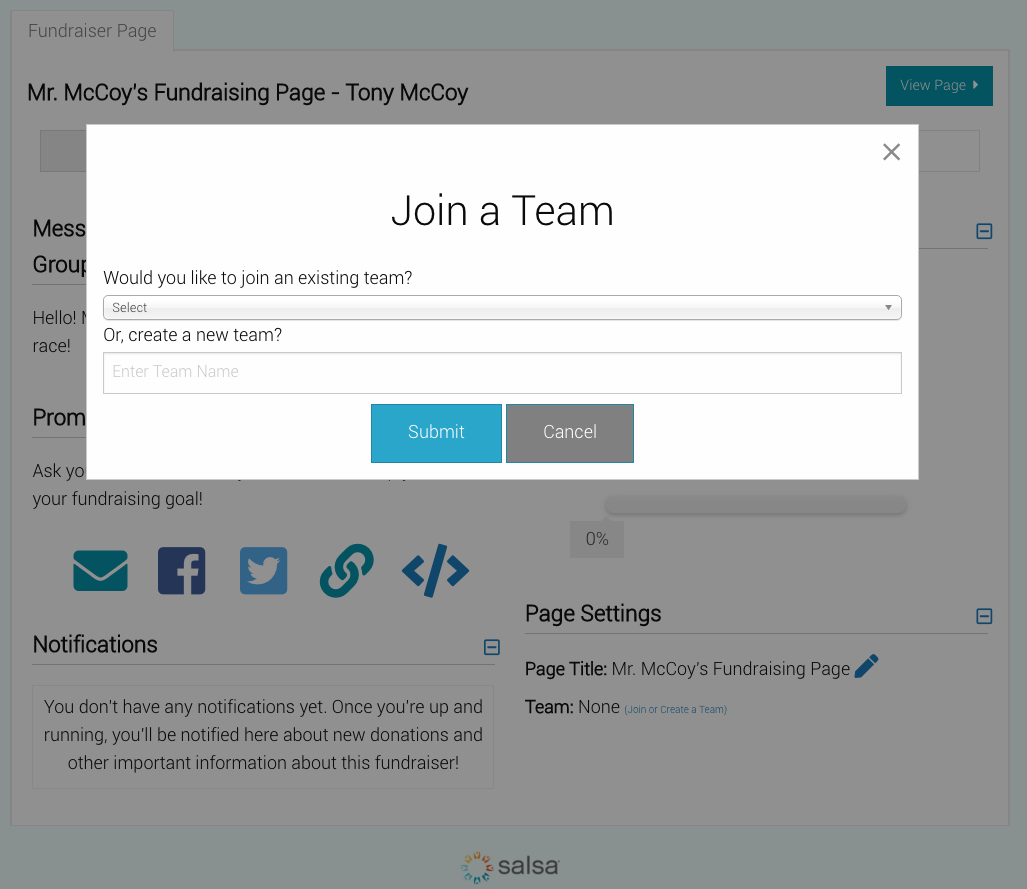 May 2019
New Advocacy Action: Regulations.gov Comment Forms
The U.S. Environmental Protection Agency established Regulations.gov in January 2003 in order to provide public access to submit comments on EPA regulations or other comments. You can now create and publish advocacy action pages that post their supporters' comments as public regulations submissions via Regulations.gov, while taking advantage of electronic comment submissions to advance advocacy campaigns, lead generation, segmentation, and data analytics.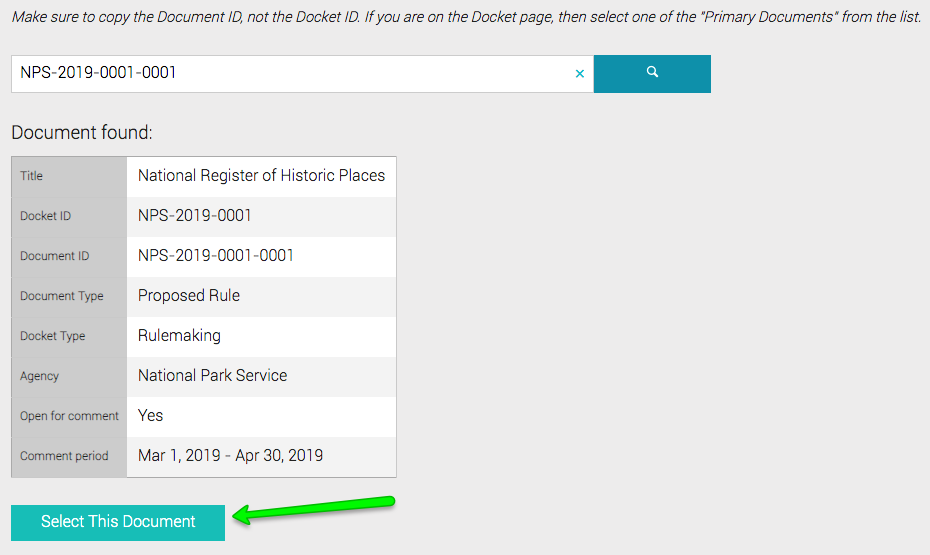 Targeted Action Email Fallback to Fax
When targets lack a valid email address or a web form to submit to, Engage will submit the supporter's contact details and message content via fax or store the message so that supporter actions can be exported and delivered manually. This ensures the highest possible delivery rate for your email channel submissions.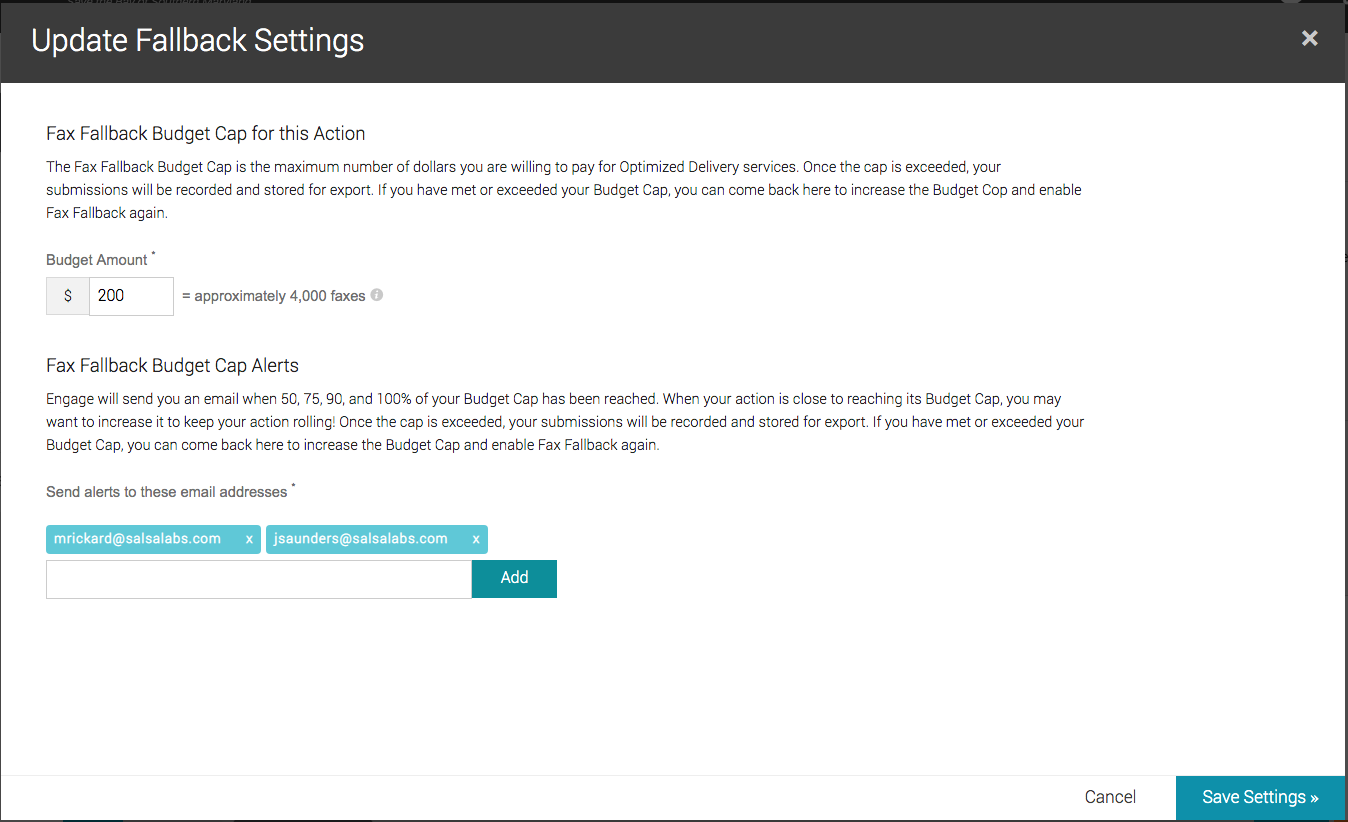 Peer-to-Peer Event Updates
Added columns for "Email" and "Claimed" to the fundraiser management table.
Added button to resend the autoresponder to fundraisers who have not claimed their pages.
Fundraiser Portal Welcome Messages are now a persistent section in the portal and not just a pop-up window.

Salesforce: Synced Supporters Who May Already Be A Salesforce Contact
The Salsa integration app installs a duplicate match rule in Salesforce automatically. That rule ensures a primary email address is a unique identifier when determining if a Salsa supporter matches with a Salesforce contact. The rule ensures that a Salsa supporter can likely not duplicate a Salesforce contact. However, you can either edit our rule, or you can add your own, custom duplicate rule and deactivate ours. For example, you may wish to check for existing email addresses in either the primary, personal or work email fields in Salesforce for any Contact. That new rule may allow a match to a potential duplicate contact in Salesforce that has already synced. In this case, the supporter record stays in the Salsa Engage New Supporter Queue in Salesforce. We will indicate that the record potentially matches already has a Supporter ID. You can then potentially Merge those records. That merged record ultimately syncs back to Engage.
Important: This update requires an Engage integration app update, which you can load from Engage.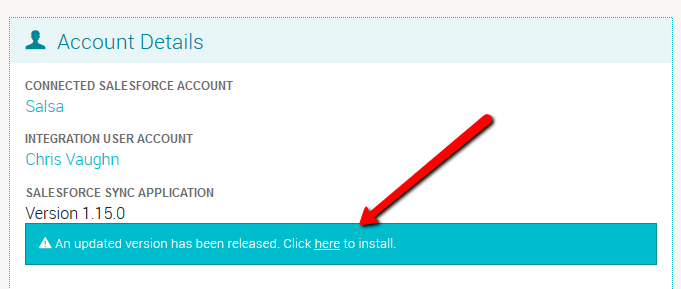 Salesforce: Synchronize Opportunities to Offline Donations
In your Salesforce account, you may have legacy donations, like offline check or cash gifts or online donations made through other systems. Using the Salsa Engage—Salesforce integration, you can optionally sync these donations to Salsa Engage.
Salesforce: Synchronize Groups to Campaigns
The Salsa Engage-Salesforce integration makes it easy to sync a segmented group of supporters from Engage to Salesforce, or vice-versa. Checking a box in the Salesforce Campaign tells the integration to create a matching group for your Campaign in Salsa Engage during the next sync.
April 2019
Visual Editor Redesign
There is a training webinar on Tuesday, April 2, 2019, to introduce these updates.
Full-Screen Editing—No more clicking "save and preview" to compare what you built to what your supporters will see online. Engage forms will appear in the Visual Editor at they render on the Internet.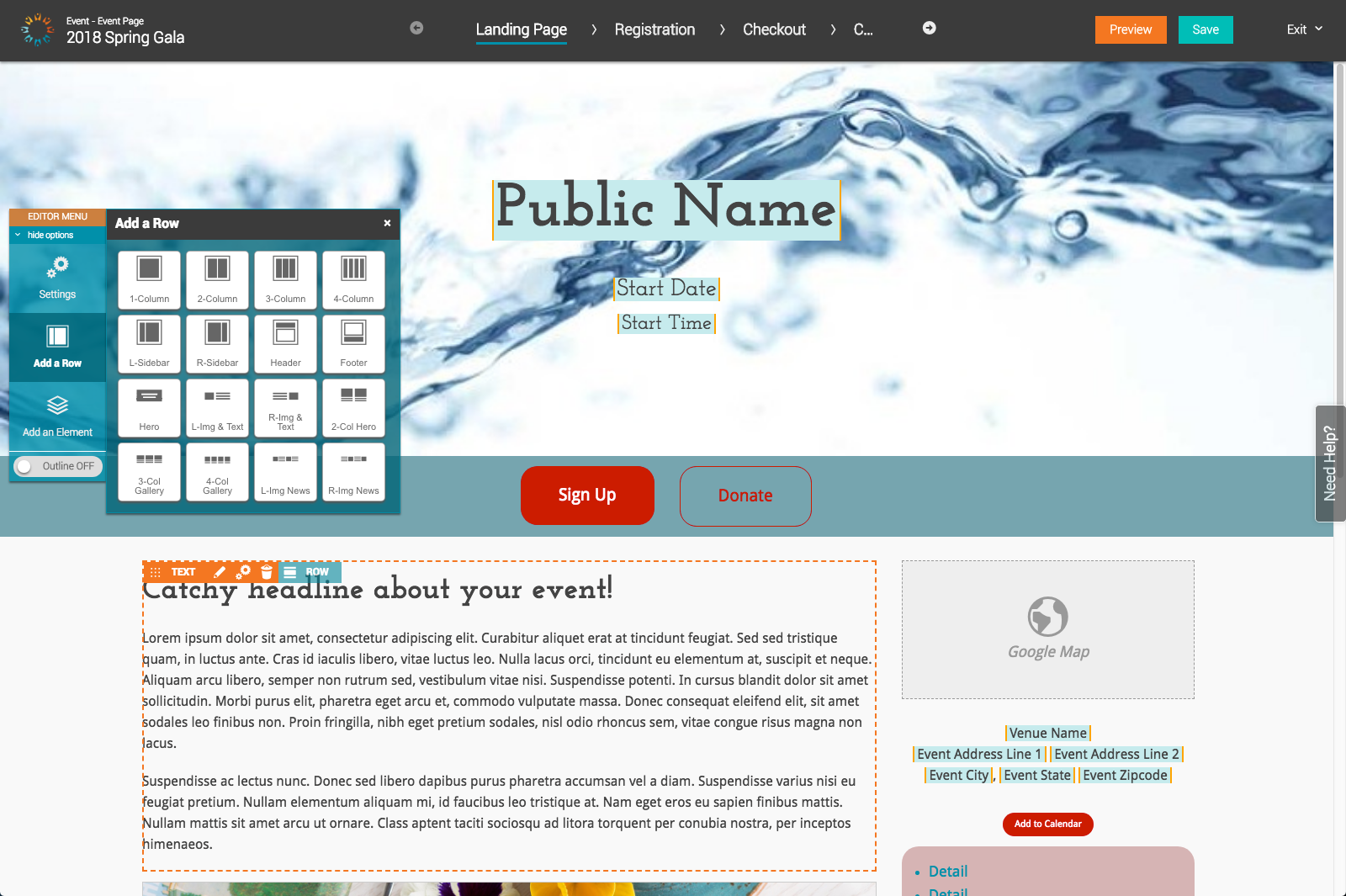 Better Drag-and-Drop Functionality—Move rows and elements without having to go into Outline mode.
Moveable Editor Menu—Place controls wherever you need them (so as to not interfere with your design work).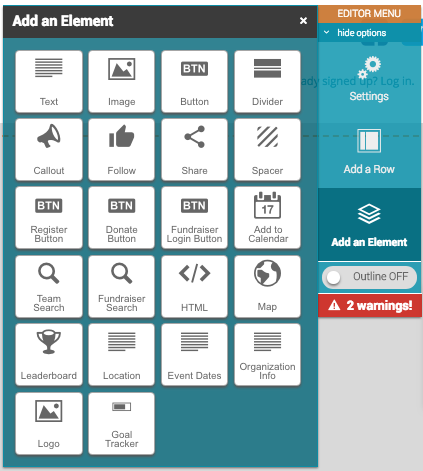 Inline Text Editing—Update text directly on the main Visual Editor page (no need to click into a separate text window).
Real-Time Validation—Real-time validation takes you directly to items that need attention and enables you to fix it immediately.
Multiple Versions of Targeted Action Email Content
Campaign Managers will be able to create up to 20 different versions of email target set messages, randomly presented to your supporters so that supporters are not sending the same exact message to a target. Engage will display messages in round-robin fashion for each browser session. This assures that the messages being sent are not all completely identical in tone or content.

Better Import Custom Field Matching
Admins who are importing supporter data that includes custom supporter fields, will now find that their custom fields will get automatically matched to the corresponding Engage field, as long as the data file column headers are spelled exactly the same as the existing custom field.
Email Link Renamed
We automatically append a link to your sent emails labeled Manage Subscription that allows recipients to edit their participation in your email topics or to unsubscribe completely. We've renamed that email link to Unsubscribe. This change helps to enhance your overall email deliverability rates, because email providers rate the presence of an unsubscribe link favorably when scoring emails for spam.
March 2019
API Changes
Integrations or third-parties can retrieve email activity data via the Engage API and use that data for segmentation/scoring externally. For instance, when invoked, Salesforce customers have a way to pull back the same kind of data that they used to collect via Marketing Cloud without necessarily storing it in Salesforce and creating storage concerns.
Share Addresses to Salesforce using Two-Letter Abbreviations
States in Engage addresses can now be optionally shared to Salesforce using the ISO-3166 standard two-letter abbreviation.

February 2019
Updated Peer-to-Peer Fundraiser Portal
We've updated the look and feel of the Fundraiser Portal for Salsa Peer-to-Peer Fundraising (P2P) events. We have updated the fundraiser portal color scheme and rearranged some functionality to make it easier to use. The revised portal is mobile-friendly for supporters who would prefer to manage their fundraisers through their mobile browser, rather than or in addition to the mobile app. Fundraisers can also now choose to create a new team, join an existing team, or leave a team altogether, all from the Fundraiser Portal.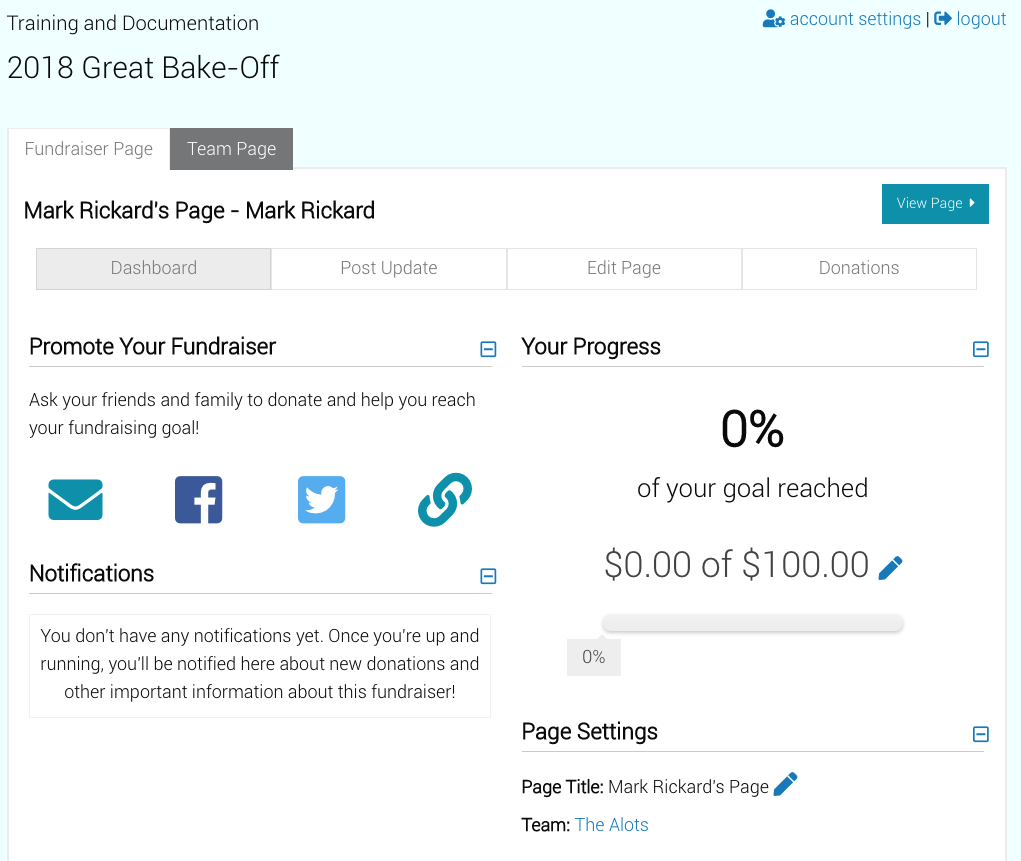 Reallocate Donations Made as Part of a P2P Registration
When a purchaser registers a fundraiser for an event and makes an additional, optional donation, the donation is currently allocated to the purchaser (if they are purchasing for themselves), a third-party fundraiser (if there is only one in the cart), or the event itself (if there is more than one third-party fundraiser in the cart). Campaign Managers can now reallocate that donation to any fundraising page or team page.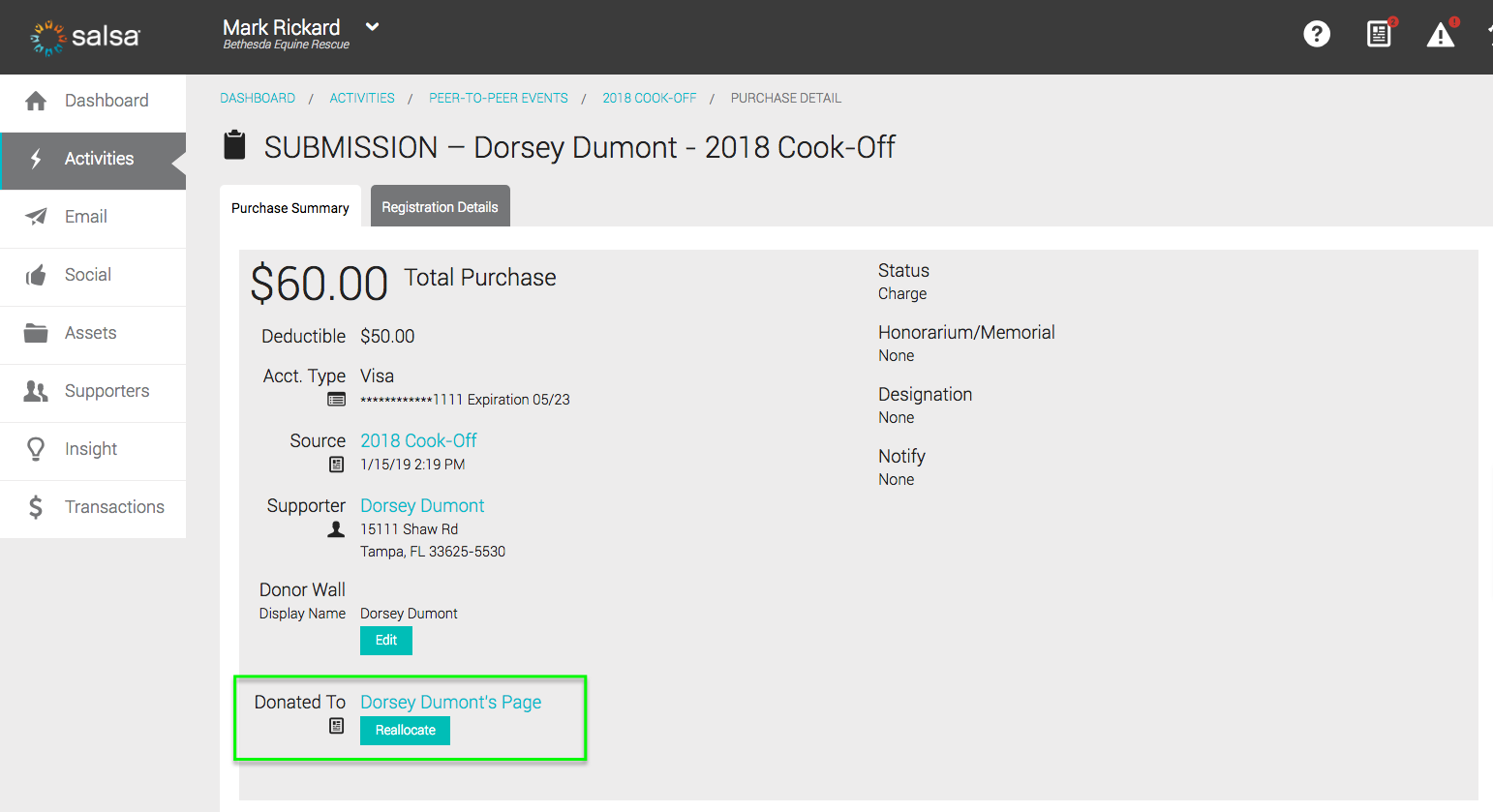 P2P Fundraiser Pages Are Now Created Immediately After Registration
Salsa is making a change to the way that fundraising pages are generated and presented on the public event page. For any fundraising registrations that occur after the release on February 7, 2019, all fundraising pages will be generated and publicly available at the time of registration. There are almost no perceptible changes to the checkout process for supporters, with a couple of exceptions:
If fundraising is "required" in the registration configuration, then a supporter who is purchasing a fundraising registration for themselves must create their fundraising account during registration. The "Do this later" option will only be available for the purchaser when fundraising is "optional."
The supporter who is purchasing the registrations will have the option to select a fundraising team for any third party registrants at the time of checkout.
November 2018
Custom CSS
Cascading Style Sheets (CSS) is a style sheet language that web developers use to define HTML styles (e.g., fonts, colors, spacing) for web forms and, to a lesser extent, emails. Now you can add CSS to customize the look of your Engage forms (that are not embedded in existing websites) and email blasts. CSS can affect the look-and-feel of your activities beyond what you can normally do in the Visual Editor.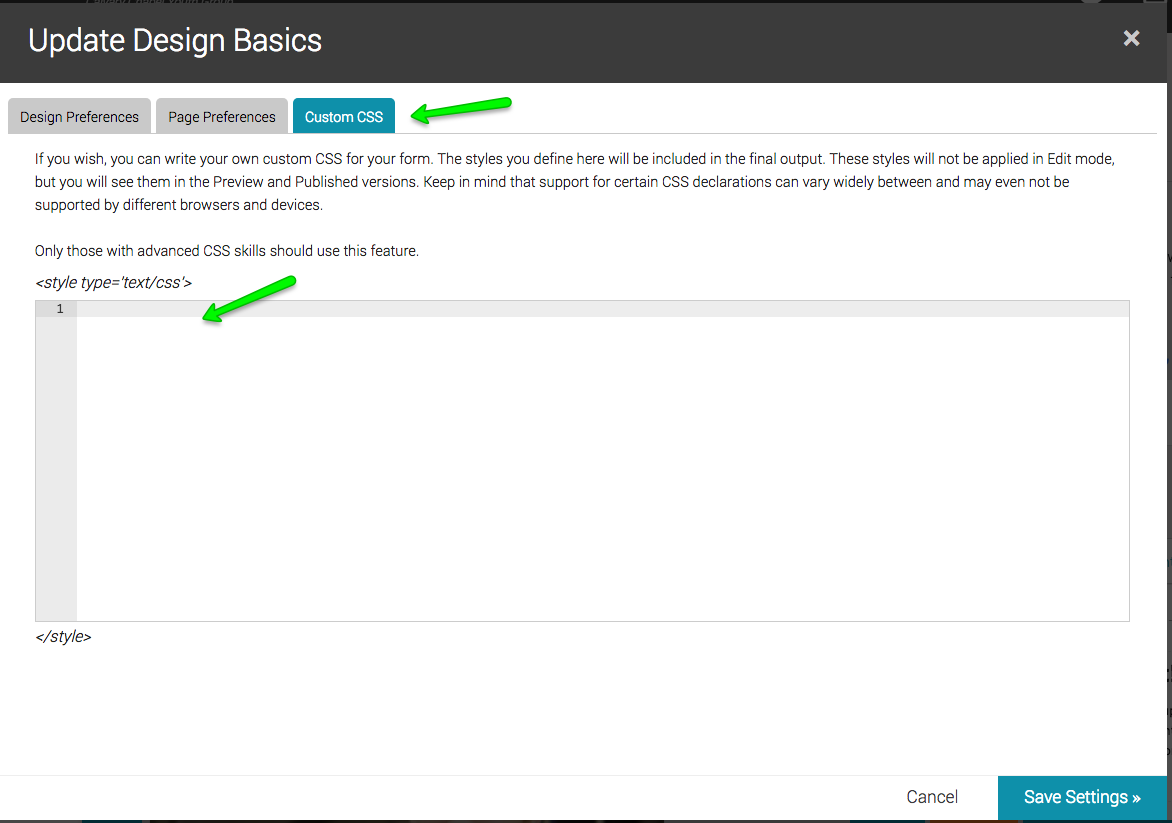 Add Images to Text Elements
We now support inline images inside Text elements in email blasts and activity forms. The text in the element will wrap around the image if the image is smaller than the paragraph.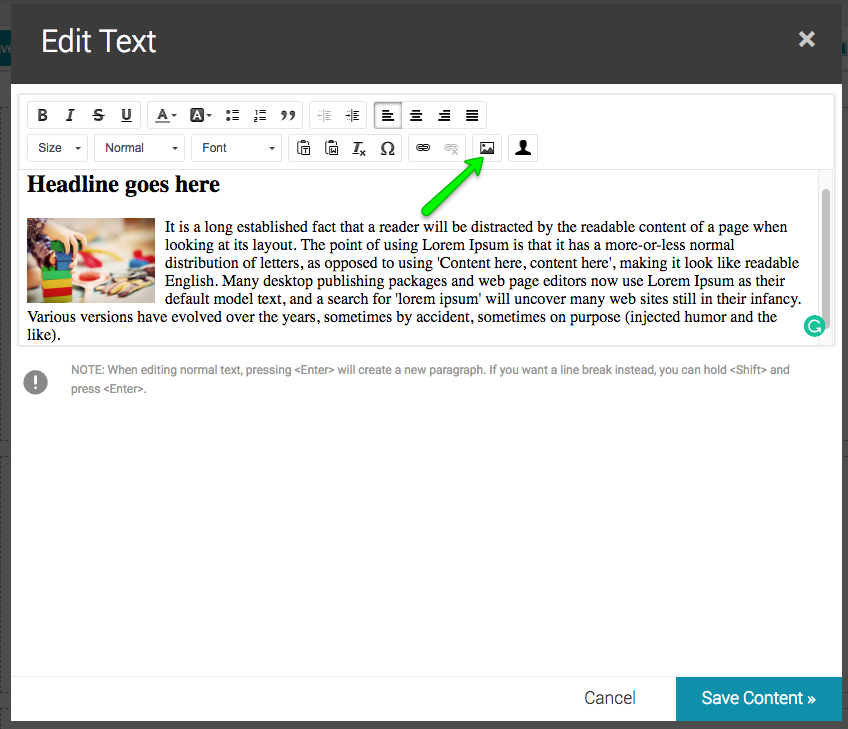 Lock Image Size and Aspect Ratio
Image element aspect ratios can be locked for editing. This is a useful way to maintain the image dimensions in a layout, especially when it is cloned or syndicated. If an image element is locked and a user adds an image to the element, the user will be prompted to crop the image to fit the space. An image element can always be unlocked to add an image of any size and shape.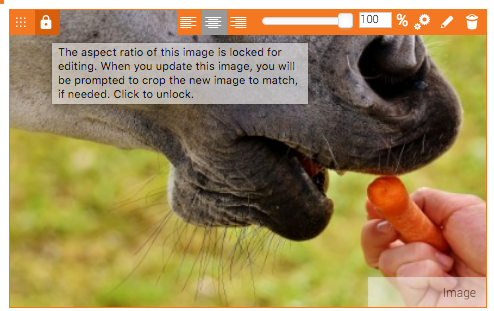 Supporter Source Fields Added to Supporter Query
We have added four new fields to the Fields to Return in a Supporter Query:
Source Activity UUID
Source Activity Name
Source Activity Type
Source Type
These fields were already available when generating Rules for your query, but were not defined as fields you could output until now. These fields define the activity that added the Supporters to your Engage database.
Salesforce Support
For customers who are already partnered with Salesforce, you can now initiate and maintain a bi-directional interface with Engage to transmit supporter, activity, and (soon) email data to Salesforce.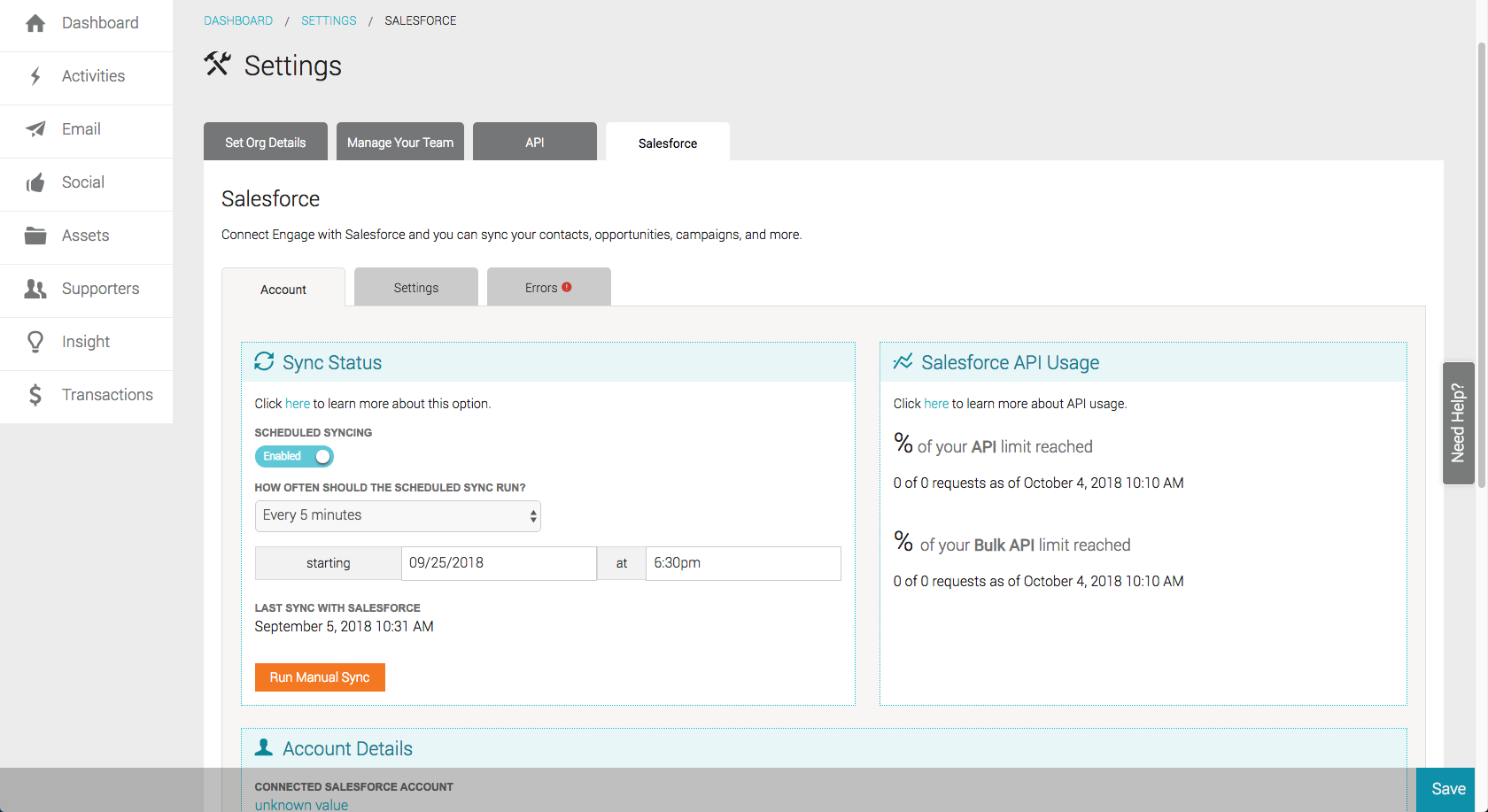 October 2018
PayPal Support
You can now add PayPal to a fundraising form as a transaction payment. This function relates to the payment gateway that is assigned to fundraising forms and is separate from the payment gateway itself.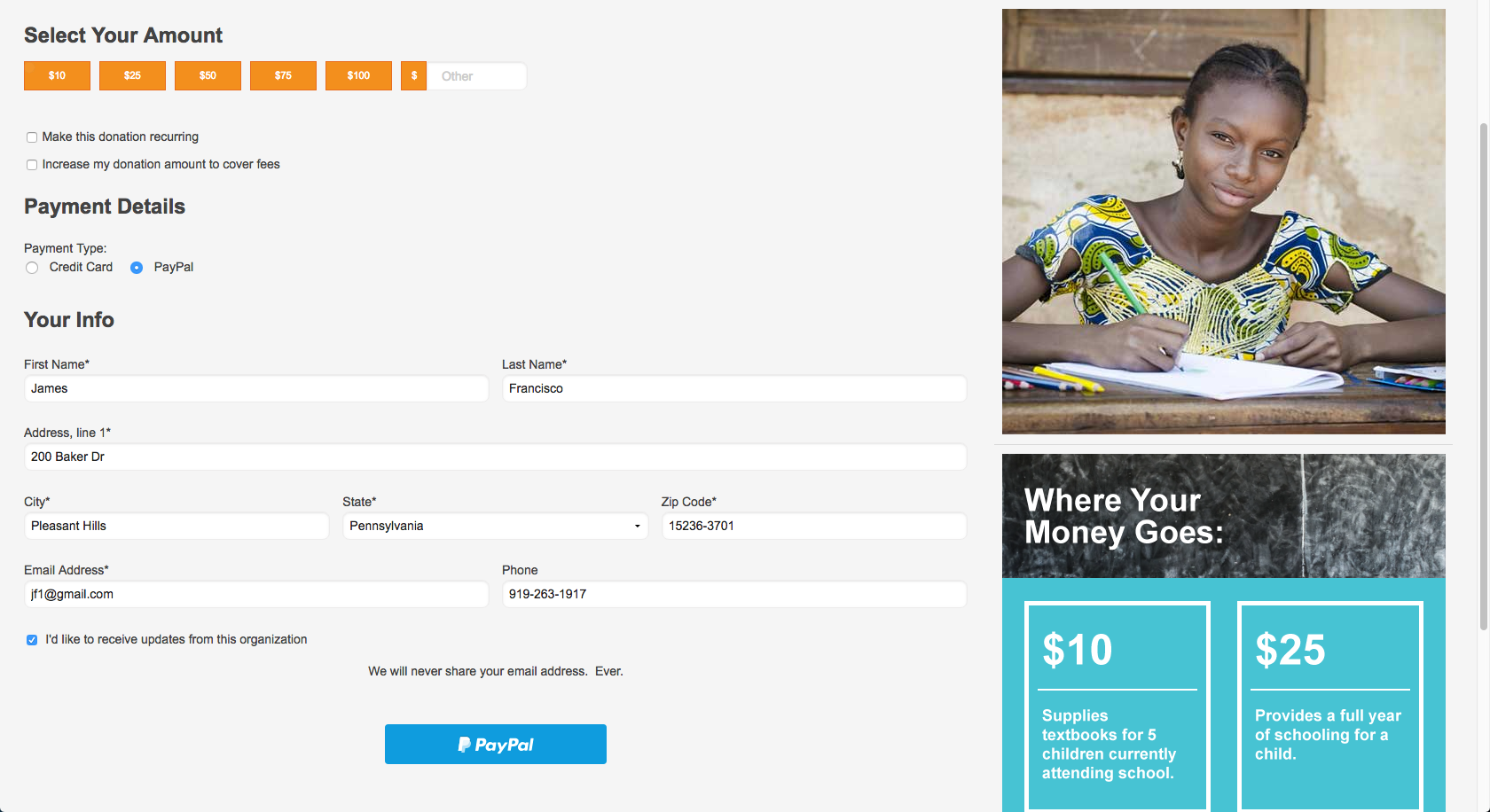 Email Link Parameter Append
Campaign Managers can now customize links in Email Blasts with a set of parameters (for example, linking to a fundraising form and automatically selecting a preset donation amount).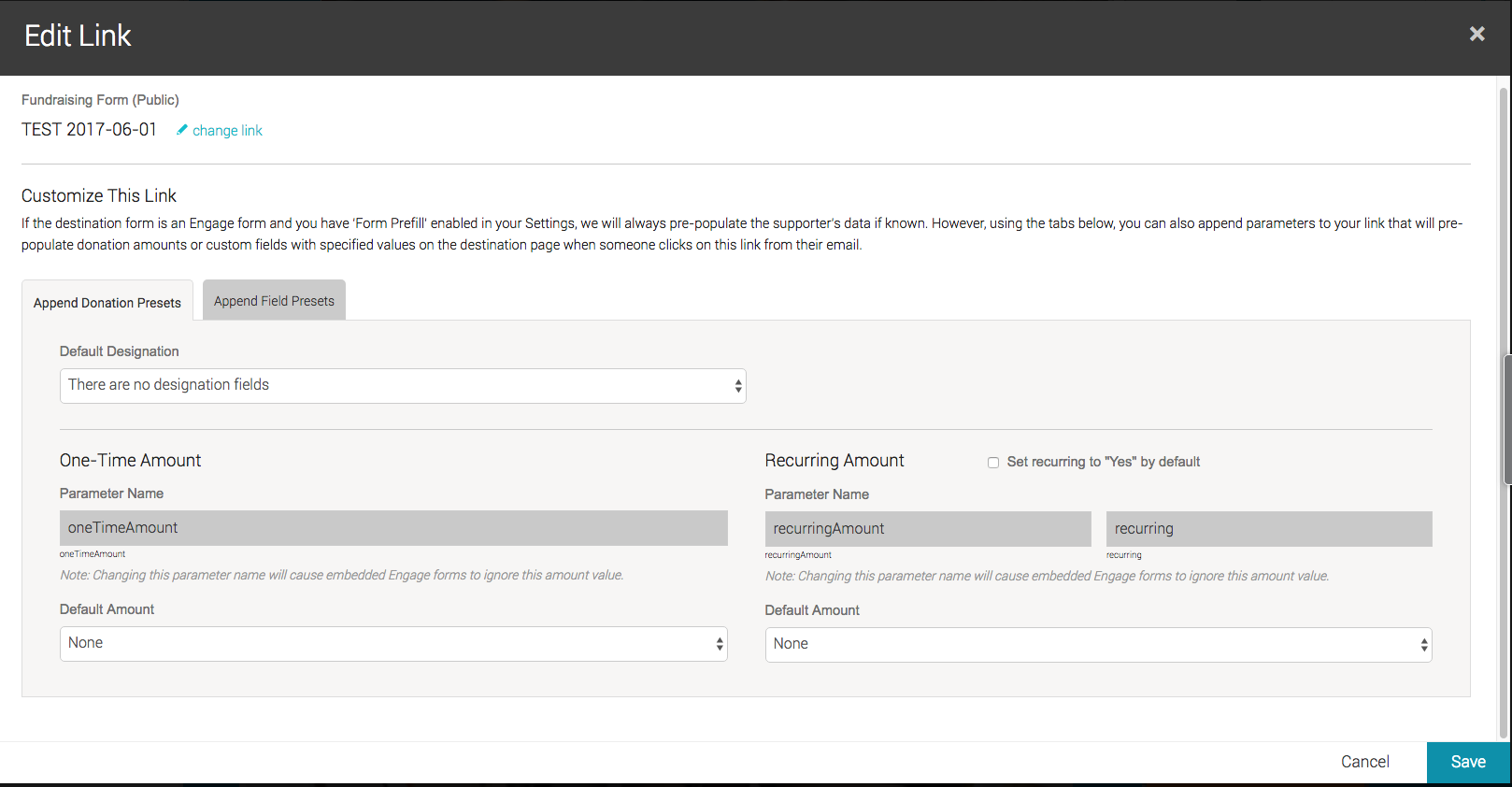 Image Editor Changes
The Adobe Creative Image Editor, which powered the image editor in Salsa Engage, was recently discontinued by Adobe. That feature suite has been replaced with the edit functions Salsa Engage customers used most often. Our new Asset Image Editing capabilities maintain the ability to Size, Reorient, and Crop images from within Engage.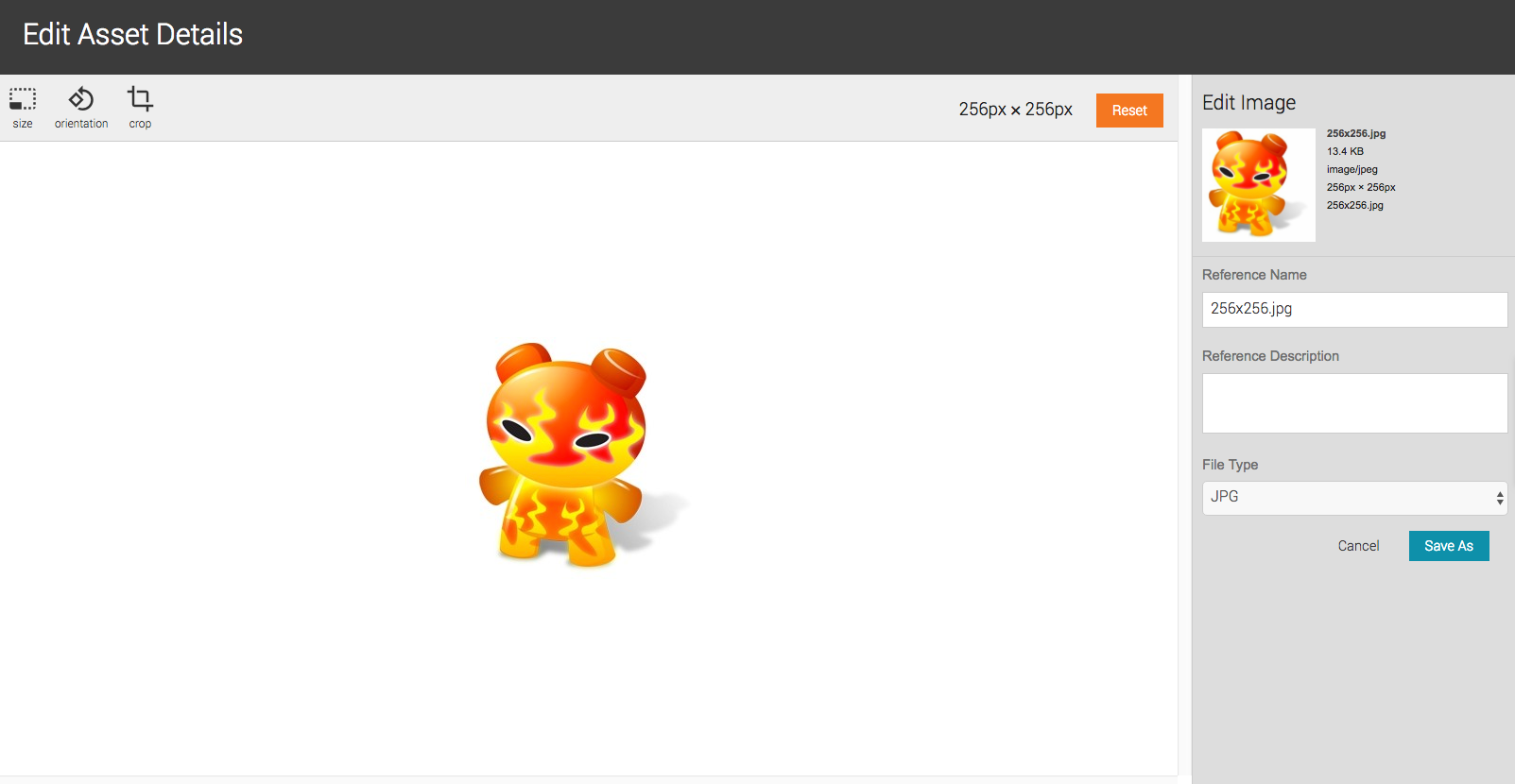 Delivered Email Metrics
Sent Email reporting and Messaging Performance Insight Queries now report on the number of emails delivered for email blasts.
September 2018
Late this evening (Eastern time) we are releasing an Engage update to our email stylesheets that have adjusted email image element padding. Campaign Managers will have more granular control over the padding, including with the ability to zero it out completely. Emails using the new stylesheet will render more consistently across email clients. Emails generated prior to 9/11/2018 will retain the original padding. Emails created on or after 9/11/2018 will use the new stylesheet.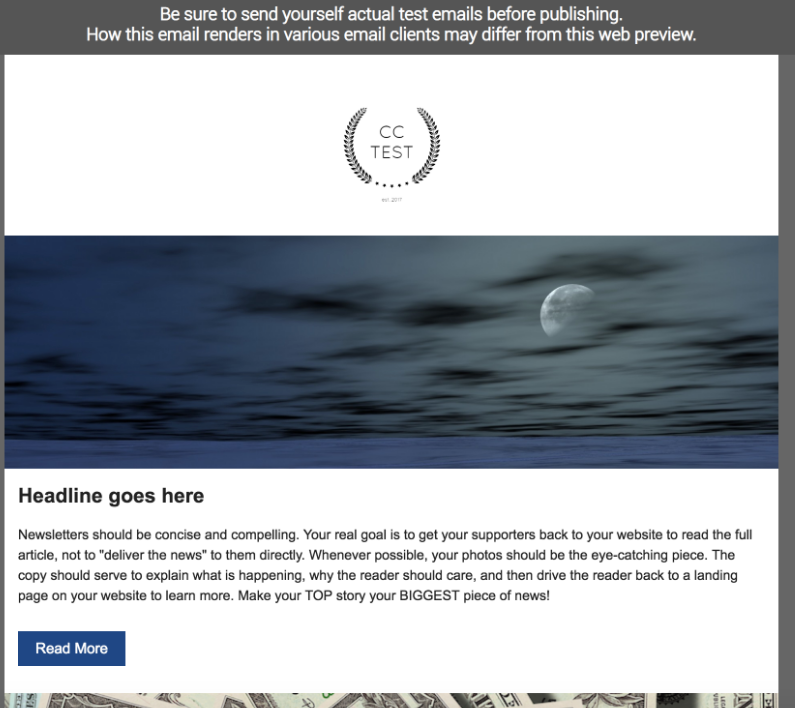 August 2018
Activities
There is a new process for creating all Activities: starting with an existing Activity, starting with a Predesigned Template, or starting from scratch.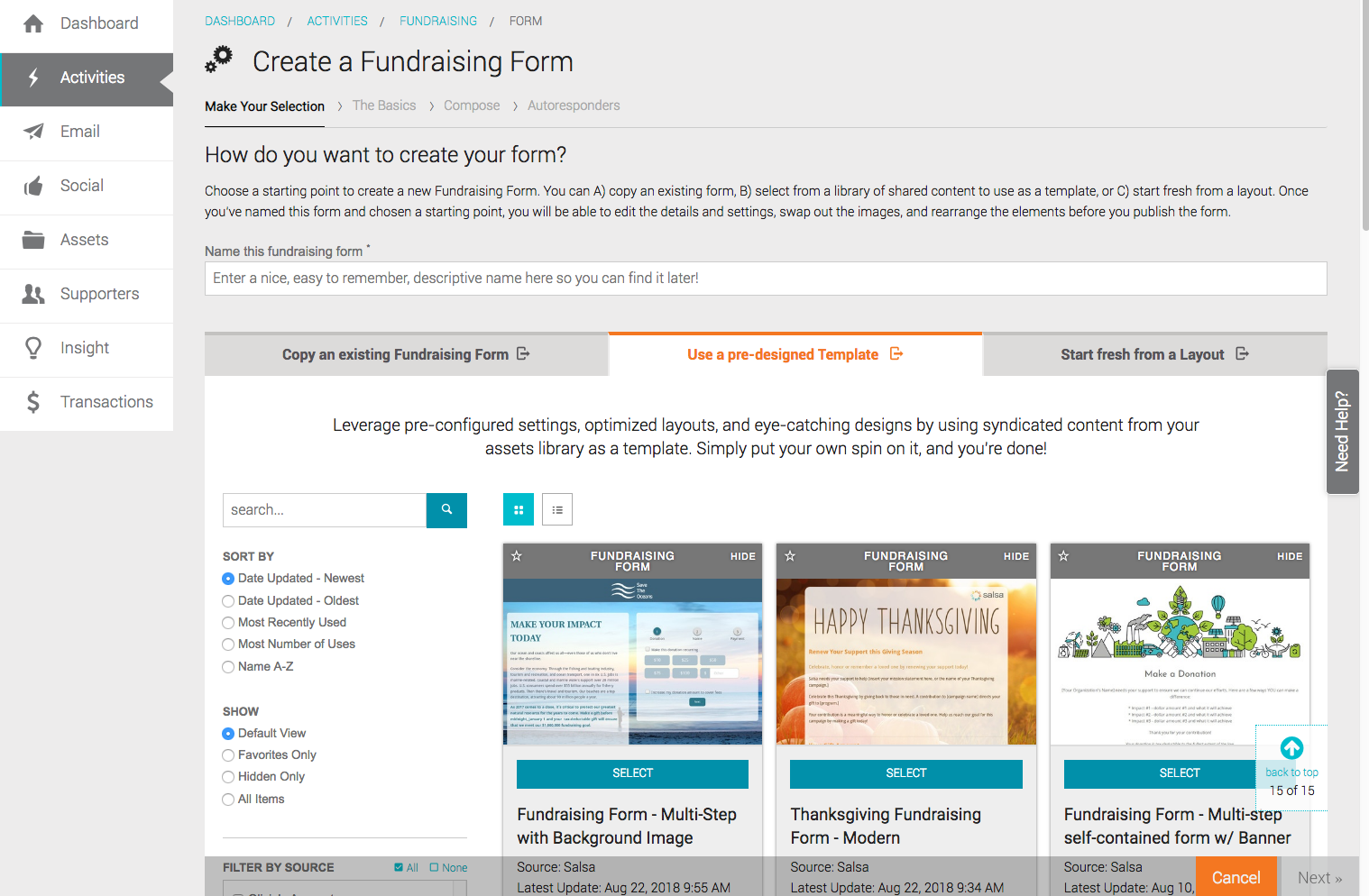 Emails
There is a new process for creating emails: starting with an existing email, starting with a Predesigned Template, or starting from scratch.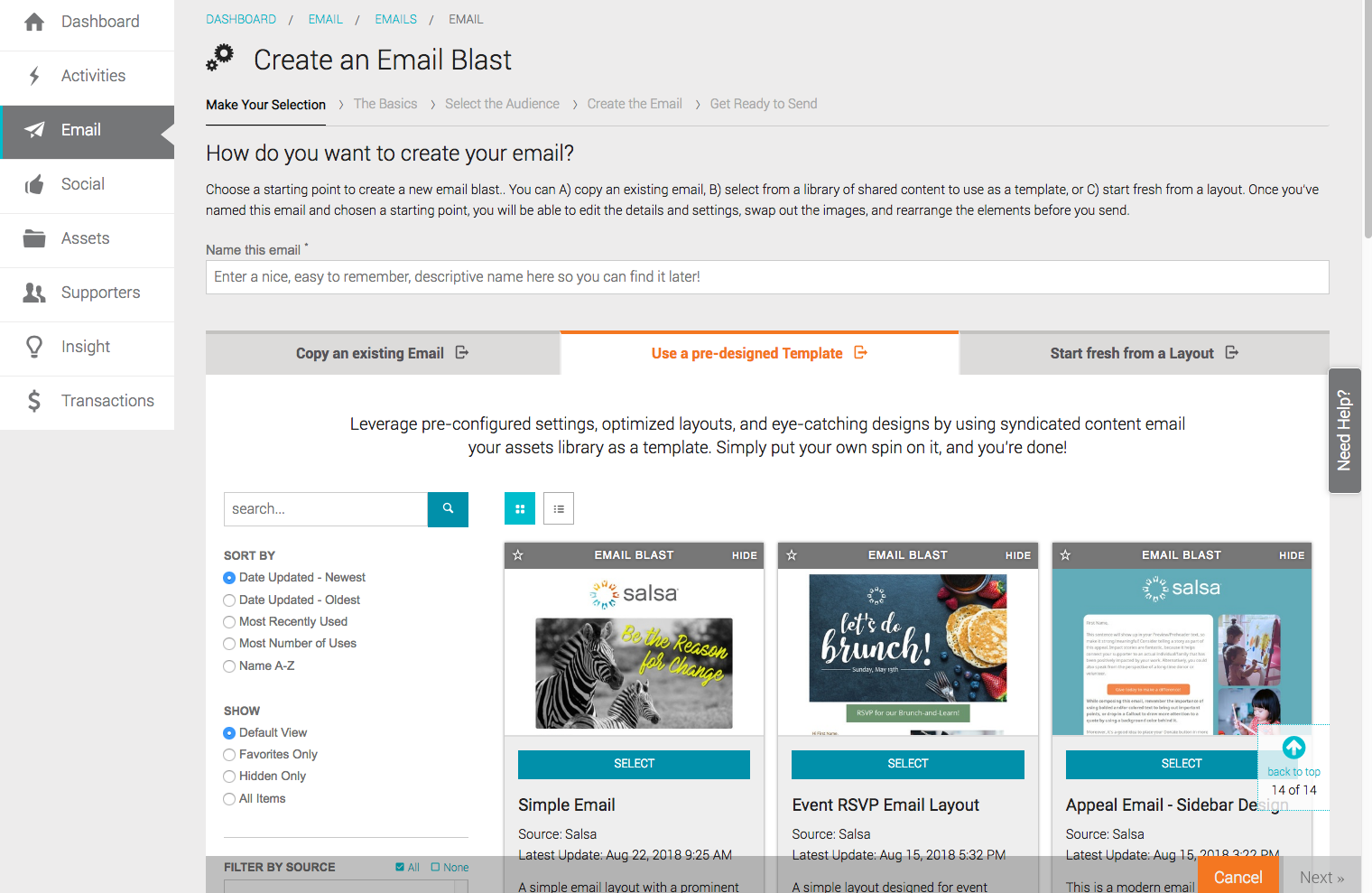 It is no longer necessary to generate a dynamic query to assign to a scheduled blast. You can create a supporter query and assign that to an email blast. The query will run just before the blast is scheduled to be sent and the audience will be based on the query results when it runs.
Targeted Actions
There is a new process for creating Targeted Actions: starting with an existing action, starting with a Predesigned Template, or starting from scratch.
Custom Targets now have their own tab in Targeted Actions for easier management.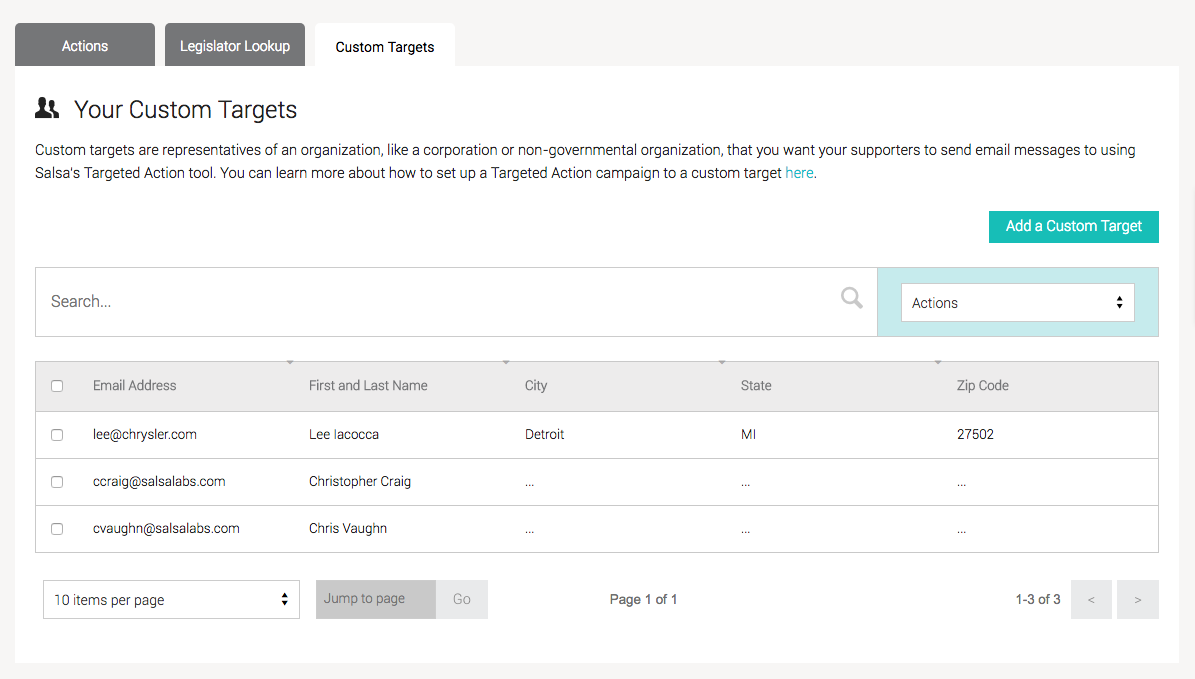 Custom Targets now have more data to enhance the supporter experience:
Job Title
Company Name
Custom Salutation - Add a letter salutation that will replace the built-in structure of "Dear [Title] [First Name] [Last Name],". For example, instead of the standard 'Dear Mr. John Smith,' you can add 'Dear Mr. Smith,' or 'Dear Manager of Corporate Marketing,'.

Events
There is a new process for creating Events: starting with an existing Event, starting with a Predesigned Template, or starting from scratch.
We have tweaked some things in the ticket editing functionality when viewing Events in a mobile setting (think iPhone 8+ or smaller) to make things a little more intuitive.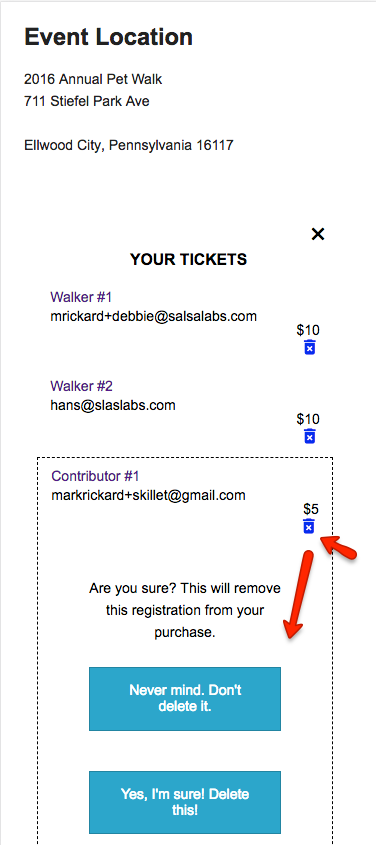 Also in mobile views, we have added a shopping cart icon to easily identify ticket summaries on-the-fly.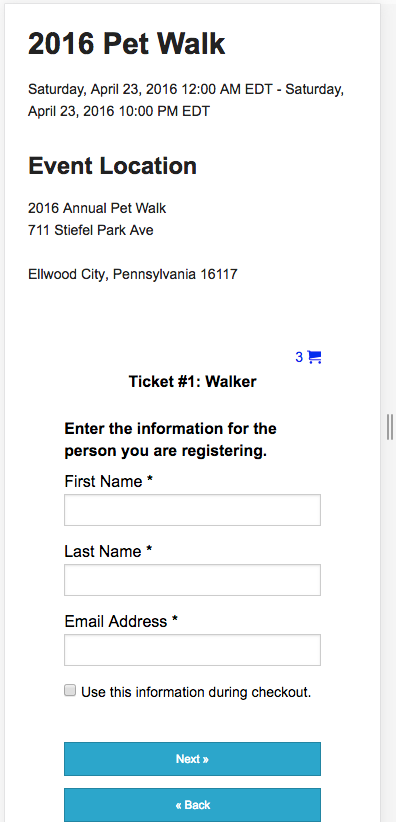 We have moved the discount code field to the top right of the ticket summary and to checkout as well, so it is more obvious where to enter codes.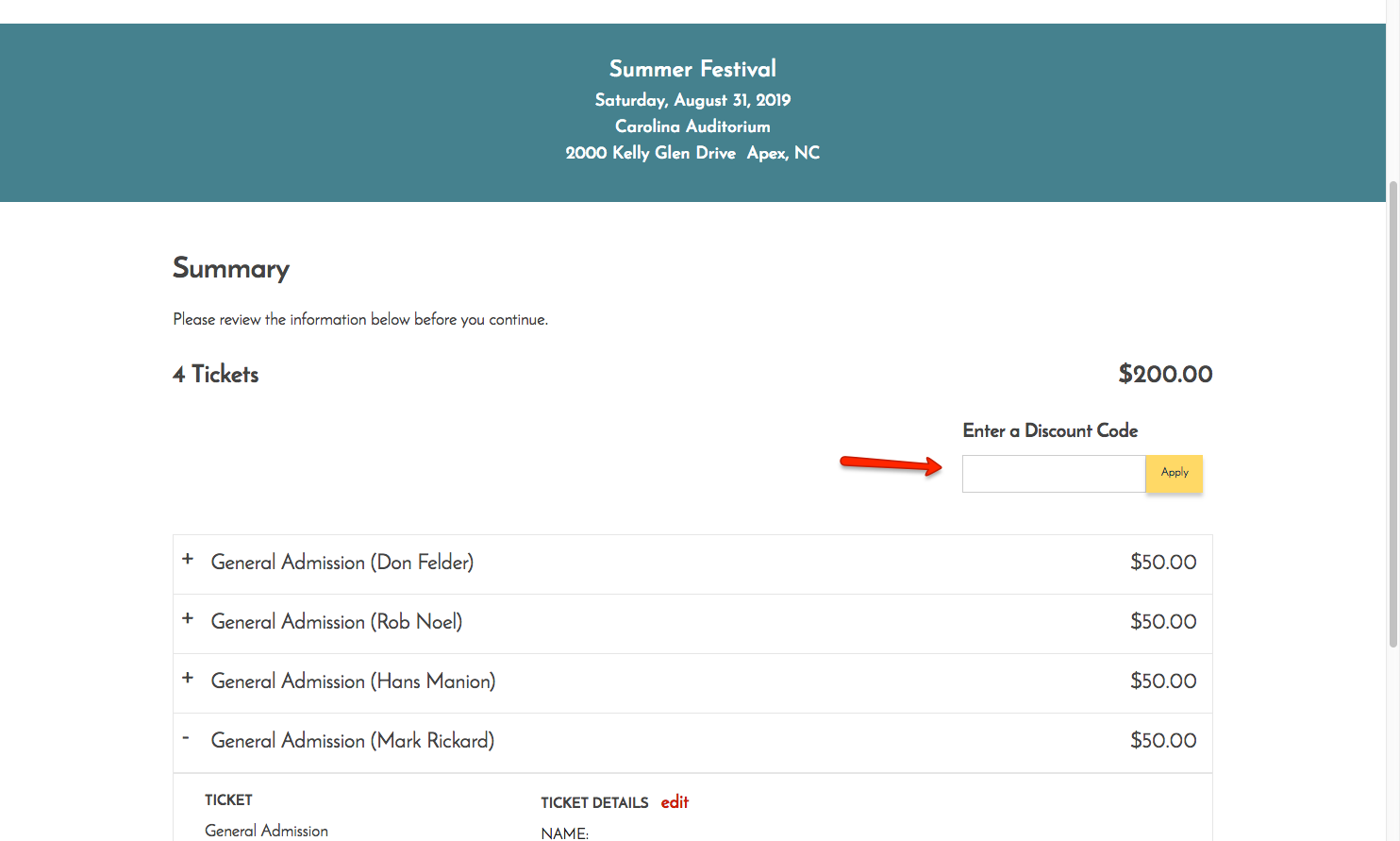 Supporters
Supporter Subscription details have been enhanced to provide more information on when and how someone unsubscribed.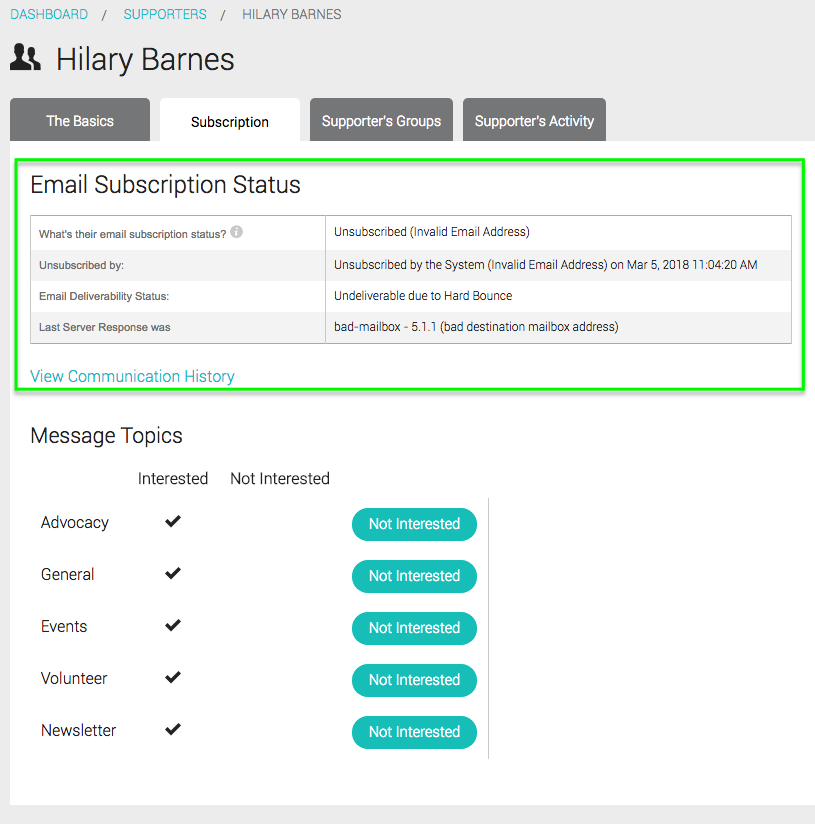 Creating an email from query results just got easier. If you select an email blast audience based on the results of a Supporter Query and schedule the blast into the future, the Supporter Query will now be the audience instead of a static list based on when the query was originally run and the email originally scheduled. The query will run just before the blast is sent. This will ensure that every you mean to send the blast to will be targeted.
Peer-to-Peer
There is a new process for creating Peer-to-Peer fundraising events: starting with an existing event, starting with a Predesigned Template, or starting from scratch.
We've made some enhancements to the sign-up and login workflows for peer-to-peer fundraisers.
If your fundraisers have participated previously in another Salsa hosted fundraiser, we'll just ask for their login to continue with registration and it's based on their unique email address.
If they are already logged in, it's no longer confusing and the fundraiser is remembered.
An Events tab has been added once the fundraiser is logged in to their Salsa fundraising account, which lists all their fundraising activities.
The last event for which they've registered becomes the default, but that default event can be changed. For instance, if another fundraiser in the same city comes before yours, the fundraiser can change the default fundraiser to the one that comes up first.
If a campaign manager is registering for other fundraisers, it's easier to log out previous fundraisers and keep straight who is being registered currently.
It's easier now to add discount codes and to go back to add a discount code from the checkout screen.
Assets
We now display assets differently using a new Grid View and List View concept. New tabs for Predesigned Templates and Template Images better organize your images versus template images.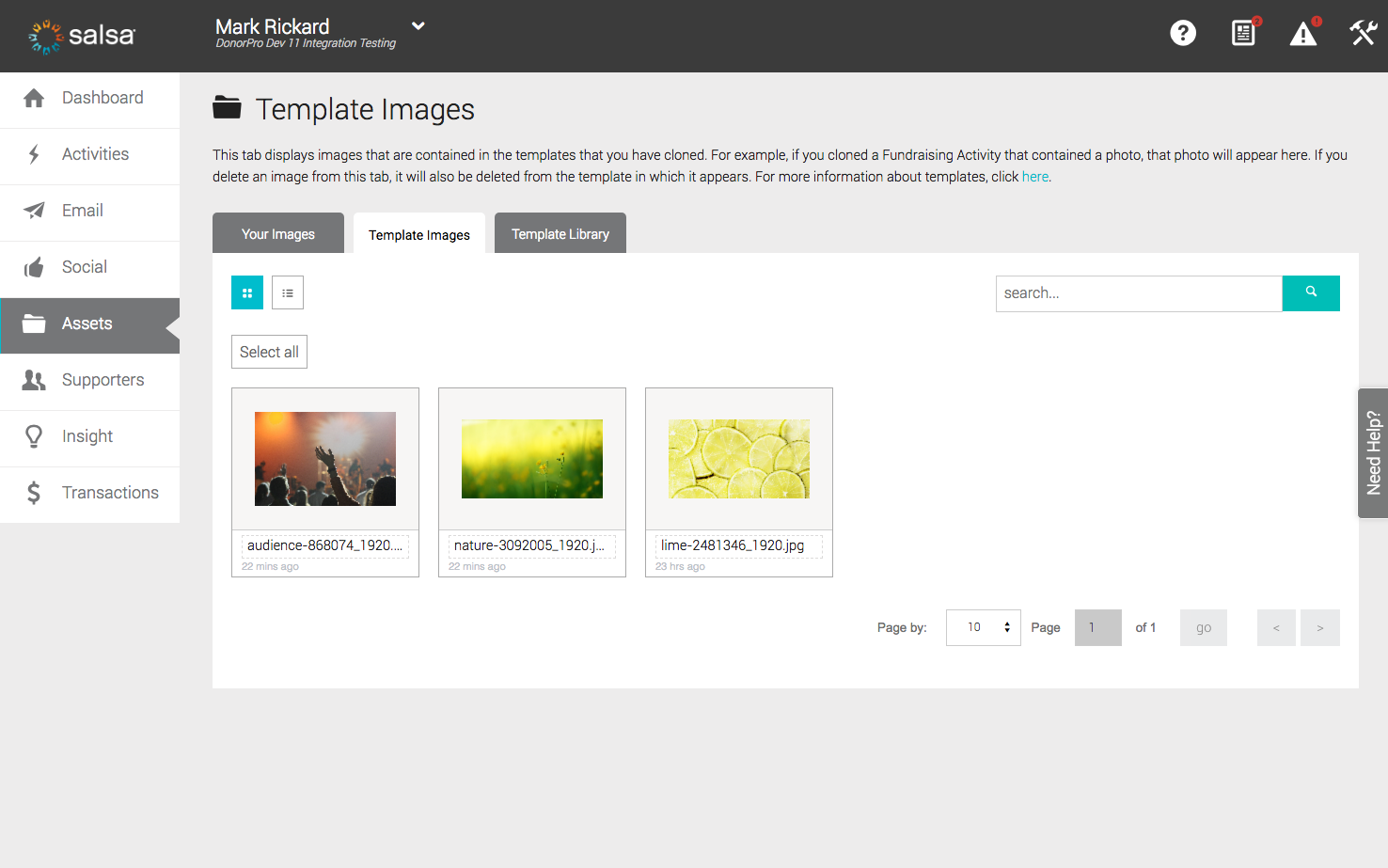 July 2018
SOCIAL SHARES
Advocacy - Facebook.com recently updated their Terms of Service to now prohibit third parties from posting to an individual's timeline or to a target's timeline. We've had to remove all functionality that allowed us to do that. Supporters can still share content themselves, but we can no longer do that for them.
Facebook will no longer be an available channel in Targeted Actions. Following the release date, Facebook will be automatically removed from your action pages as an action channel. In addition, the options previously available under the Social Promotion tab of your action page workflow will also be removed. These options previous allowed us to post to a target's wall and to your supporter's wall simultaneously. That said, sharing icons will still be included by default and remain as an available element in the Visual Editor as a quick and easy way for your supporters to share an action. Finally, action message result counts and graphs will no longer include actions that were taken using the Facebook channel. You will, however, be able to find supporters that previously took action via Facebook using the supporter query tool. These options will remain for segmentation purposes.
Salsa will no longer support adding personal accounts to Salsa for posting on an individual's timeline. Facebook's new requirement states that connected apps can only post to Pages. As a result of this change, any personal Facebook accounts that were added to Salsa for the purposes of posting on a personal timeline will no longer be available. Facebook accounts that are connected for Lead Ads, Custom Audiences or for posting to Pages (distinct from a personal timeline) will not be affected.
Design basics that focused on Facebook sharing are now labeled Social Network sharing.
Facebook message data will no longer be available in reporting or insights. However, the supporter query will still reference Facebook actions in Advocacy history, for supporter segmentation purposes.
Twitter - Sharing your forms to Twitter now uses the Social Network sharing data found in the page's Design preferences. NOTE: Twitter only refreshes its technology weekly, so changing your Social Network description and republishing will not take effect for one week, unless after you publish your page you check your live form at https://cards-dev.twitter.com/validator.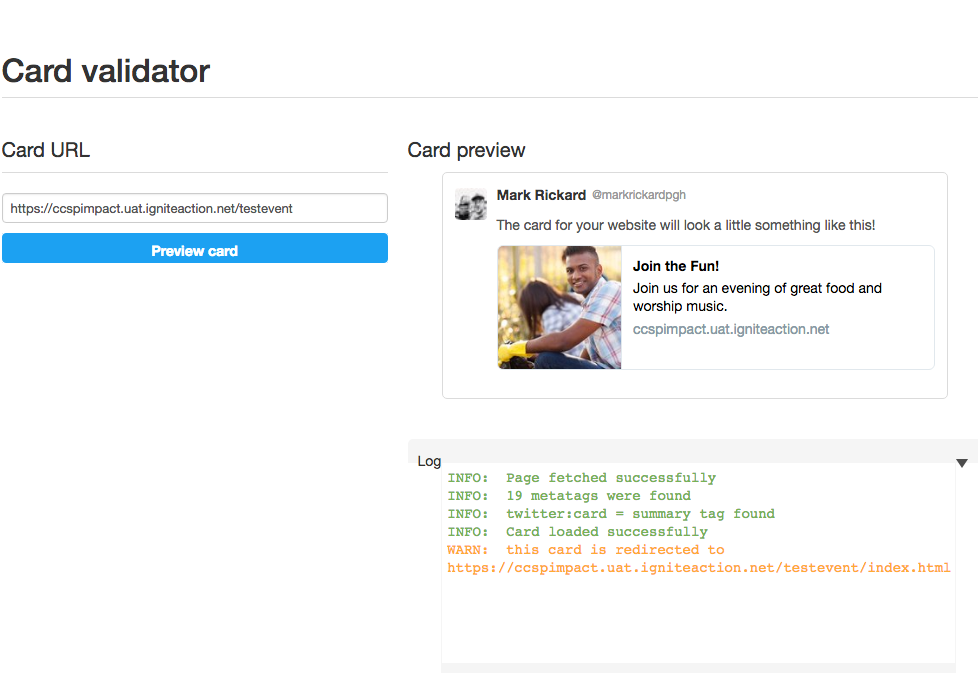 PEER-TO-PEER
New Login Links - We've added login links to suggested layouts, at the top right and bottom middle, instead of needing to go to an individual fundraiser's page to log in.
Welcome Message - When fundraisers log in to their P2P account for the first time, a welcome message displays further information or links to external PDF documents you need to share. The content is customizable in the P2P Management menu and uses the typical content editor so you can make the message look however you desire.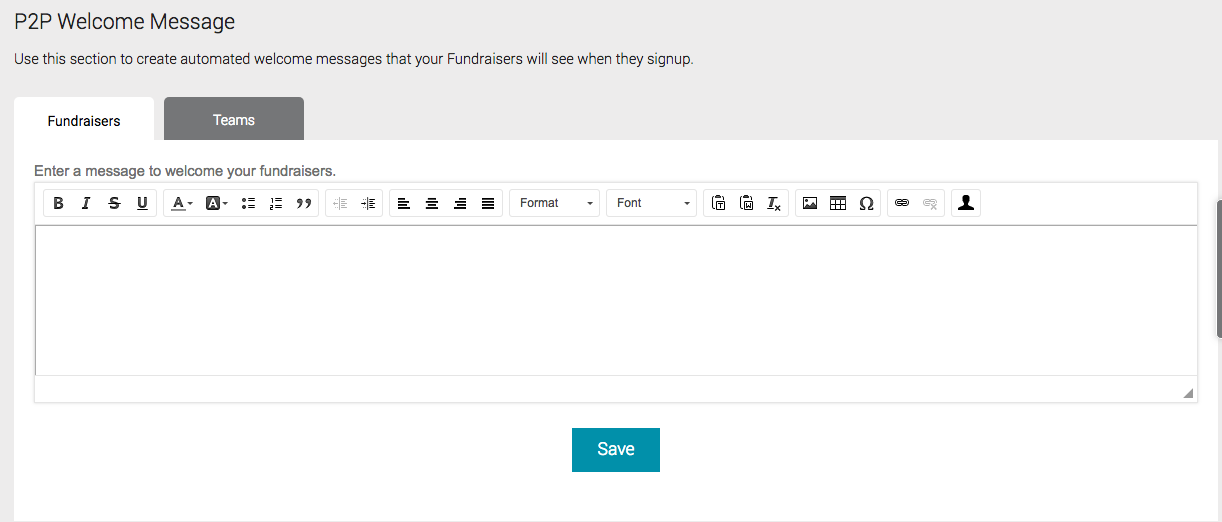 Embedded Event URL Handling - Previously when you embedded your Engage P2P form in another website, and you clicked on an individual fundraising page or a team fundraising page, the fundraising page popped out in a new tab with a crazy website URL. We've fixed that to contain a more sane URL, relating to the salsalabs.org domain (unfortunately we will not be able to open that fundraising page using your domain in the URL).
EVENTS
Event Ticketing - Supporters can now select quantities of tickets when they register for each type of ticket they wish to purchase.


The rest of the checkout workflow remains the same. If supporters are not required to add names and emails, then the RSVP for those tickets can be anonymous at check out. However, if names and emails are required by the ticket configuration, then they must add -- one at a time -- a name and an email to each ticket along with any additional information about each ticket that needs more information, then they can check out.
ADVOCACY
"Quick" Targeted Actions - Targeted Actions now have a streamlined user experience for a single target set (one political party in the US House and Senate, for example). The supporter will now see their demographic data entry, targets, and message all on the Landing Page, with a one-button submission process (for actions with only message channel, like email or Twitter).
If more than one message channel (email and Twitter, for instance) is desired, a second page is still required for that second message channel (second channel displays on the Action Page).
Multiple target sets (House bill vs. Senate bill, separate email campaigns to congressmen in the same chamber of Congress depending on how they vote) still work as they always have.
Targeted Action Custom Targets - Addresses are not required for only custom target actions. Name and Email address are still required, so anonymous messaging is not allowed.
State Legislature Committee Level Targets - Committee members at the State Senate and House levels may now be targeted. Supporters can still send messages only to state legislators that represent them, and supporters will still not be able to take action with regard to legislators in other states or do not directly represent them based on the address they enter.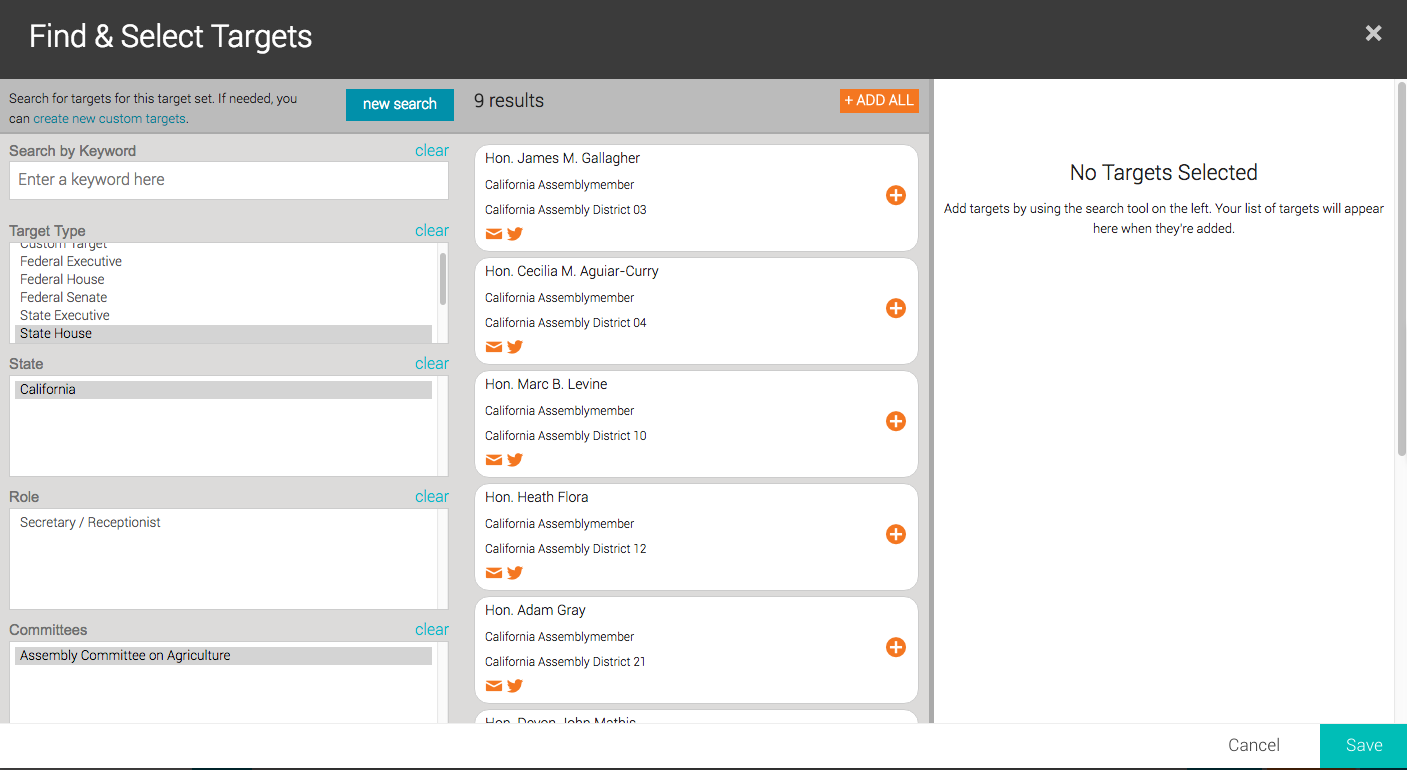 Results By Message - A new tab option reports exactly what Twitter or email messages the supporter sent to each target, in addition to results by Supporter and by Target. This report identifies whether the message was personalized (appended or changed completely). This data can also be exported to CSV for external analysis. Message metrics are under the Action Metrics tab in the Action. Click-to-Call connections are on the separate Click-to-Call metrics tab.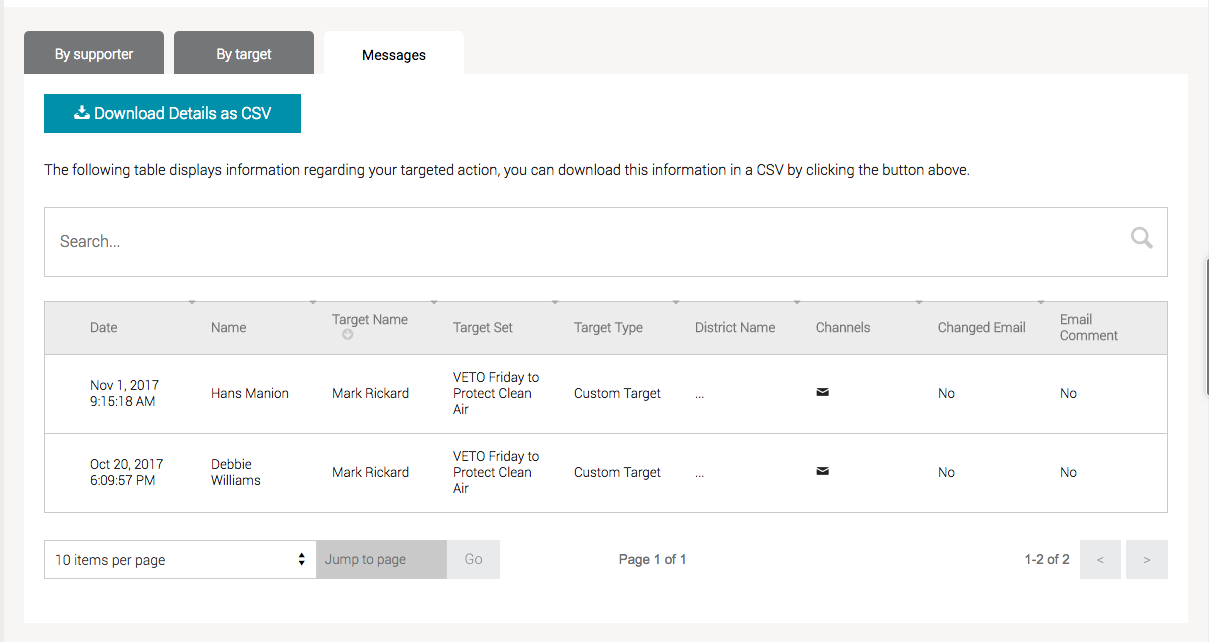 Targeted Action Social Promotion - This functionality has been removed, because of the changes Facebook has made. However, supporters will still be able to use a Social Share element added to your forms to actively share your forms.
SUPPORTER QUERIES
Subscription - The Subscription table has been modified to define if the unsubscribe was due to opting out, hard bounce, or email consent unknown (GDPR-enabled organizations only). Added email status to Results fields as well.
EMAIL
Define Audience Using Custom Supporter Query - Identify your audience from a custom Supporter Query "on-the-fly" instead of needing to segment the list before selecting the audience.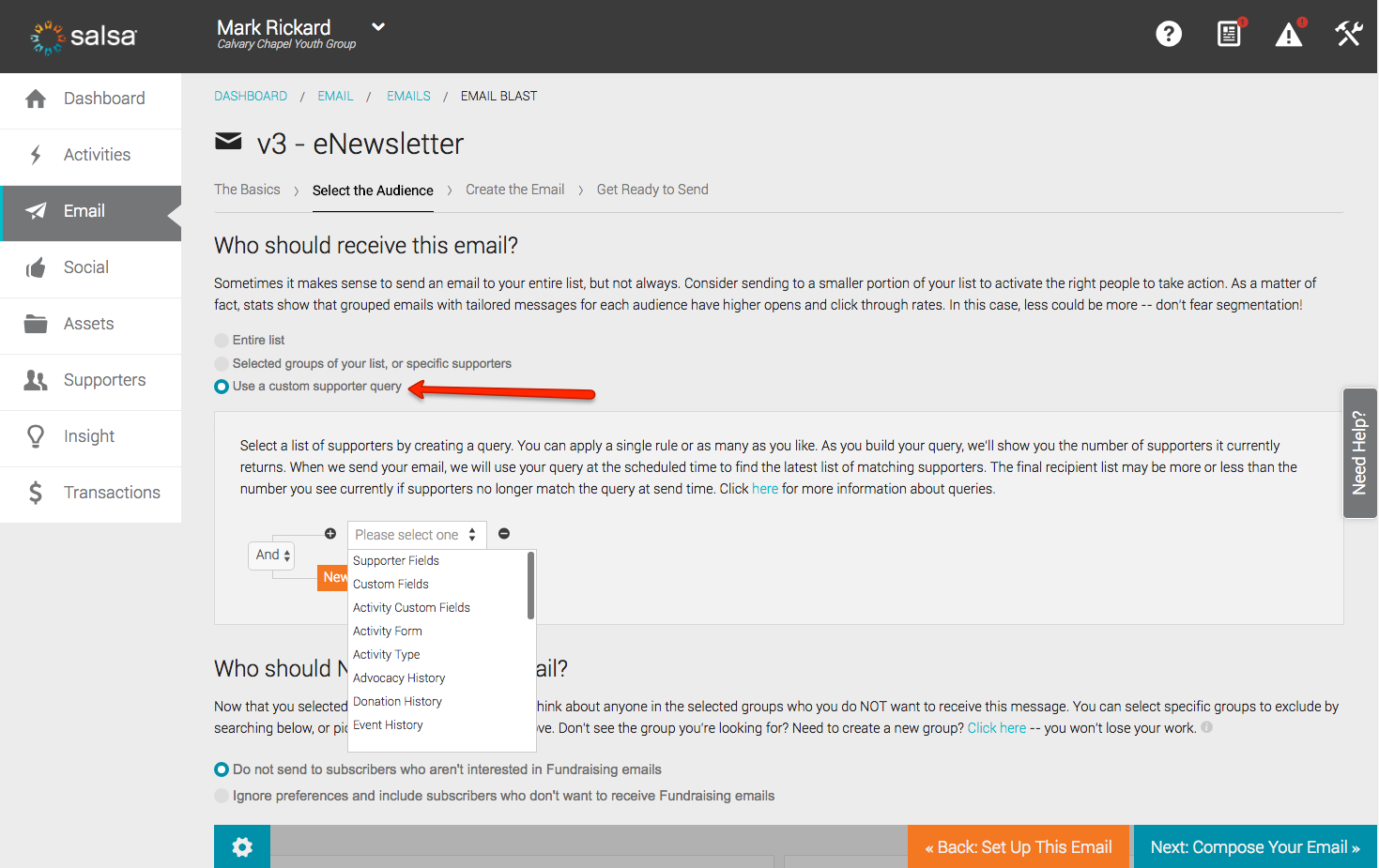 Email Insight - We have added a link on the Emails tab directing to the Insight Query tool, for ease in getting detailed reporting of your blast results. Added Date Sent to Metrics to Return.


Sent and Unsent Emails - Email Blast lists have been split into separate tabs, whether the email is in Draft status and unsent, or if it is in Completed status and sent to the recipients.
Email Recipients and Conversions - Email Blast and Email Series results have been split into Recipients and Conversions.
Recipients tab displays how far in the email funnel your audience reached for that particular message, such as delivery status, whether they took action, whether their subscription was modified as a direct result of that email, and how many unique links that supporter clicked. This is a good report for identifying bounced emails and why.

Conversions tab displays any actions that were taken on an Engage form as a direct result of that email blast, such as making a donation or signing a petition or messaging a target. Only supporters in the email blast audience will display here; supporters who took action but were not targeted in the email blast do not report here but will report in the Activity results. Audience members may display more than once as a Conversion if different links represent different actions to take.
June 2018
IMPROVED EMAIL TEMPLATES
When you make a new Email, our new email layouts make it a lot easier to create great looking emails out of the box. We've added easier to understand names and made them significantly easier to modify to suit your preferences.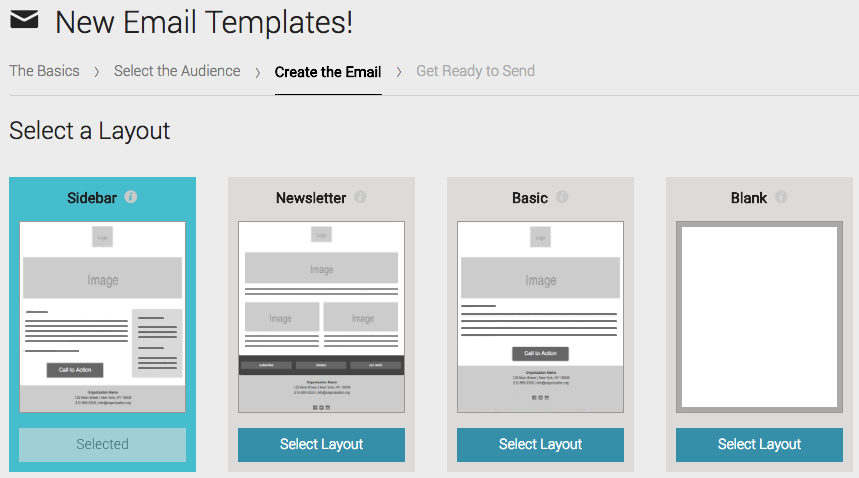 PEER-TO-PEER
Default Fundraising Goals - On the Setup tab of Peer-to-Peer events, you can now set up default goals for Fundraisers and Teams. What you enter here will appear as a default value. Supporters can then move forward with your selection or enter their own amount.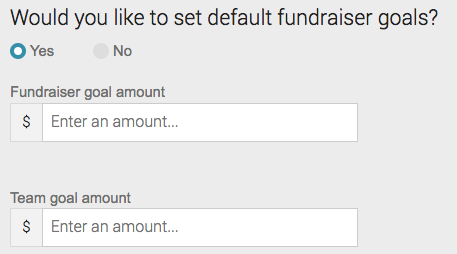 Include Registration Costs Toward Goal - If a Registration Level includes a Fundraiser page, you can now count registration fees toward the goal.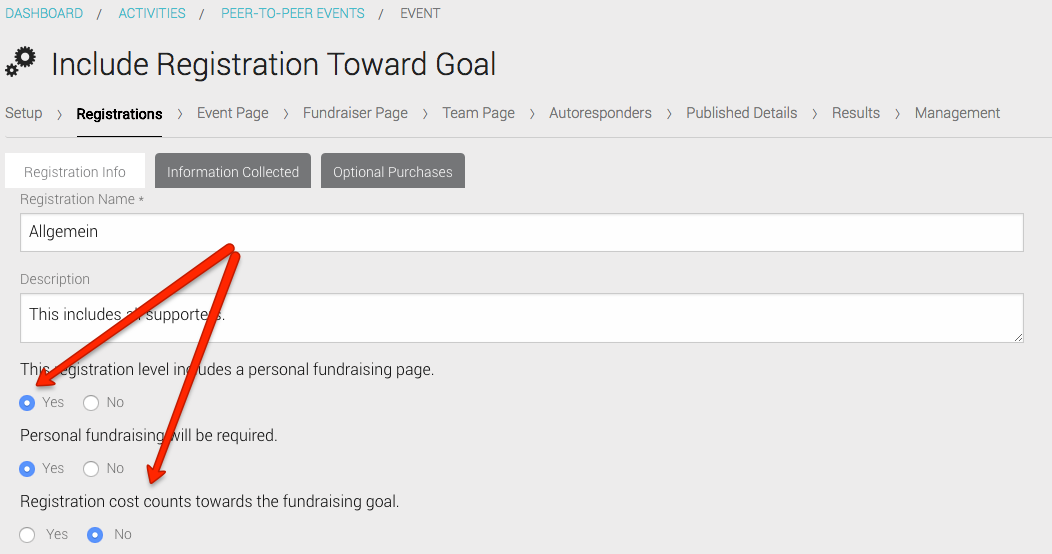 Click here for more info.
May 2018
SOCIAL ACCOUNT MANAGEMENT
We've made significant improvements to the social account management and attachment process, including support for Business Manager accounts. Part of this work includes new permissions in our integration with Facebook. Consequently, if you have attached Facebook accounts, you will need to reauthorize them in Salsa Engage. When you click into an affected account, you'll have the option to "Re-authorize" it. Users with access to Facebook accounts that are attached to Salsa Engage should log on to Facebook, then click the Re-authorize button in Salsa Engage. Click here for more information.
DISCOUNT CODES
You can now provide Event supporters with discount codes that can apply to either a specific ticket type or the transaction total of an entire purchase. For Peer-to-Peer events, discounts applied to an entire purchase also apply to optional add-ons. Click here for more information.
PRE-POPULATED FORMS
Salsa Engage now enables you to set forms to be pre-populated with name and address information for returning supporters. Click here for more information.
STYLISTIC CONTROL OF P2P LEADERBOARD AND GOAL TRACKING HEADERS
We've also given you greater control over the look and content of the Peer-to-Peer Leaderboard and Goal Tracking headers so you have more freedom to complement your P2P form design.
March 2018
We're continually enhancing Salsa Engage, and if you are using Cloning to create new Activities and Emails, you're probably missing out on great new features. If you are creating new Activities or Emails, it's best to create them from scratch to ensure that they include the latest and greatest layouts and Elements.
TICKETED EVENTS AND PEER-TO-PEER FUNDRAISING EVENTS
Ticketed Events and Peer-to-Peer Fundraising Events have an all new registration and checkout process for supporters. The new process is more intuitive and provides a smoother and more visually appealing registration experience. The update is backward compatible, so you shouldn't have to do anything to existing fundraisers or events. This update includes the following:
The ability to require custom questions.
The ability to reorder custom questions.
Fundraising can be optional for any fundraising registration type.
Supporters can opt to complete their fundraising page setup at a later time.
Supporters can purchase fundraising registrations for other people without having to reuse an email address.
The number of required fields for checkout has been reduced for free events.
There is a new "P2P Fundraiser Login" button element that can be placed anywhere on a P2P event page so people can log in without having to go through the normal workflow.
There is a new "Public Display Name" field, where supporters can choose how they are represented on the donation ticker.
Dashboards and exports have been improved for better data management.
Click here to see a demo event. Click here for more information.
VISUAL EDITOR
New Suggested default layouts for Sign-Ups, Fundraising, Targeted Actions, Legislator Lookup, and Petitions. Click here for more information.
The new Spacer Element enables you to The new Spacer element enables you to realign elements. You can then modify the spacer's width, height, background color/image, and more.
For forms and emails, we've added additional Rows menu options that make it easier and quicker for you to build good-looking pages and emails. Following are the new options:
Redo header
Redo footer
Hero block
Right image, left text
Left image, right text
Two columns image with text
Three columns image with text
Four columns image with button
Two columns, right image with text (activities only)
Two columns, left image with text (activities only)
SECURITY UPDATE
Salsa Labs is actively working on disabling TLS 1.0 for Salsa's Services. In the interest of improving internet security and to employ best practices, TLS 1.0 is being sunset across the web in favor of TLS 1.1 and 1.2. Click here for everything you need to know.
February 2018
EMAIL SERIES
Email Series has been re-engineered to provide you with more flexibility and control.
One of the biggest changes that we've implemented is the ability to add both new and existing supporters to an Email Series. In addition, we now support creating and queuing up a draft of an email in a series before making it live, targeting and excluding recipients with more granularity, and the ability to suppress supporters enrolled in a series from your regular email blasts.
We also changed the way messages in a series are scheduled. While you still define a delay from when a supporter enters a series to receive the first message, subsequent messages will be scheduled at a time relative to each message that follows the first. Don't worry, any series you had already made active will migrate to relative scheduling automatically. For any Email Series that you had not yet published, you'll just need to activate your content and schedule your messages before making the series active.

It's a good idea to take advantage of the new Email Series walkthrough. Go to Email > Email Series, and then click the help ? > Tutorials.

There's a lot that's new, so be sure to click here for more info.
P2P
Supporters can create a P2P Team in the P2P Supporter Portal, if they did not do so at registration. See "Add New Team From the Supporter Portal" here.
Campaign Managers can overwrite the "Display As" name or flag a donation as Anonymous in the P2P donation ticker on a personal or team fundraising page. Click here for more info.
P2P activities provides a link in Published Details that skips the main P2P event landing page and goes directly to the ticket selection screen. Click here for more info.
The autoresponder that notifies individual fundraisers that someone has made a donation to their page now includes the donor's name and no credit card information.
PASSING PARAMETERS (Advanced User Feature)
Any Engage form fields can be pre-populated with data from an external link.
Custom fields and activity custom fields can have customized names.
Using parameters, CMs can preset donation amounts and recurring options on fundraising forms.
We have introduced a universal "Salsa Tracking Code" that can be set with sl_tc= and analyzed for page views and conversions. The tracking code also appears in the query builder and export files.
Any data collected on an Engage form can be passed out to a redirect URL to be consumed by an external website or application.
CMs can add hidden form fields to their Engage forms that can store URL parameter values.
Click here for more info.
SUPPORTER QUERY
Campaign Managers can query activity custom field data submitted within a specific date range. Click here for more info.
MISC
Various performance enhancements and bug fixes.
October 2017
TARGETED ACTIONS
Click to Call actions enable Salsa Engage campaign managers to connect grassroots supporters to their specific legislators via telephone, while providing them with scripts and talking points relevant to their organization's agenda, and to record data to identify and interact with their most passionate supporters. The Click To Call User Interface has two parts:
Set-Up Click To Call Caller IDs - enables the user to create the caller ID number that will be displayed on supporters' phones when they receive the call from the system to initiate the click to call sequence.
Click To Call in Targeted Actions - enables campaign managers to select a caller ID for the action, define a call budget (calling isn't free), create budget cap alerts, create fall-back messages, and create outgoing messages that supporters will hear when they get the C2C call-back.
PEER-TO-PEER ACTIVITIES
Check Salsa's improved P2P template. We've reviewed hundreds of events and pulled together some of the more popular layout elements so that you can more easily drop in content to create a great P2P event. Or, you can use our syndicated content if you want to start with a completely finished event and simply edit the elements you want to change. Click here for info about syndicated content.
EMAIL
The Web Version toggle on the Create Your Email tab enables you to automatically publish a web version of the email, hosted by Salsa Labs, that supporters can see by clicking a link in the email. This is useful if you have images or other elements in your email that may be blocked by email clients. Click here for help.
SOCIAL
The new Social Audience tab enables you to push supporters in Salsa Engage to Facebook as a Custom Audience for ad targeting. To use this feature, Engage will first have to be connected to a Facebook Ad account. Click here for help.
NEW SUPPORT FOR ACTIVITY CUSTOM FIELDS
Salsa CRM integrated customers can add activity custom fields to their Engage forms to collect data associated with a specific activity. Unlike supporter custom fields, this data won't be overwritten when a supporter fills out a different form or the same form multiple times. You can query on activity custom fields to use them to create email audiences and export the results in the CSV export of the respective activity. Note: Activity custom fields do not currently feed into the CRM database. Use standard fields or supporter custom fields to collect data that should be stored in the CRM. Click here for info about adding custom fields.
August 2017
You can now include a BCC email address that supporters will not see. Click here for more info.

The new Social Share element enables supporters to share activities and emails on social. (For Email, the following are shared: title, description, and image options.) The new Social Follow element enables users to include a social "follow" message in their Activities and Emails. Click here for more info.

P2P Has been enhanced as follows: 1) Enables you to change team captain assignments. 2) Provides the option on mobile to view and message team members. 3) Enables you to generate a printable deposit slip for offline donations. Click here for more info.

The "Messaging" activity tab has been renamed "Email".

A new "Social" tab sidebar option has been added and the following is new: 1) Social Posts have moved to the Social tab. 2) Social Accounts have moved from Organization Settings to the Accounts subsection on the Social tab. 3) There is a new Ads tab option that enables you to see and process supporters who have submitted Facebook lead ads. Click here for more info.

Third Party Tracking has been added for Google and Facebook - This enables you to tack their activities performance in Google Analytics and Facebook Pixel. Click here for more info.

You can now automatically create a Salsa hosted web version of your email blasts for users who have trouble seeing html emails in their browsers. Click here for more info.

DMARC/SPF validation has been added - This prompts you to ensure that emails sent from a vanity email address in Engage aren't interpreted as spam by email browsers. Click here for more info.
May 2017
With this release, you can...
Take donations from supporters with international addresses.

Code your own HTML Email Blast.

Enter and track off-line gifts in the Peer-to-Peer workflow.

Use a shortened registration workflow for events with only a single Fundraiser level.

Track progress graphically with newly improved progress thermometers and the new Event Thermometer.

Remove tax deduction information, as needed, from autoresponders.

Track Email Blasts more effectively using improved statistics.

Get a better understanding of the Peer-to-Peer workflow with revised and expanded documentation: See Peer-to-Peer (P2P) Events.

Take a tour of the Visual Editor using our new walkthrough feature. Click the Help icon at the top of the window, and go to Tutorials.