September 2021
Two-Factor Authentication
Two Factor Authentication (2FA) is a secure way to prove your identity when you log in.
July 2021
Delete User Invitation from Engage
If a Campaign Manager or other Engage User is not going to accept the invitation to join Engage, you can now delete those invitations from the Manage My Team page.

Enhanced Security
As part of an effort to enhance the security of the entire Salsa ecosystem, Engage has some new password complexity requirements.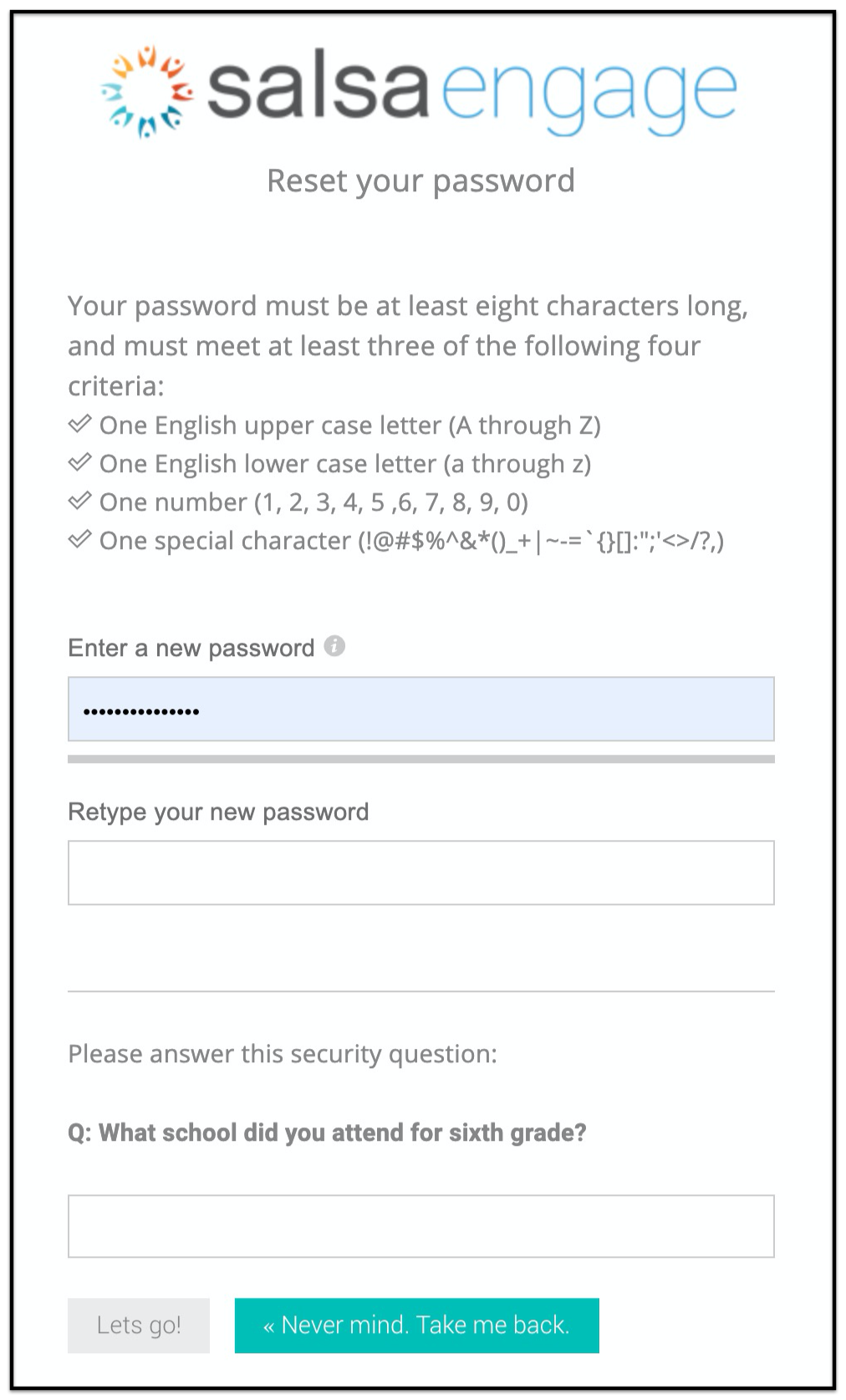 Email Series Syndication
Create email series from syndicated templates, such as an entire email series pre-made for immediate use. Add individual messages from syndication to your email series as well.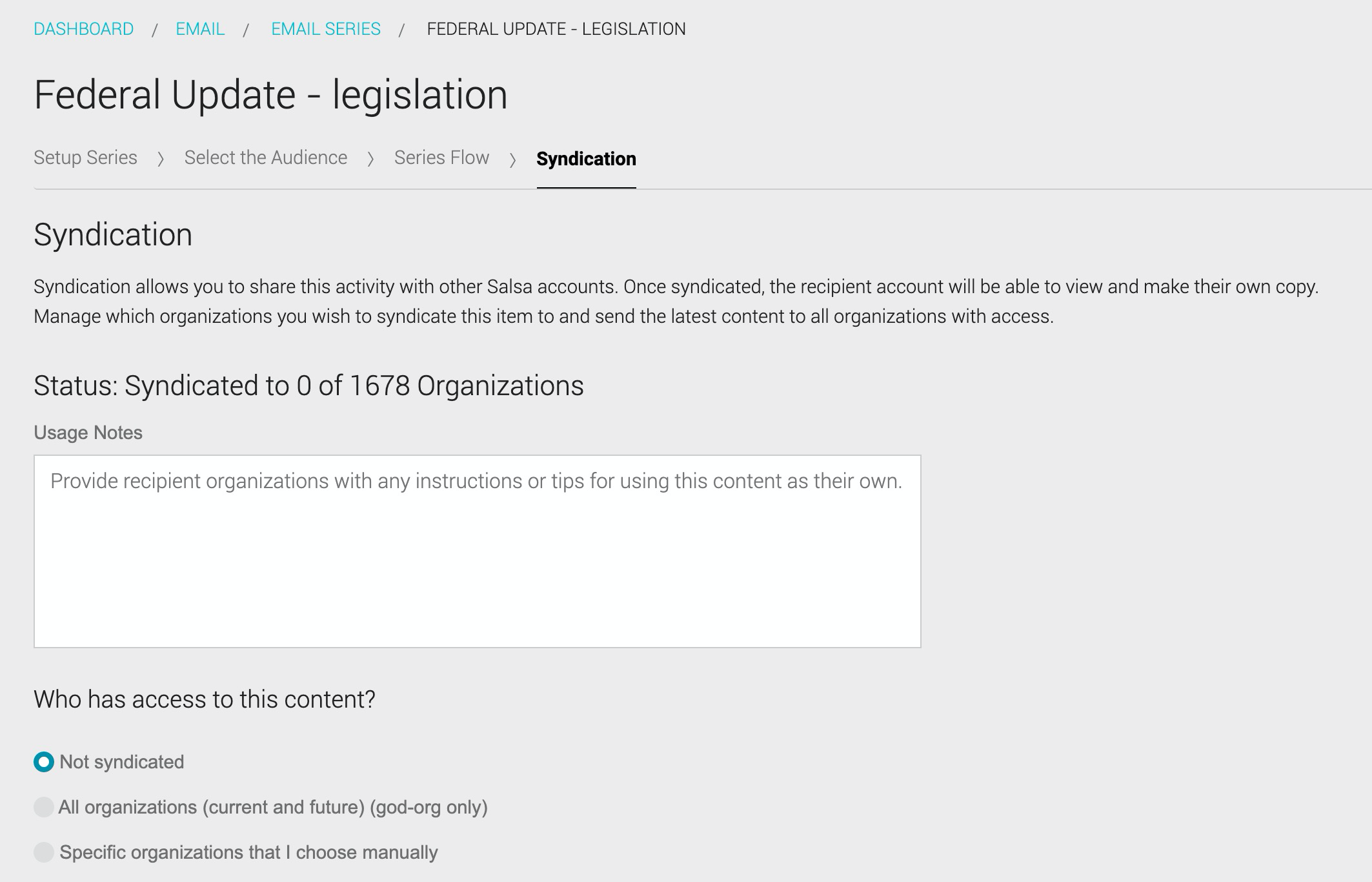 Email Templates for Email Series Messages
Create content in an email series similar to creating a standard email blast—Copy an Existing Series, Use a pre-designed Email Series Syndicated Template, or Start a fresh Email Series. You can also use that same content choice menu for email blasts within the Email Series.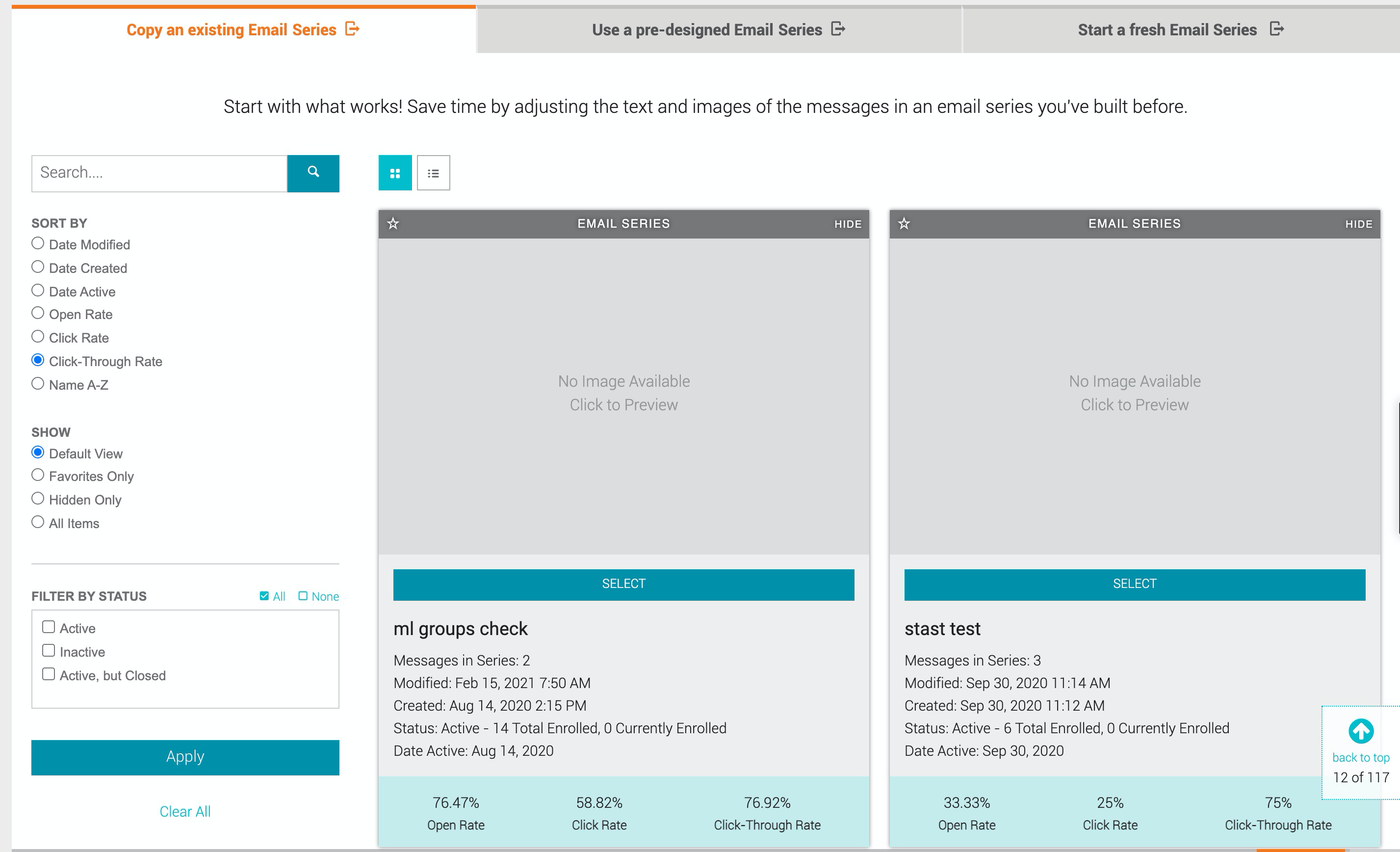 Override Email Blast Audience for Email Series Participants
For time-sensitive action alerts or other urgent email blasts, you may want to ignore the email audience suppression configured in an Email Series. You can simply check a box to override Email Series suppression rules, affecting all supporters who would normally be suppressed in an Email Series.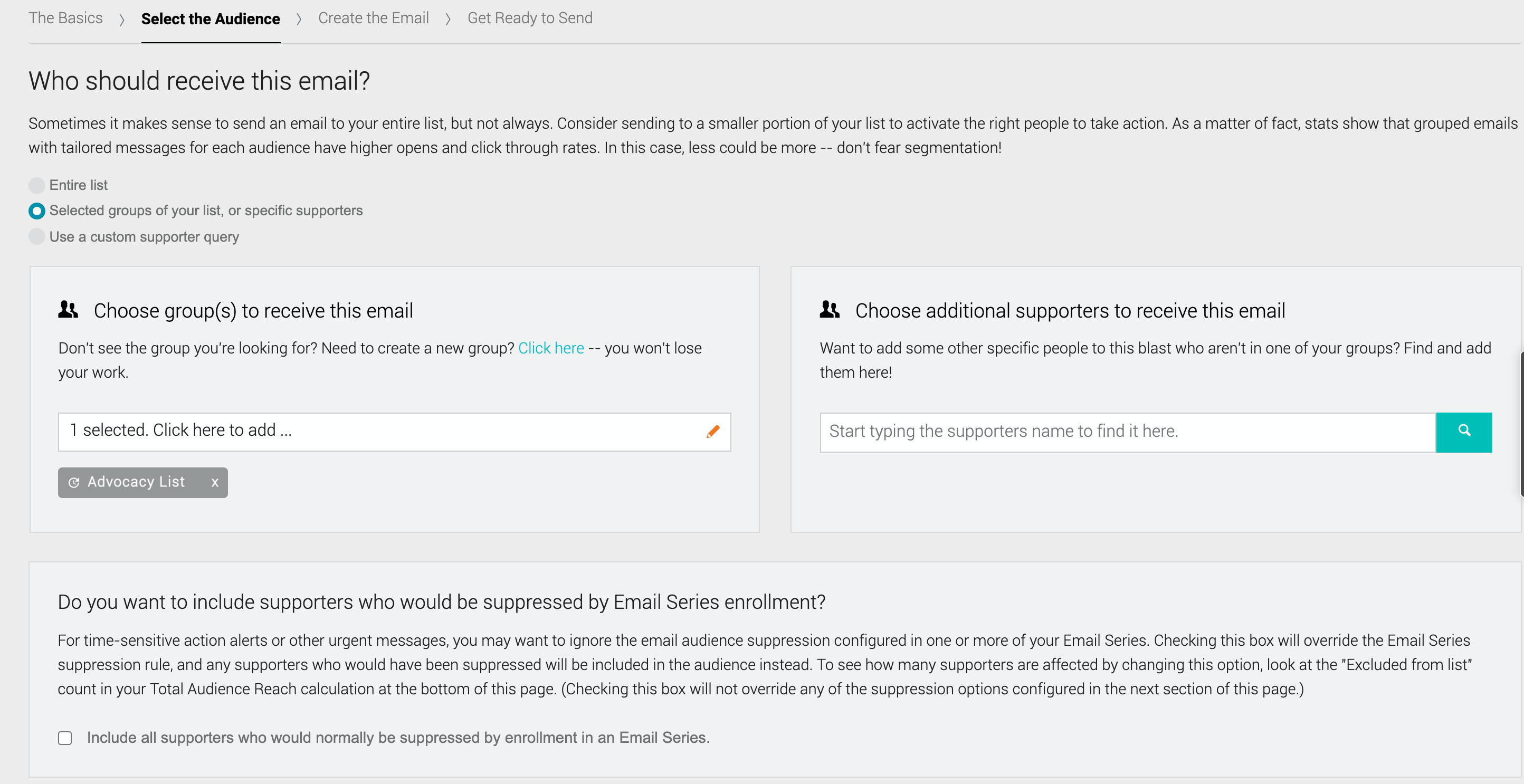 Transaction Detail Updates
The Transaction Detail screen has new updates that reduce white space and provide a cleaner interface. We've also made improvements to recurring donation details in this area.
Edit Recurring Donations
Campaign managers can now edit recurring donations: the recurring amount, the date of payment, or the payment frequency.
Restore "Look and Feel" Defaults at the Element Level
If you have used a syndicated form or email, you can clear any customizations to the design, in effect setting the forms to your organization's default "Look and Feel" options. Now you can restore container level settings at the element level as well.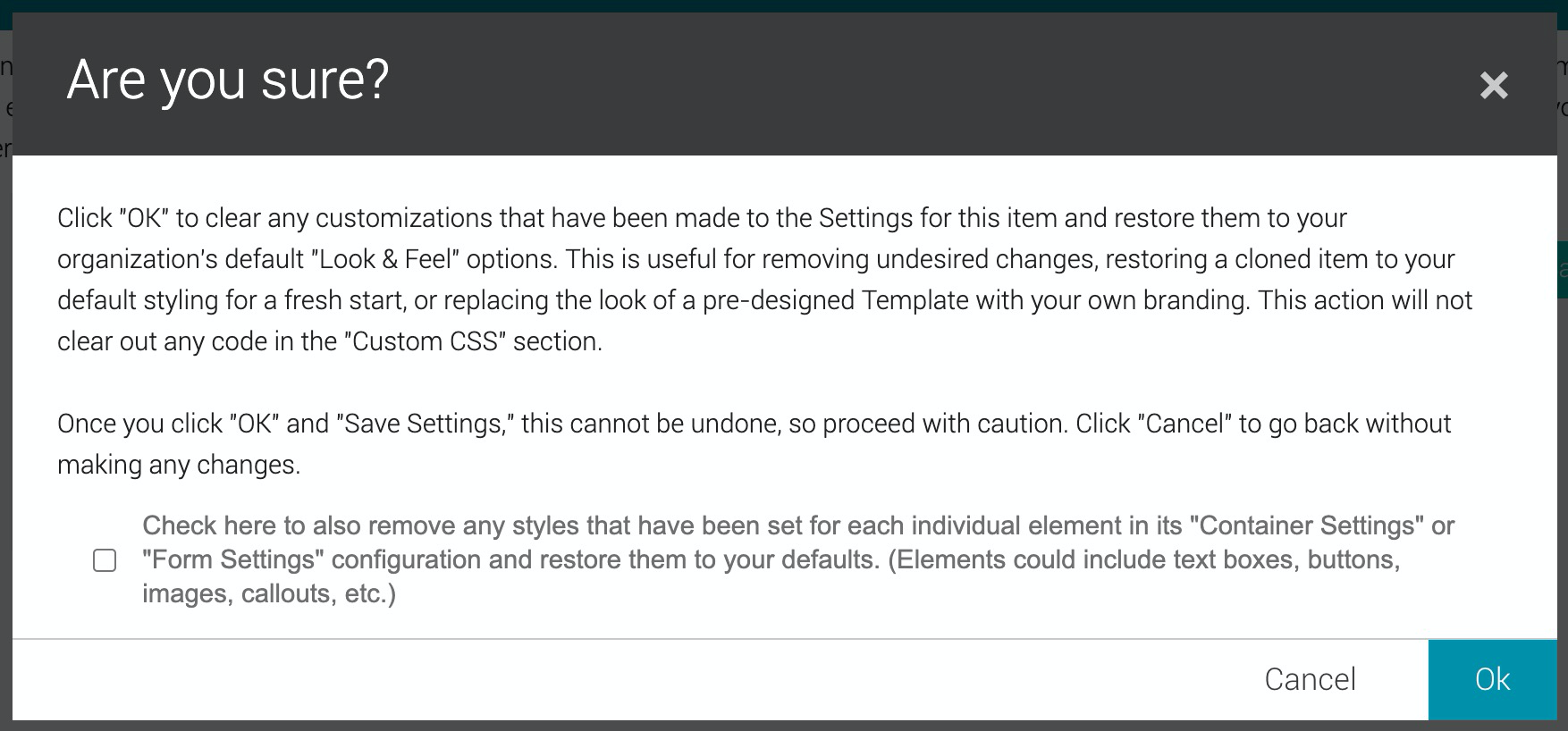 New Activity Fonts
Many new fonts have been added to the font list for Engage Activities:
Lato

Lora

Montserrat

Noto Sans

Nunito

Oswald

Poppins

PT Sans

Raleway

Source Sans Pro

Work Sans
Resend Salesforce Data
Previously, resending data to Salesforce entailed sending all transmissible data. Now, you can selectively re-sync supporters and contacts without resyncing all other data through the new Resend Data tab. Selected Engage data are added to a Salesforce sync job along with any other pending changes to other Engage records.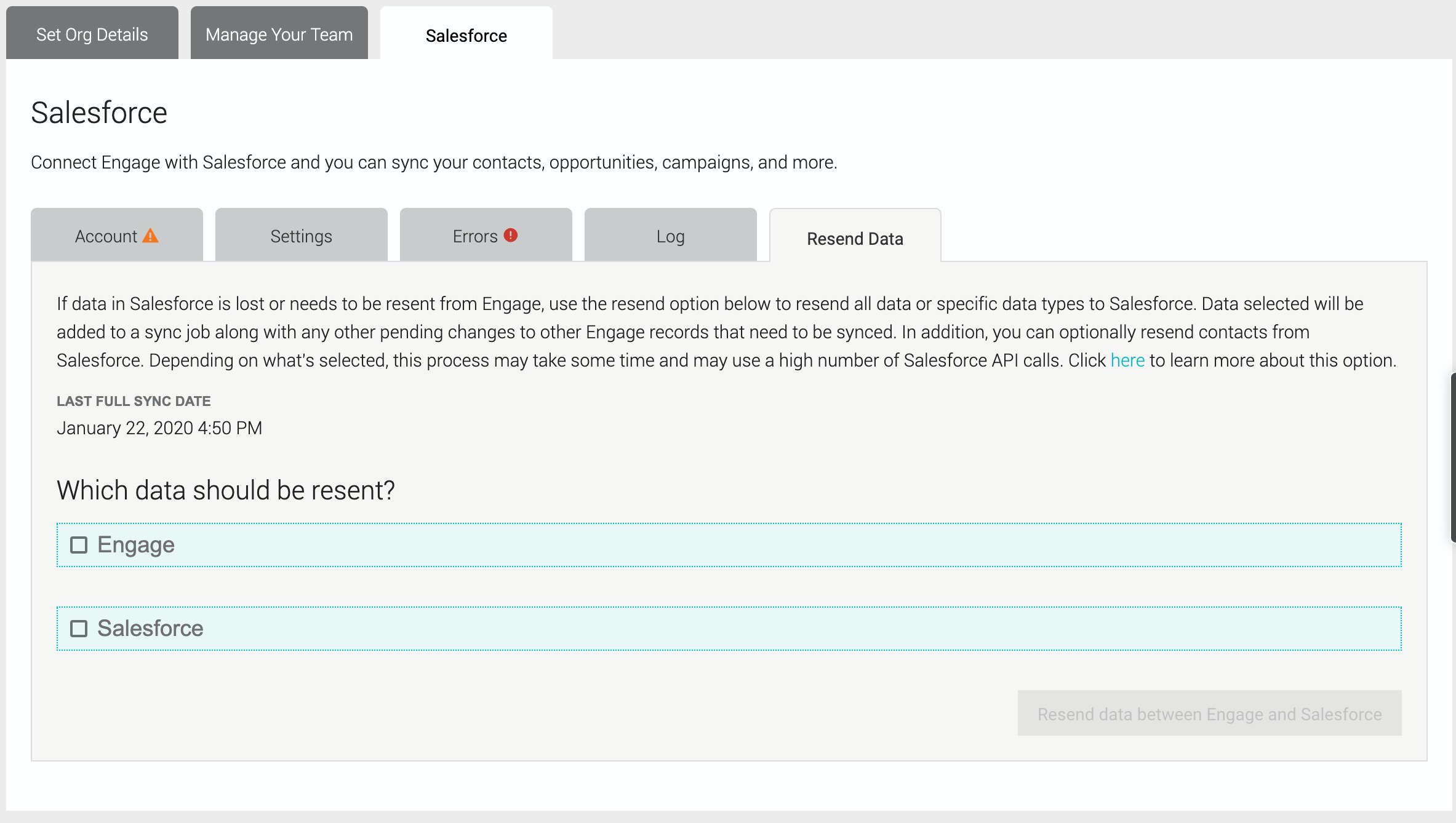 May 2021
Updated Twitter Integration for Targeted Actions!
Due to changes in Twitter's terms of service, the mechanism for tweeting legislators has changed. Previously, Twitter allowed applications like Salsa to publish tweets to multiple targets and append their Twitter handles, all with one click. Now, Twitter insists the supporter must be the one to take action for each tweet.
As before, you can provide default messaging, and supporters may personalize the content before clicking the "Tweet" button. Supporters no longer need to copy and paste the default messaging, and the content can be customized for each target. Clicking the "Tweet" button at least once per target will count as one tweet per target in the Targeted Action results (even if the supporter closes the window).
Action is required—any Targeted Action forms that include Twitter as a delivery channel must be republished for the Twitter integration to work.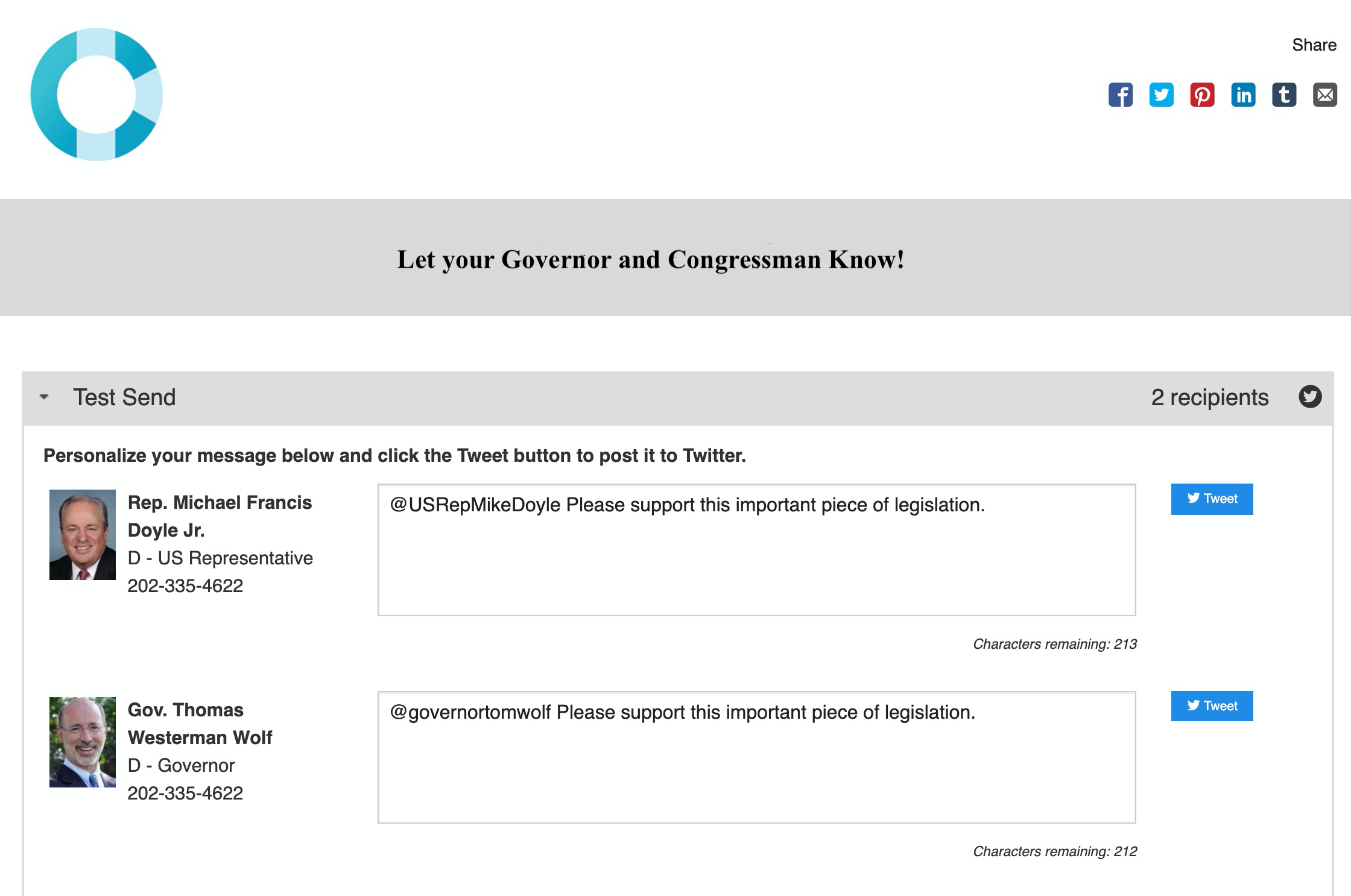 April 2021
January 2021
September 2020
June 2020
April 2020
February 2020
January 2020
November 2019
October 2019
August 2019
June 2019
May 2019
April 2019
March 2019
February 2019
November 2018
October 2018
September 2018
July 2018
June 2018
May 2018
March 2018