November 2018
When importing data using the Advanced Import functionality that updates existing constituent records, the Resolve All Constituent Update now produces a Long Running Process in the database (Tools > Long Running Processes) that works behind the scenes to update data. Check that menu to see when your processes complete for large datasets.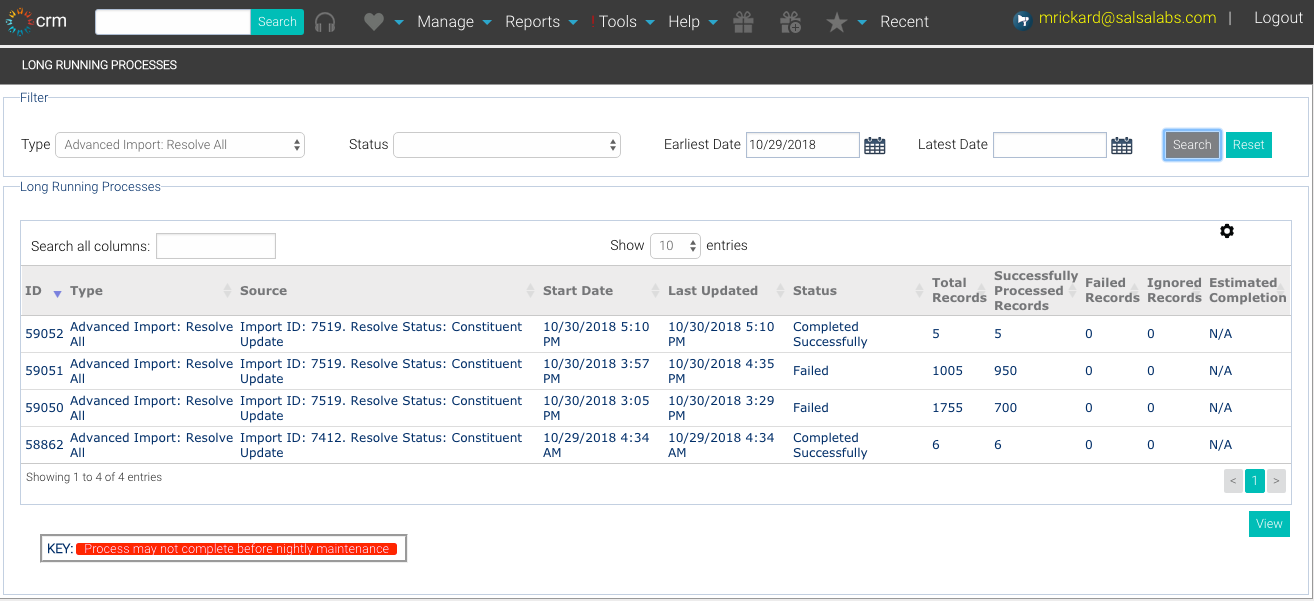 The Fund Items table has been added to a Constituent Advanced Query as a sub-table of Donation Info. Now, Constituent queries can output and filter on data like Fund Name and Payment Type.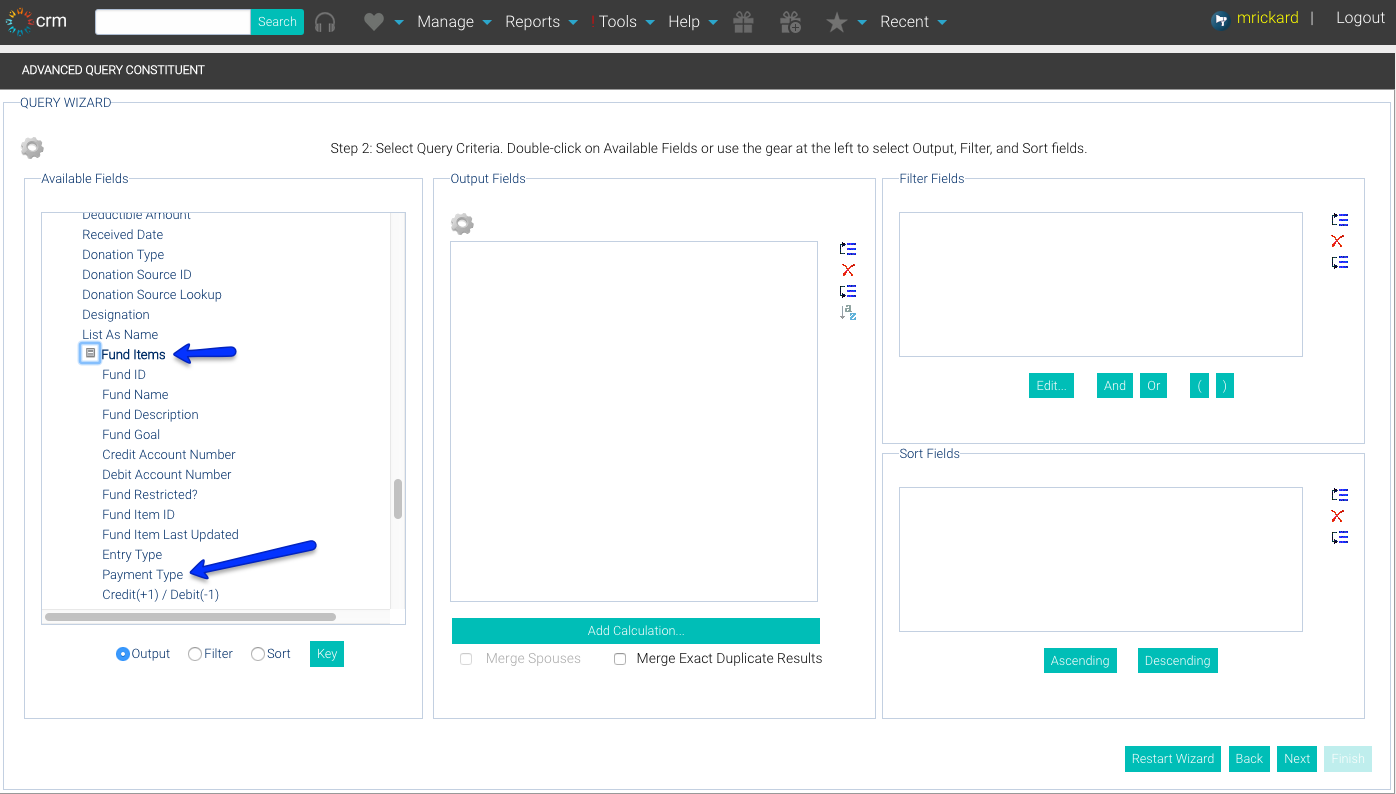 October 2018
Standard Donation Form Updates
We have updated our look-and-feel of our standard donation form for Salsa CRM and added many new customizable options to changing the design of the form. This web donation form is generated automatically when the Credit Card configuration is saved and made "live" in the Manage > Configuration menu. NOTE: Previously applied CSS files need to be adjusted based on new <div> and <class> definitions.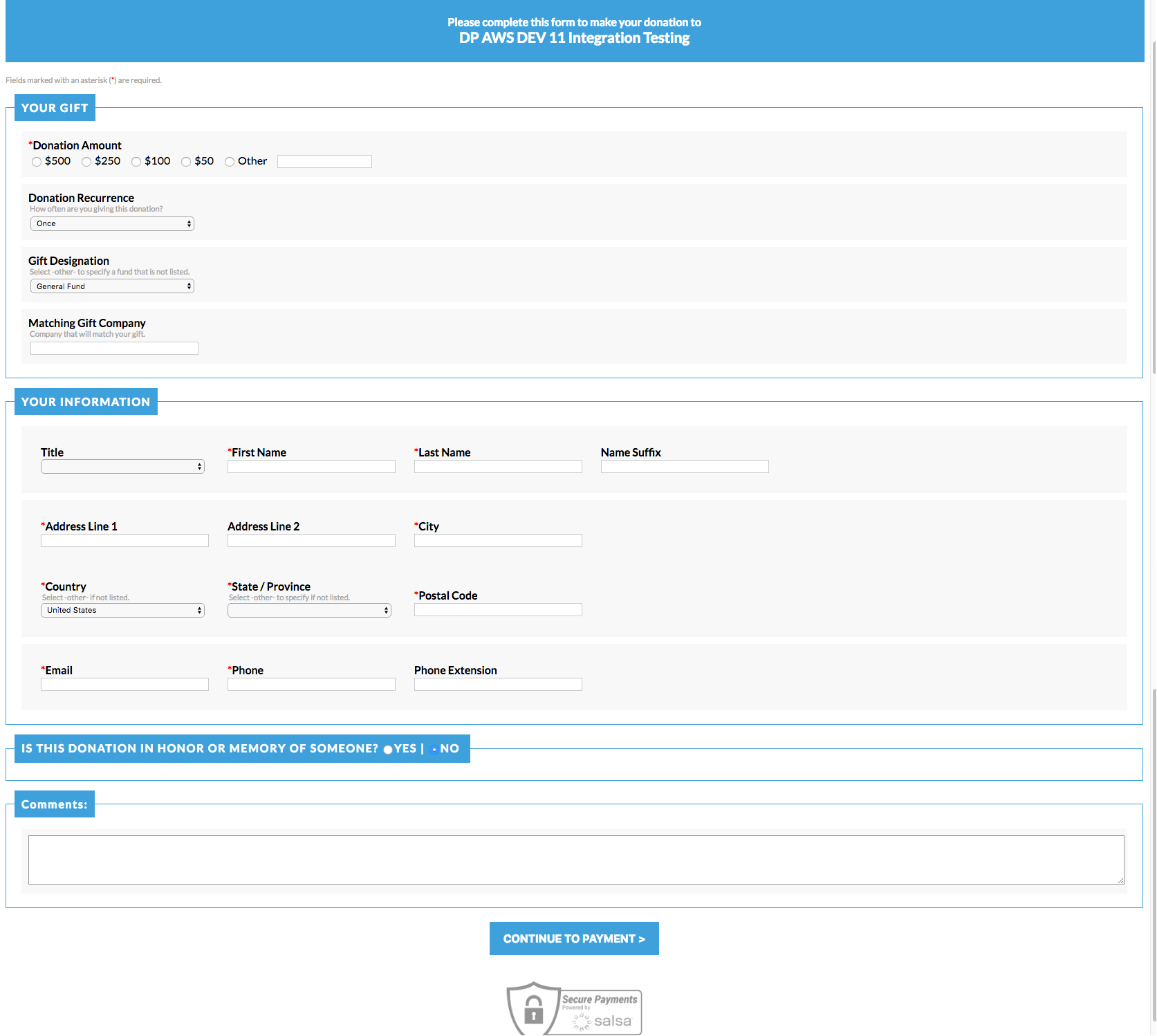 September 2018
Salsa CRM introduces a new word processing integration with Google Docs to create and edit Documents for things like mail merges, donation thank you letters, summary letters, receipts, and donation batch printing. These documents will be able to utilize the CRM Donation, Constituent, or Membership variables you have come to expect. You will be able to start a new Word document from scratch or open a file already located on your hard drive, in Google Drive, or in Google Docs, and add this to your CRM Document list.
Click here for help with our new Google Docs feature. Also be sure to check out training in Salsa Scholars.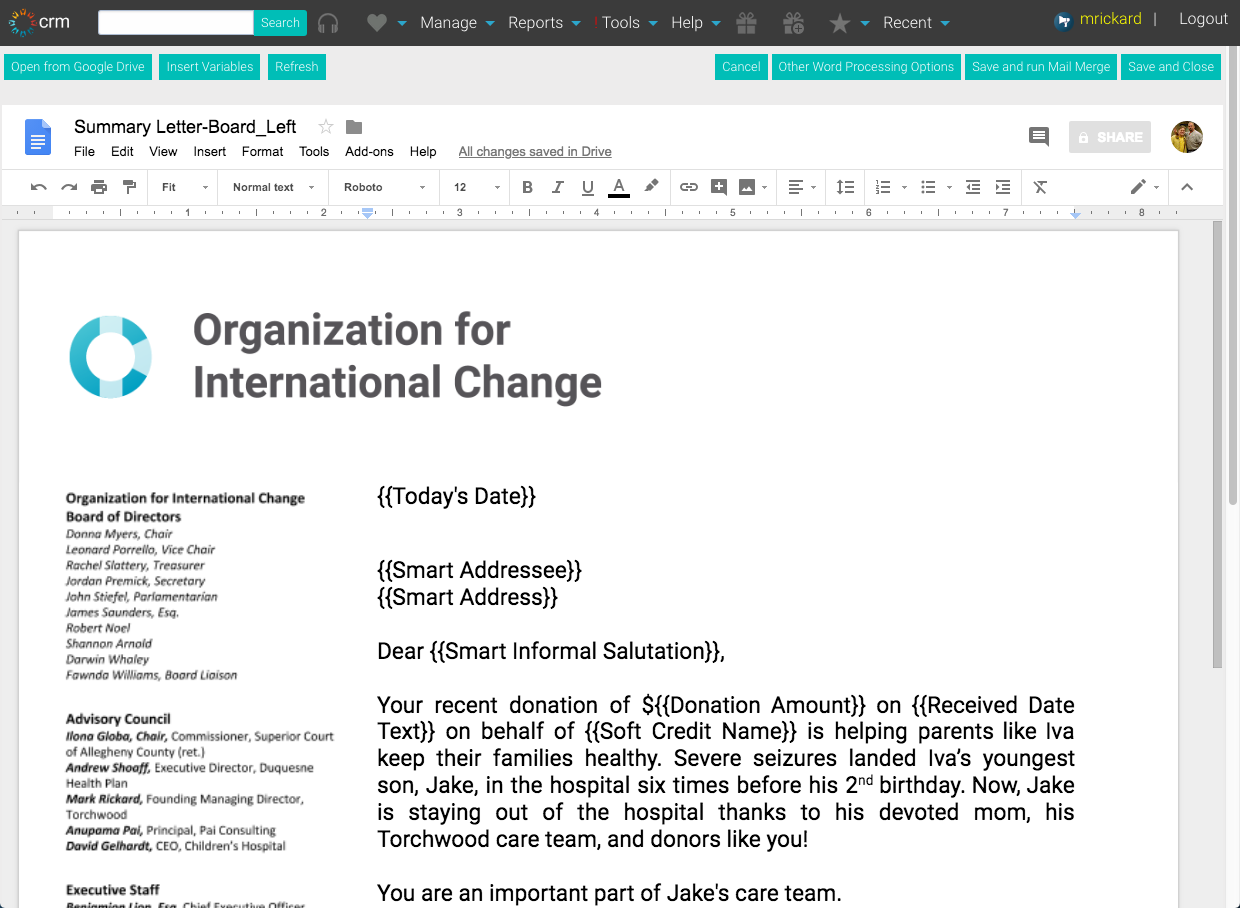 NOTE: email communications from Salsa CRM like emailable donation form letters will still utilize the CRM default word processor, which is optimized for HTML authoring.
July 2018
We've added a Mail Merge option to the Pledge Reminder report, so you can send a CRM mailing to those in the report who need to be reminded about their pledge responsibilities.
May 2018
We've enhanced our new Performance Dashboard so that you can now schedule reports based on the parameters you set. You can also view, edit, and delete reports that have already been run. Click here for more information.
March 2018 
PERFORMANCE DASHBOARD
We've built a brand new, graphical Performance Dashboard. Click here for a 2-minute video overview! 
The CRM Performance Dashboard provides important metrics and trends that an organization can use to gauge its performance over time. The initial release of the CRM Dashboard focuses on fundraising. Future releases will include other metrics. The CRM Performance Dashboard enables you to see...
A high-level view of your fundraising progress.
How your fundraising is performing this year compared to the same point in time last year.
A snapshot of the performance of your active funds, campaigns, and appeals.
Trends in your donor growth vs. churn over time.
The progress of your outstanding pledges.
To get to the Performance Dashboard, click Reports > Performance Dashboard.
Many of the graphs enable you to drill down to see campaigns, funds, and appeals for individual donations. Play around with the interface to discover how much information we've made accessible.
The CRM Performance Dashboard is restricted to users with the "Salsa CRM Admin" role or users that have roles assigned with the "All Permissions" and "All-Level Access" options checked. Click here for online help.
ACTIVITY CUSTOM FIELDS
Salsa CRM now stores Activity Custom Fields from Salsa Engage for Constituent, Donation, and Advanced Queries.
SECURITY UPDATE
Salsa Labs is actively working on disabling TLS 1.0 for Salsa's Services. In the interest of improving internet security and to employ best practices, TLS 1.0 is being sunset across the web in favor of TLS 1.1 and 1.2. Click here for everything you need to know.


October 2017
The new Constituent Update feature enables you to determine how data is handled when there is a potential conflict between data in Salsa CRM and data being pulled down from Salsa Engage.
The Constituent Update feature comprises two new screens:
Constituent Update Rules
Constituent Update Management 
Constituent Update Rules define how Salsa CRM handles updates to existing constituents that are pushed from Salsa Engage. Salsa CRM and Salsa Engage rely on UUID (a universally unique identifier) to ensure that records are matched correctly. The settings defined here will determine what data, if any, show up in the Constituent Update Queue. Click here for help.
The Constituent Update Queue enables users to determine what data (including non-Activity custom fields) gets written to Salsa CRM when there are potential conflicts with data pulled down from Salsa Engage. The data that is seen here will depend on how constituent update rules are defined. Click here for help.


August 2017
You can now create "Smart Groups", which update automatically twice a day. A group is a static collection of constituents that meet certain criteria. A smart group is a collection of constituents--that is updated twice daily--that meet certain criteria. When new constituents meet the criteria of a smart group, they are added to the smart group automatically when Salsa CRM updates it.

You can...
- Use the Advanced Query Wizard to create a smart group from a query.
- Convert an existing group into a smart group.
- See the success/failure rate of a smart group.
Smart groups can sync with Salsa Engage - If a smart group is synced with Salsa Engage, constituents will be pushed from Salsa CRM to Salsa Engage when the smart group runs.

Click here for direction covering how to create a Smart Group.