Overview
Non-profits always have lots of items to track. Sometimes, there are literally tons of product coming in or going out. For example...
Food donations

Bottled water

T-shirts

Coffee mugs

Books

Loaned medical equipment

Dog food

Donated auction items
Inventory Management helps to...
Control and track product inventory or organization assets.

Maintain information on donated auction items for your fundraising events.

Track durable medical equipment because you are eligible for certain grants or disbursements where you need to track demographics and statistics for the people you serve.
Inventory Versions
There are five different versions of inventory to manage:
Assets—Items in this category typically represent foundation assets that you want to control in terms of how long they have been around, such as computers, peripherals, printers, desks, chairs. These items typically depreciate after a while.
Library—This category may contain content that gets loaned out to constituents or books written for the foundation specifically for purchase by supporters or as incentive to donate.
Meds—Disease-specific organizations may

distribute over-the-counter medications or supplements for patients. This functionality helps to track who is receiving these distributions and how often. This functionality does not support tracking for prescription medications. Salsa CRM should not be considered a fully-functioning electronic medical record.

Incentives—Inventory in this category may be used for silent auction items, incentives to donate, paddle raise categories, and many more fundraising motivations.
Equipment—Track durable medical equipment—such as wheelchairs, walkers, and nebulizers— which may be loaned to constituents.
Workflows
Add Item to Inventory
This workflow describes adding an item donated to your organization, either as a formal donation record or simply added to your records.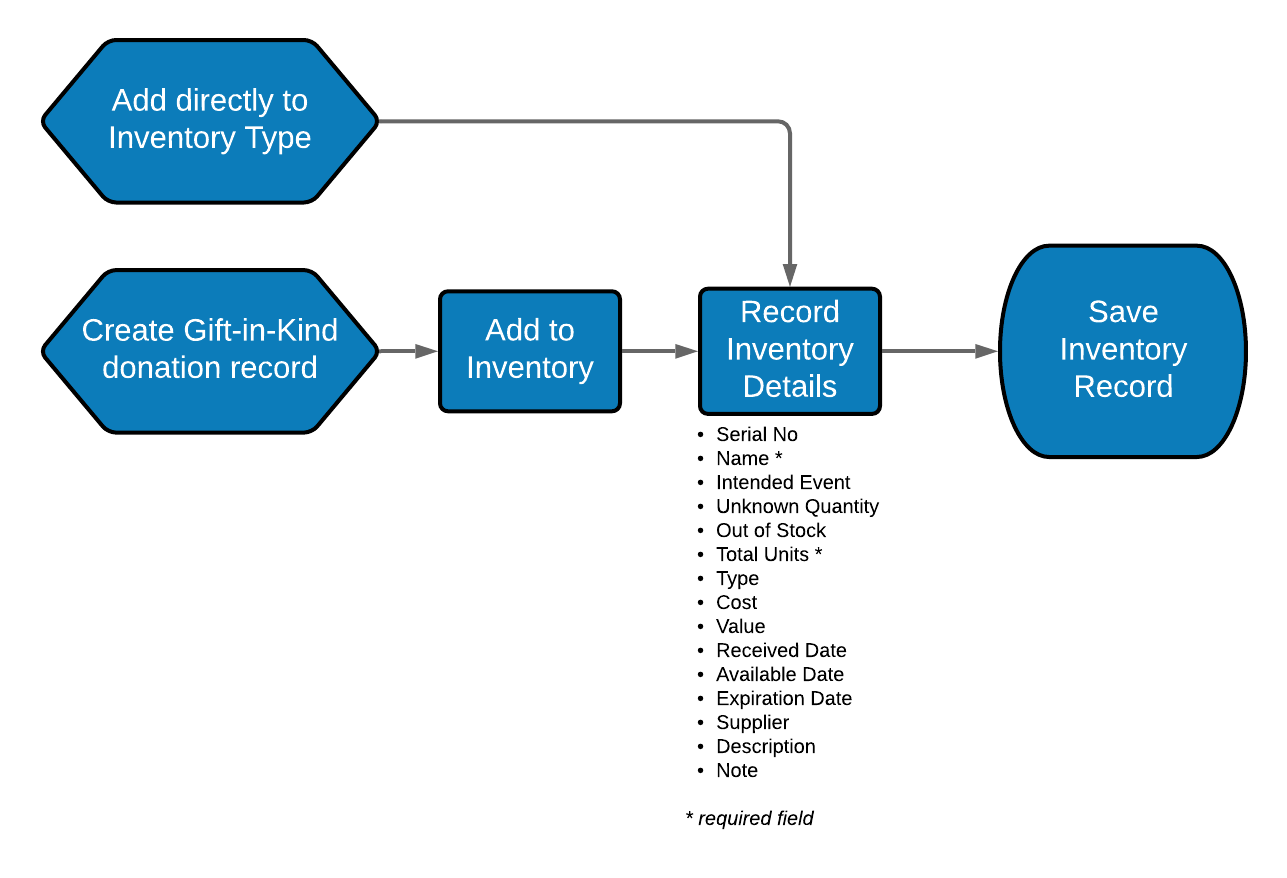 Assign Incentive to Donation
This workflow describes adding an inventory item to a donation record, where the inventory item will be given to the donor, such as an incentive for donating.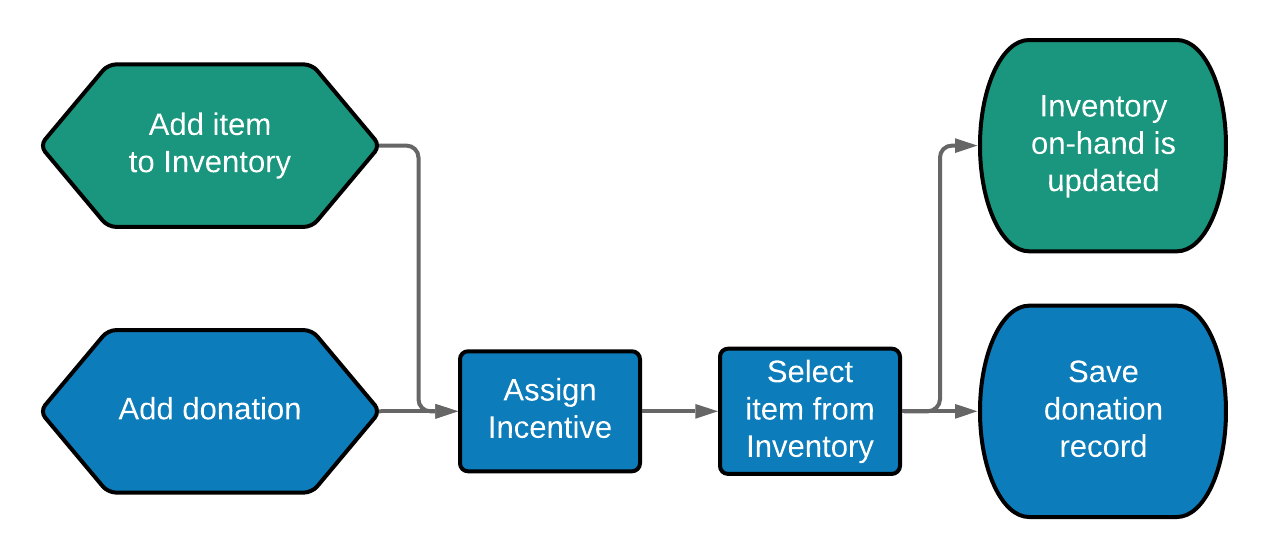 Configuration
Manage various inventory-related functions from the Manage > Inventory > Configuration menu.
Configure inventory categories and types for the Assets, Library, and Equipment versions in separate tabs. Each inventory version may have different categories and types which you can define in your own terms. For example, you may split your Equipment inventory into the following Categories:
Beds
Chairs
Diabetic Supplies
Mobile Assist Devices
If you have different locations which may store equipment in different areas that you service, you could use Types to track that information. For example, if your organization worked in locations such as...
Charlotte Location
Durham Location
Raleigh Location
Wilmington Location
Using the buttons below the Category or Type, you may add new Categories or Types. you may also edit or delete existing Categories or Types.
Add—Add a new Category or Type in the respective window.
Edit—Highlight an existing Category or Type to edit the name.
Delete—Remove an existing Category or Type. Deleting an entry will not delete an existing Inventory item.
For Meds inventory, you may define Categories and Units of Measure for those meds you have available. The same Add, Edit, and Delete buttons are available for Events as they are for other Inventory sections.
For Incentives inventory, list your fundraising activities for which you would have incentives available in the Events section. Use the Types section to list different types of incentive inventory you might maintain, such as...
Clothes
Food & Water
Golf Collectibles
Other Sports Collectibles
Travel & Leisure
Wine & Spirits
The same Add, Edit, and Delete buttons are available for Events as they are for other Inventory sections.