Fund Accounting Overview
Fund Accounting is the backbone for managing money in the nonprofit world. Salsa CRM's Finance Export report enables you to easily share information with QuickBooks Desktop by joining your Funds with income accounts and by adding Classes to your donation tracking.
Salsa CRM captures the 'A–to–Z' of donors and their giving, but accounting often only needs to track part of that information. For example, the board may want a budget that tracks giving to your organization based on the fundraising event locations. However, accountants focus on whether the donation was restricted (must use donations for the specific purpose stated by the donor) or unrestricted (can use donations to pay for expenses, salaries, etc.).
How can you satisfy everyone? Track the board's need for knowing where the money came from using Classes; track the accounting needs by linking Salsa's Funds with QuickBooks' income accounts.
Finance Export Workflow Overview
For setting up data upload from Salsa CRM to QuickBooks Desktop, check out this article. Once you are set up, read about how to sync donations from Salsa CRM to QuickBooks.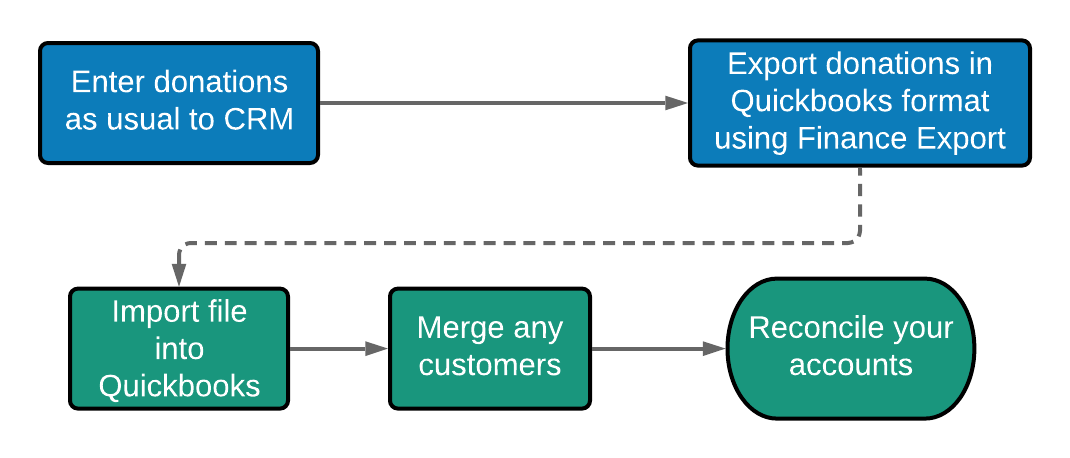 Enter your donations into Salsa CRM as you typically would.

Export donations

in QuickBooks Version 3 format using Salsa CRM's Finance Export tool.

In QuickBooks, use their

IIF Import

tool.

If tracking Customers in QuickBooks,

merge any duplicates

.

Review the QuickBooks P&L statement to

check your import

and make sure everything appears on the correct line item.
Salsa CRM supports most QuickBooks Desktop versions. (For more information about integrating Salsa CRM with QuickBooks Online, click here.)