If you have many different communications channels pointing to an activity form (a sign-up form, for instance), and you want to track the different ways that someone got to your Activity form, you can apply a Salsa Tracking Code to the URL used to get to the Activity form that makes that appeal unique and reportable.
Activity form tracking codes—added as a default when the forms are composed—provide campaign managers with more insight into where their supporters are coming from, so that they can focus their time and money on more successful channels or choose to pivot and invest resources on untapped channels. Campaign managers can perform return-on-investment (ROI) analysis on ad spends and other cost-per-acquisition marketing channels.
For example, you have a sign-up form, and you are simultaneously emailing supporters and generating a Text-to-Initiate program to sign up through the form. Each campaign can have a separate tracking code so you will know later on that a supporter originated with either the email you sent out or the Text-to-Initiate program.
If an action with a Salsa Tracking code results in the creation of a new supporter record, then that Salsa Tracking Code will be stored as the Source Tracking Code for that new supporter, under Source Details.
That new supporter can then take other actions, and those activities (making a donation, participating in a Targeted Action, etc.) will have the appropriate Salsa Tracking Code appended to it. The activity tracking code associated with that form is stored in the Transaction record or on the Activity Results.
Tracking codes may contain only letters, numbers, and the following special characters:
- _ ? = ] [
Tracking Code Metrics
View and analyze metrics through your Activity results page to measure which code is performing the best for your activity.
Views—How many times the Activity or URL was seen in a web browser.
Conversions—How many times viewing the Activity or URL led to the supporter submitting your form or making a donation.
Conversion Rate—The number of conversions divided by the number of views, as a percentage.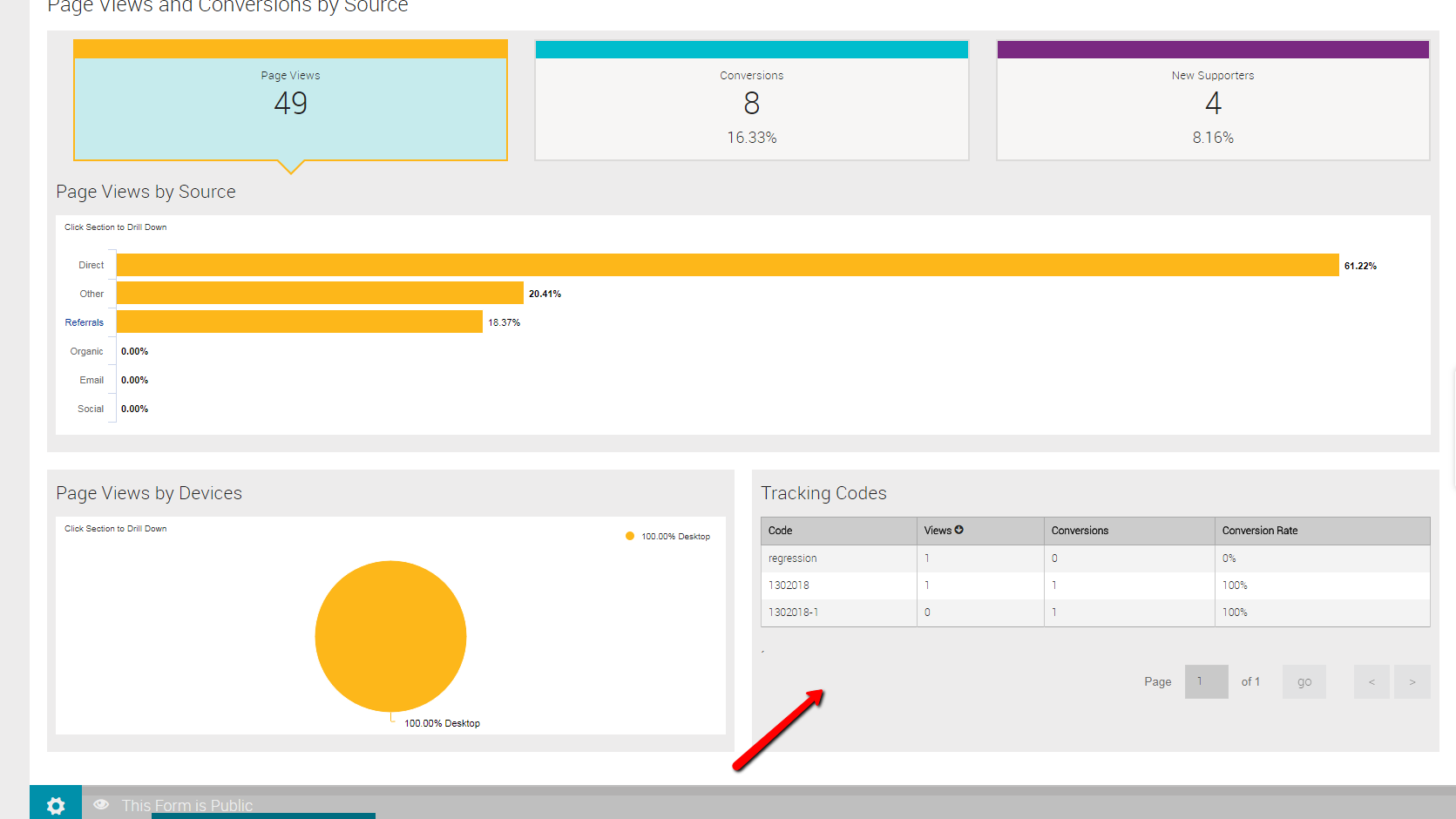 Tracking Code data are exportable in every exporting activity and transaction results. Tracking codes are in the "Salsa Track" column.
Tracking Code Queries
Supporter queries can show the name and type of activity where the supporter first was added to the database. Use the Supporter Source filter category to find those supporters whose initial source for their record creation was a particular form, for example.