Sign-Up Form Creation Overview
Sign-up forms are a great way to grow your supporter rolls. Sign-up Forms are web forms that you can embed within or link to from your website, blog, or social media so that a visitor can sign up to receive a newsletter or other communications from your organization. Typically, successful Sign-up Forms require very few fields - often only Email. Most organizations choose to offer several opportunities for visitors to sign up. One way is via a link on their website, another could be in an email communication, event invitation, or blog post. Check out Sign-up Form best practices for an interesting article on best practices.
Check out the Salsa Scholars Sign-Up Form training course.

Step 1: Getting Started
Click Activities from the left navigation menu.
Select the Sign-Up Forms tab.
Click the + Create a Sign-Up Form button to the right of the window.
The Make Your Selection tab is selected by default. See Make Your Selection for more information.
The Basics tab is selected by default. Fill out the fields. See Activity "Basics" for more information.
Click the Next button at the bottom-right of the window. The compose window will open.
Step 2: Compose Your Form
This step enables you to create content and page layout, manage the activity's page settings, consider what type of confirmation the supporter receives, select which payment gateway to use (if you have more than one payment gateway configured) and add any third-party tracking to your form. See the Compose page for additional information, and then return to this page to complete the process.
Step 3: Set Up Autoresponders
Select an autoresponder option. See the Autoresponders page for additional information, and then come back here to finish the process.
Step 4: Publish Your Form
After you have it set up the way you want, publish your form. Click here for detailed information about Publish and widget options. When you select Publish This Form, the page will be rendered, a URL hot-link will be generated, and widgets will be created. You can also see the available date, which shows when the page was published and made available for use. Most importantly, the form will be live.
Analyze Results
Once you have published a sign-up form and collected at least one sign-up on the form, you will find new information generated on the Results tab of the form. The first piece of information you will see at the top is the total subscriptions on this particular form.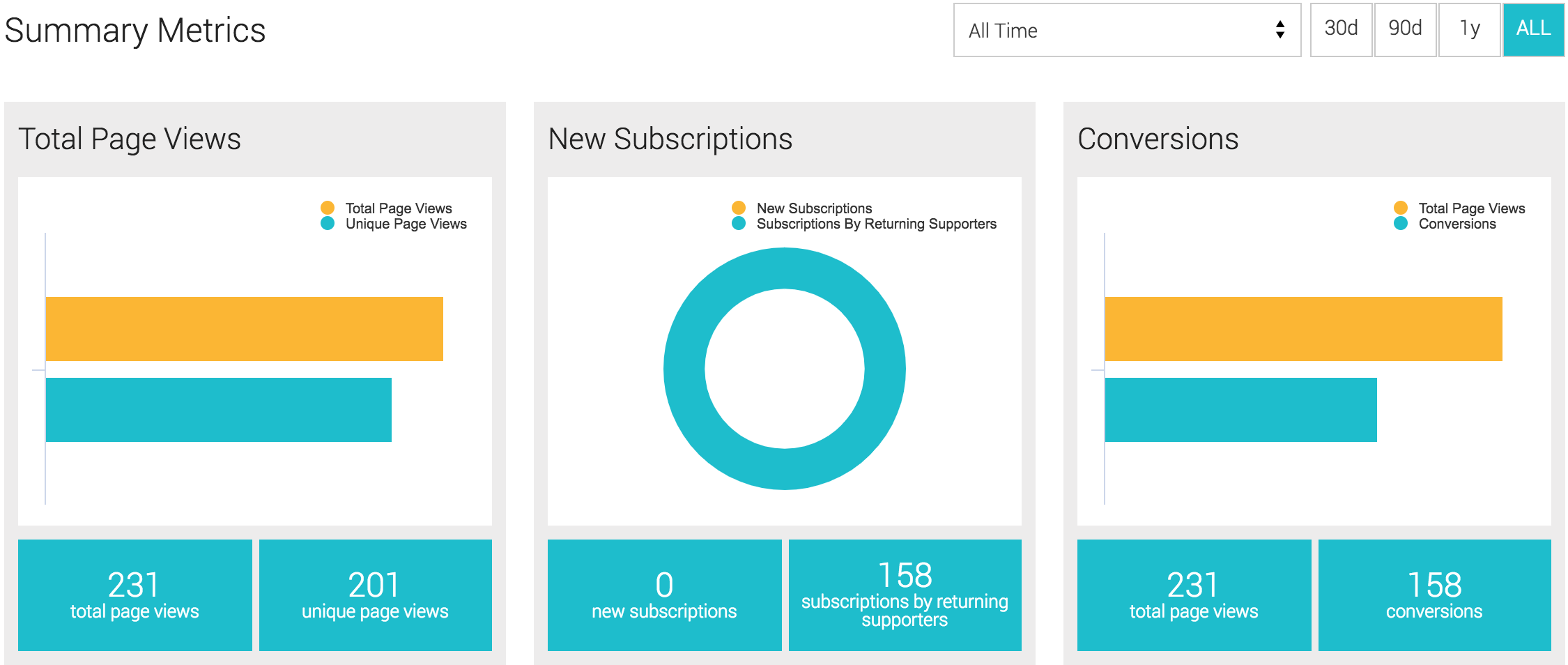 To the right, you'll see an option to change the timeframe (30 days, 90 days, 1year or Lifetime) of when the data for the graphs in the lower section is pulled.
If you have a specific date range you want to filter by, click the date drop-down and select the range of days and click Apply.
See Performance Statistics for Actions and Messages for detailed information.