Autoresponders are automated emails that send to your supporter whenever a form is submitted. You're probably used to seeing donation confirmations emailed after a donation is made. That's one type of automated response. You can also set an autoresponder for other forms. For example, you could add an autoresponder to your sign-up form to thank the supporters for joining the cause, or you can send a message of hope and encouragement after a supporter submits a Targeted Letter form, and so on.
Autoresponder emails can (and should) be more than a transaction receipt. Use them to continue the conversation with supporters after they take an action, or ask users to stay engaged by taking another action right away.
Finding and Editing Existing Autoresponders
There are two options for getting to existing Autoresponders: as a step in the process of creating an Activity or via the Email tab.
Option 1: Activity-Related Autoresponder Options
To access the Autoresponders used on a particular activity...
Navigate to the activity by selecting the Activities menu on the left.
Select the type of activity by selecting one of the tabs at the top of the page, such as Fundraising or Events.
Scroll down to the list of activities.
Click once on the activity name you need to edit.
Select the Autoresponders tab.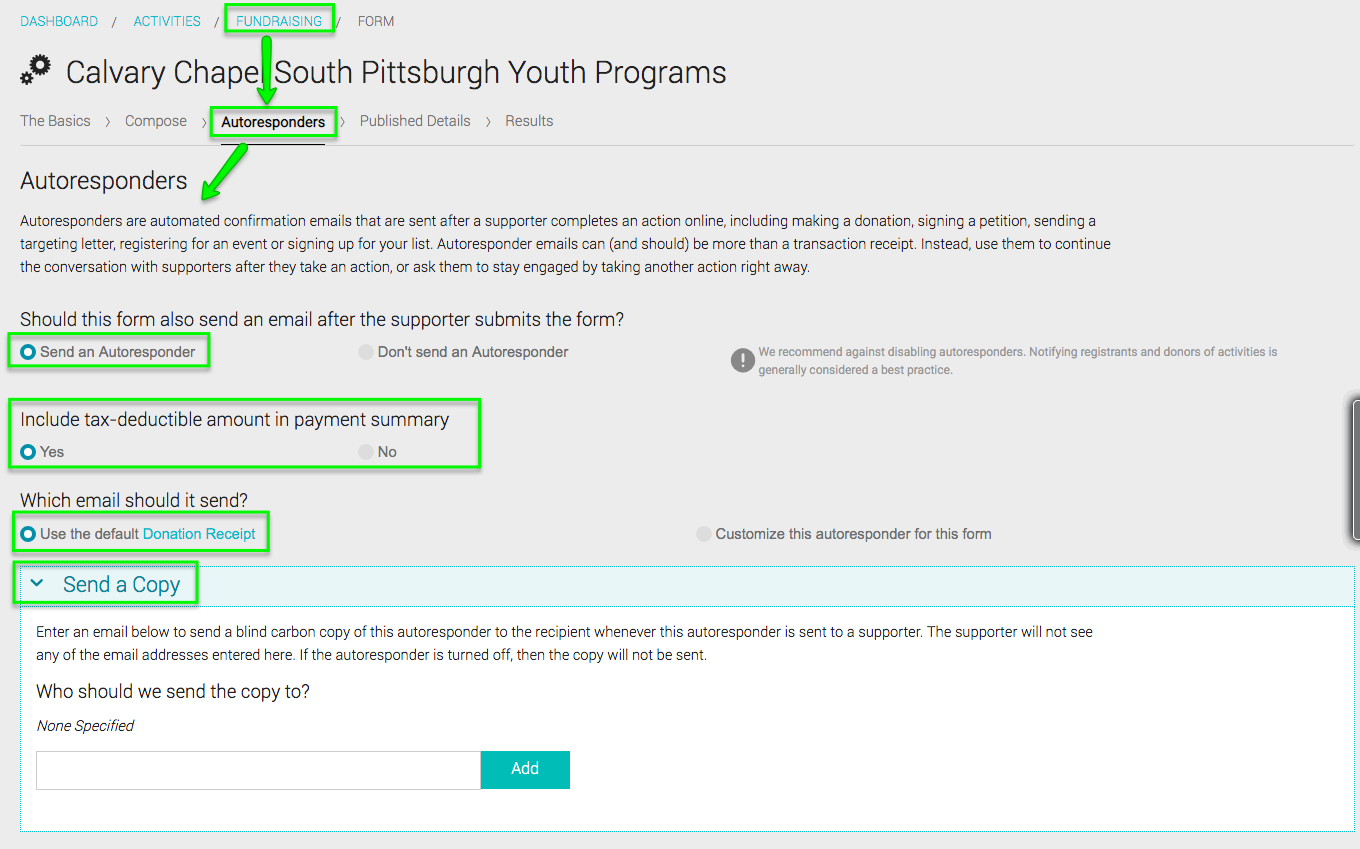 Activity Autoresponders feature the following options:
Send a Copy—Send blind carbon-copy ("BCC") emails, for instance to an internal email address as a notification that someone took action. Supporters will never see the email addresses entered here. To send autoresponder copies to multiple email addresses...

Navigate to the activity in question.
Select the Autoresponder tab at the top of the screen.

If there is more than one autoresponder available for that activity, Click on the Reference Name or Description text to edit first.
If only one autoresponder exists for that activity, the Send A Copy section displays on this page. The Send A Copy section is under the "Which email should it send?" section on this page.

Enter the first email that you want to add under "Who should we send the copy to?"
Click Add.
Enter the second email.
Click Add.
Repeat the process as many times as you need to.

Include tax-deductible amount in payment summary?—You will see this option only if you are creating an activity that collects funds from constituents. When you select "No", the tax-deductible amount of supporters' donations is not shown in the Donation Summary. "Yes" is the default for this option. You can change the default for new Autoresponders in Salsa Engage Settings.
Use the default [autoresponder]—There is a different autoresponder email for each type of activity. This option will use the email that was added when Salsa Engage was set up. If you click the link, you can review and change the Sign-Up Form Confirmation information. Caution: Any changes you make here will affect all of the published forms that are using the default autoresponder information from this page.
Customize this autoresponder for this form—When you select this option, a Sign-Up Form Confirmation Tab opens that enables you to create an autoresponder, using the Visual Editor, for just this form. Click here for more information about the visual editor.
Option 2: Via Email Tab
To view a list of your default and any customized Autoresponders...
Click the Email tab.
Click the Autoresponders tab.

When you come to the Autoresponders tab for the first time, you'll see available default Autoresponders. You can edit any of them using the same process. Find the autoresponder that you'd like, and then click on the Reference Name or Description text.
When you click once on a row, the autoresponder opens in compose mode. Edit any of the following parts of the autoresponder:
Autoresponder Description—This short description includes the context in which you'd use this message as well as keywords you and your teammates might search on to find this message later. This is for internal use only.
Sender Details...

From Name—The name which will show up in the recipient's email box. Best practices dictate that this name should be recognizable to the recipient (they're more likely to open the email if they recognize the name of the person sending it).
From Email Address—The email address which will show up in the recipient's inbox. This should be a real email address monitored by someone at your organization.
Reply-To Email Address—This is the email address to which emails will be sent if a recipient replies to the autoresponder message. This should be a real email address monitored by someone at your organization.

Caution: Never use the following domains for your From email address:

Gmail.com
Hotmail.com
AOL.com
Yahoo.com

Many email clients automatically block emails from these domains or send them directly to spam. To ensure deliverability, these domains should not be used in the sender's ("From") address.

Email Subject Line—The subject line of the email which will be sent. Try inserting their first name to increase open rates. To the right of this field, use the control shown below to add merge fields to your email. Merge fields enable you to insert dynamic text elements into your forms and messages.




Autoresponder Content—Change the Email Subject Line or the look of the email by editing things like font, color, images, logos, and text alignment. See the Visual Editor page for more information.

NOTE: There are currently more emails opened on mobile devices than on desktops. The shift to mobile has made the use of preheader text important for anyone using email to grow supporters and revenue. Do you use preheader text in your emails? Check out this section on adding preheader (or preview) text to your autoresponders.
Spam Checker—Certain phrases, keywords, link types, and other components of your message may trigger spam traps on the receiving end, so we try and provide you with a little data to help clean that up if needed. See this section on Spam Checker for more information.
Send a Test Message—When you are editing your email blast in the visual editor, this is a close approximation of the final product. An even better approximation is the Test email that you can send to yourself (preferably outside of your foundation's domain... to a personal email, for example).

NOTE: We strongly recommend sending test messages of each email blast to multiple email domains, as email providers have varying standards for spam-checking HTML. For example, consider sending the test message to a personal address at Yahoo or Google as well as your organization's email. If your organization is blocking the test email or otherwise noting it may be spam, that is because we are sending emails that are on behalf of your organization, yet your email server is suspicious because it did not send the email. It is likely that our email servers need to be whitelisted to perform such an action. Please review our documentation on making sure emails get to supporters.

PRO TIP: It can be challenging to create emails that render well in all email clients, because email clients, unfortunately, have little standardization in the way they display HTML. Here is a helpful resource that other clients of ours have used to mitigate these kinds of problems: http://www.email-standards.org. Another great resource is a program called Litmus (http://litmus.com). It allows you to test the email across various clients. Another thing that you may wish to do is keep an eye on the Results of your email blasts in the Email Client stats area of the results, to see what email clients your constituents are using. If you start seeing that a significantly large amount of your constituents are using Outlook, you may wish to tailor the emails towards Outlook recipients.
Creating Custom, Form-Specific Autoresponders
Create a form-specific Autoresponder as part of all Activity workflows, as seen here: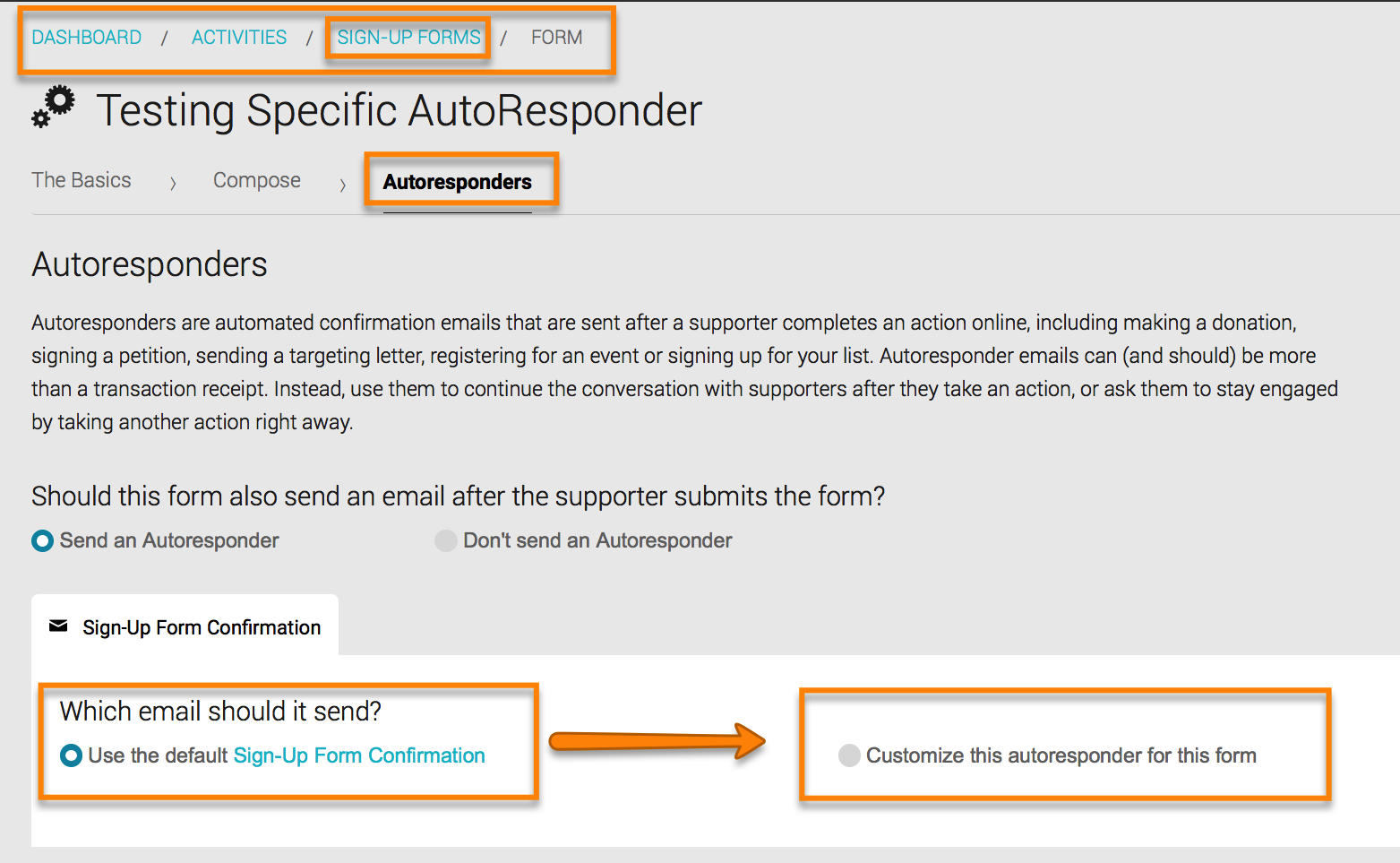 You'll be given the option to add a default or custom autoresponder at the end of the workflow for activities and messages for which autoresponders are supported.
Publishing
Once everything looks the way you want it to and performs well in tests, you may wish to look back at the Preview one last time to make sure you're satisfied with the result. Keep in mind that viewing the content in this way is not a substitute for sending test emails; only test emails will show you how your email will interact with various email service providers.
When you're really finished, click Publish This Form in the lower right-hand corner of the window.