Introduction
This section gives you an overview of Sign-Up Forms and leads you through the process for creating Sign-Up Forms from scratch.
One of the ways to grow your supporter list is via a sign-up form. Sign-up Forms are web forms that you can embed or link to on your website, blog, or via social media sites so that a visitor can sign up to receive a newsletter or other email communications from your organization. Typically, successful Sign-up Forms require very few fields - often only Email. Most organizations choose to offer several opportunities for visitors to signup. One way is via a link on their website, another could be in an email communication, event invite, or blog post. (Check out Sign-up Form best practices for an interesting article on best practices.) Salsa Engage enables you to implement forms in the following ways:
Standalone Sign-up Form URL, Where the Page is Hosted by Salsa Engage
Widget Code Generated by Engage,  Which You Can Paste Into Your CMS
Widget for a Website Embedded Button
We'll spend the rest of the intro looking at the pros and cons of these options.
Stand-alone Sign-up Form URL
This page would be hosted by Salsa Engage.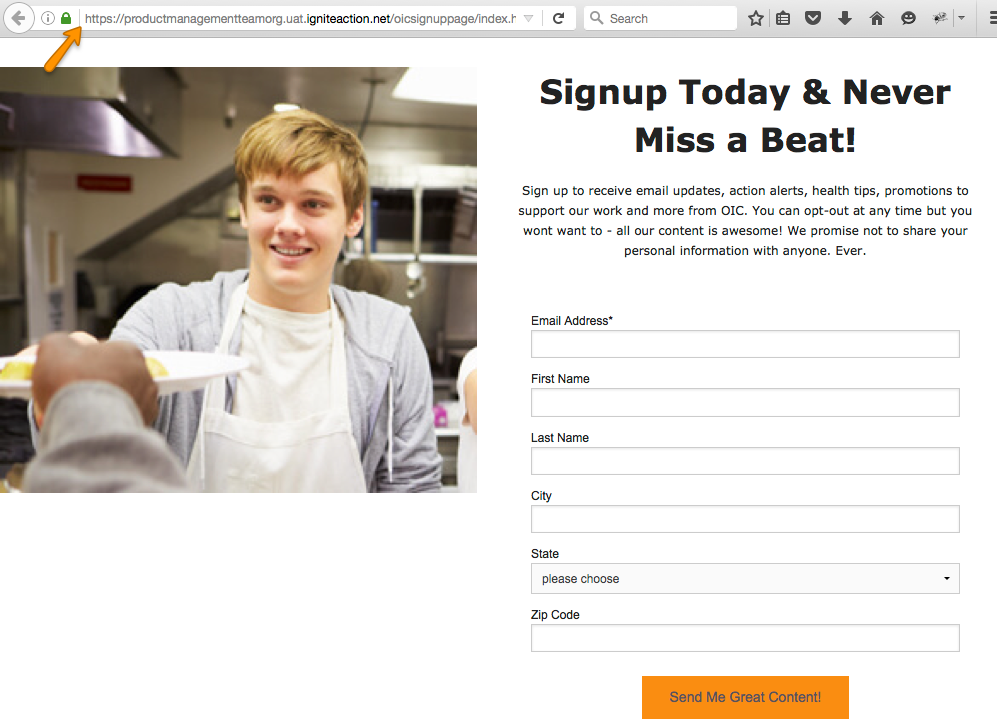 Pros
Cons

No website needed.
Form is secure.
Fully customizable layout/content.
Form is mobile-responsive.
URL can be customized for a fee.

URL will start with https://yourorgdomain.salsalabs.org, which while most organizations discover is not a problem, can be something to consider.
Look and feel is not identical to the website.
Widget Code Generated by Engage
You can paste this code into your own CMS (for example, Wordpress, Drupal, etc.)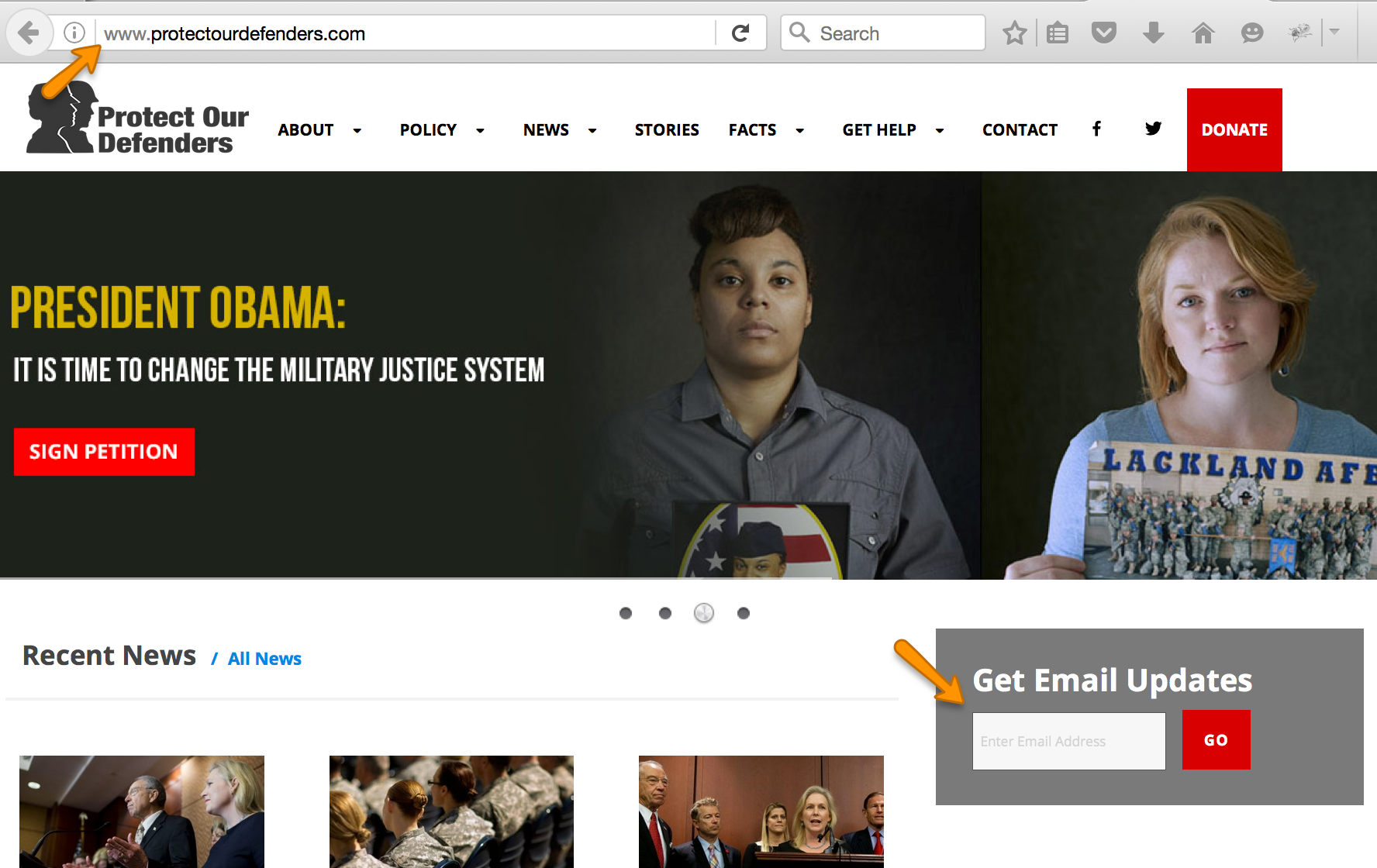 Pros
Cons

Since signup form is integrated into an existing website, branding is retained.
Retains the URL of that web page.

 

 

Assumes client has access to edit her/his own CMS. If the client does not have the ability/access to their CMS, reliance on a contractor or other department can make this more challenging.
Responsiveness - If the site into which the code is pasted is not mobile responsive, the form could have challenges.
Lack of security - less of a concern for most visitors upon signup but this is a non-issue on Engage-hosted forms.
Widget for a Website Embedded Button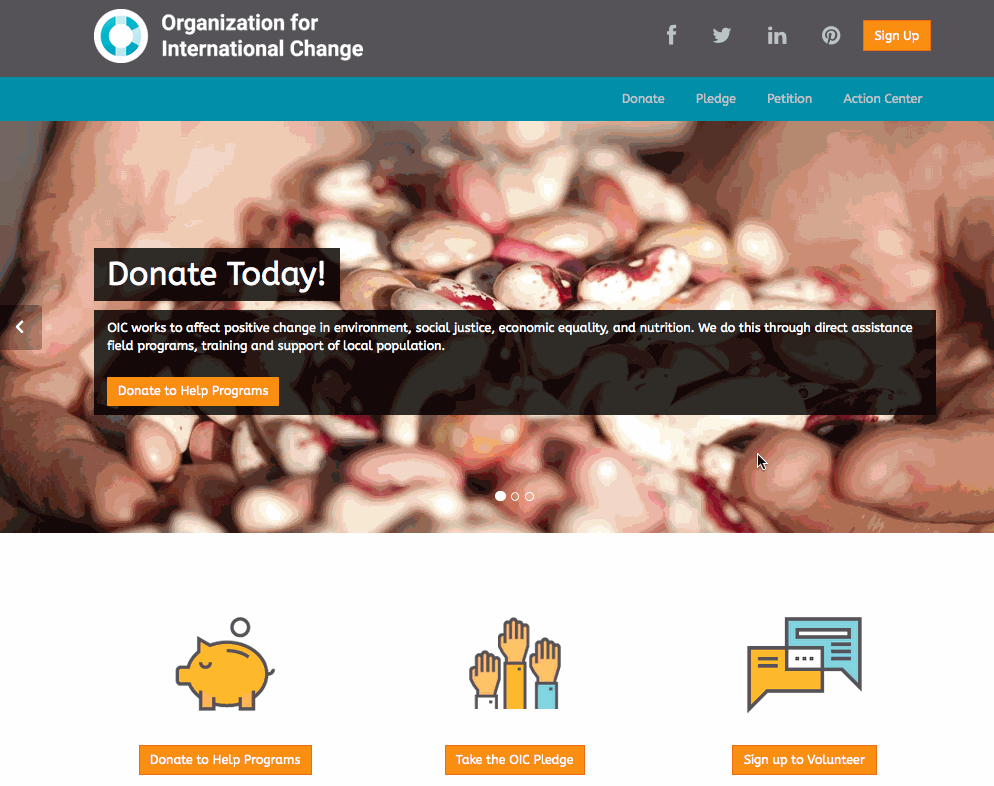 Pros

Cons

Buttons are a widely-used design option.
Allows for click tracking

Directs to an external form on another web page.
Look and feel is not identical to the website.
Step 1: Getting Started
Click Activities from the left navigation bar > Sign-Up Form tab > +Create a Sign-up Form button to the right of the screen. The Create a Sign-up Form window will open. Salsa Engage will lead you through the steps documented below.
The Basics tab is selected by default. Fill out the fields. See Activity "Basics" for more information.
Click the Next: Compose >> button at the bottom-right of the window. The compose window will open.
Step 2: Compose
Salsa Engage features pre-defined form layouts to simplify form creation. While their Rows and Elements are pre-defined, they are also editable in the Compose step. The Form Element or Multi-step Form Element is central to any Sign-Up form. See Visual Editor for Activities and Messaging for detailed information about these Elements.
Select a layout.
Note, once you've made your Layout selection and move on to the Composition tab, you will not be able to change the layout. If you find that the layout you've chosen isn't what you need, you'll need to start over with a new form. Before you give up on the layout you chose, keep in mind that you have plenty of editing choices in the Compose tab. If you need to, you can go back to the Setup page and select the cogwheel icon in the lower left-hand corner to bring up the Delete option.
Click the Next: Composer >> button. The second Compose window will appear, in which you can add and change form content.
Enable third-party analytics if you wish. Click here for more information about third-party analytics.
In the form itself, add content, images, and additional Elements. (If you selected the Blank template you will have to add Elements before you can add or create content.) To add additional elements, click the Elements tab at the top right of the screen. See

Visual Editor for Activities and Messaging

for detailed information about Elements. Note, the form uses the Multi-step Form element by default. If you want a form that is only a single step, delete the Multi-step Form and drag the Form element onto the page.


Pro Tip: The best way to learn what options are available for elements that are already on the form is to hover over an element you are interested in, click the pencil icon, and experiment with the various options.
When you are finished, click Save Settings >>. If you cancel out (X) before saving your changes, not of your changes will be saved.
Step 3: Set Up Autoresponders
Select an autoresponder option. See the Autoresponders page for additional information.
Step 4: Publish
After you have it set up the way you want, publish your form. Click here for detailed information about Publish options. When you select Publish This Form, the page will be rendered, a URL hotlink will be generated, and widgets will be created. You can also see the available date, which shows when the page was published and made available for use. Most importantly, the form WILL BE LIVE.
Widgets for External Web Pages
After you publish, Salsa Engage generates widgets that enable you to add a donate button or your donation form to any web page that you own.
Note: You'll probably need admin level access to your website to use this widget code.
Click here for more information.
Step 5: Analyze Results
Once you have published a sign-up form, you will find a new tab in the page workflow: Results. To the right, you'll see a date filter. Updating these values will filter the data for every report on this page. See Performance Statistics for Actions and Messages for detailed information.