In-Kind Gift to Inventory Workflow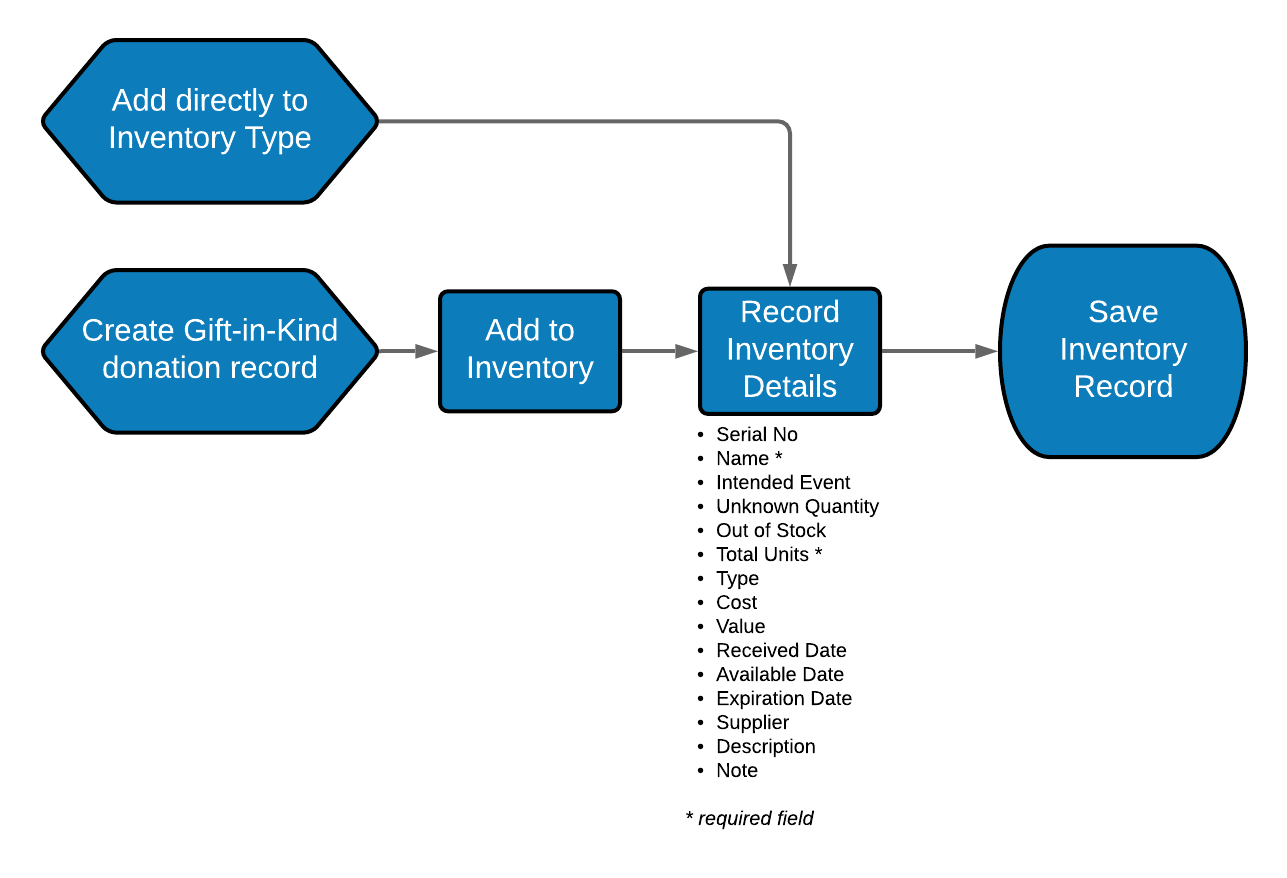 Donors may donate items or services to your organization, in-kind. These gifts typically represent items that your organization would have to go out and purchase, but the donors are giving them to you instead. For example...
Food banks accept in-kind gifts of canned goods and other food items.
Human service organizations accept gifts of clothing, shoes, etc.
A donor donates his hockey tickets for a fundraiser silent auction.
A bus company donates transportation services for elderly attendees.
A dental hygienist donates her time and skills for overseas missions work in central Africa.
Your organization should develop a set of standards regarding the items you will accept as in-kind gifts. For example, the Global Hand project is a web portal that allows those willing to contribute to the UN's relief efforts to be matched with the relevant UN team, and for the UN teams to post their requirements. They have published standards for ensuring aid is considered good and helpful.
To add an in-kind gift...
Create a new donation.
Select the payment of Gift in Kind, and press Tab.
In the Description of the gift in kind text box, enter a description of the gift, and press Tab to continue filling out the rest of the donation form.
Once you have selected the Save button. Select the Add to Inventory button to add the Gift in Kind item onto inventory.
Select the Add to Inventory button and select the category in which this item should be listed. The category options are Assets, Library, Meds, Equipment, and Incentives.
The Add _______ Inventory Stock screen opens (the blank will be populated by the selection made in the prior step).
Enter the appropriate information and then choose the Save.
You are returned to the donation window.
NOTE: You will see the Stock tab now has a green light, indicating that there is information on this tab. The inventory you just entered now appears here as well.