A Note About Web Browsers
Currently, Salsa Engage is supported on recent web browsers that run on Desktop and Laptop computers.  We support the current versions of web browsers, minus two versions.  So, for example, if the current version of Firefox is 42.x.x, then we'll support back to version 40.x.x.  If the current version of Google Chrome is 45.x.x.x, then we'll go back to 43.x.x.x.  You get the idea.  So far, there's not a current browser that runs on most laptop and desktop computers which we don't currently support.  As time moves forward, we may revisit this policy. 
For creating forms and emails using Salsa Engage, we do not support mobile device web browsers found on iOS and Android smart phones and tablets.  Forms and emails created with Salsa Engage are supported on mobile devices, however.
Log In and Forgot Password
Log In
f you need to log into Salsa but aren't sure where to do so, here is the login URL:https://hq.salsalabs.org/#/login
You'll see this window:
Some campaign managers may be associated with more than one organization. If that's you, then you'll see the ability to select which organization you want to work within after you enter your information. Simply click on the organization name and then select Log me in!
Forgot Password
If you've forgotten your password and can't get logged in, on the login screen you should see an I forgot link...
...which will take you to a password reset screen.
Enter your email address and you'll receive an email with a link that will take you to a page that will allow you to change your password.
Remember: When you reset your password, you will be asked the security question that you entered when you originally signed up. Once you get that taken care of, you'll be able to log in using your new password.
Dashboard: Account Snapshot
This is what your dashboard will look like after your initial account setup is complete.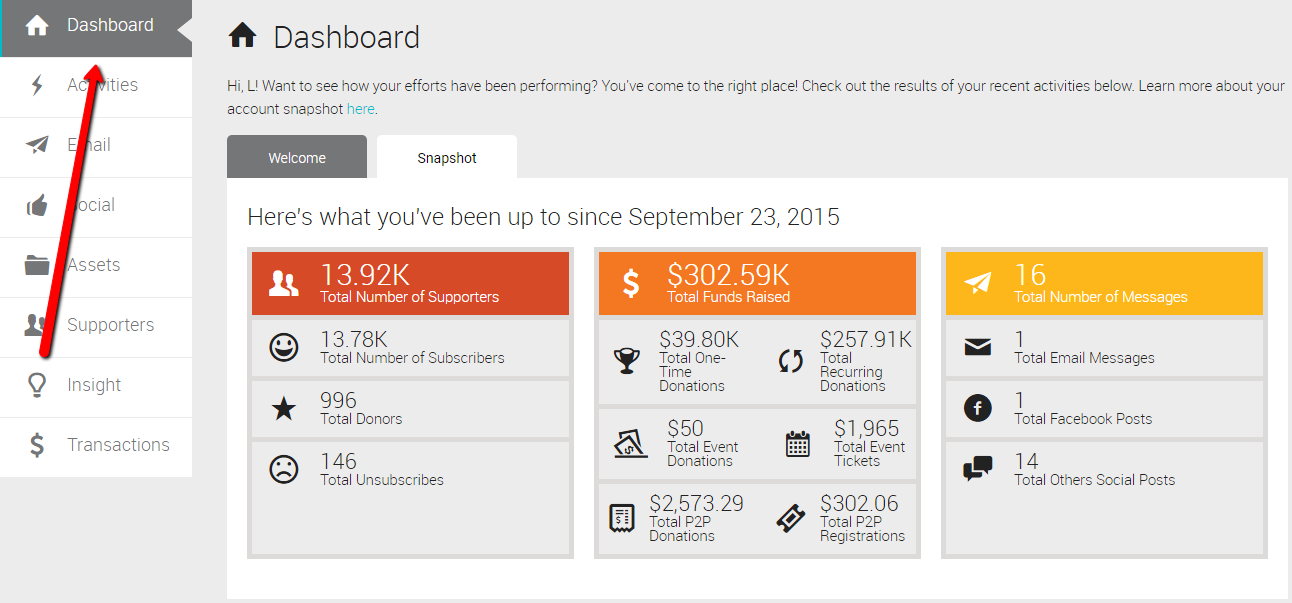 The first set of stats are how many Campaign Managers you have on your account. Next is your total number of supporters in your account, broken into how many subscribers you have (folks who aren't unsubscribed) and how many supporters that have donated.
You will also see the total amount of funds raised since your account was created, broken out into one-time and recurring donations.
The last lifetime stat is how many messages have been sent, this is broken out into email and social posts.
Below these lifetime stats you will summaries for different sections of your Solis account with the ability to change the timeframe (30days, 90days, 1year or Lifetime) of when the data is pulled.
If you have a specific date range you want to filter by click the date dropdown and select the range of days and click Apply.
To toggle on/off specific stats in the graphs click the colored box next to the stat you want to toggle.
To get specific details for a point on the graph hover your mouse over the spot on the graph.
Data by Date Range
Below the overview, you'll find some additional statistics about specific aspects of your account.  
Email Blasts:  The total number of emails sent in the time range you specified. It will also give you a total of clicks and conversions for all emails sent in the time range.
Social Posts:  The total number of Social Posts published in the time range you specified. It will also give you a total of clicks and conversions for all Social Posts published in the time range.
New Subscribers:  The total number of new subscribers added to your account in the time range you specified. It will also give you a total number of unsubscribes that occurred and how many supporters updated their subscription options.
Published Forms:  The total number of published forms, broken down by signup vs. fundraising and will also provide conversions per type.
Amount Raised: The total amount raised for the timeframe you provided. This is split into amount raised by returning donors vs. new donors.
Number of Donations: The total number of donations from the timeframe you provided. This is split into number of donations by returning donors vs. new donors.
Customize Page Backgrounds
Favicon Customization
You may have noticed that when you open a new window in your browser, many sites have a small image alongside the page title, like so:




This small image is called a "favicon" and can help to make your pages even more distinct.
To add or change your favicon, first find the Settings icon (the hammer and wrench) in the upper right-hand corner of your screen:

Once you're there, find the pulldown menu called "Switch to..." near the right-hand side of the page.  Click it and select the "Look & Feel" section:
Once you're there, you can click the "Upload new Flavicon" button:

This will take you to your computer's file browser, where you can select and add your own image.  Don't have a favicon?  You can use a page like the following to generate your own: http://www.favicon-generator.org

Note: If you want to add a favicon to a page that has already been published, you'll need to first make your page private, then re-publish your page.