Salsa CRM includes a secure web page for receiving online donations when configured with a Merchant Services account. This is useful if you want an online presence for charging credit card donations but do not have Salsa Engage tied in with Salsa CRM. Salsa Engage clients have an entire suite of product options that would render this functionality unnecessary.
You can activate and configure a free donation page that automatically generates when you enter a Merchant Services account [https://[yourdomain].crm.salsalabs.org/webDonation]. When a donor submits a donation through that web page, the donation information is downloaded into your Salsa CRM database for approval.
To configure the Web Donation Page, click Manage > Configuration > Web Transactions.
To activate your web donation page, click the checkbox next to Enable Web Donations.

Donor Notes
Enter the label for the Donor Notes text box so that your donors may provide information (such as addresses for acknowledgment letters) in the web donation web page. Leave blank if you do not want the Donor Notes text box to display.

Web Fund Names
The Fund Names that you display to your web-based donors are often not the same Fund Names that you use internally. This Configuration panel allows you to create a subset of fund references specifically for Web Donors. The values, which you create on the Web Fund Names list, will be displayed to Web Donors only. These values are not linked with or added to your internal fund names. You may add, edit, and delete them with no impact on internal funds. Your internal fund names are displayed in the list to the right for reference.

NOTE: These fund names are for the donor to choose how to direct their donation. Choosing one of these funds does not deposit the donation directly into a bank account.
To add a Web Fund Name, click the Add button. This list will be viewable by donors on the Web Donations Web Page.
Type the desired Web Fund Name and then click the OK button. The new Web Fund Name appears in the list for the donor to select.
Confirmation Email
When add an Email Configuration, your donor will receive a confirmation email after they successfully submit a donation through your web donation page. The donor will need to submit a valid email address.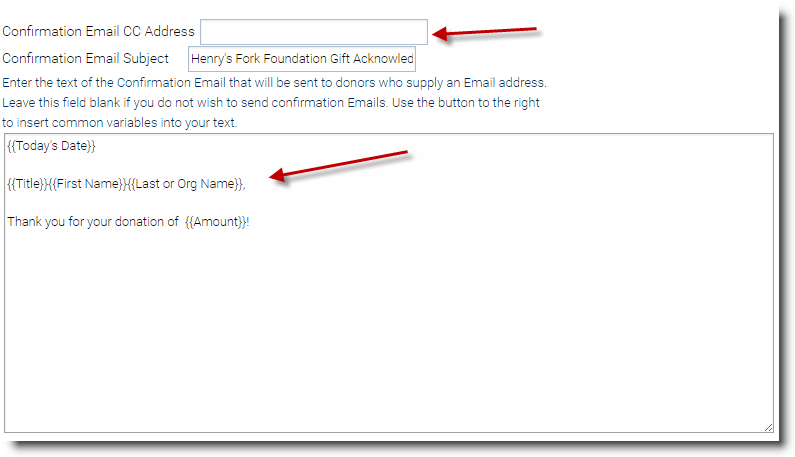 Enter a Confirmation Email CC Address in the text box if you wish to get a copy of the confirmation email.
Type the desired Confirmation Email Subject line.
Enter your text-only email in the large text box. Use the Insert Variable button to insert specific variables pertaining to the online donation(s) in the Confirmation Email text box.
NOTE: These variables are set and are not changeable.
Click the Save button.