Salsa CRM Form Letters represent donation thank you letters, letters to families acknowledging tribute gifts donated in honor or memory of a loved one, Silent Auction winner notifications, Receipts for Canadian customers, or Membership welcome letters or renewal notices.
This article describes the first step in generating these form letters, which is to create a new Document and save into Salsa CRM.  You can also upload a file from Google Drive or upload a file from your local hard drive or network.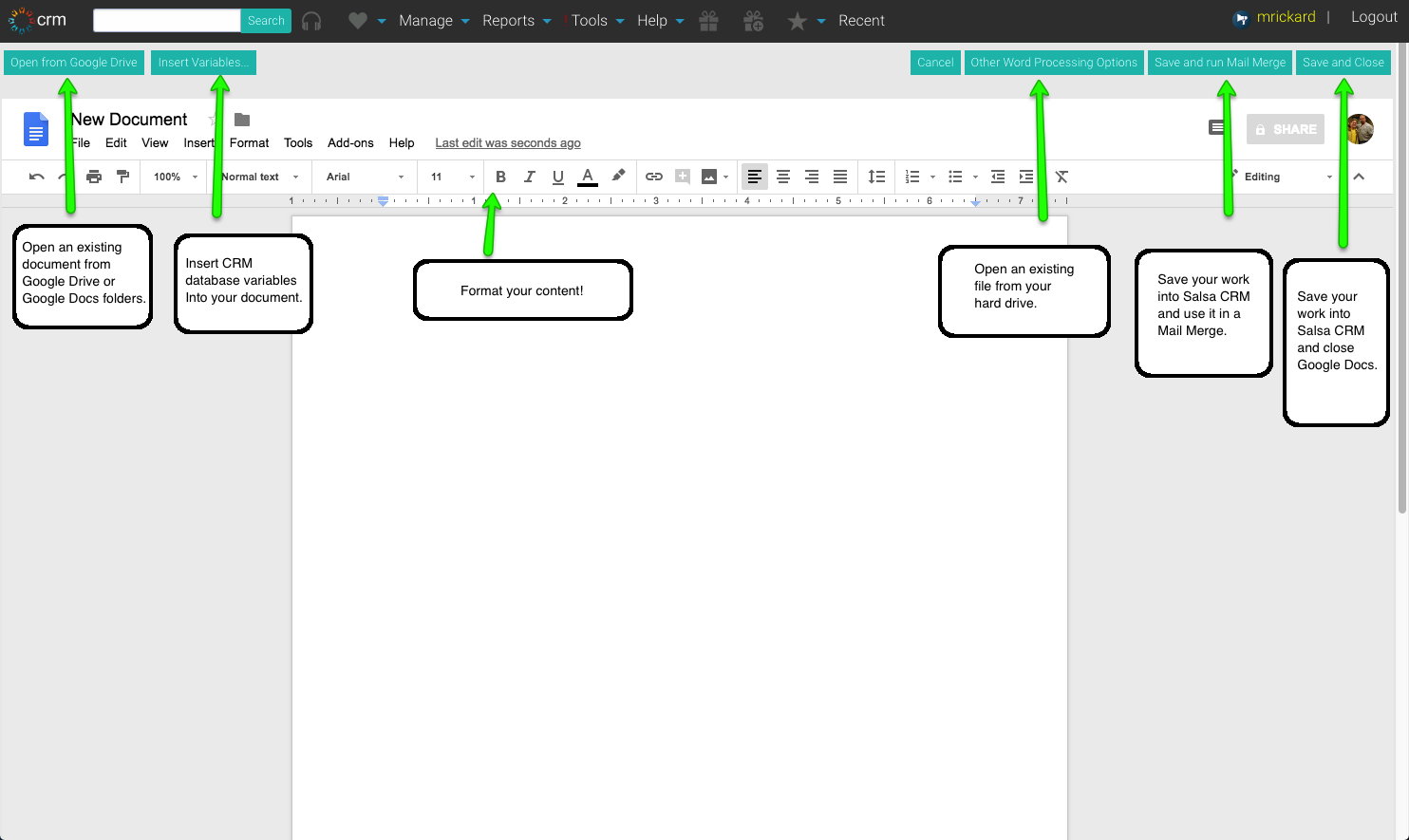 The second step is to edit the file to ensure compatibility, such as adding CRM data variables to your Document, which get replaced with actual data when the form letter is generated.
The last step is to make sure Salsa CRM knows that Document is to be a designated as a Form Letter.
For more information on using Google Docs to format your content, see this article on how to change paragraph and font formatting or review this Google Docs Cheat Sheet.
NOTE: Due to Google limitations, Salsa cannot use Google Docs' in-app toolbar functionality to load a file, image, or photo from Google Drive. Instead, use the Open from Google Drive button above the Google Docs toolbar to open a Google Drive document.
To add an image, use the Upload from Computer option under the Insert menu in the Google Docs toolbar. Use the Refresh button above the Google Docs toolbar to clear any errant pop-ups.
Create A New Document in Google Docs
Select the Manage menu.
Select Documents.
Select Word Processor.

A new, blank document will appear in Google Docs.
Fill out the content as you prefer. CRM Variables can be added with the Insert Variables button at the top.
Once you're finished, select the Save and Close button to save the Document to Salsa CRM. 
NOTE: There is no need to save your document editing progress because Google Docs automatically saves information every time you take an action or stop typing in the document. Google Docs may take a moment or two to save, indicated by "Saving..." in the Google Docs frame near the title of the Document. It is recommended that the user wait until that process is complete before saving to the CRM.
NOTE: Document names are limited to 150 characters or less.