Recent software enhancements are shown in red.
Use the My Settings menu at the right on the Navigation menu to set personal, user-specific configuration options for Salsa CRM that affect only your login. All modifications made to the Options settings will not be applied globally.

To view the My Settings screen.
Click the dropdown menu that contains a silhouette and your name.
Click My Settings.
There are four tabs to choose from: Word Processing, Email Signature, Other, and Favorites.
Word Processing
Choosing the right word processor allows you to upload and edit documents for use in Salsa CRM emails to constituents, donation form letters, mail merge documents, or pledge reminder letters.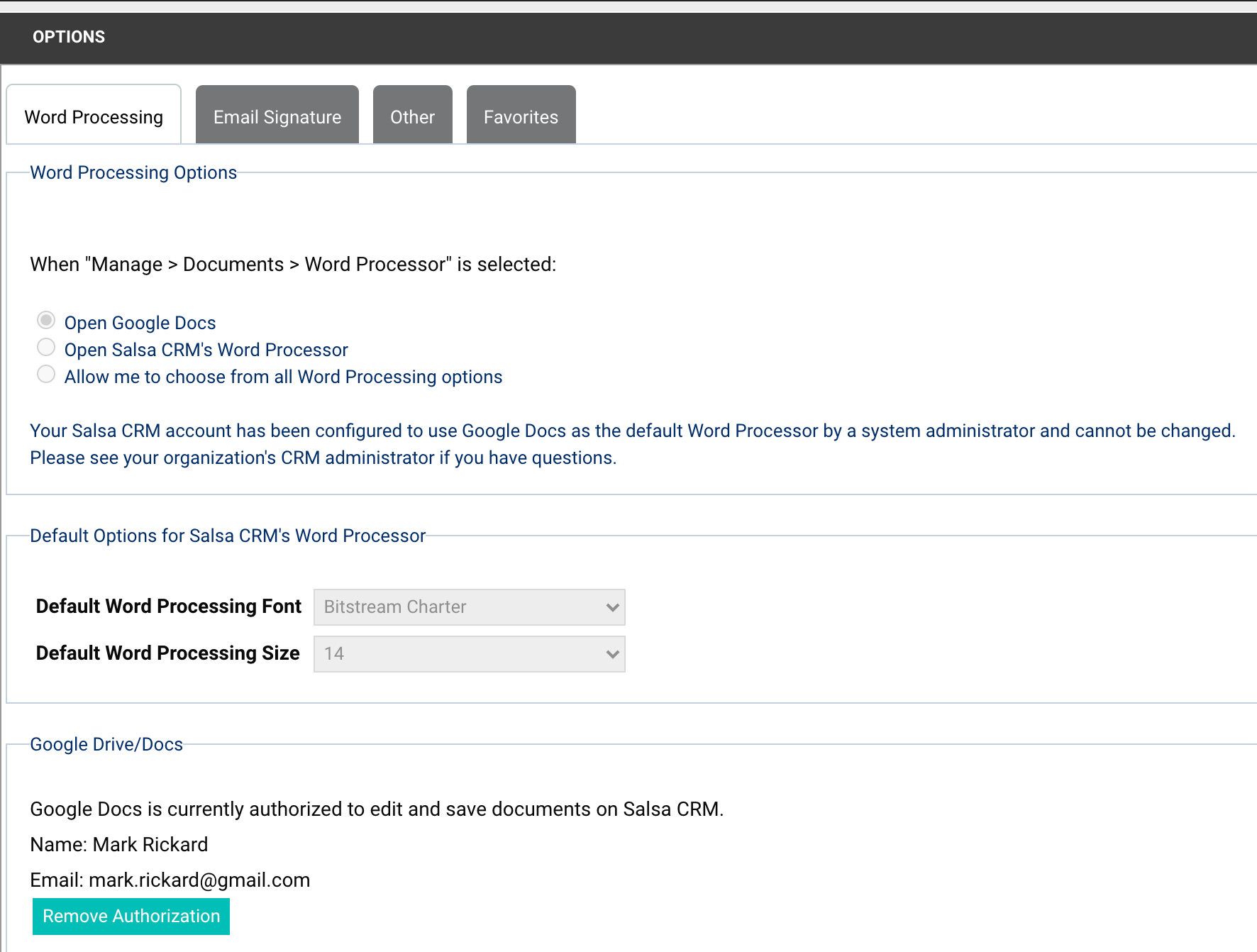 Set the following Word Processing options on this Word Processing tab:
When "Manage > Documents > Word Processor" is selected—This setting defines which word processor opens by default when going to that menu selection.


Open Google Docs—Best for working with Word documents for donation letters.
Open Salsa CRM's Word Processor—Best for working with text-only and HTML documents for emails.
Allow me to choose from all Word Processing options—Selects the best choice automatically for the document you choose to open.

NOTE: system administrators can choose to configure Google Docs as the default word processor for all Salsa CRM users. Please see your organization's CRM administrator if you have questions.



Default Options for Salsa CRM's Word Processor—This setting defines the default font and font size used when accessing the Salsa CRM built-in word processor or printing labels with the Label Printing utility.
Google Drive/Docs—This setting defines the Google account that links Salsa CRM to Google Docs for word processing documents.
Email Signature
When sending emails from Salsa CRM, you can add an automatic, text-only email signature to the bottom of any constituent emails you send. Signatures are not inserted on emails that you send using the Mail Merge feature.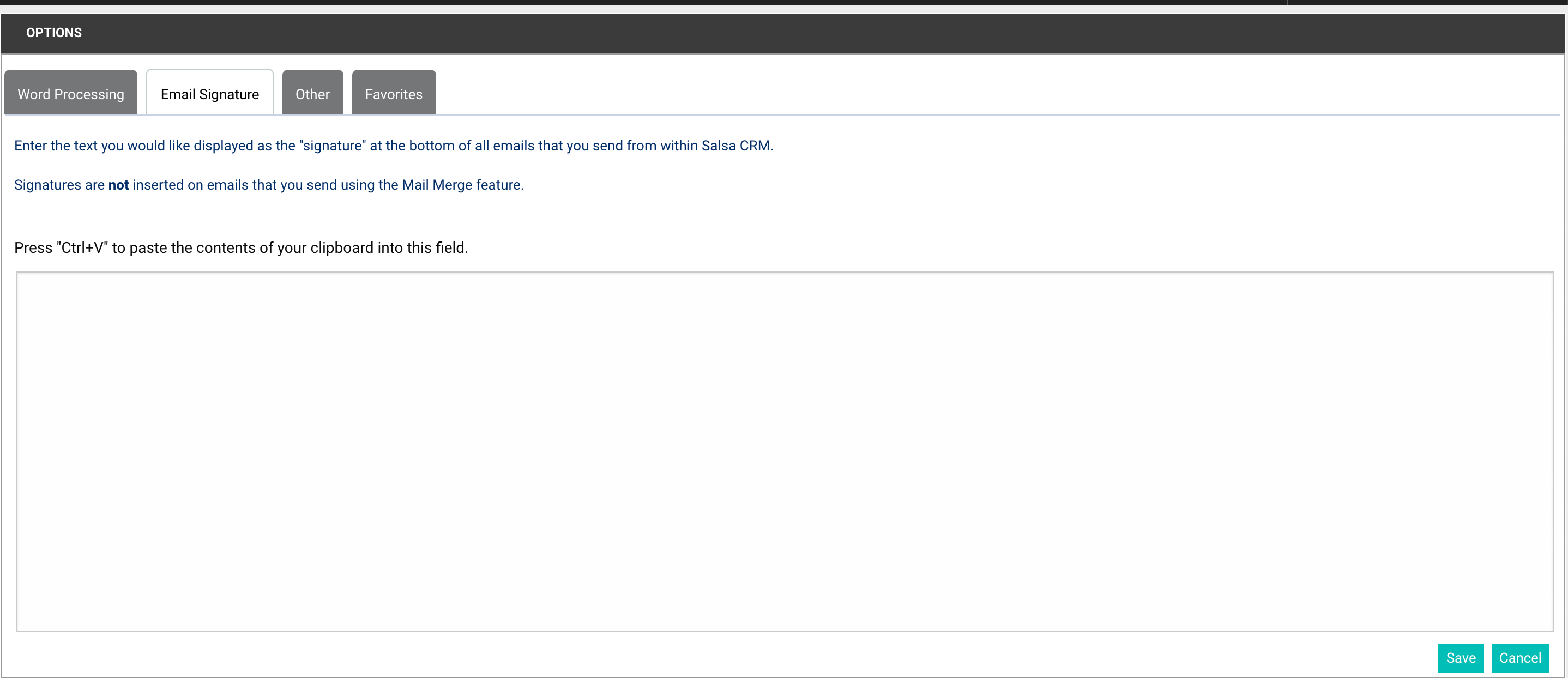 Other
This screen contains various settings that affect how you as an individual user experience Salsa CRM.
Use the Classic Constituent Record View—See the historical constituent record configuration instead of the new Constituent Dashboard configuration.
Display My Dashboard upon login—See your My Dashboard instead of just a blank screen when you first log in to Salsa CRM.
View Constituent on hyperlink mouse-over—With this setting checked, you can place your mouse over a Constituent hyperlink, and the Constituent's main Explorer screen will display in a pop-up window, allowing you to view the constituent data without leaving the original screen.
Delay(seconds) between Mail Merge prints—Sometimes network and printer delays will cause print jobs to fail. This setting sets a certain number of seconds or fractions of sections between sending mail merge print jobs to your printer. This will help to diagnose any issues.
Constituent Options
Use [This Date] as default for all "Quick Add" constituents who are deceased—Please see the linked article for more information on Quick Add.
Use [This Address] as the "From" address for Google Maps—Please see the linked article for more information on mapping a constituent address using Google Maps.
Use date, address, and phone standards of this country—By default you can select the date, address, and phone number standards of the following countries or create custom standards:

United States
United Kingdom
Canada
Malaysia
Singapore
Custom—Select values below to establish a custom "locale" for your login ID.
NOTE: the "Language" and "Country" values do not change Salsa CRM's display language, but rather, the way Salsa CRM formats data such as dates, numbers, and currency.

Language
Country
Time Format—12-hour or 24-hour format
Date Format select either format: MM/DD/YYYY or DD/MM/YYYY
Phone Country Code
Phone Area Format—NOTE: Phone Area and Phone Number masks are best described by example. To format a US-like phone, use "(###)" for the Area, and "###-####" for the Number.
Phone Number Format
Postal Code Length
Always display Address Line 1 and Line 2 on separate lines—When generating addresses for form letters or for labels, this setting will either separate Address Line 1 and Line 2 into separate rows in the address or put them together on one line separated by a comma.
Last Google Maps lookup—This setting displays the last address that you looked up using the constituent record Google Maps function.
Automatically open the record if a Constituent search returns only one match—This setting determines whether one constituent result in a Constituent Search will automatically open the record or whether the record needs to be clicked on to open.
Donation Options
Display Name or Description First of Funds, Campaigns or Appeals—This setting determines whether the name or the description of the Fund/Campaign/Appeal displays first upon adding or editing donation records.
Remember Fund, Campaign, Appeal, Class, and Letter settings between Donations—If you want your data entry to be consistent, Salsa CRM will remember the value of Fund, Campaign, Appeal, Class, and the Form Letter that was applied and apply them automatically to the next new donation record.
Automatically set the current user as the Donation Solicitor—We tag every donation automatically as to the user who was logged in at the time it was entered and when it was entered, but it is not displayed directly on the main donation page. To easily tell at a glance who entered a donation record, and if you are not assigning Donation Solicitors to donations, you may use this setting to apply the constituent record of the data entry user who was logged in at the time as the Donation Solicitor.
Favorites
The star icon on the CRM toolbar shares shortcuts to existing functionality, using fewer clicks than using the menu navigation.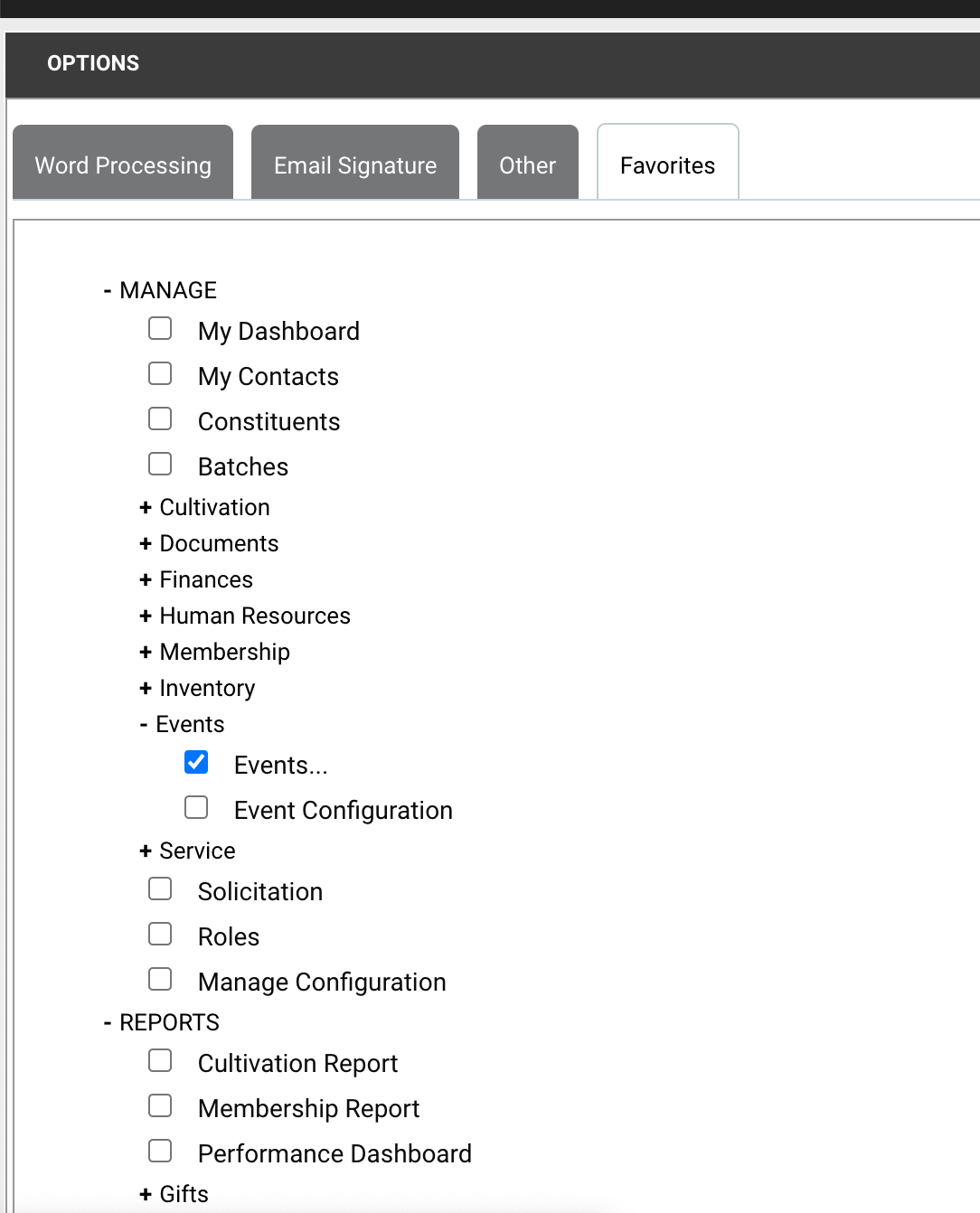 To set up your Favorites...
Select the My Settings menu.
Choose the Favorites tab.
To see all of the options you can select from underneath the Manage, Reports, and Tools menus, click the + sign next to each category heading to expand the lists.
Choose the desired checkboxes.
Select Save. Your Favorites list will update once you click the button on your toolbar.