Post to Social when you want to broadcast messages to your social media accounts. When you create social posts in Salsa Engage, they will be shared via the social media accounts that you created during your initial account setup.
Step 1: Create a Post
Navigate to the Social Posts section of the Messaging module.



Click the + Create a Social Post button to the top-right of the window.
Name this post - Give your post a reference name (that will be used by only Salsa Engage). The name should describe what the post is about so you can search for it in the future.
Description - Describe your post. (This description will be used only for reference in Salsa Engage.) Since you will probably have a lot of social posts within Salsa Engage, it is best to be as descriptive as possible so that you'll be able to find specific posts later.
Choose which social media accounts you are going to use. Just click the image of the account you wish to use. You will be able to choose any social account that you synced when you set up your Salsa Engage account.
Click the Next: Compose your post button in the lower right hand corner to continue.
Step 2: Compose
Write the content of the message you want to send. If you're tweeting, remember to keep it short and sweet! You've only got 140 characters, and that includes the image link if you're including one. You can make your URL shorter by using a service like bit.ly to keep other links nice and short. One more quick pro-tip, to ensure all of your followers can see every tweet, don't lead with an @username or else only folks who follow you AND that user will be able to see the tweet.
You'll notice that you have two options: Add an image and Choose a link. (These are explained below.) Select one of the options.

Note: Facebook's API design enables you to add an image or a URL. If you add a URL that contains an image, that image will typically appear in your post. The Facebook API does not allow you to add an image from your computer and a URL.
Add an Image
Click the Add an image button. You can select an image that has already in your Asset Library by clicking the thumbnail of the image; once you've made your selection, click the Save Content button to add the image to your post.
Alternately, you can upload a new image if you don't already have it in your assets module. To add new images, click the Upload from Computer tab and follow the on-screen directions. The image will be uploaded and focus will be returned to the Choose from Asset Library tab.
When you are done adding images, click Save Content to add the selected image to your message. You will now see the image below your message. You can remove it by hitting the Remove button or return to Your Image Library with the "Edit image" button. 
Choose a link
To include a clickable URL to your post, click Choose a link. The Insert a Link window appears. It features two tabs: Your Pages, where you can quickly select from the list of your own pages; and An External Page, where you can enter a link to an external page.
Your Pages - This tab includes a list of the donation, sign-up, and petition pages you've created within your account.  Select from the list, and then click "Add it!" to place the selected link in your social media post.  By default, the Track when someone clicks this link check box is selected, but you can uncheck this box if you would rather not track this information.
An External Page - This tab enables you to add a link to website you'd like followers to see.  Again, you're given the option to track the number of clicks. Once you've included the URL, click the Add it! button.
Once you have the message drafted select an option for When should this message be posted? You can choose Post Now or Post Later.
Step 3: Publish
Choose a publishing option:
Post Now - If you select Post Now, you'll be given the option to publish your post immediately: Select Next: Sent it! at the bottom right corner of the window.
Post Later - If you select Post Later, you'll be given the option to schedule your post for a later time. After you've selected a date and time, click Next: Send it! at the bottom right corner of the window. 
Following are some examples of how these posts will show on Twitter and Facebook.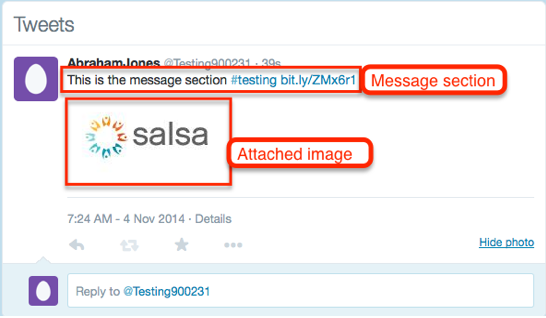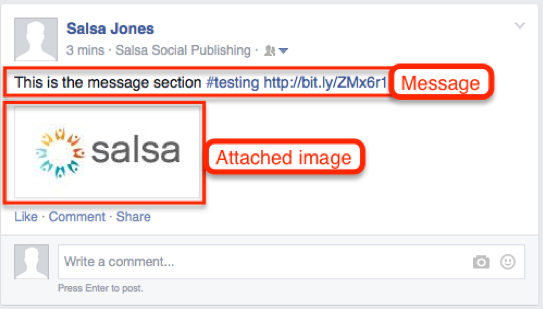 Step 4: Analyze Posts' Performance
After you have published social media post, you can look at analytics to see how well your post is performing. Navigate to the Social Posts section of the Messaging module and click the reference name of a published post.

At the top of the published post, you will see to which social media accounts it was posted, on what date and time it was posted, and what message was sent.
Below the message, you'll see some brief statistics about how well your posts performed.