Overview
In this section, we will cover how to add, edit, and delete images in Salsa Engage. You can add images while creating Activity forms or emails, and you can also add the images ahead of time for later use by yourself or other campaign managers.
Click here to check out best practices for using images in Salsa Engage.
To get started, click the Assets control on the side navigation to the left of the Engage window.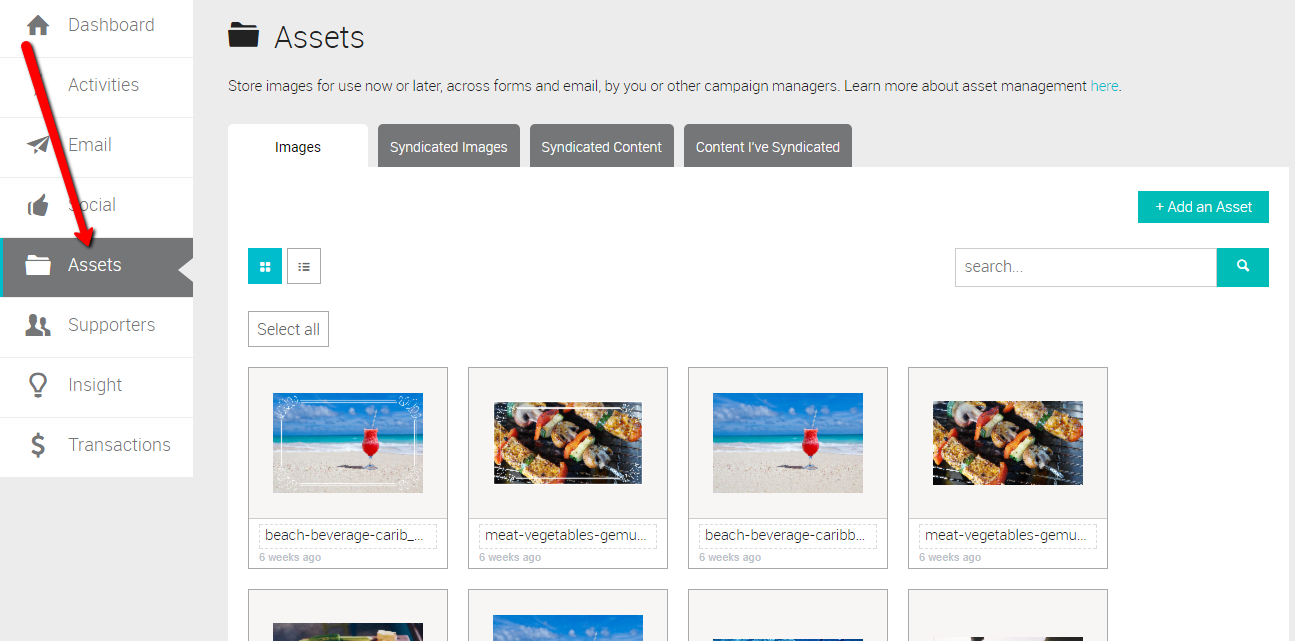 Supported File Types

You'll be able to add and edit images in any of the following file types:
Add or Delete an Asset
Before you add an asset to Salsa Engage, you must have the asset on your computer.
The first time you log in, you may only see a large field that says "Click here (yes, here!) to upload a file from your computer." since you may not yet have assets in your library. Whether or not you've added assets, you can click the + Add an Asset button, to the top-right of the Assets window, to bring up the "Click here..." field.
Click the + Add Asset button.
Click Click here (yes, here!) to upload a file from your computer. Your computer's file browsing window will open.
Find the asset that you want to load into Salsa Engage, and then click Open. The image will be added to Salsa Engage. You'll be able to find all of your assets in three ways:
Choose the Thumbnail View  to see as many asset thumbnails as possible on a single screen.
Choose the List View  to see assets thumbnails, file name, source, and upload date.
In the search bar in the upper-right corner of the window, type in any part of the file name that you want to find, and then press Enter.
Delete an Image in the Thumbnail View: Hover over the image. The trashcan icon appears in the top-right corner of the image. Click the trashcan icon. The image will be deleted from Salsa Engage.
Delete Multiple Images in the Thumbnail View: Hover over the image that you want to select. A select checkbox appears. Click the select checkbox. Repeat for any additional images that you want to delete. Click the trashcan icon next to the Select all button above the thumbnails. 
Edit, Delete, Rename, and Describe Assets
To edit an asset, hover over the image you want to edit. The Edit This button will appear. Click the Edit This button. The Edit Asset Details dialog box will open. It features controls to edit, delete, rename, and describe the image.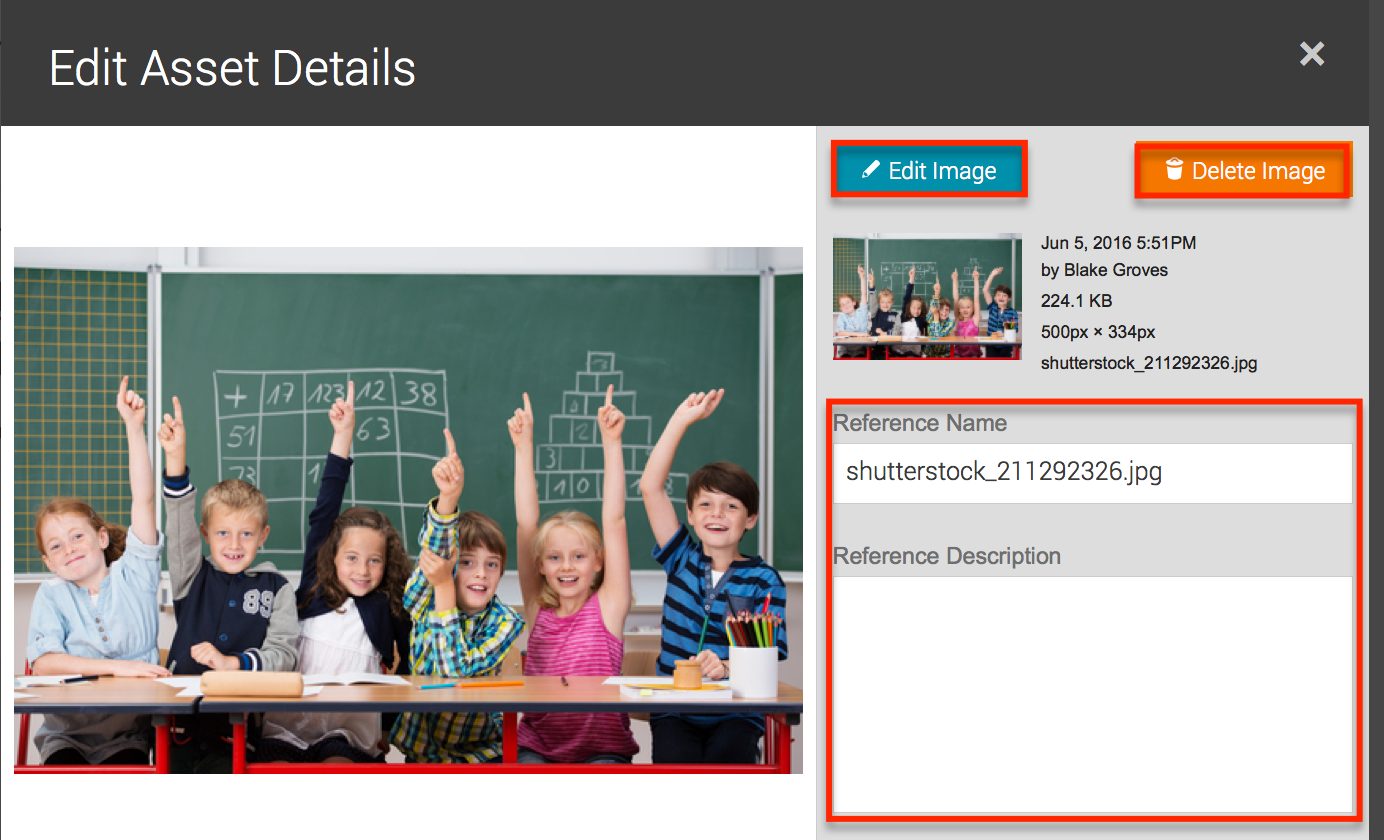 If you update the Reference Name or Reference Description, click the Update >> button, at the bottom-right corner of the window, to save your changes.
Edit Assets Using Adobe Creative Cloud Tools
Click the Edit Image button in the Edit Assets Details dialog box. Photo Editing tools will open. Use the left and right arrows to scroll through the tools.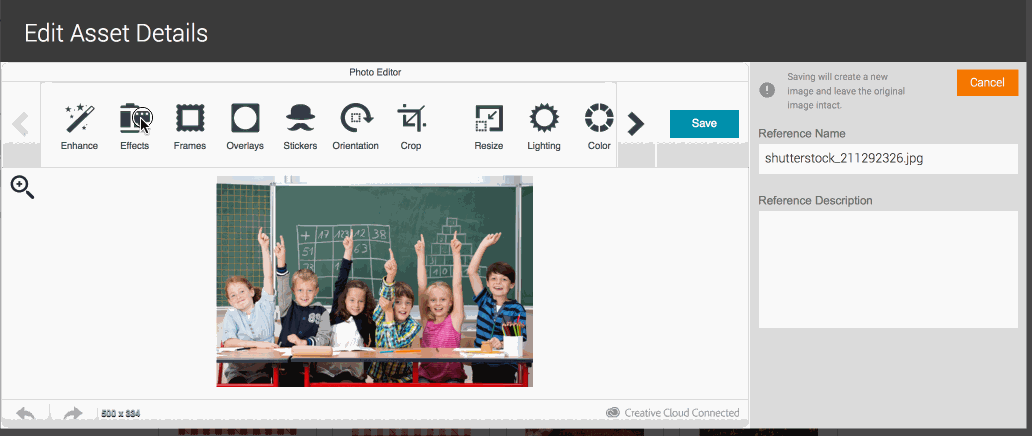 Make all of the changes that you want, and then click Save. A copy of your file, with edits, will be saved on the Images tab.
Enhance allows you to apply five different effects to your images:
Effects lets you apply different color lenses to your image and choose the level of saturation, too. 
Frames contains two types: Original, which consists of more cropped-style borders; and Bohemia, which applies a hand-drawn looking frame to your asset.
Overlays come in two varieties: Original and Boom. Original lets you apply keyholes and shapes to your images. Boom contains colored shapes and patterns.
Stickers add a whimsical touch to any asset. Think of these as a box of dress-up materials for images.
Orientation lets you rotate and flip images to create a mirror image horizontally or vertically.
Crop lets you choose custom width & height, ratios as well as being a traditional cropping tool.
Resize lets you determine the pixel height and width.
Lighting lets you adjust the Brightness, Contrast, Highlights and Shadows in your images.
Color editing adjusts Warmth, Tint and Fade.
Sharpness increases or reduces the clarity of the image.
Vignette lightens/brightens an image's edges, resulting in fun effects.
Blemish lets you blend areas of your image you wish blur. You can choose the brush size in order to determine the width of the blurred area.
Whiten highlights the lightest color by casting a sunlight-like glow over it.
Redeye is primarily used to remove unsightly red-eye from images caused by flashes but it can also be used to counteract off-color elements of an image.
Draw provides a color palette, eraser and three brush sizes which let you draw on top of your image. The eraser comes in handy.
Splash reverts color images to black and white, then provides a spill-like coloring effect on top of the asset. Like we saw in Draw, an eraser is also included.
Text is a little less flashy than the other tools but can be very handy for creating flier-like emails or just to add words to images.
Meme turns average assets into what we hope are amusing images if not viral sensations.