A Peer-to-Peer (P2P) Fundraising Event is an Activity that you create in Salsa Engage to support grassroots fundraising. P2P Fundraising enables you and your supporters to raise money for your organization by leveraging your supporters' social networks. Sometimes referred to as personal fundraising campaigns, crowdfunding, social fundraising, DIY fundraising, or team fundraising, these can be very effective fundraising tools.
Engage's P2P tools enable you to...
Create DIY and/or traditional team fundraising events.
Promote and follow up easily with custom messaging for team captains and fundraisers.
Use performance metrics to reach out to fundraisers to provide coaching and guidance.
Manually add registrants who have paid offline or whose tickets are complimentary.
Use the advanced performance metrics dashboard to optimize your P2P Events.
There can be many facets to creating P2P events, so please read through this document carefully before getting started.
For an interactive walkthrough of the whole P2P event creation process, check out the Salsa Scholars P2P training course.
Event Process Overview

P2P Activities have two parts. You and your organization set up an event. Fundraisers then interact with that event. Here's how an event workflow works:
You create a P2P activity. This includes your organization's public-facing Events page and public facing fundraiser and teams pages that fundraisers can customize using the template that you provide.
Create a fundraiser promotion plan and execute that plan.
Fundraisers register on your Event page. A fundraiser then gets his own, personal Fundraising page to which he can direct supporters.
Once registered, Salsa Engage will send them an email with the URL to log in to their personal fundraiser page. They can also use the P2P Fundraiser Portal to reach out to and thank users.
Salsa Engage enables you to manage fundraisers. It also manages fundraiser online donations, provides analytics, and provides you with the ability to reach out to fundraisers based on their team membership and/or performance.
Event Creation Workflow Overview
In order to better understand how all the parts of the P2P event come together, please publish the event as soon as the system allows it. Previewing the event as it is published and "live", seeing as the user sees it, will help you to understand how it all connects together. You will also gain understanding by previewing each page in the Visual Editor.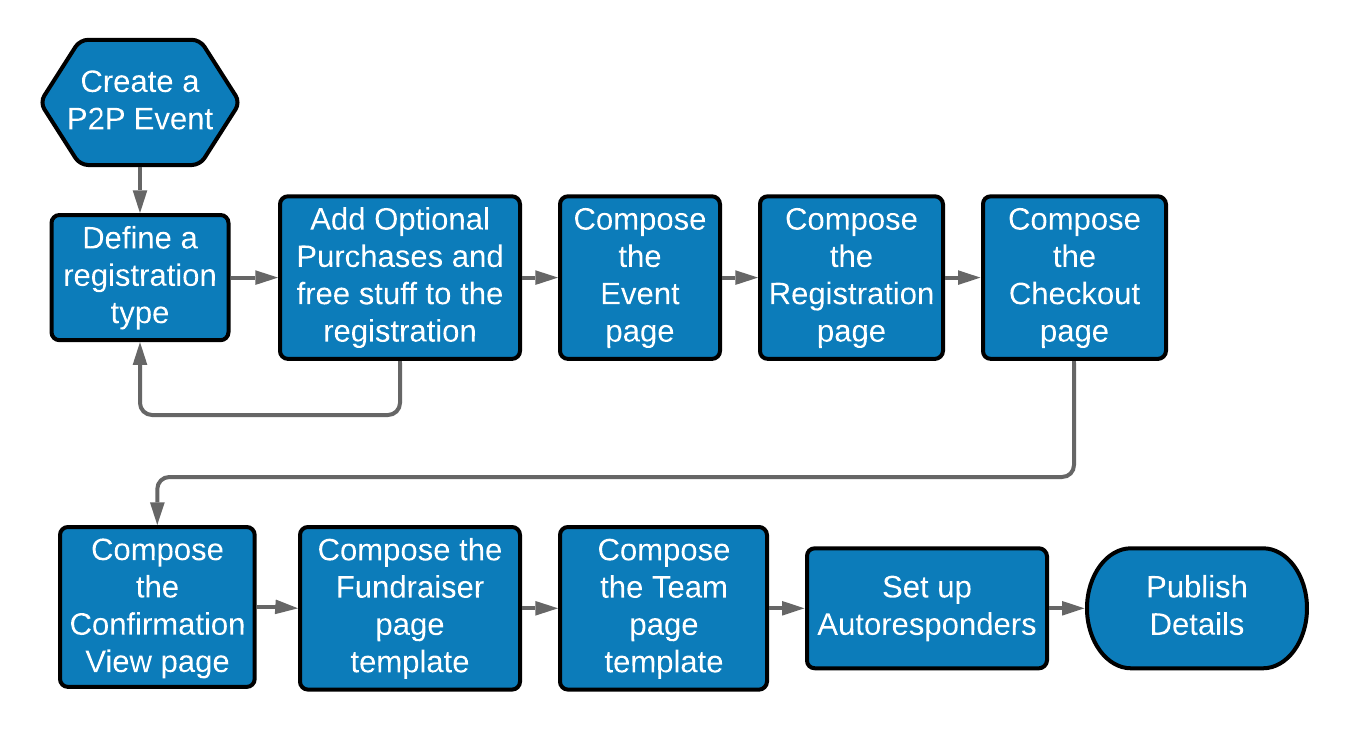 Our workflow process listed above primarily lists the steps to follow for generating a P2P event from scratch. However, you may use one of our pre-designed templates for a short-cut to getting your event off the ground quickly. These designs were executed using best practices and professional design principles to make your life easier.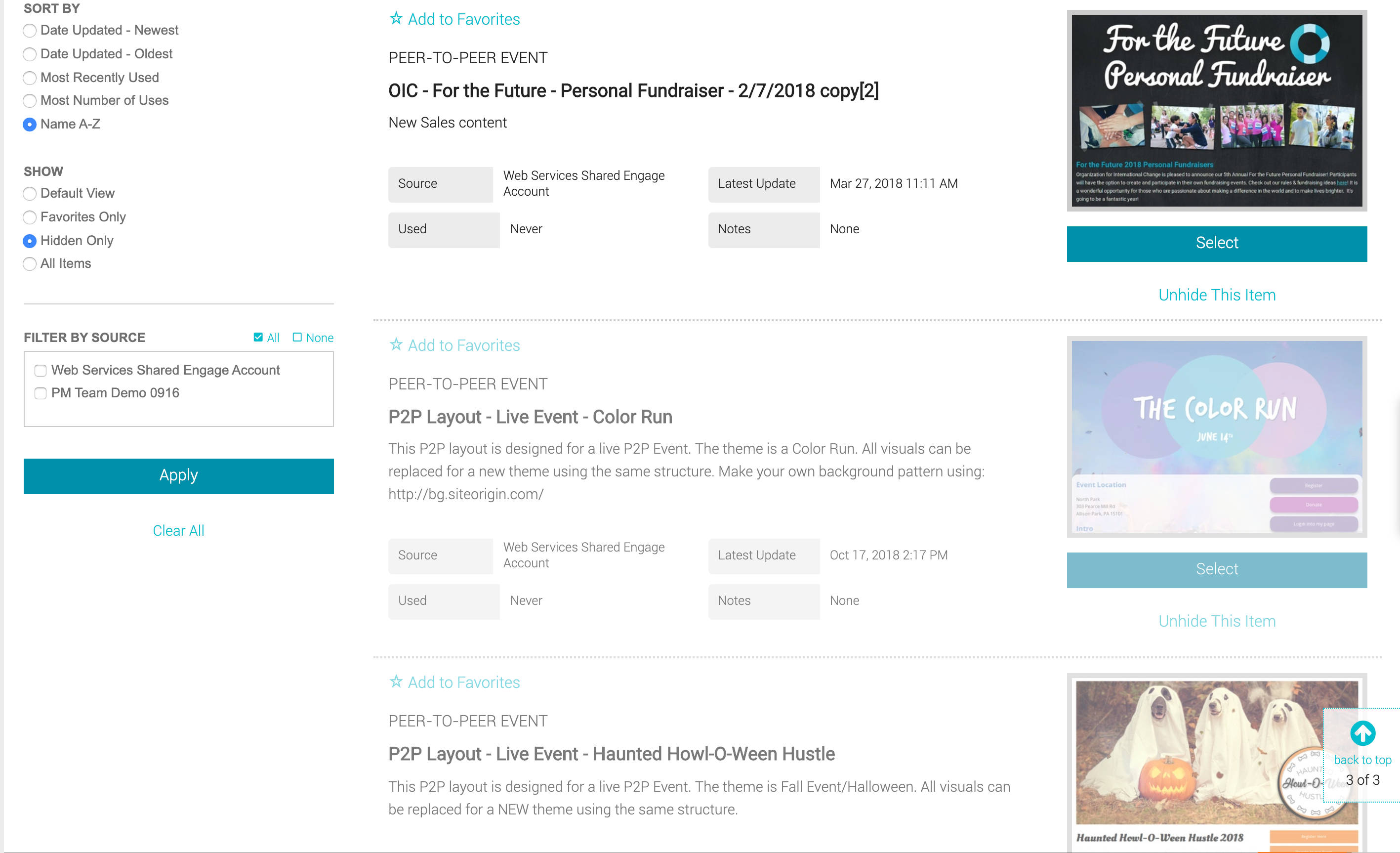 Key Terms
Before you get started, it's important to understand the key terms used in Salsa Engage P2P Activities:
Fundraiser—A supporter who will have their own online fundraising page to raise money on behalf of your organization. Fundraisers can add non-fundraiser registrants (aka, 'guests').
Non-Fundraiser Registrant—Also known as a 'guest', a supporter who will be attending an event but who will not be independently raising funds on your behalf. An example would be a walker in a 5k. Non-fundraiser Registrants cannot invite guests.
Guest—Another name for a non-fundraiser Registrant, this is an individual or family member who will be attending an event as a guest of a fundraiser registrant. Guests are not stored as supporters in Salsa Engage.
Registration—Registrations in Engage are the various ticket levels that can be configured for purchase by fundraisers and their guests.
Information Collected—The diverse types of information that Salsa Engage can collect enables organizations to provide different options to different registrants. For example, for a gala, your organization might provide menu options or seating options.
Optional Purchases—Things that fundraisers and guests can purchase, such as event tee-shirts.
Fundraising Page—This refers to the webpage that a fundraiser will use to evangelize his fundraising effort.
Team—Teams are comprised of fundraisers whose donation totals will also be applied to the team total.
Common Types of P2P Registrations
Before you set up registration, you'll want to have a clear idea of which types of registrations your P2P event will support. The 'In Salsa Engage' part is what you'll create. The 'Public-Facing' part is what your supporters/fundraisers will see.
Fundraiser Team—A fundraiser team consists of a fundraiser that starts a team or registers as part of an existing team.
In Salsa Engage—In the Registration step, make sure to have Will this event allow teams? set to Yes and at least one ticket level that includes a fundraising page.
Public-Facing—Anyone who is registered as a fundraiser will have the option to join or start a team on your organization's registration page.
Individual Fundraisers—An individual fundraiser is an individual event participant who can raise funds online on behalf of your organization. This registration will include entry to the event and a personal fundraising page.
In Salsa Engage—Make sure to have at least one ticket level that includes a fundraising page.
Public-Facing—By selecting a ticket level that includes a fundraiser, a supporter will be able to register for the event, answer additional questions, and add optional purchases all in one transaction.
Individual Fundraisers with Guests—An individual fundraiser with Guests is an individual event participant who will be raising funds online and registering other participants at the same time. This registration will include entry to the event for multiple participants, but only one fundraising page. The fundraising page will be managed by the primary registrant.
In Salsa Engage—Make sure to have at least one ticket level that includes a fundraising page and at least one non-fundraiser ticket level. These can be configured so that a supporter purchases one fundraiser ticket and can add as many non-fundraiser registrants (guests) as they would like. Or, they can be configured so that a supporter can purchase a pre-defined number of tickets (or example, a golf foursome). In either case, no one but the purchaser is required to supply an email.
Public-Facing—The purchaser of the tickets will be able to add other non-fundraiser tickets. In the case of a golf foursome, the fundraiser ticket would be the primary registrant and a non-fundraiser ticket for the additional three attendees could be added.
Individual Non-Fundraisers—An individual non-fundraiser is an individual event participant who will be attending the event but not raising funds online.
In Salsa Engage—If you've configured at least one ticket level that includes fundraising and another that does not, your supporters can choose whether or not they would like to raise funds on behalf of your organization.
Public-Facing—Registrants who choose to be fundraisers will be able to add as many non-fundraising guest tickets as they like. Otherwise, non-fundraising tickets can be purchased in any quantity.
Multiple People Who Will Be Fundraisers In One Transaction—This is not currently possible in Salsa Engage. Each fundraiser ticket requires a complete transaction.
A Family or Group—This is exactly the same as enabling registration for an individual fundraiser with Guests (see above). Note, email addresses are not required for guests or family members.
Online Only Fundraising—This is online fundraising for your supporters when there is no physical event.
In Salsa Engage—If your goal in the tool is to enable online fundraising for your supporters and there is no physical event, select Yes for the Is this event online only? option in the Registration step. You do not need to enter a start date, end date, or location. If there is no charge for the event, then you should create only one ticket level with a $0 price level.
Public-Facing—Supporters will be able to create their own fundraising pages and team pages to raise funds online.