Recent software enhancements are in red.
Advanced Import enables you to import constituent data from other applications as well as donations, pledges, notes, custom fields and form information into both new and existing constituent records faster than typing it in. Prior to starting an import, please review the best practices in the article Advanced Import Overview.
If you are importing information into already existing constituent files, the key thing to remember is that you need to include the Constituent Number in your data in order to match up an existing record with an import record.
To access the Advanced Import screen, from the main menu select Tools > Data Sync > Advanced Import.
Export a List of Column Headings
The section labeled Column Definitions provides a list of all of the data points into which you can import your information. Each row defines each data point and explain details about what you can upload to each. Save this table for future reference to a .CSV file on your computer or network drive...
Underneath the Column Definitions table in the middle, enter a file name to save your file.
Select whether you want the file to be saved as a CSV or HTML file format.
Click the Save Column Definitions…button.
There is also an attachment to this article at the bottom of the screen that details what is required and optional when importing constituent data.
Save a Sample Import File
You can generate a sample file that contains all of your possible database fields already in a column format:
Click the Create Sample File button in the lower right.
A pop-up window will appear. Enter the name of your file or accept the default name provided by Salsa CRM.
If you want to replace the empty spaces in the column headings with underscores, click to add a check-mark to select Replace spaces in column headers with underscores. Typically, underscores are used if you are creating a sample file that will be used to integrate with a web form.

The file may be saved to your Downloads folder. Depending on your browser, you may (as shown in the video above) open the file from the preview bar at the bottom of your browser.

NOTE: The Sample File you created contains all of the Salsa CRM recognized column headers, based on your database, that are available to use when importing information. The column descriptions are available on the color-coded Column Definitions table.
Step 1: Import Your Data File
Once you have completed and saved the CSV file you want to import into Salsa CRM...
Click the Browse button, to locate the file to import.
Once the file is selected, click the Open button. The name of the file you chose is populated in the text box next to the Browse button.

NOTE: If you have created a sample file as explained above, and chose to replace spaces with underscores for web integration, you will need to check the Remove Header Underscores option before moving on to the importing process. The column headers in data you import cannot have underscores.
The Data Source is the source where you obtained the data. For example, a vendor may be a web site from which you downloaded race participants, or a legacy CRM system you used to use before Salsa CRM. Data Source names entered into this field will be added to the drop-down window on this field. When typing in a Data Source, be certain of the spelling, as this list cannot be edited.



Data Sources may be used in conjunction with Import IDs so that imported constituent data matches up with constituents imported previously from the same vendor and with the same ID.



NOTE: ​​​​​​If the file was created by your organization, then enter a reference in the field instead of a vendor name. For example, use the import date and the event name, such as 2019-11-15 mailing list.

Click Include Address in Duplicate Matching if you wish for the incoming address to be a part of matching against an existing constituent.
If you are importing information that needs to be mapped to an existing Salsa CRM form, please refer to the IMPORTING FORMS article for detailed information on importing information into forms.
Click the Process button.
NOTE: If any of the column headers you are importing contain a misspelling, you will see the Action Required window. You can select OK to submit the file for processing or cancel the request and fix the errors in the input file.
In the example image below, the column heading spelled correctly, but it was all uppercase. Advance Import requires that the column headings match exactly. The column heading should have been entered as "Title" with the first letter only as uppercase.


Step 2: Import Options
Based on the imported column headers, Salsa CRM attempts to identify what you're importing: whether you are importing Constituent information or Constituent and Donation information, for example. There are values that optionally can be set in common for all data imported. You don't have to set these common values if you don't want to set them or if are already in the source data. When you select default information, this information will only be applied to new records and not to updated records.

Values that you can set for Constituent data imports include...
Automatically Add New Cities

Use Import ID as Constituent Number
Group
Organization Type
Individual Type
Note Purpose
Common values you can set for Donation data imports include...
Fund
Campaign
Appeal
Note Purpose
Add Spouse as Co-Donor
Once you have selected any necessary default information, select the Continue button.
Step 3: Import Validation
In this step, the system attempts to validate your data import for a number of things. If there are no issues, you will pass the validation and be taken to the next step. However if there are issues with your import, you will see a list of issues.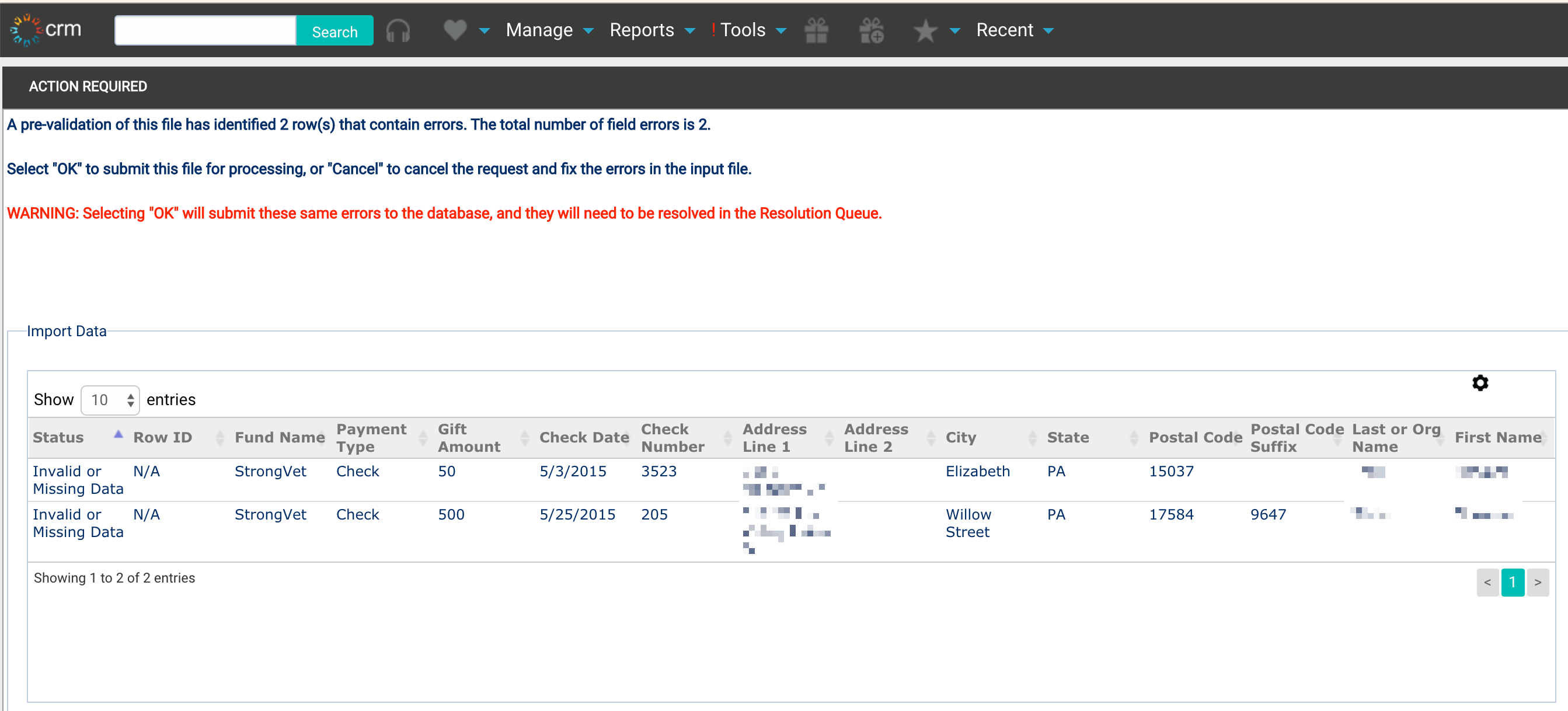 For example, if you have a Credit Card Type field, it will attempt to identify if valid values were used, as suggested in the Column Definitions in the step above.
If you have anything missing, and if there are fewer than 50 errors identified, you will be notified of specific issues and you will be able to continue to the next step of the import process by clicking OK. However, if there are more than 50 issues, you will not be able to proceed. You must fix the issues directly in your data file and re-import:
Click Cancel.
Open your data file.
Make the required changes directly to your data file.
Save it.
Start over with your file import.
Step 4: Resolution Queue
When your import begins, records start to be imported. You can see your progress at the top of the Advanced Import Resolution Queue screen. At any time you can cancel and stop the data import for any reason. When all rows have been imported, you will see Advanced Import Complete at the top of the screen. See the Resolution Queue article for important information on resolving unimported rows.