In this document, we'll take a look at the similarities and differences between Mailing Lists and the other Engage group types, how your supporters can opt into and out of Mailing Lists to indicate their email preferences, and how to craft email audiences using Mailing Lists. Finally, we will look at a related email feature, called Content Categories.
Important note! As of January 27, 2021, all supporters who were "interested in" a Message Topic will be members of Mailing List groups with the same names as those Message Topics.
Similar to Message Topics, you can use these Mailing List groups to build email audiences and manage supporter subscription preferences. However, there are also key differences between Mailing List groups and Message Topics. In the steps below, we review these differences and outline the steps needed to take full advantage of Mailing List features.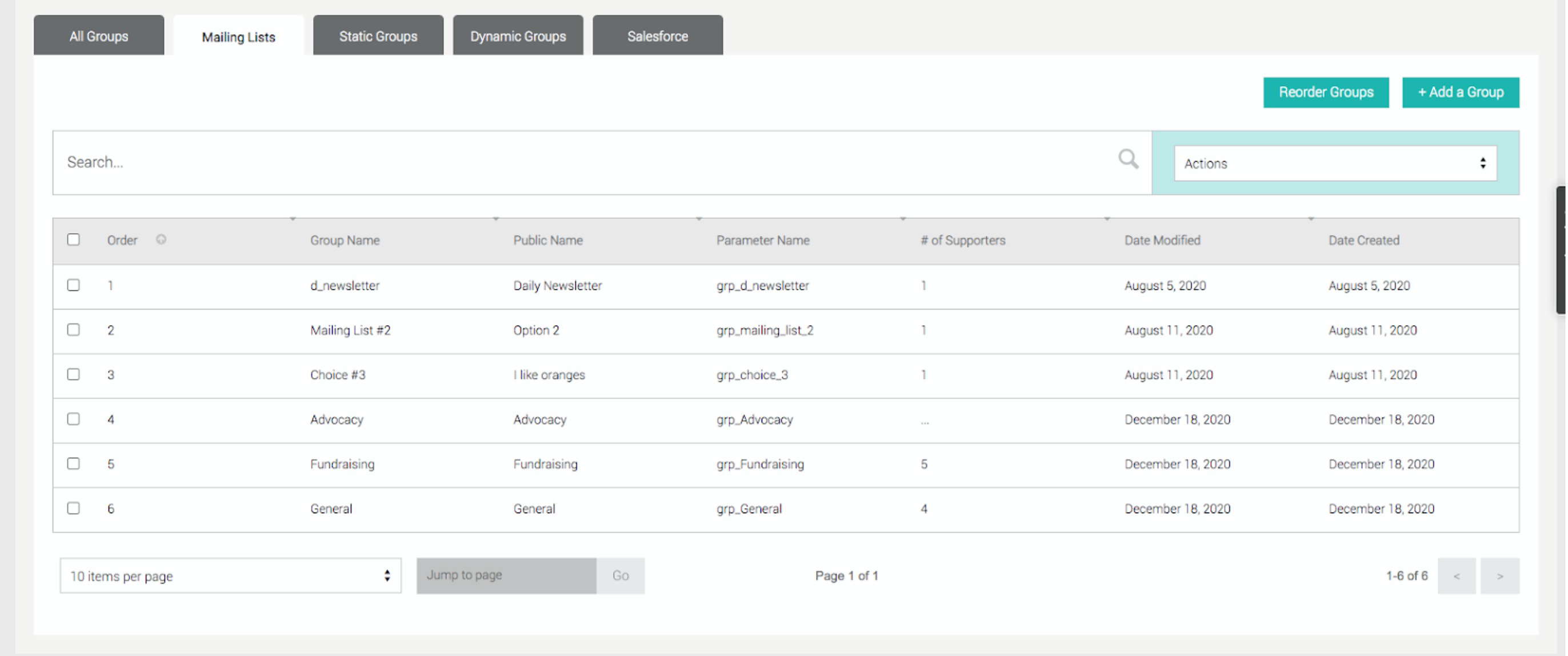 1. Adjust Your Groups to Work For Your Organization and Your Supporters
Determine Whether a Group Should Be a Static Group, Mailing List, or Dynamic Group
Static Groups are most often used by campaign managers to segment supporters into groups, based on choices that campaign managers make themselves. Supporters can be added to a Static Group using an import file, a supporter query, or by being manually added. The most important aspect of a static group is that supporters themselves will never have the opportunity to actively remove themselves from the group. A couple of examples of static groups would be your board members or a list of attendees imported from an event signup sheet.
Mailing Lists are a special type of Static Group, in which supporters themselves can actively choose to opt into and out of the group. The primary purposes of a Mailing List are to enable supporters to opt into certain email lists, to use those lists as email audiences, and to give those supporters the opportunity to remove themselves from those lists if they are no longer interested in them.
Important Note! As a general guiding principle, if you want supporters to opt in or out of a group on their own, use a Mailing List. If only a campaign manager should be able to add or remove the supporter from the group, use a Static Group.
The membership of a Dynamic Group is driven by a query that runs each night. Supporters are automatically added to or removed from the group, depending on whether or not they meet the criteria that are specified in the query. For example, a campaign manager might set up a Dynamic Group called "Engaged Donors" to capture all the supporters who have opened at least three emails and donated at least $10 in the past 6 months. As time goes by, some supporters may be added to the group, while others will drop out of the group. Or, a query might look for supporters who live in Texas. If a supporter's address changes because they moved out of the state of Texas, then they will automatically be removed from the group overnight.
How and When to Convert Mailing Lists to Static Groups
On January 27th, Salsa will automatically convert all Message Topics in your account to Mailing List groups. By default, Mailing List groups will automatically be displayed on your Subscription Management Page for supporters to opt into or out of. If any are no longer needed, you have a couple options to clean them up.
Simply delete the group. Keep in mind that deleting the group can't be undone, and you will not have a record of the supporters who were in the group.

Retain the membership of the Mailing List group by converting it to a Static Group. Simply click this toggle to convert a Mailing List to a regular Static Group. Note that the reference name must not be the same as an existing Static Group, so you may need to edit the name a little bit to convert it.

2. Add Mailing List Elements to Your Engage Activity Forms
Where it makes sense, you can give your supporters the ability to opt into any Mailing List by dragging and dropping the "Mailing Lists" element onto the form, using the Visual Editor.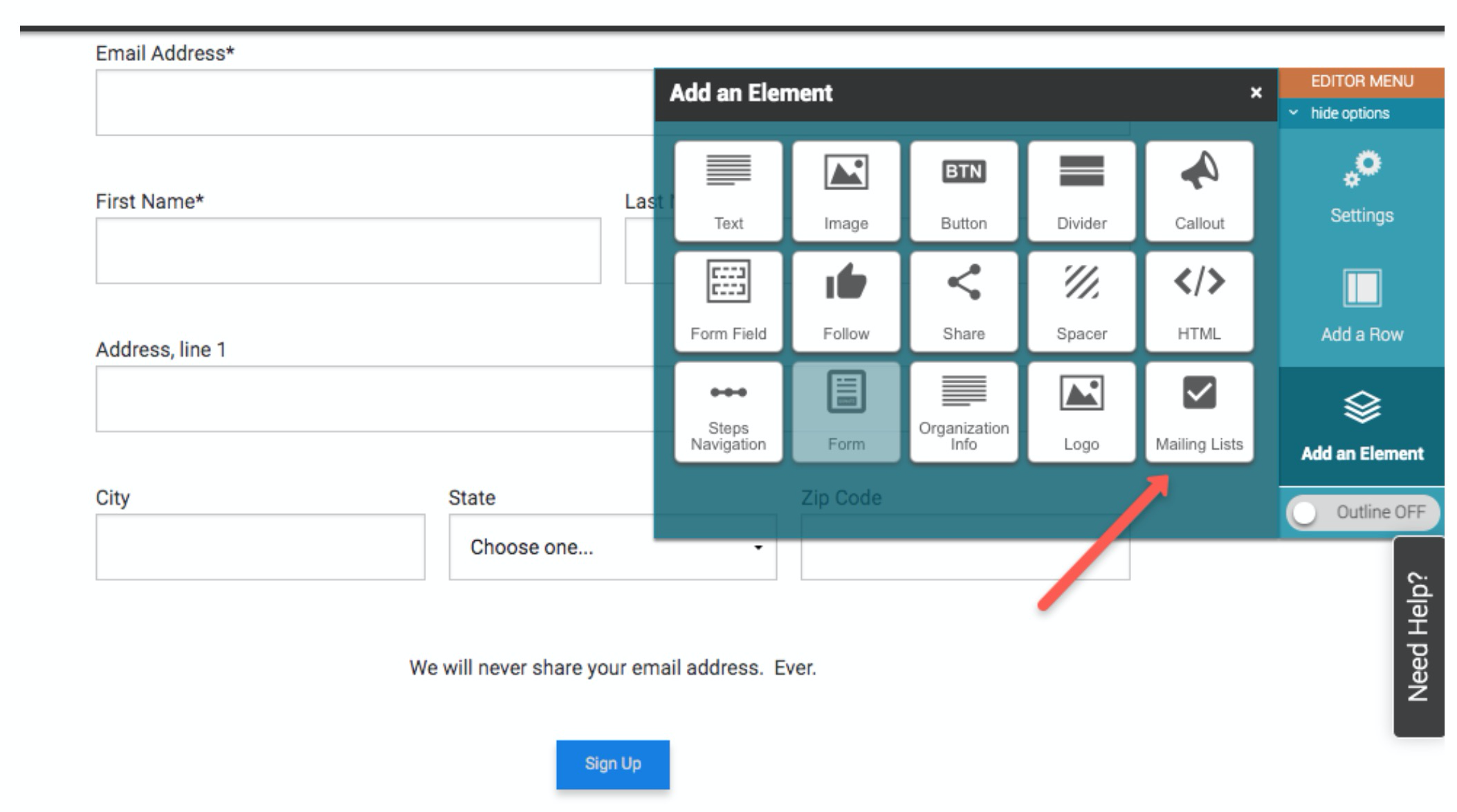 Once you've added the element to a form, configure it by double-clicking on it or by clicking the pencil icon. By editing the element, you can change (or remove) the label that displays above the list of Mailing Lists. On each page, you can also choose to display all of the available Mailing List groups that you've configured, or you can pick and choose which Mailing Lists should display on a certain page.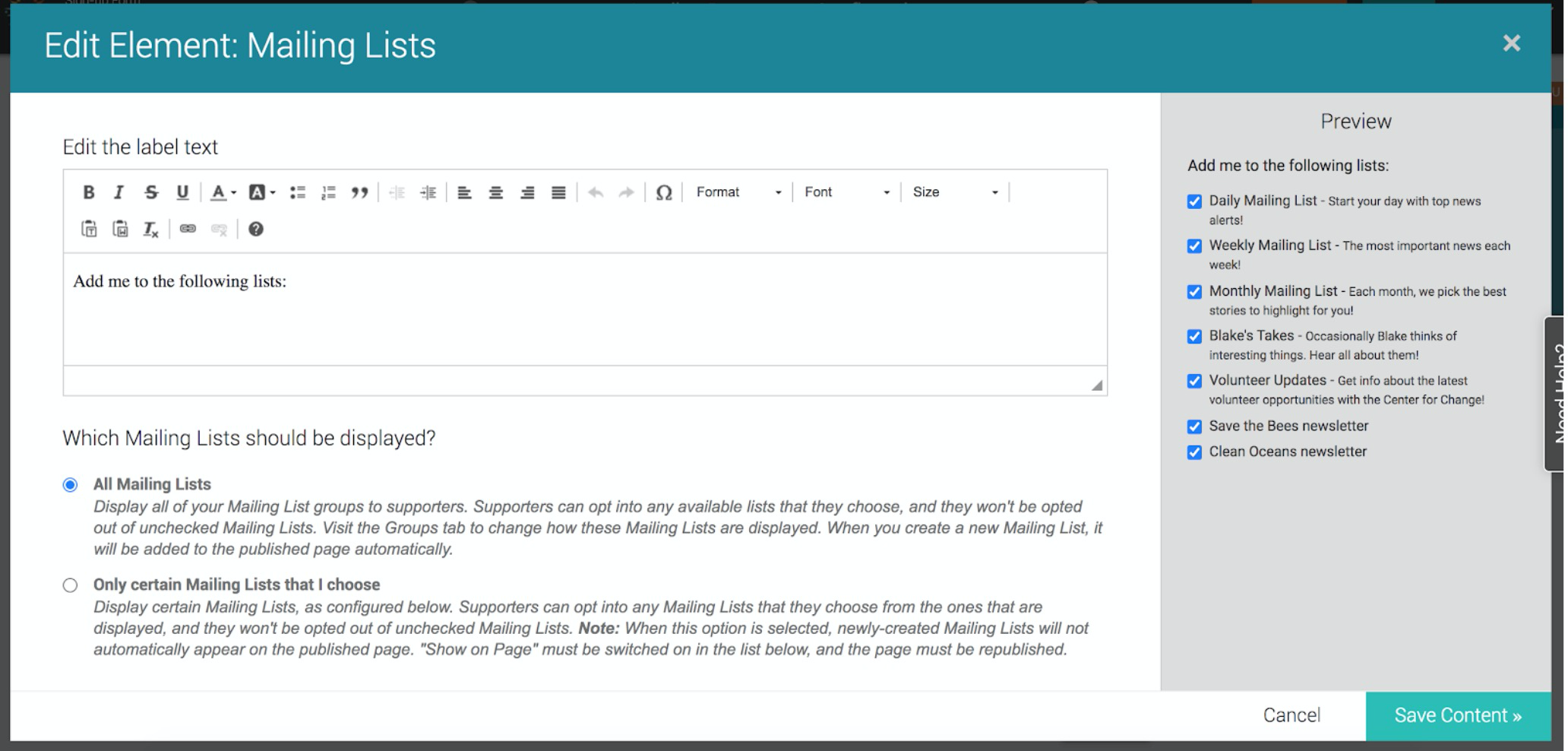 3. Automatically Add Supporters to Static Groups or Mailing Lists When They Submit the Form
Previously, a new supporter who submitted any form was subscribed automatically to every Message Topic, with no choice by the supporter or the campaign manager. Now, each form must specify if submitting the form will automatically subscribe supporters to one or more Static or Mailing List groups.
Using this feature, each supporter who submits the form will be immediately and transparently added to the group or groups that you have defined. This enables you to strategically segment supporters into appropriate groups, based on an action that they have taken.

For example, each of your Targeted Action and Petition forms could add supporters to an "Action Takers" Static Group and a "Weekly Advocacy Alerts" Mailing List. This way, a supporter could potentially opt out of receiving "Weekly Advocacy Alerts" but they would remain in the "Action Takers" group until removed by a campaign manager.
You may be thinking that you can accomplish a similar effect using a Dynamic Group, but the "Add Supporters who submit…" box has two benefits:
The supporter is added to the group immediately, as opposed to waiting for a Dynamic Group to run overnight.

This functionality can be used to add the supporter to a group and immediately enroll them into an Email Series with a group trigger condition.
4. Customize your Subscription Management page
Engage now gives you the opportunity to customize the look and feel of your Subscription Management page (also known as the Unsubscribe page). You can apply your brand colors and customize the page just like any other Engage activity form page, using the Visual Editor.
In addition to customizing the look and feel, you have the option to choose how Mailing Lists are displayed on the page.
By default, the Mailing Lists element is configured to display all the Mailing Lists in your Engage account. This gives supporters a true opt-in/opt-out choice for every possible Mailing List.
Or, the Mailing Lists element can be configured to only display the Mailing Lists to which a supporter belongs. Choosing this option makes the Subscription Management page act as though it is only an Unsubscribe page. A supporter would be able to remove themselves from Mailing Lists they are already subscribed to, but they would have to opt in by other means, like submitting a Sign-Up Form.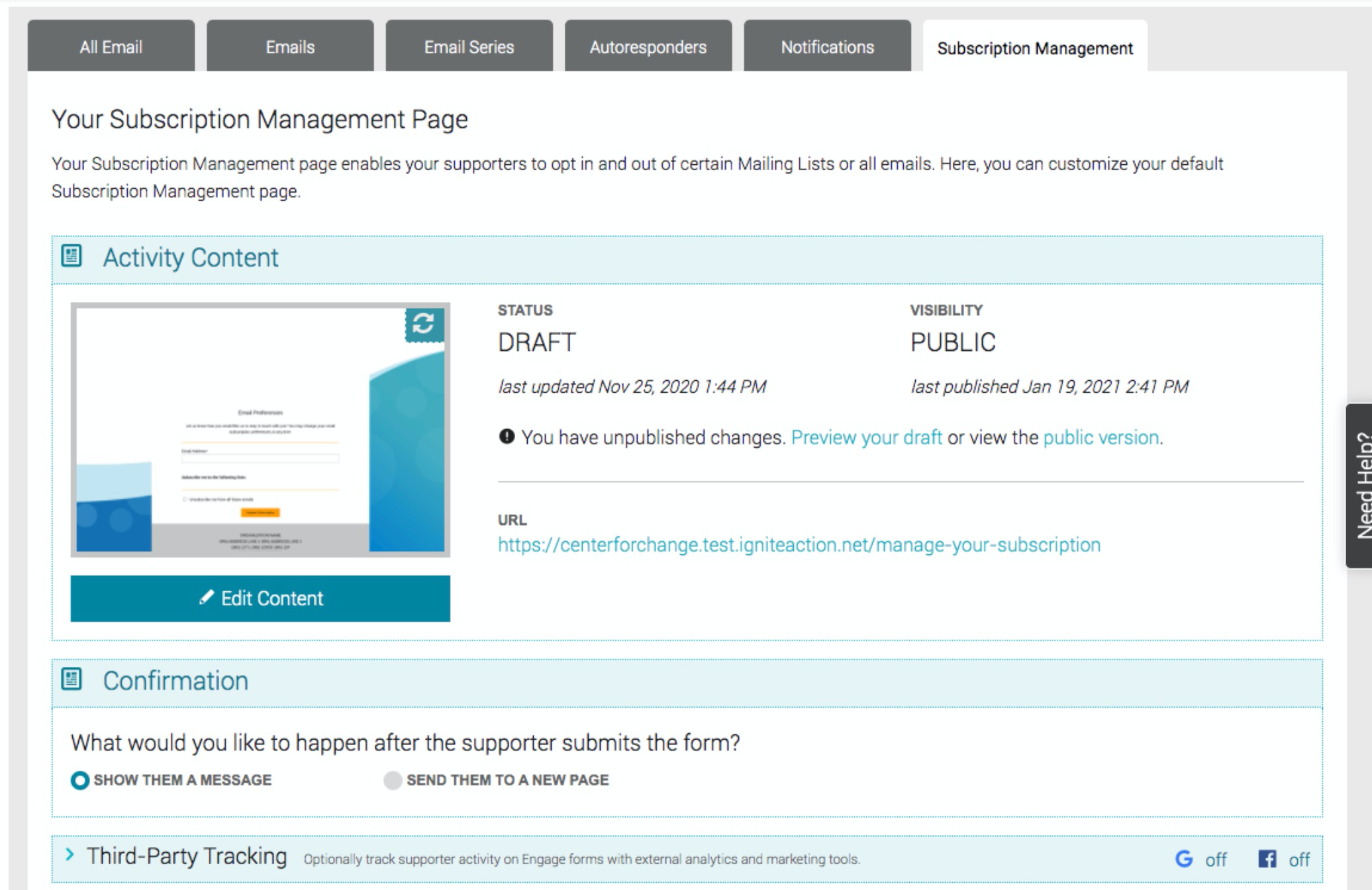 Consider emailing your supporters with a "Manage Your Preferences" email that includes a link to your Subscription Management Page. It's important to keep email subscriber preferences up-to-date, to ensure that your supporters are getting the messages that they want and not receiving messages that might not apply to them.
5. Take careful note of your email audience, especially when cloning emails
How email audience selection used to work with Message Topics
In the past, the first step for creating an email blast included selecting a Message Topic for the email.

The Message Topic acted as a filter that would limit your email audience to those supporters who had not opted out of the topic, "Advocacy," in this case. Remember that every new supporter would be opted in, without an option to choose.
Choosing your "Entire List" would result in an audience that looks like this: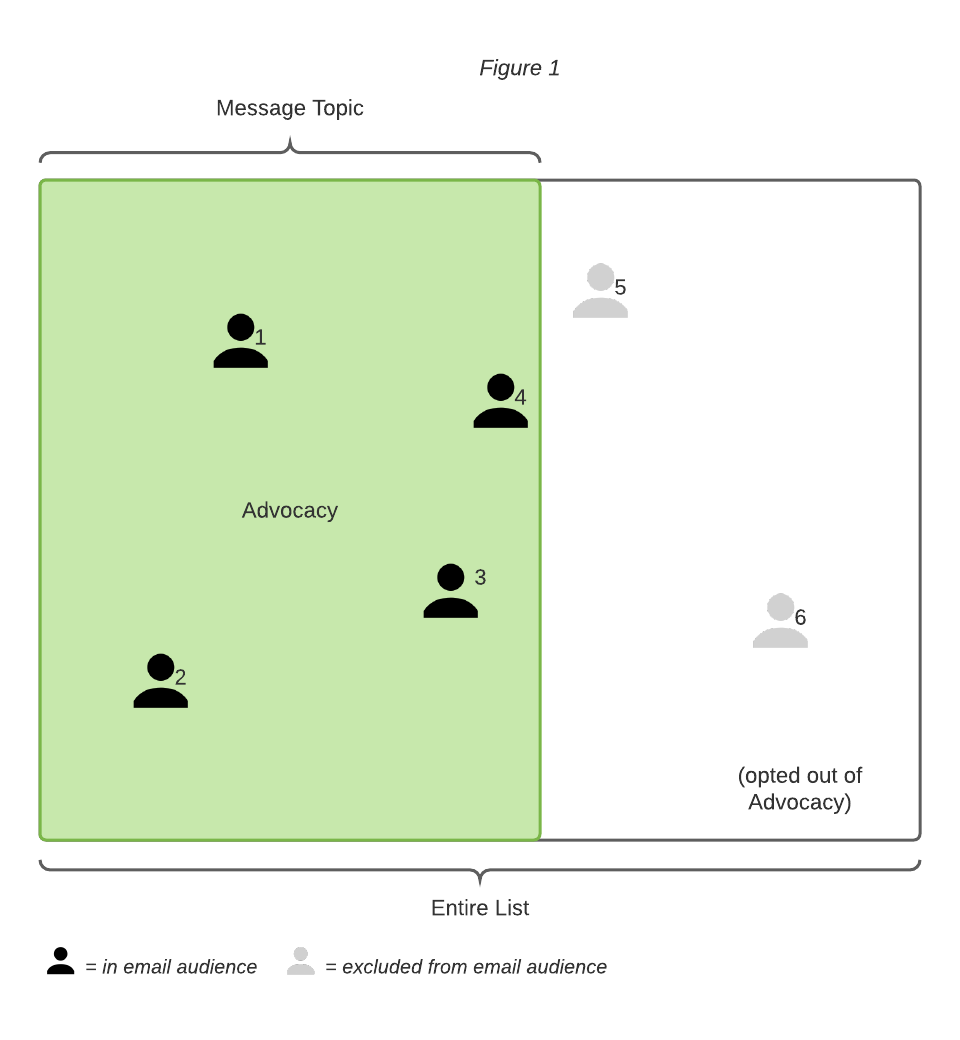 When you chose a combination of groups as your email audience, the Message Topic filter would still apply. Figure 2 below illustrates this.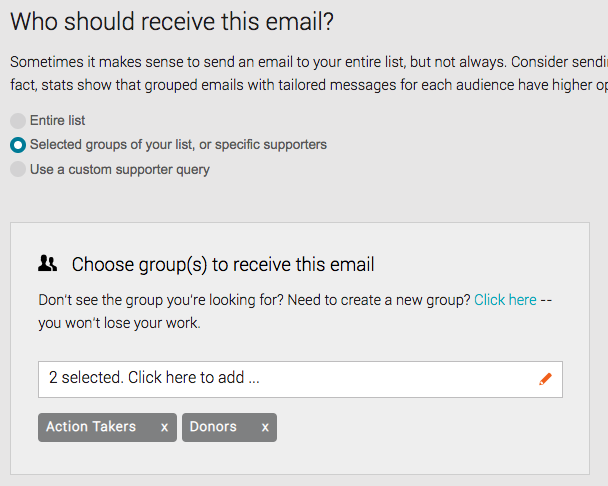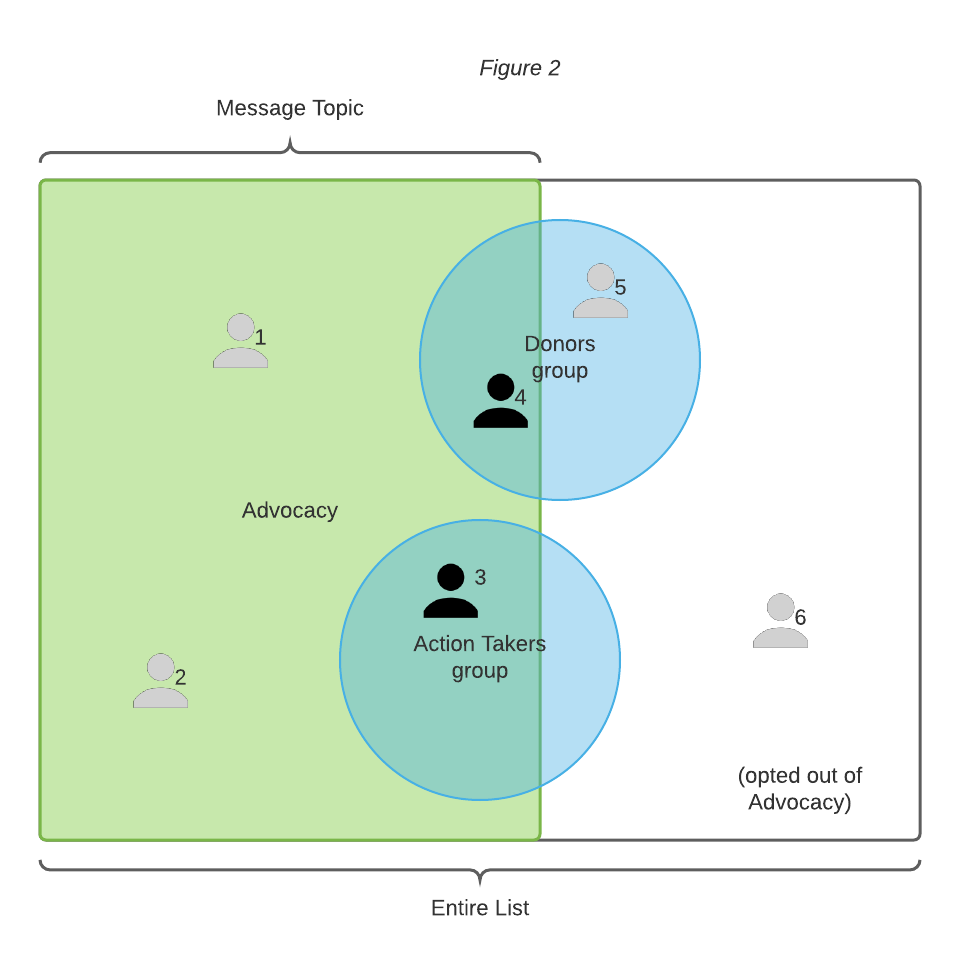 If you wanted to include an entire group, then you would need to choose a different Message Topic or select the "Ignore Preferences" option before sending the email. For example, in order to include Supporter 5 in the Figure 2, you could choose to ignore preferences. Figure 3 illustrates this.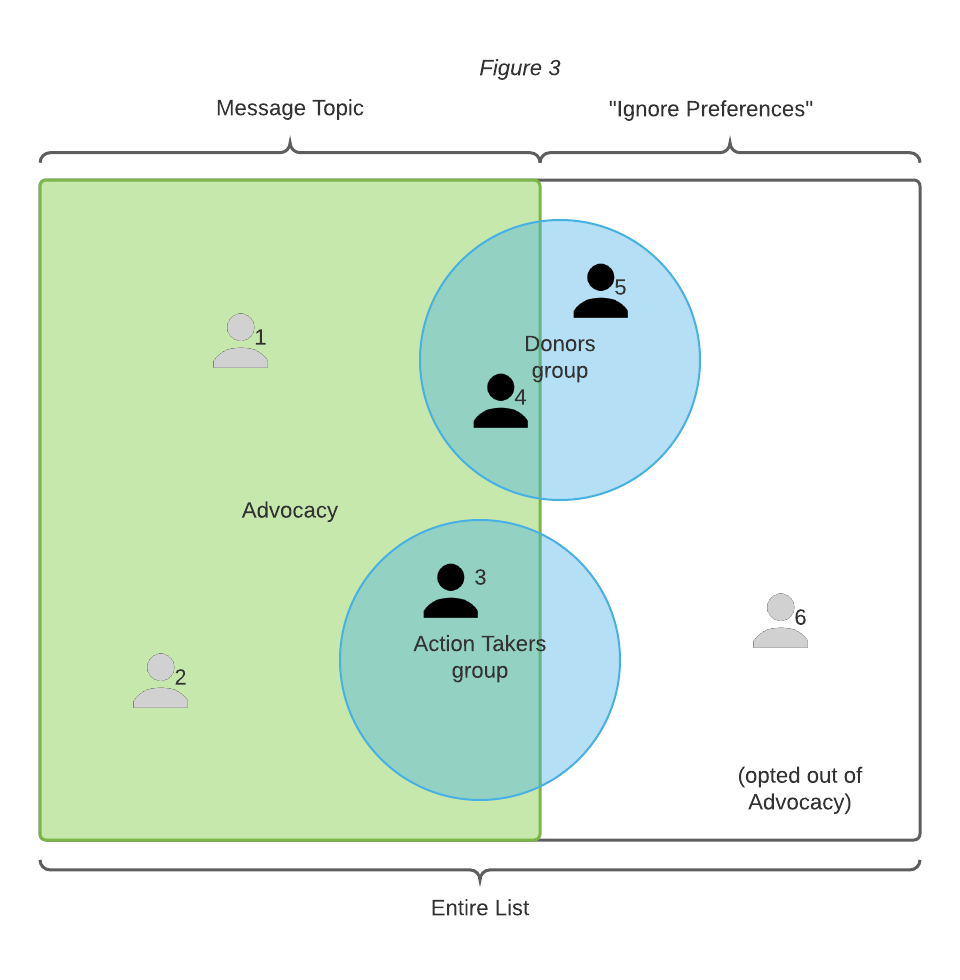 Based on your feedback, we've introduced Mailing Lists to give you more direct control over the process of building and targeting email audiences.
How email audience selection works with Mailing Lists
Since Mailing Lists are groups, just like Static Groups or Dynamic Groups, they can be used for crafting email audiences in the same way as those other group types.
You can select groups in the "Choose group(s) to receive this email" selection box, to select all of the supporters who are in any one of the chosen groups.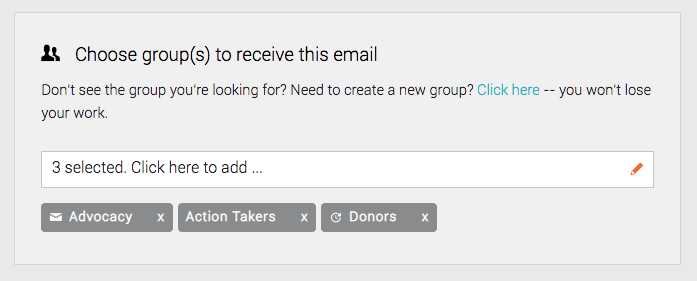 In this example, a supporter would only need to be in one of the selected groups to receive the email. In other words, the supporter could be in the "Advocacy" Mailing List group OR the "Actions Takers" Static Group OR the "Donors" Dynamic Group. Your audience looks like Figure 4: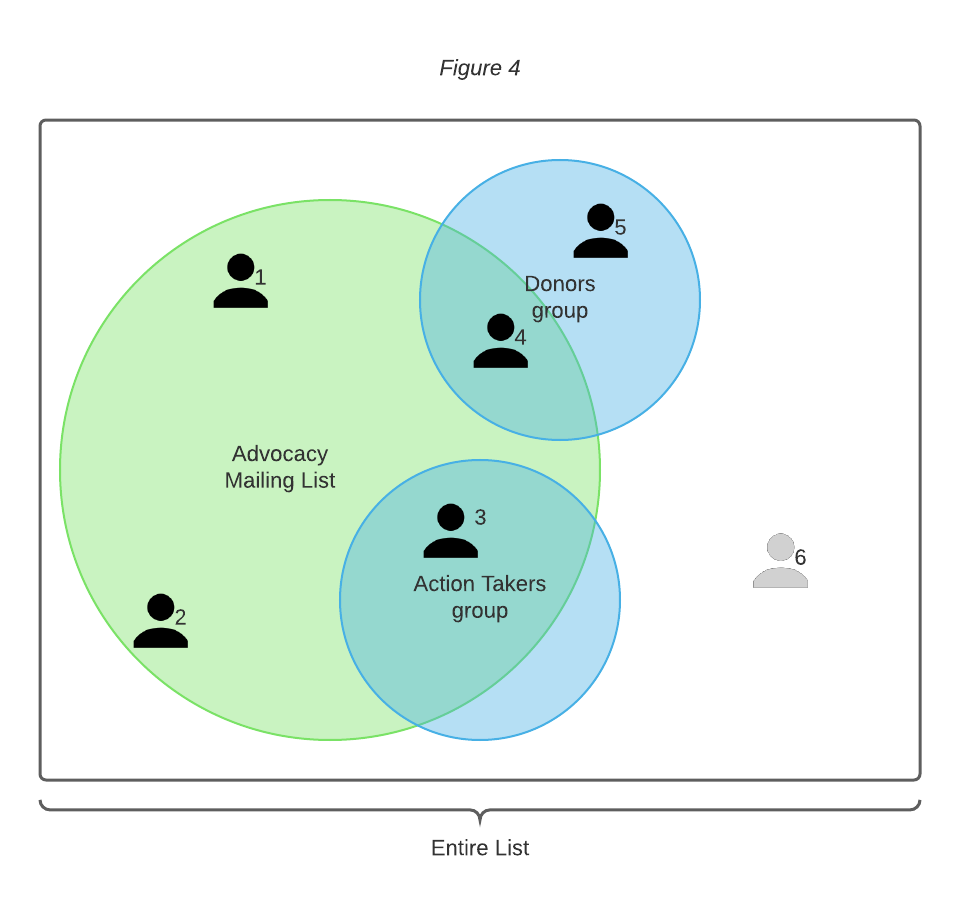 It's important to note that this audience is DIFFERENT from the audience reach that we got in Figure 2 -- specifically, Supporters 1, 2 and 5 are in the email audience now. Why is that? It's because choosing groups in the selection box implies an "OR" condition -- in other words, a supporter must be in any one of the groups to be included in the audience.
But what if we want to replicate the audience from Figure 2, where only Supporter 3 and Supporter 4 were in the email audience? In that case, we would need to use a custom query and apply an AND condition. Where OR conditions give you the entire group membership, AND conditions give you the intersections between the circles.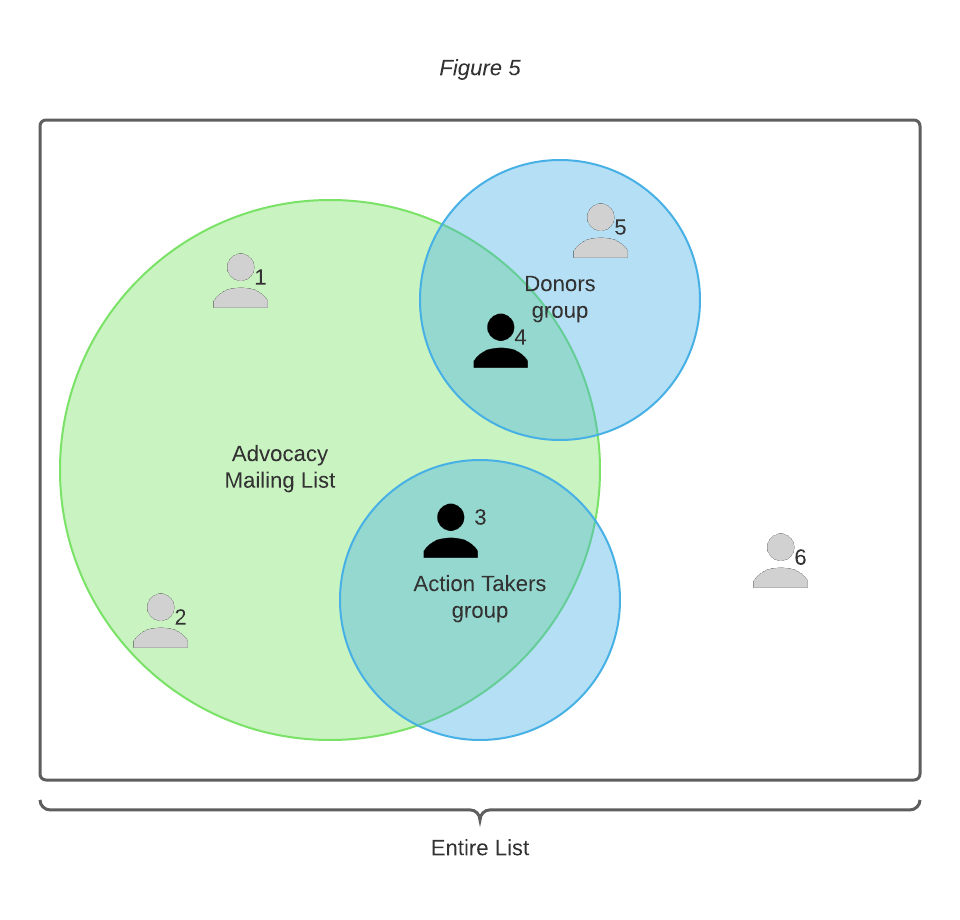 Now we've recreated the resulting audience from the old "Advocacy Message Topic filter + Donors group or Action Takers group" in Figure 2 by using a custom query to get the audience reach in Figure 5.
Important Note! Whenever you clone an email that was created before January 27th, and you want to keep the audience exactly the same, follow these steps:

Note the "Content Category" for the email on The Basics step. This is what used to be the Message Topic.

Note the groups in the "Choose group(s) to receive this email" box.

Select the "Use a custom supporter query" option for your audience.

Create a query with the format:




        Groups > is in > a specific group > ("Content Category" from step 1)


AND


        Groups > is in > one of these > (group names from step 2)
A note about the old Supporter Query rule for Message Topics
Prior to January 27th, in order to find supporters who were "interested in" or "not interested in" a Message Topic, you would use a query rule like this:

Now, the rule can be found in the same location, under "Email Subscription." However, "is interested in" has been changed to "is in Mailing List."

The results of this new rule will be exactly the same as "Groups > is in > one of these > …" This means that you can use either of these rules to bring back the same supporters. For historical purposes, any saved queries or Dynamic Groups that were configured before January 27th will continue to work using the existing rule.
6. Adjust your Content Categories to Make Sense for You
Content Categories replace Message Topics as a means to perform comparative analysis of the results of different types of emails. They are only for your internal reference, and supporters will never see Content Categories.
Content Categories allow you to divide your emails into broad types that you want to compare. For example, you may have Content Categories for "Newsletters," "Advocacy Alerts," "Donation Asks," or "Upcoming Events." You can configure your Content Categories in the Settings of your Engage account, here: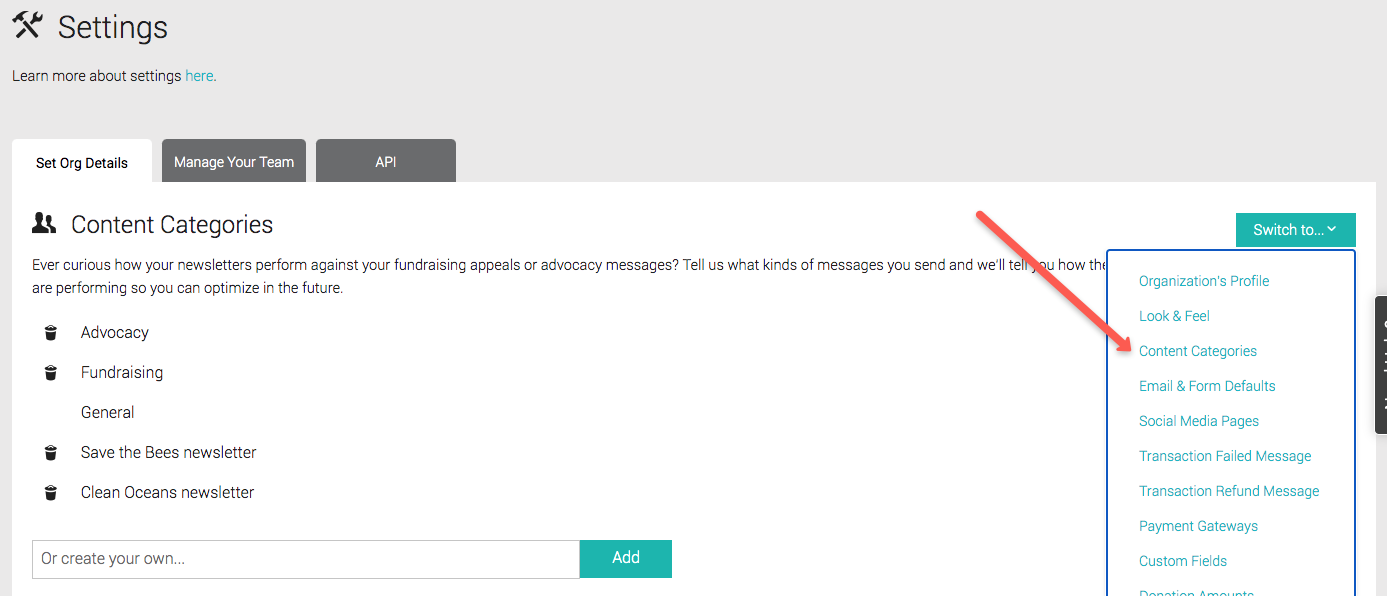 When creating an email, you'll be prompted to choose a Content Category for the email.

In the Insights Query tool, you may include Content Categories as an output in the query results and CSV export to see how certain types of emails are performing against others.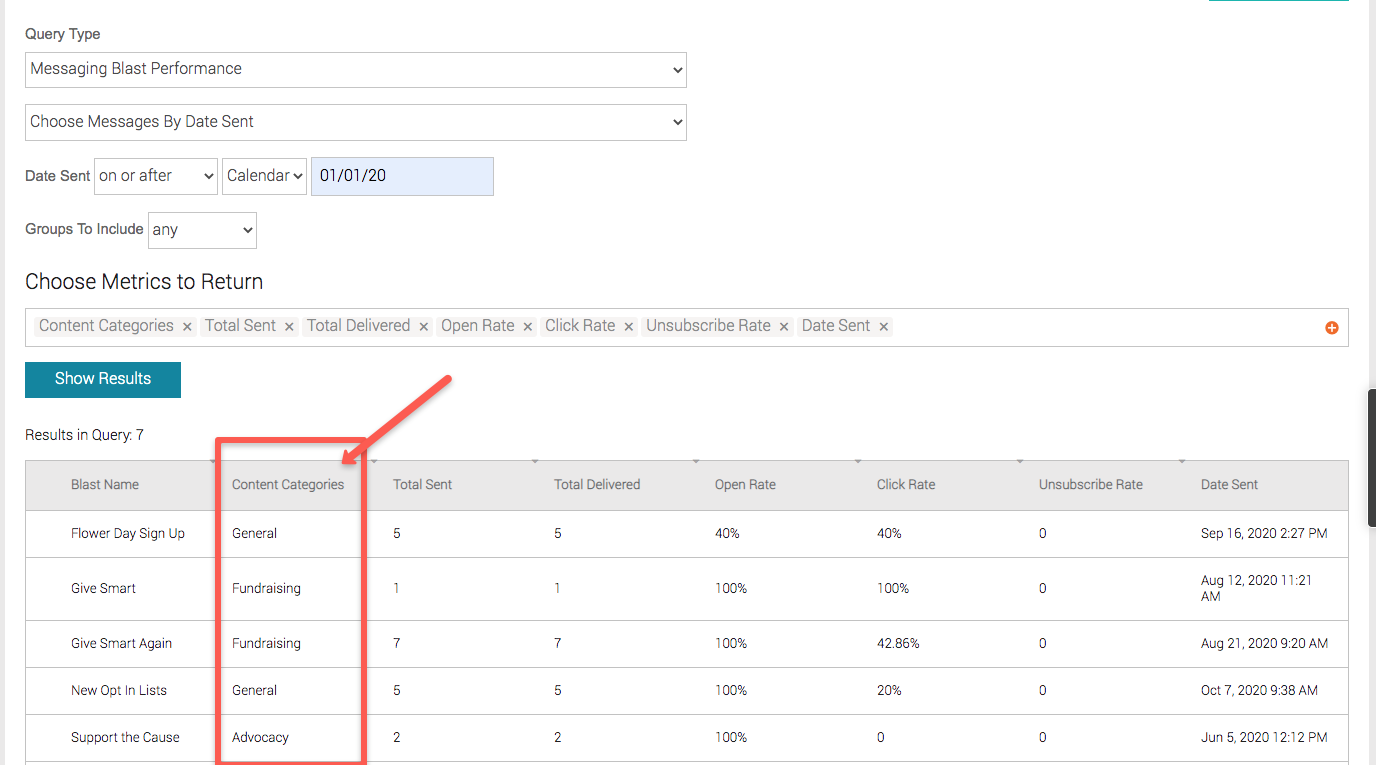 Important note! As of January 27th, any Message Topics that existed in your account will automatically be converted into Content Categories with the same names. Supporters will no longer see these categories. Add or remove Content Categories to align with the broad types of emails that your organization sends.