Recent software changes are highlighted in red.
Pro Tip: Robust data collection about your supporters is preferable to limited data collection.
There are some standards of data management that should be put into practice.
Organizations are not currently supported to be imported into Salsa Engage. Do not import blank first name columns.

Do not put both first and last names in one name field or the other. Split them into separate first and last names.

Do not use fake/made-up first or last names like 'Unknown'. If you don't know their name, build a sign-up form and ask! If hundreds of records are named 'Unknown Unknown' then there will be thousands of potential duplicates from online that match on the name.

Do not use fake email addresses if you don't know someone's email. It will negatively impact your delivery reputation if sent to a valid domain.

If I import data and there are two rows that have the same external ID, but the email addresses do not match, then the second row will not be imported.
Step 1: Format Your File
Find the Import Tools
Navigate to the Supporters section on the left.
Click on the Manage Imports tab. This page will list your current and completed imports, and allow you to create a new import so you can add supporters to your list.
Note: The format of your file needs to be a comma separated value (.csv). We'll discuss how to create this further down the page.
Import Into These Fields
You can import into any of the following Standard Fields. Make sure that you check the in-app help

next to each field to see acceptable values:
Address, Line 1
Address, Line 2
Cell Phone
City
State (two-character state abbreviation, appropriate for country code)
Country (two-letter abbreviation, ISO 3166-2 country code)
Date of Birth
Email Address [required]
Subscription Status (Subscribed, Unsubscribed, Hard Bounced)
External ID
Facebook ID
First Name
Last Name
Gender (Male, female only)
Home Phone
Middle Name
Preferred Language (en-US only)
State
Suffix
Title
Twitter ID
Work Phone
Zip Code
You can also import into any Supporter Custom Fields that you've already created in Engage.
Note: When you are importing fields that contain a date and time, timezone should be included to guarantee proper conversion. Without timezone information, the time will be interpreted by Salsa Engage as GMT.
Format Your File
Engage will attempt to remove all extra spaces and non-printing characters (such as hard and soft breaks or tabs) from your import file, but every attempt should be made to scrub the data first before importing.
Remove commas from all fields - Since you'll be importing a comma-separated .csv file (see below), leaving commas in your data will tell Salsa to start a new supporter record. That would be bad.
Remove line breaks from all fields - You can use the CLEAN function in Microsoft Excel to remove them.
Format date cells in the format MM/DD/YYYY or YYYY-MM-DD - Highlight any date values, right-click, select Format, and then format your date cells as shown in this example:
The Final Step Before Importing: Save as .csv File
Your Excel file must be saved as Comma Separated Value (.csv). The steps for converting your Excel file to these file types vary slightly depending on the type of computer you're using, or the application you're using on Mac or PC platforms.
IMPORTANT: Never import an Excel (.xls) file type as that will cause your data to be corrupted, and will result in many errors.
Since .csv is the more common method, here's how you convert an Excel file to a .csv file. First, go to File/Save As in your Excel menu...
...then click on "Format" and select Comma Separated Values (.csv) from the dropdown list.
Step 2: Import Your File
Name and Describe Your Import
Under the Setup heading, you'll notice that your first step is to give your import a name. This is a required step. Optionally, you can describe the particular import for future reference.
Second, click the "Browse for File" button. If the button is grey (as shown in the above image), that means you've not yet given the import a name. Once you do, the button turns blue.
Carefully follow the Format Your File documentation. Once you've selected your file from your computer, you'll either see a blue bar telling you the import has been successfully added for field matching, or you'll receive an error message in red.
If you get an error message, go back to your file and correct any errors. If you need help, remember you can submit a support request via the "?" icon in the upper right-hand corner If you have a "Done!" message, you can select the "Next: Import Settings" button in the lower right-hand corner.
You'll notice that you can choose a different file if you picked the wrong one. The "Browse for File" button changes to an "Upload a different file" button, as shown above.
Match Fields
When matching supporter fields, start by selecting the row in your imported file on which "real" data actually begins. Usually, our imported file will have a header row and the "real" data begins on row 2.
The column contents and names from your spreadsheet are on the left and field names are on the right. Select the field names where your spreadsheet information should go.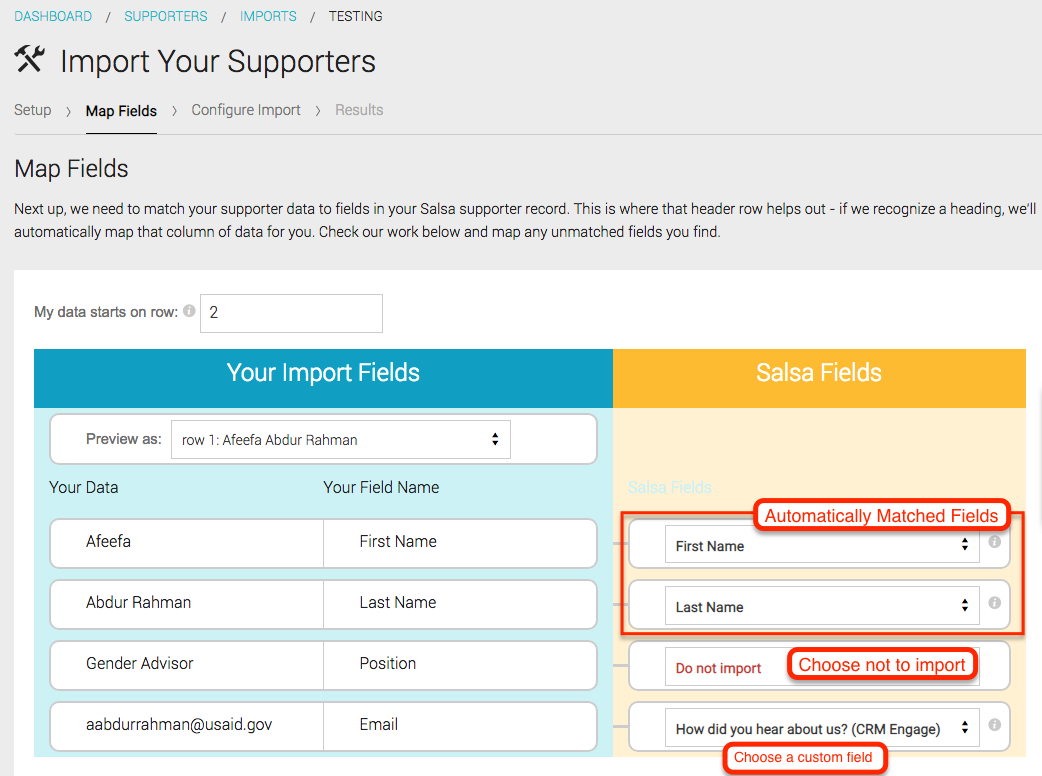 Salsa can sometimes match your columns, but you can use the pulldown menus to match to the appropriate fields. You have both standard fields and custom fields to chose from. If you do not wish to import a particular column, simply select "Do not Import".
NOTE: If you'd like to import into custom fields, create the custom fields before your import and they will appear in the dropdown list of field names.
Once you're done matching your fields, you can select the "Next: Import Settings" button.
Decide What To Do With Duplicate Records
Decide how to identify duplicates—By default, Salsa will look at the email field to identify any duplicate records. When this field is selected, Salsa will cross-reference the values in the email column of your spreadsheet with the emails of existing supporters in your account. If you're importing a supporter with the same email as a supporter that already exists in your database, they will be identified as duplicates. We recommend email, but you may choose External ID instead to identify duplicates for this import.
Decide what to do when duplicates are found:

Overwrite with new data—This is the default setting. The data in the spreadsheet will "win" if it conflicts with existing data in your database.
Keep existing, but append if blank—The data in your database will "win" if it conflicts with new data in your spreadsheet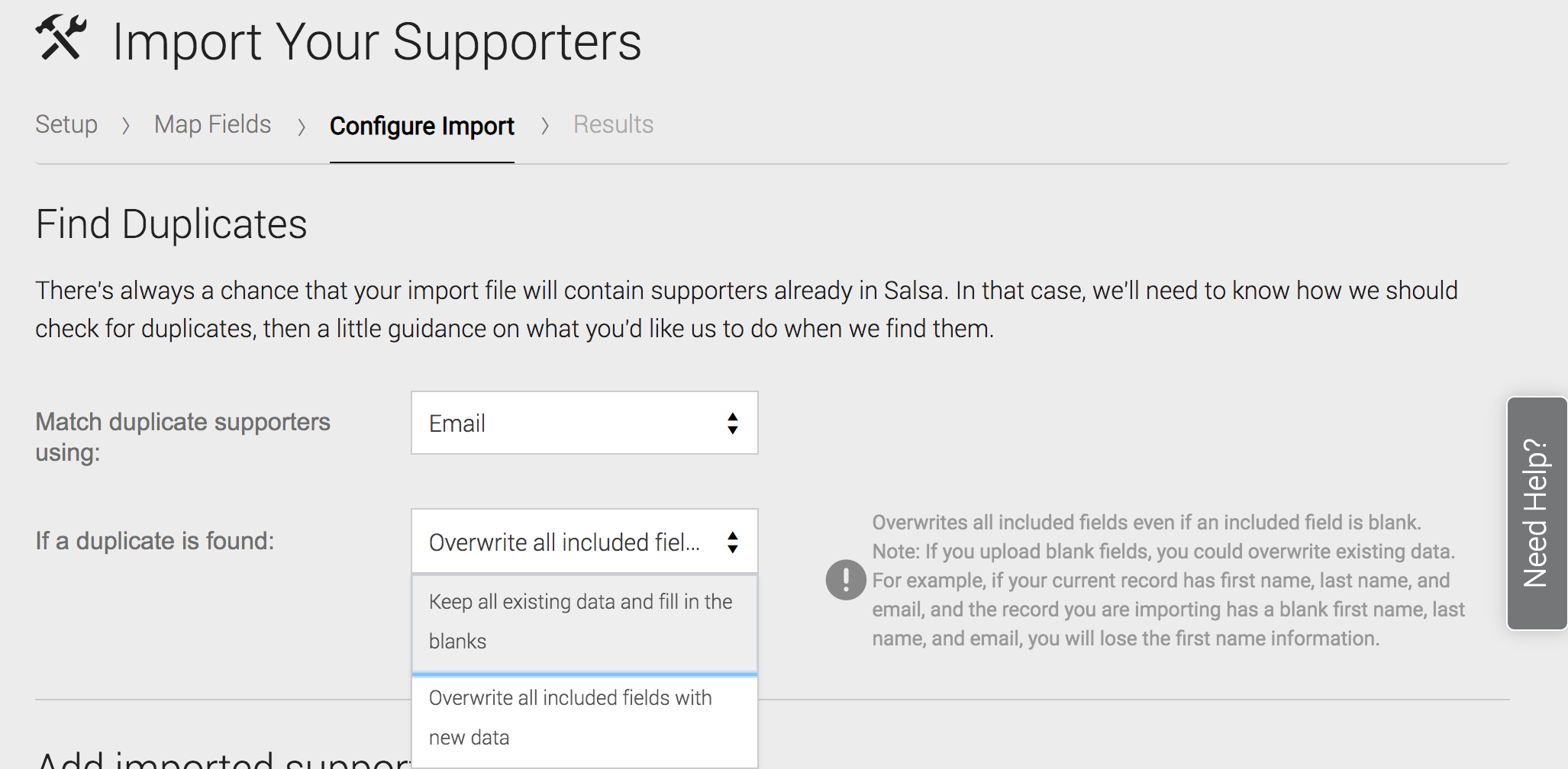 Add Imported Supporters to a Group
There are two types of groups:
Dynamic groups populate every 24 hours with supporters matching an attached Supporter Query.
Static groups include only supporters that you add or remove manually.
In this step, you can either...
Add imported supporters to an existing group
Add imported supporters to a new group

Note: You can not import into a dynamic group. Only static groups can be created in this step or selected for importing supporters.


Start the Import!
You can import this document immediately, or schedule it for later.

Pro Tip: schedule when an import is to be performed based on the time zone of the user that is saving the edit, particularly the time zone setting on that computer workstation. We store the request in a universal time format that will work for all users, regardless of location. A Central time zone user scheduling for an east coast organization has to be cognizant of this relative to when the organization wants the action taken. 10 AM Central time is 11 AM Eastern time! If the time zone setting on the computer is not correct, this can affect scheduling.
Click the "I'm Done" button in the lower left-hand corner, and the import will either begin immediately or be submitted to the queue to import at the selected time.
Notifications
When your import is complete, you'll get a notification in the User Toolbar.
Step 3: Import Results
Find Your Completed Import
After you submit your file for import, there may be some wait time before the import is complete (especially if the file you're importing is large). You'll receive a notification when the import is complete. Click on the link in the notification to open the import. You can also click anywhere in your import's row (within the import listing) to open the import.
Results
If your file was imported without a problem, the number of rows imported will show up in the left-hand box. You'll be able to click a text link to view the audit file which was imported - handy for record-keeping purposes! You can also see the number of deduplicated records (if any).
If There's a Problem...
If you've made it this far and you're seeing a number of rows that weren't imported, then there may have been a formatting issue with one of the fields you were trying to match. For example, you're were trying to get Salsa to accept text rows into numeric-only fields. Download the import error file and the audit file, use the information provided to correct your format errors, and try the import again. An audit file will contain a record for every supporter which you attempted to import (whether it failed or not).
If you get an error message that starts with "the import file contained at least one row that did not have the same number of columns as the column header row", this indicates a problem with your comma delimited file. Commas and quotation marks indicate the beginning and end of every "cell" of data. Extraneous commas that are not inside quotes will cause this. Special characters like invisible hard returns will also cause this. If someone put a paragraph break in an address in your source data, and you didn't notice, this would cause the system to reject that imported row.