Engage Groups allow you to segment your supporter records and divide them into distinct units. For example, you may need a Group of all supporters who have signed up to receive your newsletter that automatically updates whenever someone submits your Sign-up Form, or you may need to suppress a group of employees from receiving your fall appeal email.
Engage features the following types of groups:
Predefined - These are predefined groups that you have in Engage from day one. You can sort your view of this list, but groups cannot be added or removed.
Custom - These are groups that you have created.

To add a new group, use the Make a New Custom Group button at the top right of the main window. The button will launch the Create a New Supporters Group wizard.
To delete a group, click the checkbox to the left of the group(s) that you want to delete, and then use the Actions pull-down control to select the Delete option. You'll be prompted once before the group is deleted.

CRM - You will see this tab only if you subscribe to Salsa CRM. These are groups that exist in Salsa CRM and Salsa Engage but which are managed by Salsa CRM.
Find Your Custom Groups
To find your previously created custom segments:
Click the Supporters tab. By default, you'll open the Supporters tab.
Click the Groups tab.
Below the Groups Insight interactive graph, select the Custom tab to see a list of your custom groups.

To find specific groups, type the name in the search bar near the center of the page.
Make a New Group
Click the Make a New Custom Group button in the upper right hand corner of the Groups Dashboard.
The first step is to give the group an internal reference name. Under the Set Up Your Group tab, you're given two fields. The Name field is required, but the Description isn't. The name will help you search for and select groups when using them in your account.
There are two types of groups:
Dynamic groups populate every 24 hours with supporters matching an attached Supporter Query.
Static groups include only supporters that you add or remove manually.
The next step is to determine who will automatically be placed in this group based on the rule sets you create. Ensure that Dynamic Group is selected. Click the Next: Groups Rules button to create your first rule set.
Define Group Rules
You're now at the Select Supporters section. This is where you will use a process similar to building a Supporter Query to choose supporters to add to your group. Boolean operators will assist with adding multiple rules to automate which supporters are chosen. You can also manually "hard-code" individual supporters to include or exclude. You'll first see where you'll create your group's rules.
Create Rules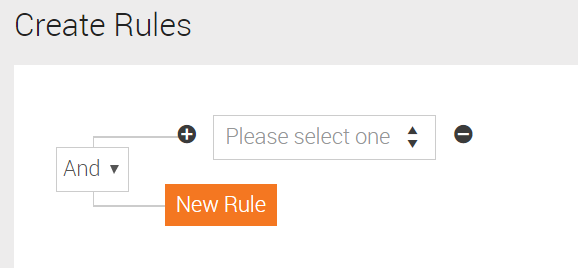 These are the rules that will determine who is included in your group. You must create at least one rule. If you are unfamiliar with Boolean operators, please see this tutorial on Boolean operators.
Click the Please select one drop down control, and select the value that you want to use for the rule. Options will appear for the option that you selected.
Complete the options for the rule that you selected.
If necessary, change the And control to Or.
To add additional rules, click New Rule. Create a new rule and repeat the process as many times as necessary to get the results that you want.
Add these specific supporters
In addition to adding supporters automatically, you can manually assign supporters who may not meet your automatic conditions but should still be in the group. Just type some search parameters, such as a first name or email address, to find the supporter and click the + button next to them.
Once added you will see the list of supporters manually added below the search box.
Don't add these supporters
In addition to manually adding supporters, you can also manually preclude them. This means even if they match the automatic conditions you set up, they won't be added to the group.
Note: Whenever supporters are added to segments, either automatically or by you, you may not see the addition instantaneously. There is a nightly batch process that runs on the servers which will place supporter records in their appropriate groups.
Review Your Group
Once you're done adding rules and including and excluding users, click Next: View Group Supporters. The Your Group tab will open. It features a list of all of the individuals in the group that you created.
If you aren't seeing the results that you expected, click Back: Group Rules, and rework your Boolean rules until you get the results that you want.
When you have the results that you want, click Save Group.
Add Supporters to a Group
In most cases, you will be importing supporters into a Group or using our dynamic Groups function to segment supporters based on actions they take. There may be cases where you want to manually add a few supporters to a group due to actions they took outside of an activity form.
Access the Supporters tab in Engage and then click on the Groups tab:

At the bottom of this page, click on the Custom tab and then find the group you want to add the supporter(s). Click on the name to open it up:

Once the page loads, you will see an option at the very top to manually enter a supporter into the group. Type the supporter's name then click the magnifying glass button to find them. Do this for every supporter you want to add manually.

Click Save Group to retain these changes.
NOTE: the supporter must already exist. You cannot use this tool to create a supporter. If you are looking for documentation to add a single supporter or multiple supporters to your account, please check out this article.