A Contacts... button at the bottom of the main constituent screen allows you to export from Salsa CRM the constituent's information you are currently viewing to your email account or create a QR code.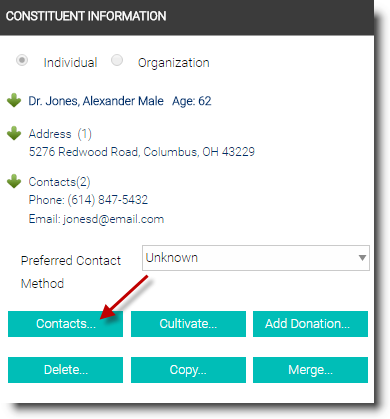 Salsa Labs recognizes that while many Salsa CRM customers use Microsoft Outlook, a growing number of customers use other products, including web browser-based email and Macintosh Mail.  Where practical, equivalent support is provided for email and calendaring programs.
Note: Your Salsa CRM User ID must have Constituent Import/Export Contacts permission to unlock the Contacts button.  Please contact your Salsa CRM administrator should you require help.  As a security note, it is a good idea to revoke this permission from anyone who is leaving your organization to prevent them from exporting constituent information to an external email account.
The Send to Non-Outlook Contacts option will send contact information as an email attachment in the industry-standard "vcard" format to the specified email address.  You may then open this attachment and save it to your contacts file.  Salsa CRM will "remember" whatever email address is entered, with the assumption that you typically will be sending contact information to the same email address.