Update Engage supporters in a variety of ways using Salsa CRM's Advanced Query Wizard. A Constituent type Query for the purpose of Salsa Engage is required to update Engage with the CRM data.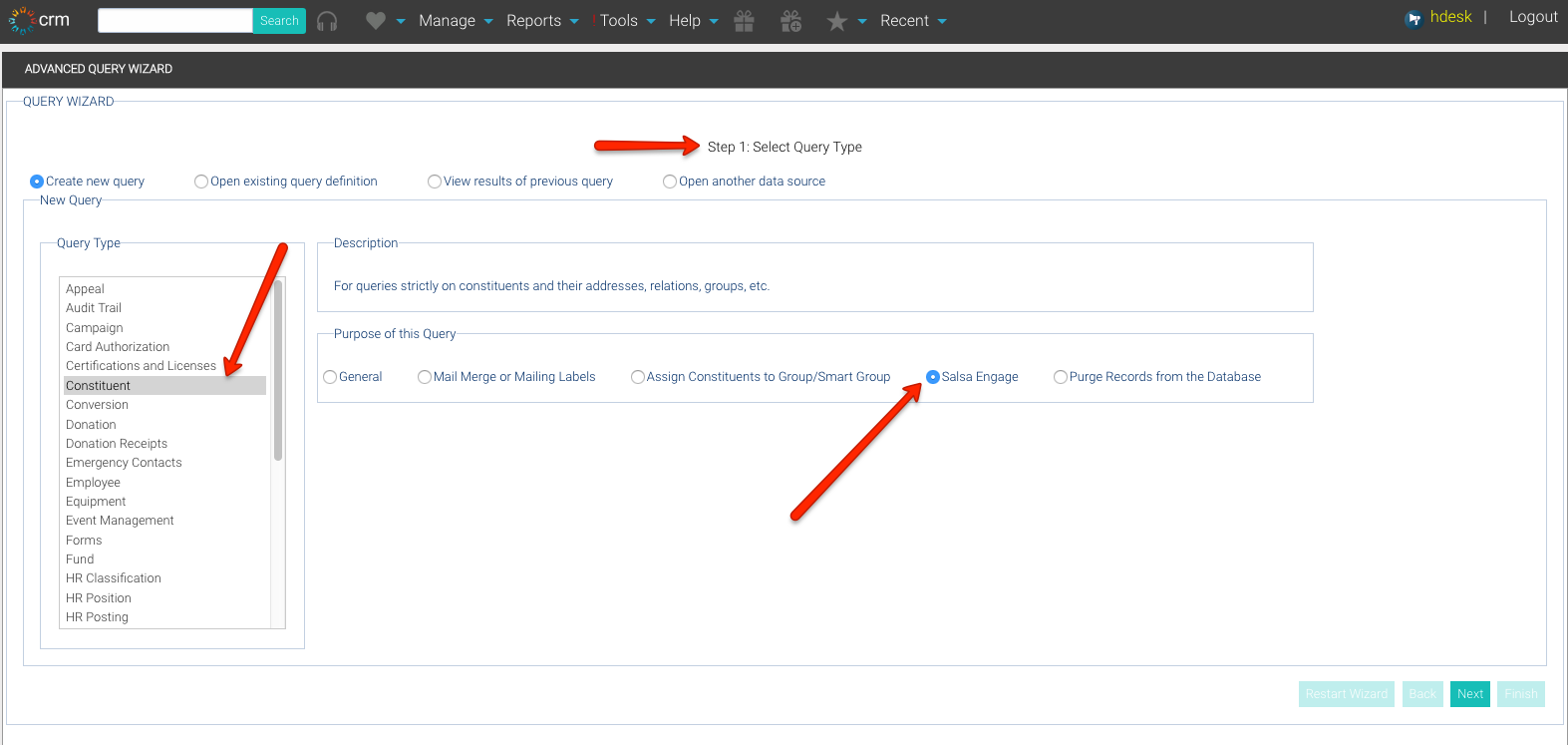 For an overview of the Advanced Query Wizard and its controls, see Advanced Query Wizard Overview.
Here are a couple of examples why you would want to run an Advanced Query like this:
You want to email members who are expiring soon, and you want to use data only found in Salsa CRM, generating an Advanced Query containing the information, then sharing it with Engage as a one-off email blast to the intended targets in your query results, and including Output Fields from your query as mail merge variables in your query.
You want to email Supporters about an Event, you have the Audience defined in Engage, but you need to exclude those who have already donated this year by any means, not just online engagements.
Building the Query
From the main menu, choose Reports > Queries > Advanced Query Wizard. The Advanced Query Wizard launches.
Click the Create New Query button at the top of the Query Wizard window. This opens a new browser tab for your new query.

From the 

Query Type

 frame to the left of the window, choose the

Constituent

category.

Note: The Constituent type query contains a Donation Info node with basic donation information. 
In the Purpose of this Query frame, choose Salsa Engage, and then click Next.
The Step 2: Select Query Criteria window will open. From here, normal query building can occur.
Filter on Email Address IS NOT BLANK and Email Status IS ONE OF "Unknown", "Opt In".
Click Next until you get to Step 4: Post-Query Options.
Select the Salsa Engage button.

Post-Query Options

Engage Update Process 

Add or Update Salsa Engage Supporters

Select the button and Salsa CRM will begin the process of transferring the data to Engage. This does not sync donation data to Engage, just the supporter data.

Add Supporters to Salsa Engage Email Blast

Emails created in this process can use any of the column headers from the Query to act as merge fields in the resulting email and are directed to the constituents who are in the results of the query.

NOTE: an existing email blast that was not started with this process cannot be selected with this process. The email blast has to originate with this process in order for the mail merge to work.



If starting a new email blast, provide the name and description of the email blast. Otherwise, select the row containing the name of the email blast.
Email blasts created in this fashion will use the same email creation techniques as other Engage email blasts. However, the audience will be preset in Engage.
Query Output Fields will sync to the Engage Email Blast as Merge Fields that can be inserted into the email.

Remove Supporters from Salsa Engage Email Blast

Replace Supporters in Salsa Engage Email Blast

Add Supporters to Salsa Engage Group

Select the button.
Either select an existing synced Group or start a new synced Group.
NOTE: Smart Groups and Engage Custom Groups are not eligible for this process.
 

Remove Supporters from Salsa Engage Group

Replace Supporters in Salsa Engage Group