This is the first step for any new Activity or Email. Choose a starting point to create a new Activity. You can copy an existing form, select from a library of shared content to use as a template, or start fresh from a layout.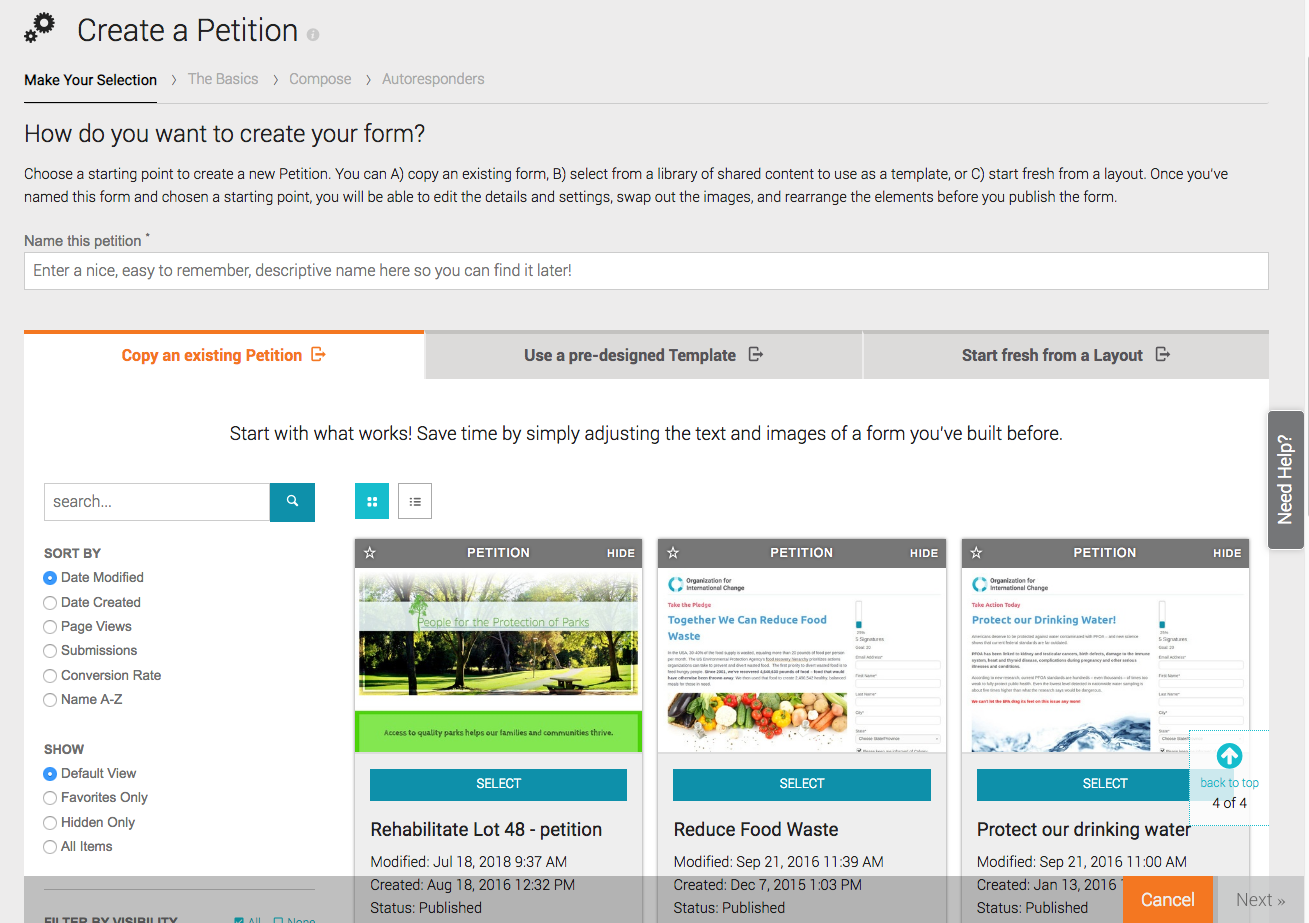 Once you've named this form and chosen a starting point, you will be able to edit the details and settings, swap out the images, and rearrange the elements before you publish the form.
"If you're working with a Layout, the Settings button under the Editor Menu will reflect the global design defaults set up in the Global Settings menu (hammer-and-wrench icon, top right), specifically in the "Look and Feel" area.
If you're starting with a pre-designed Template, those defaults will need to be updated to your organization's branding colors and styles. Look at the overall structure to be similar to those you have on your website/current branding. The images, content, and color scheme will all be replaced, so it's more the style and structure that you're checking for. If none match your intended design approach, the Layouts may be a better place to start."
Ilona Globa, Salsa Product Adoption Specialist and Head of the Smart Start Fundraising Program

Copy an Existing Form
Make copies of existing forms that have already been published. For instance, if you have the same Gala every year, why recreate virtually identical content every time?
At the top of each form the gray bar contains some new functions: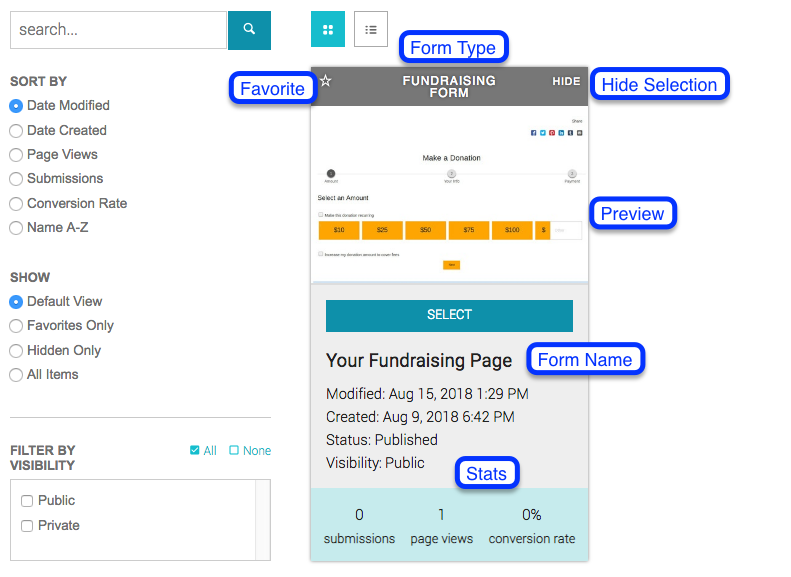 A "star" icon to the left that is used to indicate the form is a Favorite.
The form type in the middle (Fundraising, Petition, Targeted Action, etc.).
The HIDE link to hide that form from view.
Below the gray bar, a small preview of the form is available, representing how the form looked the last time it was saved. This preview is updated periodically.
Next, you will see a teal-colored Select button, to indicate which form you intend to copy for your new form. When this is selected, the rest of the grey area of the form is highlighted in blue.
Below that, we provide at-a-glance form data:
Modified Date and Time.
Created Date and Time.
Status - whether the form is in Draft Mode or PUblished.
Visibility - Private or Public visibility
Submissions - Number of times the form was submitted successfully.
Page views - Number of times the form has been viewed.
Conversion rate - Percentage of views that converted into successful submissions.
Use a Predesigned Template
Nonprofit professionals benefiting from years of experience have helped us design successful pre-designed templates for your convenience. While their Rows and Elements are pre-defined, they are also editable in the Compose step.
Start Fresh from a Layout
All Emails and Activities offer several pre-defined layouts and one Blank layout. These layout previews show a general design of the template, with distinct rows indicated in the layout and "X" boxes indicating image elements. The Blank layout does not contain any of the Elements that are pre-populated in other layouts. You must build the form from scratch. For example, where a non-blank layout for fundraising will include donation-related elements, the Blank format will not.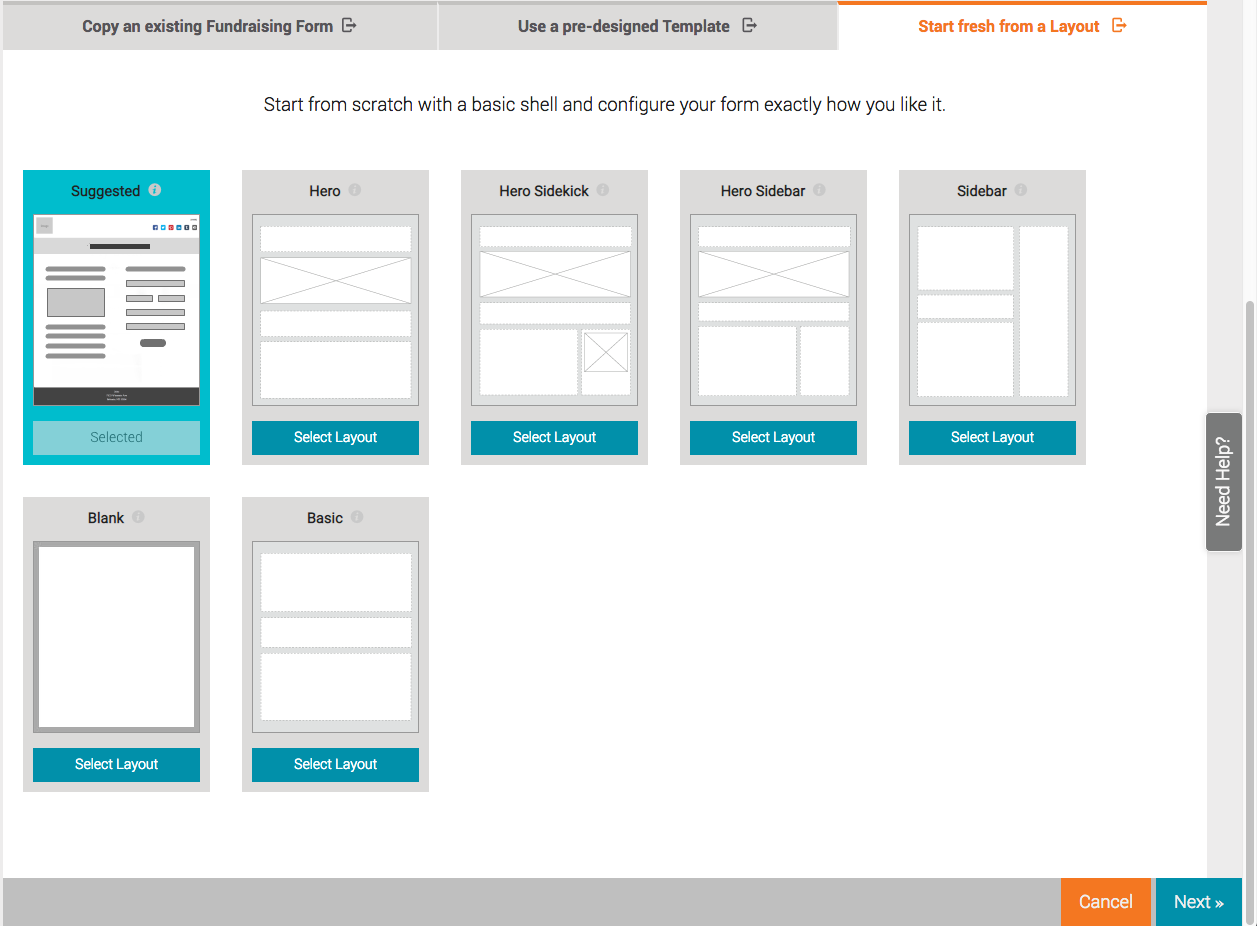 You may choose to code your own HTML-based email as well, for those who have advanced HTML email marketing skills. Add custom CSS directly to the code, such as in the <head> section or directly in-line, such as:
<h1 style="color:blue;margin-left:30px;">This is a heading</h1>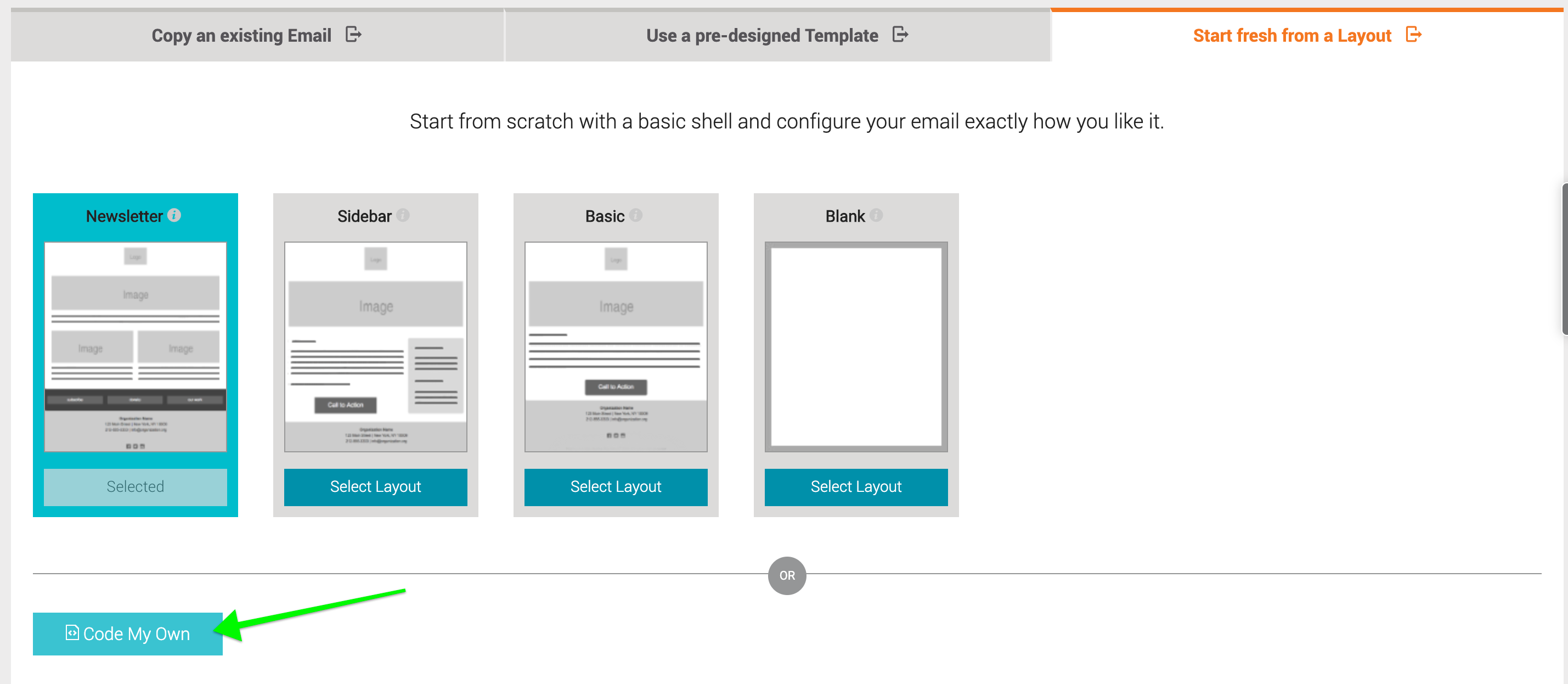 NOTE: it's not possible to swap layouts after one has been selected.
Sorting and Filtering
Order and reorder your forms using the Sort and Filter options along the left side of the list of forms.
Grid View and List View
Grid View button - displays forms as a tiled listing of "cards" that contain information about the forms all inside a square.
List View button - displays forms as a list of available forms.
"Sort By" Options
Sort visible forms by the following criteria...
Date Modified
Date Created
Page Views
Submissions
Conversion Rate
Name A-Z
Show Form Options
Forms can be adjusted uniquely to each campaign manager to either be hidden, visible, or favorited. Display forms using the following filters:
Default View - This view displays unhidden, favorited forms only.
Favorites Only - This view displays only forms that have been marked as favorites.
Hidden Only - This view displays only forms that have previously been hidden.
All Items - No filter applied. All forms are visible.
Filter By Visibility Options
All - Check both Public and Private forms to show.
None - Uncheck both Public and Private forms to show.
Public - Show only Public forms.
Private - Show only Private forms.
Click the Next button at the bottom-right of the window. This leads to the section to set 'The Basics' for your activity.