Campaign managers can schedule emails to send at the same clock time in every recipient's timezone. If your organization or supporter base spans multiple timezones—and you schedule an email blast at 9 AM—Rolling Timezone Delivery sends emails to all recipients, whether in Hawaii or Chicago, at 9 AM in their local timezone based on their stored address. There's no need to split up your mailing lists or schedule blasts separately.
If the date/time has already passed in the supporter's timezone, Engage sends the email immediately. In our example above, we scheduled the email blast for 9 AM but published the email blast at 9:30 eastern time. Supporters in New York would receive the email blast immediately.
Contact Salsa Support to activate this feature.
Set Default Timezone
Choose a default timezone that represents the timezone in which most of your client base (or your headquarters) resides. To set your default timezone...
Go to your Engage

Settings

menu (the hammer-and-wrench icon).

Scroll to the bottom of the page.

Select your default timezone in the

What is your Organization's Default Timezone

section.



Save your changes by clicking the

Save It!

button in the bottom right.
The Rolling Timezone Delivery feature covers ONLY the following timezones:
Alaska

Atlantic

Central

Eastern

Hawaii

Mountain

Pacific
Some areas do not observe Daylight Savings Time. We indicate this for each address in that timezone and add "Does not observe Daylight Savings Time" to the timezone name. There are two exceptions:
Hawaii does not observe Daylight Savings Time, so there will only be "Hawaii (Does not observe Daylight Savings Time)."

Alaska observes Daylight Savings Time, so there will not be a timezone for "Alaska (Does not observe Daylight Savings Time)."
Schedule Rolling Timezone Delivery
With Rolling Timezone Delivery sends the blast at a specific time in the recipient's local timezone if it is known. If we do not know the supporter's local timezone, then we send it according to your organization's default timezone, as defined above. If the scheduled time in the recipient's timezone for the scheduled date has already passed, Salsa sends the email immediately.
On the Get Ready to Send screen of your unsent email blast, at the bottom under Send Your Email, there is a section called Delivery Options: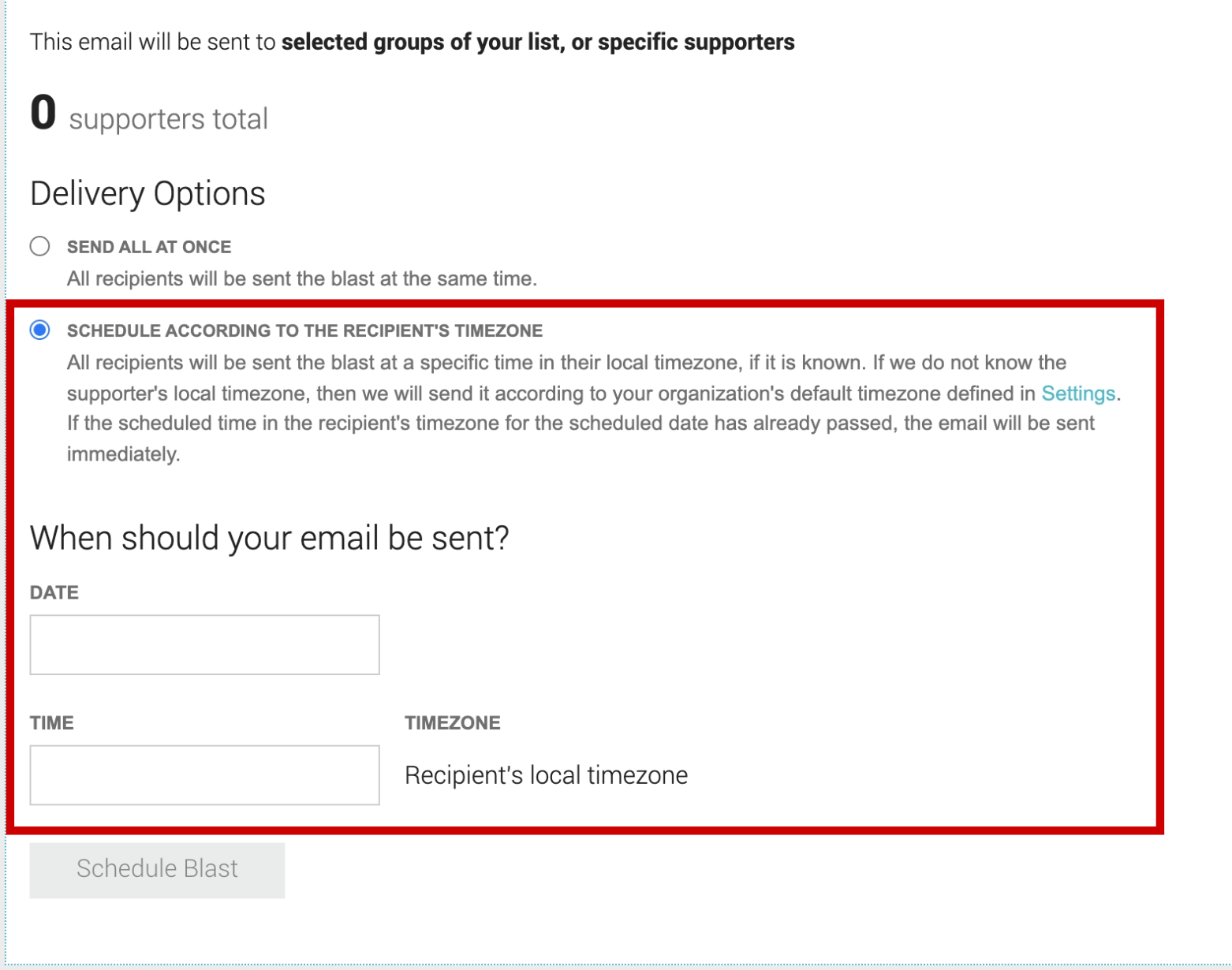 Click the Schedule According to the Recipient's Timezone button. Underneath that button, the screen changes to enter When should your email be sent?
Enter the date you wish to schedule your email.
Enter the time in the recipient's local timezone you wish to send your email.
Click Schedule Blast. Note that the Schedule Blast button only activates when you have a nonzero count of supporters to receive your email.