Step 1: Choose Your Email Layout
Click the Email menu on the left.
Click the Emails tab.
Click the + Create an Email button.
The Make Your Selection tab is selected by default. See the article on New Activity or Email Selection for more information. Select a Template or Layout. After you make a selection, the Basics tab opens.
Step 2: Add Some Basics
Fill out the following Basics tab fields:
Name this [activity] form—The name of this new form was filled out on the previous Make Your Selection tab.
Add a description—This information isn't required.
What Type of Email Is This?—Remember when you created a few content categories for your email blasts? Time to put them to use! Assigning this message a category will help you analyze how different categories of emails perform. If the category of this email isn't in the list, just add a new one in the Settings menu

.
Click the Next: Choose Audience» button at the bottom-right of the window. The Choose Audience window will open.
Step 3: Choose Your Audience
The blast audience defines who receives your email blast or not.
Choose one of the inclusive options:

Click the

Entire List

button to send to your full list.

Click the

Selected segments of your list, or specific supporters

button to send your email to only certain people. If you choose this option, you have two additional options:

Click the

Choose the group(s) to receive this email

option to choose a segment of your list.

Click the

Choose additional supporters to receive this email

option to add specific supporters if they are not part of any segment you chose. Click the

+

symbol next to the supporters you want to add.

Click the

Use a Custom Supporter Query

button to send your email to supporters as defined in an

ad hoc

Supporter Query you can create on the fly.

For time-sensitive action alerts or other urgent email blasts, you may want to ignore the email audience suppression configured in one or more of your Email Series. Checking a box overrides the Email Series suppression rule,

including all supporters who would normally be suppressed by enrollment in an Email Series

.

Define your suppression options with

Who should NOT receive this email?

Choose whole segments who shouldn't get the message or just individual supporters. Use

Do not send to these groups

and

Do not send to these supporters

to limit who gets the email.

Total Audience Reach

represents a count of eligible recipients based on the targeted list.

Click the

Next: Compose Your Email»

button in the lower right-hand corner.
Step 4: Compose Your Email
Along with setting up several parameters, you'll create the email content itself.
A/B Split Testing
Generate up to five versions of your email that get emailed to a percentage of your targeted audience, so you have hard evidence that your supporters respond to one message or visual design over another. See the comprehensive article for more information, under Step 4: Compose Your Email.
NOTE: Moving forward, we recommend choosing a winner using the click-through rate for all A/B testing. Due to a recent Apple iOS 15 update, emails report as "opened" as soon as the Apple Mail program receives them. Mail senders will likely see an artificial increase in reported email open rates.
Sender Details
Your emails are sent by Salsa servers on behalf of your email system. Enter your From Name, From Email Address, and Reply-To Email Address to help recipients know who is sending the email and to whom they should reply with questions. Adding an SPF record will permit your email servers to approve of our servers sending emails on behalf of your system.
Subject Line
Enter your email subject line in this section. Use supporter data like their first name in your subject line.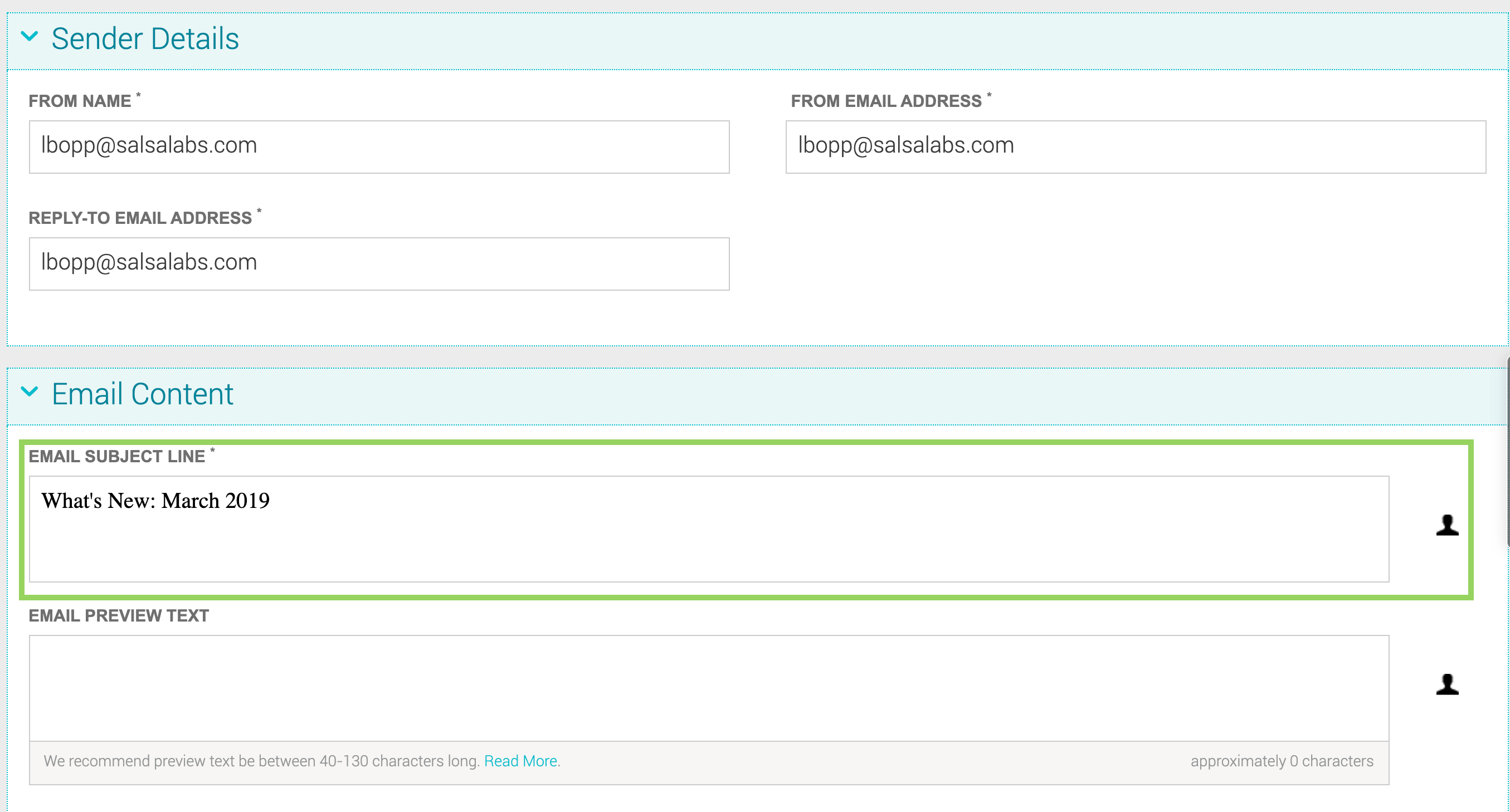 Email Preview Text
Currently, more emails are opened on mobile devices than on desktops. Your preview text should be between 40-130 characters long to ensures that your preview text will be visible in both desktop and mobile email clients.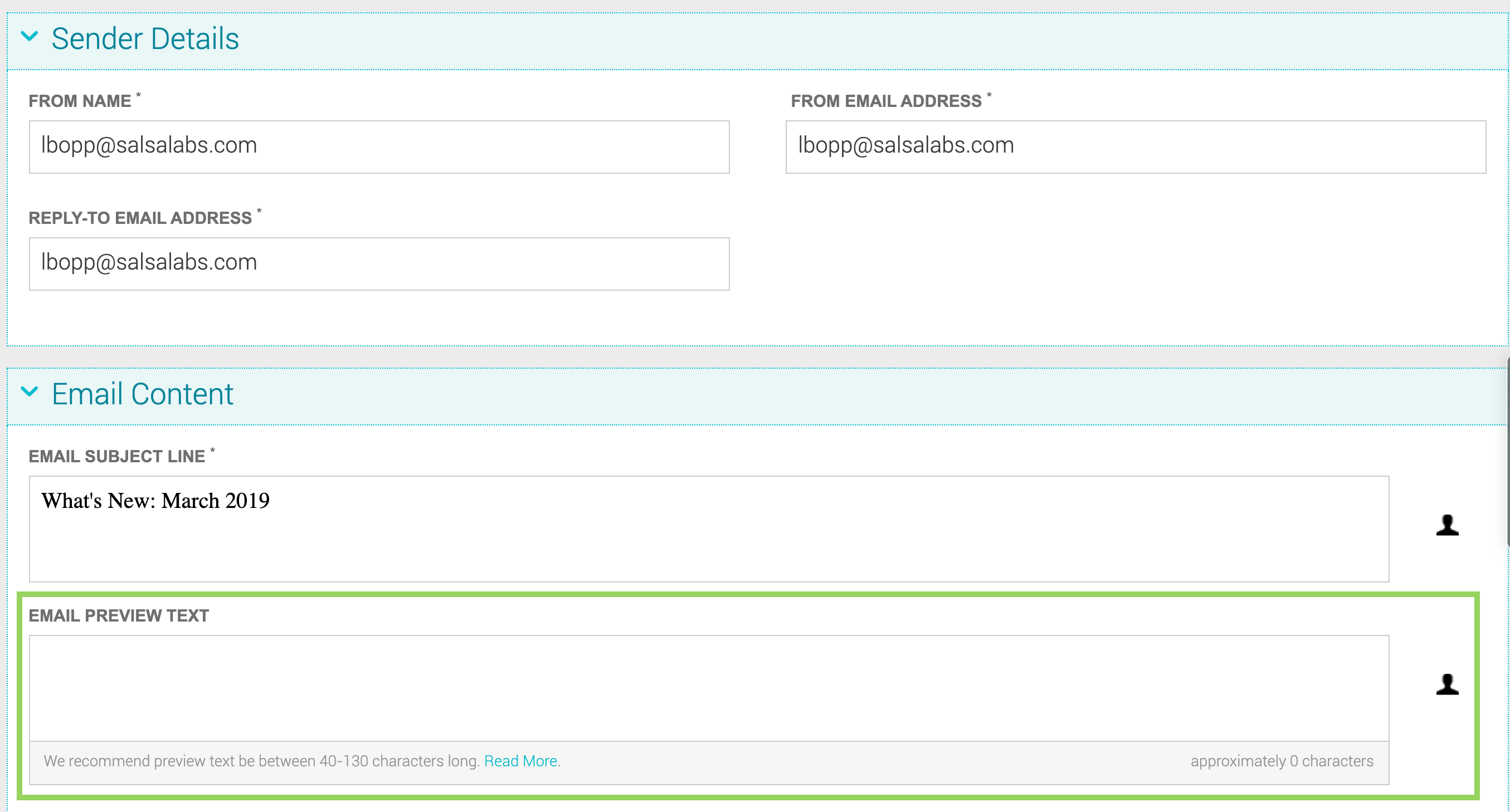 Status
The Email Status indicates whether the email is still in draft mode or whether it has already been sent.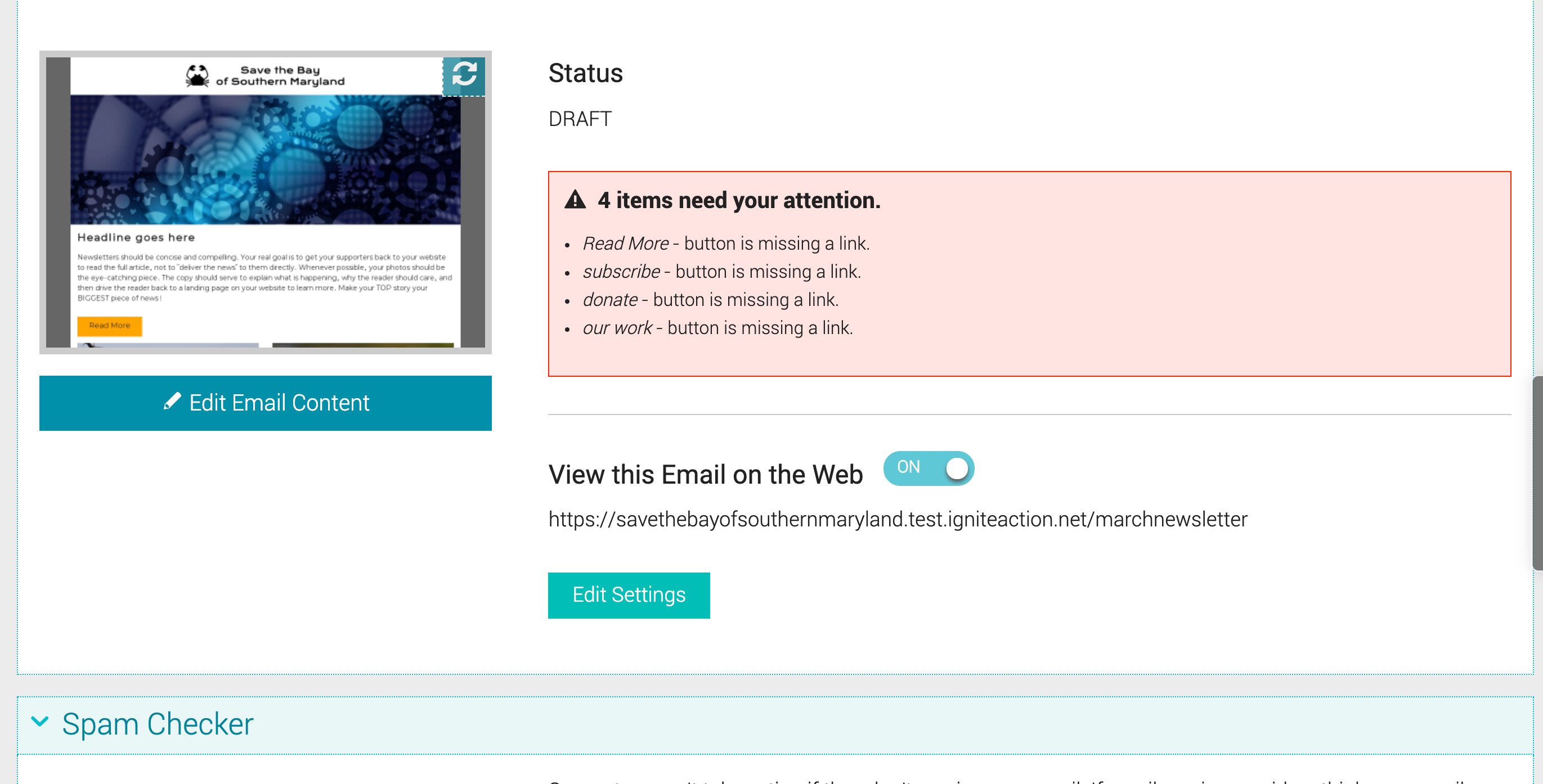 Edit Email Content
The Visual Editor contains many similar tools across Salsa Engage, so you'll create the body of your message very much like you create forms in Activities. See The Visual Editor for Activities and Messaging for detailed directions. Since most of the Element options are covered in the Visual Editor article, we'll cover only the Elements specific to email:
The Text Box—When you click the Pencil icon in the Form field, you'll see the 'Edit Text' window. The "Insert Personalized Field" button is available for only Emails. (This is the same button available to you at the end of your Subject Line field, above.) This button opens a window that enables you to personalize your message with a merge field (or fields). Once you're done, click the Save Content button.

OrgInfo—This control enables you to enter your org info where you want it. You'll notice these are all merge fields. Merge fields pull your info automatically from your default settings as the email blast is being sent. Remove any merge fields that you don't want. You can also click and drag to reorder them.
Web Email Settings
This toggle enables you to automatically publish a web version of the email, hosted by Salsa Labs, that supporters can see by clicking a link in the email. This is useful if you have images or other elements in your email that may be blocked by email clients or if recipients want to share the email on social media.
Click the Edit Settings button. The settings dialog box appears.
On the Web Version Settings tab, enter a Page Title.

The Page Title appears in the browser to remind users what page on your site they are viewing, and also helps search engines find you a little easier. This is public-facing so make it concise and descriptive.

Enter a URL.

This URL was created using the Form Name you picked when you started building the form.

Click the Web Version Status tab.
Select an option:

Leave the Stay Published radio button selected if you want the online version of the email to remain available indefinitely.
Click the radio button for Redirect at date and time to following page to redirect the supporter to a different URL after a given time and date.

Click the Social Share Attributes tab.
Add a Title for the social post that your supporters will share.
Add a Description or the message you want your supporters to share.
Add an Image that viewers will see when your content is shared on social.

Images must be no smaller than 200px by 200px and no larger than 5MB. For best display, select an image 600px by 315px or bigger.

Click Save Configuration» when you are finished.
Spam Checker: What's Your Score?
Supporters can't take action if they don't receive your email. If email service providers think your email resembles spam messages they've seen before, they simply won't deliver them.

Click the Request Your Score button to evaluate your email's links, images, and content. A cumulative Spam Check score of 5.0 or higher means you'll likely hit spam traps.
Once you're done making your choices, you can save, go back, or move forward in the process and Get Ready to Send Your Email by clicking Next: Final Steps».
Step 5: Get Ready to Send Your Email
Send a Test Message
A close approximation of the final email can be seen in the Preview. An even better approximation is a Test email that you can send to yourself.
Enter the test email address, and then click the Send the Test! button.
Send Your Email Now or Later
If you want to send your email right away, leave

Send Now

selected and click the

Send Now

button.

If you want to schedule the email to send at a future date and time, click the

Send at a Specific Time

radio button:


Click in the first box to set a date.
Click the next drop-down box ("at") to choose a time. The timezone is the local timezone of the campaign manager saving the time.
Click the

Send Later

button and your email will go out at the date and time you set.
You can cancel email delivery up to five minutes before the email is scheduled to go out. If you need to stop a scheduled blast, click the Cancel the blast option that will be present on the Status tab. Canceling the blast removes it from the send queue so you can make modifications and reschedule your email to send at whatever date and time you would like.
If you wish to send an email blast at the same time in different timezones, please see the article on Rolling Timezone Delivery.