Take a moment to identify your Membership levels, benefits, etc. using the guide below. This page was constructed to help you organize your Membership details. Print the page to use as a scratch pad.
Membership Needs
What is your first membership type? For example, individual, family, etc.
Are there different categories or levels of this membership? If so, what are their names?
Are there specific benefits (privileges or gifts) that go along with each category or level?
How long can this level of membership last? If you can purchase different lengths of membership for different amounts, please enter 1 line for each different price point.
What is the price to the subscriber of each level of this specific membership type?

NOTE: If you have a fixed price for your membership levels instead of ranged pricing (family memberships are between $150-$400, for example), this works best with Salsa CRM.
| | | | |
| --- | --- | --- | --- |
| Benefit/Level Name | Benefits | Cost | Length of Membership |
| | | | |
| | | | |
| | | | |
| | | | |
| | | | |
| | | | |
Do you have a specific finance account or program [Fund] that your subscriptions fund? Each different Membership "drive" would be a separate Appeal under a Membership Campaign.
| | | |
| --- | --- | --- |
| Fund Name | Appeal Name | Campaign Name |
| | | Membership |
Do you have a specific letter or letters that should be sent out when someone purchases this membership type?
Do you have a specific letter or letters that should be sent out when someone renews this membership type?
Do you have a specific letter or letters that should be sent out when someone is close to their expiration date for this membership type so that they may renew?
Program Configuration
A program is the overall membership scheme that you wish to track. If you have a program for board members where there are material differences in benefits or subscription periods than for the general public, create separate programs for each.
From the main menu, select Manage > Membership > Configuration. The Program Configuration

pop‐up will appear.

From here you can

Add

a new Membership Program

.

When you add a new Membership Program you will need to enter the Membership Program Name.

Select whether or not this program is

Active

(if not currently active, you will want to be sure to update this when the membership is active)

Select when the membership program activates for the constituent by selecting the

Start/Activation Date:

Immediately

Monthly

Quarterly

Annually
Select how you Highlight subscriptions
on the constituent and membership screen in terms of how close member subscriptions are to expiration.
Click the Save

button.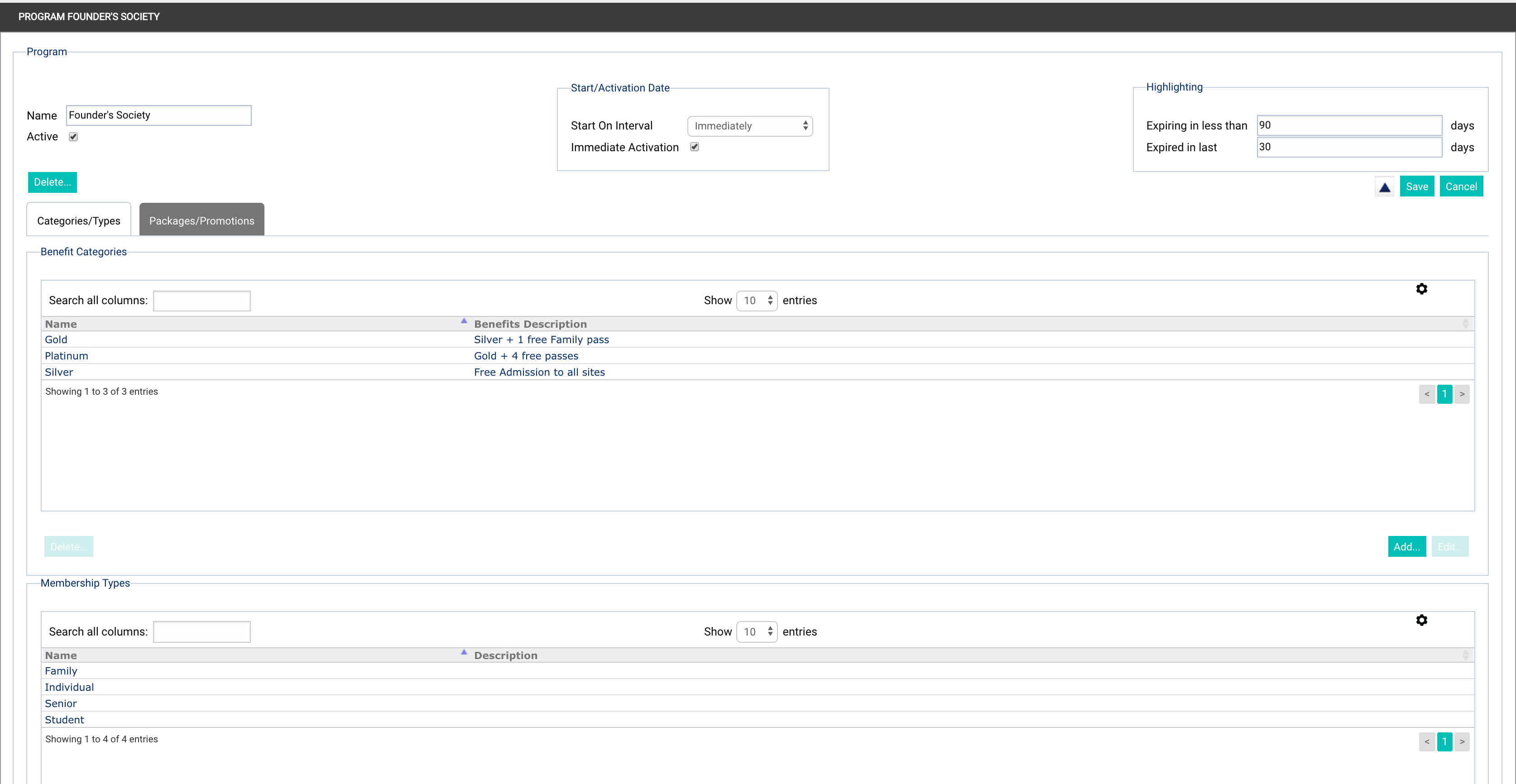 Categories and Types
Set up the Categories/Types for this Membership Program. To do this, select the Add button which corresponds with the Benefit Categories or Membership Types.
Benefit Categories—These define the benefits of membership at a specific type. For example, your program may have Silver, Gold, and Platinum levels of membership that convey different benefits for higher categories. Silver membership gets free admission. Gold membership gets free admission plus 10% off in the store. Platinum membership gets all of that plus admission to special events.
Membership Types—Examples of types would be Family, Individual, Senior, Student, etc.
Packages
Define the Packages, which are combinations of benefit Category and membership Type. When entering the Packages, you will select the proper Category that you created in the previous step and the corresponding Type. Following our examples, that means you could have...
| | |
| --- | --- |
| Benefit Categories | Membership Types |
| Silver | Senior |
| Silver | Individual |
| Silver | Student |
| Gold | Family |
| Gold | Individual |
| Gold | Senior |
| Platinum | Family |
| Platinum | Individual |
| Platinum | Senior |
Enter the Cost and Value and indicate if the Package is currently active.
Cost—How much the member pays.
Value—How much tangible value the member gets in return, such as a t-shirt and a mug worth $40. This portion is essentially not tax-deductible and will be subtracted from the Cost for Tax Deductible values on a Donation record.
The Duration is how long this package will be offered. You can also create and choose default Welcome Letters, Renewal Letters and Notice Letters. If you have members who have been part of this membership package for quite a while, and you will be phasing it out as an active offering, you can select the Allow Grandfathering option. For the finances, you can set a default Fund, Campaign, Appeal and Donation Letter. The Donation Gift Letter can be used when someone has purchased a membership for someone else. This letter is for the recipient of the membership gift.
Promotions
When entering the Promotions, you will Name the promotion (i.e. specials you are currently running, Groupon offerings, Living Social offerings, etc), enter the Discount (percent of discount or dollars off of typical cost), the Start and End Date. The Type allows you to select if this is for All members, new or renewing. Choose your letter defaults and defaults for Fund, Campaign, Appeal, Donation Letter and Donation Gift letter. These are not required fields, but are meant to help speed up the member entry/recognition process.

Note: If you don't select any letters for the promotion and you leave them blank, the thank yous on the package selected will become the defaults. This is true of funds, campaigns and appeals as well.