Introduction
According to the M + R 2016 Benchmarks Study, online giving increased 19% from 2014 to 2015. Branded online donation forms are shown to raise six times more funds than generic donation pages. Following the Salsa Fundraising workflow, you can create as many branded online single and multi-page donation forms as you'd like.
Note about Fundraising Activities that were created before Multi-step Forms were introduced: Older forms will continue to work just as they always have. If you want to upgrade existing forms to be multi-step, delete the existing Form element and insert the Multi-step Form element in its place. If you do this, make sure to rework the step navigation and button formatting so that it looks the way you want it to.
Security
All Engage forms are HTTPS secure, even when they are embedded in your own website via widget code. Click here for more information.
You can use the following logo if you want to reassure your donors that their transactions are secure. To do so, download the image and insert it into your form as a graphic.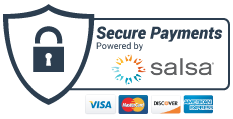 Step 1 : Getting Started
Click Activities from the left navigation > Fundraising tab.
Click the + Create a Fundraising Form button to the right of the window. 
The Basics tab is selected by default. Fill out the Name and Add a description fields. See Activity "Basics" for more information.
If you use Salsa CRM, select a Fund, Campaign, and Appeal to be automatically applied to online transactions processed by the Salsa Engage form. When a donation is made, the information is pushed down to Salsa CRM. If you do not select a Fund, the default Fund ("Salsa Engage Default") will be applied to the transaction in Salsa CRM. Note, these fields are for your organization's internal use only; they are not programmatically tied to the designation option that supporters will see on the Fundraising form itself.
Click the Next: Compose >> button in the lower right hand corner to continue. 
Step 2: Compose
Salsa Engage features pre-defined form layouts, for embedded single page and multi-step forms. While Rows and Elements are pre-defined, they are also editable in the Compose step. The Form Element or Multi-step Form Element is central to any fundraising form. See Visual Editor for Activities and Messaging for detailed information about these Elements.
Select a layout.
Note, once you've made your Layout selection and move on to the Composition tab, you will not be able to change the layout. If you find that the layout you've chosen isn't what you need, you'll need to start over with a new form. Before you give up on the layout you chose, keep in mind that you have plenty of editing choices in the Compose tab. If you need to, you can go back to the Setup page and select the cogwheel icon in the lower left-hand corner to bring up the Delete option.
Click the Next: Composer >> button. The second Compose window will appear, in which you can add and change form content.
Choose a payment gateway. This is the payment processing method that will be used to process donations. Click here for more information about setting up payment gateways.
Enable third-party analytics if you wish. Click here for more information about third-party analytics.
In the form itself, add content, images, and additional Elements. (If you selected the Blank template you will have to add Elements before you can add or create content.) Note, the form uses Multi-step Form element by default. If you want a form that is only a single step, delete the Multi-step Form and drag the Form element onto the page. See Visual Editor for Activities and Messaging for detailed information about Elements.

To add additional Elements, click the Elements tab at the top right of the screen, click and hold the Element that you want to use, and drag it onto the Form.

Designations - Designations are unique to the Form Field Element in Fundraising forms. If you use Salsa CRM, the information that supporters enter into the Salsa Engage Fundraising form will be pushed down to Salsa CRM. It's important to keep in mind that a Designation made by a supporter on the fundraising form is different from the Fund that you used on The Basic tab. Fund on The Basics tab is specifically tied to an account in your accounting software. Designation, in contrast, is not necessarily tied to a Fund. Your organization determines what the Fund will be when you fill out The Basics tab, but the donor chooses the Designation on the fundraising form. The Fund may be something like "Operations Fund", whereas the Designation may be something like "blankets for kennels" or "winter jackets for homeless". Note, to force donors to choose a designation, you have to check the Required check-box and select None as the default value when you configure the Designation field.

Dedications - Dedications are unique to the Form Field Element in Fundraising forms. If you use Salsa CRM, the information that supporters enter into the Salsa Engage Fundraising form will be pushed down to Salsa CRM.

Tip: The best way to learn what options are available for elements that are already on the form is to hover over any element you are interested in, click the pencil icon, and experiment with the various options. For example, if you are in a Fundraising form, click the pencil icon for donation amount buttons. A dialog box will open in which you can change the type of button (Traditional or Radio Style); whether a donor should have options for a One Time Gift, Recurring Gift or Both; suggested donation amounts; how often the donation will be collected (Once a Month or Once a Year); and the button design. If you've made changes that you do not want to keep and you don't want to go to the trouble of reversing your changes, click Cancel to close the dialog box without saving changes.
When you are finished with the form, click Save Settings >>. If you cancel out (X) before saving your changes, none of your changes will be saved.
Step 3: Publish
Publish your form after you have it set up the way you want. Click here for more information. When you select Publish This Form, the page will be rendered, a URL hot link will be generated, and widgets will be created. You can also see the available date, which shows when the page was published and made available for use. Most importantly, the form WILL BE LIVE.
Embed Widgets in Your Web Pages
After you publish, Salsa Engage generates widgets that enable you to add a donate button or your donate form to any web page that you own.
Note: You'll probably need admin level access to your website to use this widget code.
Click here for more information.
Step 4: Analyze Results
Once you have published a fundraising form and collected at least one donation on the form, you will find new information generated on the Results tab of the form. The first piece of information you will see at the top is the total amount raised on this particular fundraising form.
To the right, you'll see an option to change the timeframe (30days, 90days, 1year or Lifetime) of when the data for the graphs in the lower section is pulled.
If you have a specific date range you want to filter by, click the date dropdown and select the range of days and click Apply.
See Performance Statistics for Actions and Messages for detailed information.