Use the Configuration menu to set the global configuration options for Salsa CRM that affect all users. Typically, the System Administrator sets the Configuration, however anyone who has Configuration permission can modify these settings. All modifications made to the Configuration settings will be applied globally and not to individual users.
Check out the Configuration Overview training course in Salsa Scholars.
To view the Configuration screen, from the main menu, select Manage and then Configuration.


The screen consists of two panels. The left panel is the Explorer. The right panel changes depending on what topic is highlighted in the Explorer.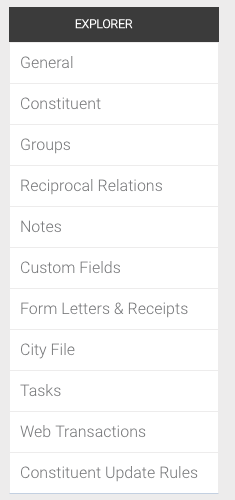 When the user selects Configuration from the Manage menu, Salsa CRM by default, opens to the General settings panel. From this screen, the organization name, fiscal year, password requirements, search return settings, email, and spouse designation are entered.
The Constituents node contains two tabs, Main and Contact. The Main tab includes options to add, edit or delete a Constituent Title, Name Suffix, Race, Organization Type, Group, Religion or Relation. The Contact tab allows you to add Contact Social Types, Contact URL Types and Correspondence Reasons.
The Reciprocal Relations node contain options to add, edit or delete customized Reciprocal Relations.
The Notes node contains options to add, edit or delete General Notes Purposes and My Salsa CRM Notes Purposes.
The Custom Fields node contains options to add, edit or delete custom fields on the main Constituent screen, Donations screen, or the My Salsa CRM screen.
The Form Letters & Receipts node contains a list of available Form Letters with the ability to add Form Letters, edit the Name and Description of a Form Letter, or Delete existing Form Letters.
The City File node contains options to add, edit, delete, or merge cities that are saved in your database.
The Tasks node contain options to add, edit, copy, or delete Programmable tasks.
The Web Transactions node contains options to configure a free donation page for the web.
The Constituent Update Rules node contains options to

define how Salsa CRM handles updates to existing constituents that are pushed from Salsa Engage.