The Pledge Summary Report lists projected pledge collections 24 months into the future. Projections can be based on your actual collection rate or a proposed collection rate.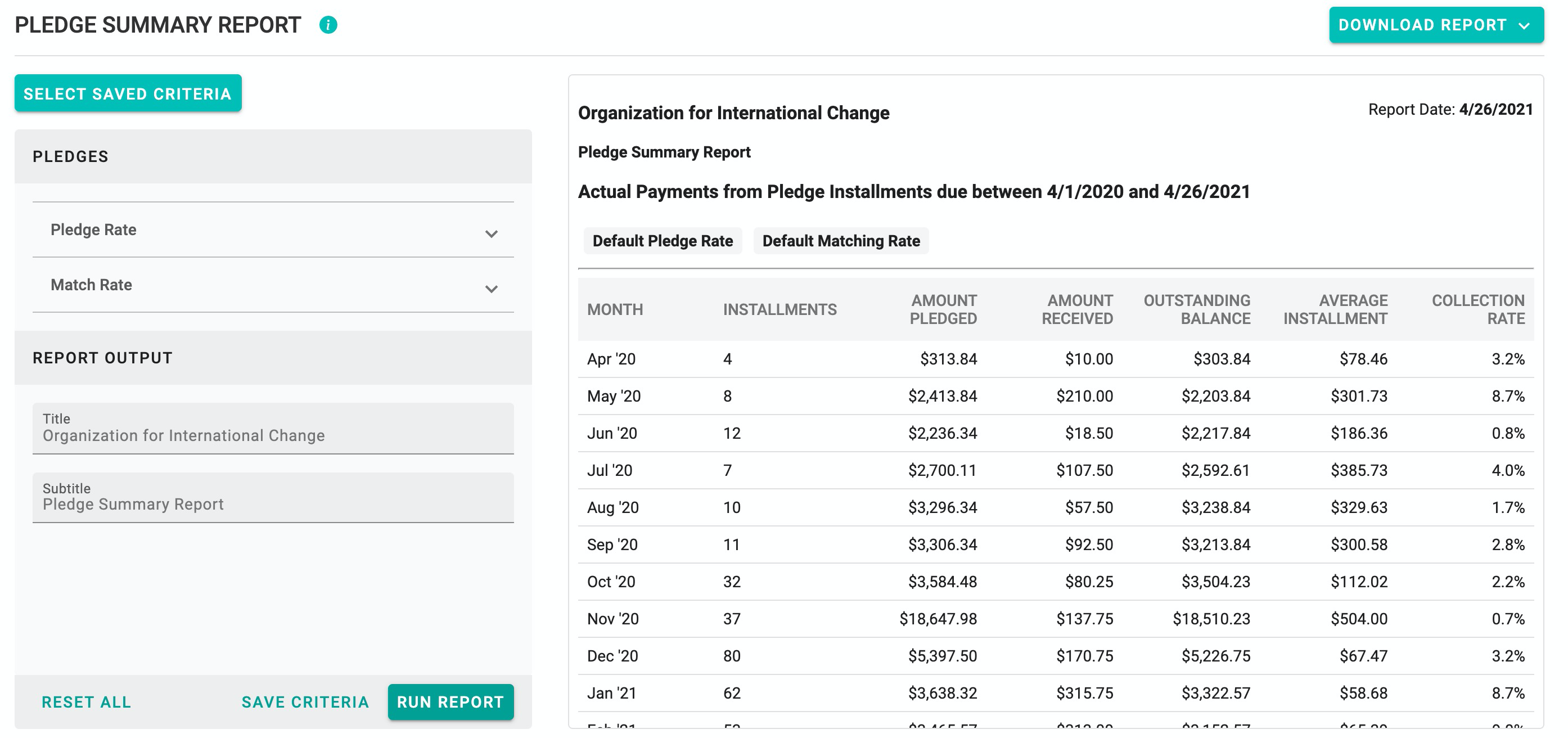 To open the report...
From the CRM Toolbar, select

Reports > Built-in Reports

.

Select the

Pledge Summary

report from the reports landing page. The report screen appears.
Report Definitions
This report defines the following conditions:
Actual pledge payment collections from the prior 12 months, including...

Collection Month

Number of Collected Installments

Amount Pledged (even if written off)

Amount Received in that month

Outstanding Balance

Average Installment value

Collection Rate

Projected pledge payment collections for the next 24 months, using the calculated collection rate equal to the average collection rate for the past 12 months
Report Criteria
There are filtering criteria on the left side of the report window that you can select to determine what conditions include or exclude donors in your report. Criteria labels indicate whether they are to include or exclude information from your report.
If you select any of these criteria, you will need to click the Run Report button on the lower left side of the window to have the report reflect the change in criteria. You may define the following report criteria.
Pledges
Select from the following options by checking the appropriate box:
Pledge Rate

Use Calculated Pledge Rate

Use Custom Pledge Rate—If you want 21%, type '21'.

Match Rate

Use Calculated Match Rate

Use Custom Match Rate—If you want 21%, type '21'.
Report Output
The Title automatically populates with your Organization's Name. If you wish to change the Title for this report, you may do so by placing your cursor in the Title field and typing a new title.

NOTE: To permanently modify the Organization Name, users must have the Data-Related

Configuration

permission to change the Company Name in the

General Configuration

.
The Subtitle automatically populates with the report name. If you wish to change the Subtitle for this report, you may do so by placing your cursor in the Subtitle field and typing a new title.