Salsa Labs has developed an API integration between Salsa Engage and Salesforce to provide a best-in-class integration for clients who want to sync Engage's email marketing and online engagement with their Salesforce CRM database.
Salsa Engage syncs supporters, activity, and engagement data with Salesforce. Salesforce in turn syncs updates made to contacts and other mapped data with Engage. A bidirectional approach allows relevant marketing engagement data to flow into the CRM while providing for easy segmentation and automation to Engage.
In Salesforce you'll install a small application that loads the required objects, triggers, and custom fields that the integration will expect. Most of the configuration, however, takes place in Engage.
Synchronization between Engage and Salesforce always runs in the following sequence:
Engage > Salesforce
Salesforce > Engage
This keeps data flowing between Salesforce and Engage. The timing of the integration is configurable in Engage.
How to Use This Documentation
Feel free to use the documentation as needed. Depending on your role, you may find some documents more important than others. If you are the one integrating Engage and Salesforce, you should have a comprehensive understanding of the integration, so you'll want to read all of the documentation.
Integration Workflow
The following workflow diagrams illustrate the integration process for various data moving from Engage to Salesforce and vice versa:
Beige boxes indicate the Engage data.
Blue boxes indicate the Salesforce data.
Grey boxes indicate Salesforce Custom Object data. 
Arrows indicate the direction of information flow from one application to the other through the integration.
Supporters to Contacts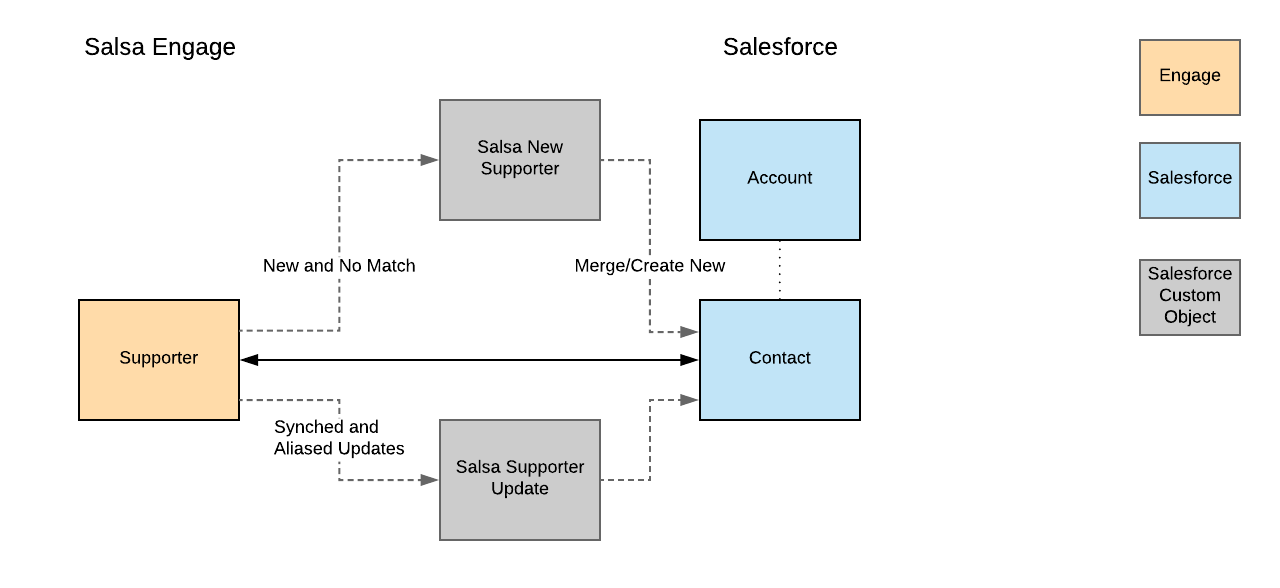 One-Time Engage Donations to Salesforce Campaigns, Contacts, and Opportunities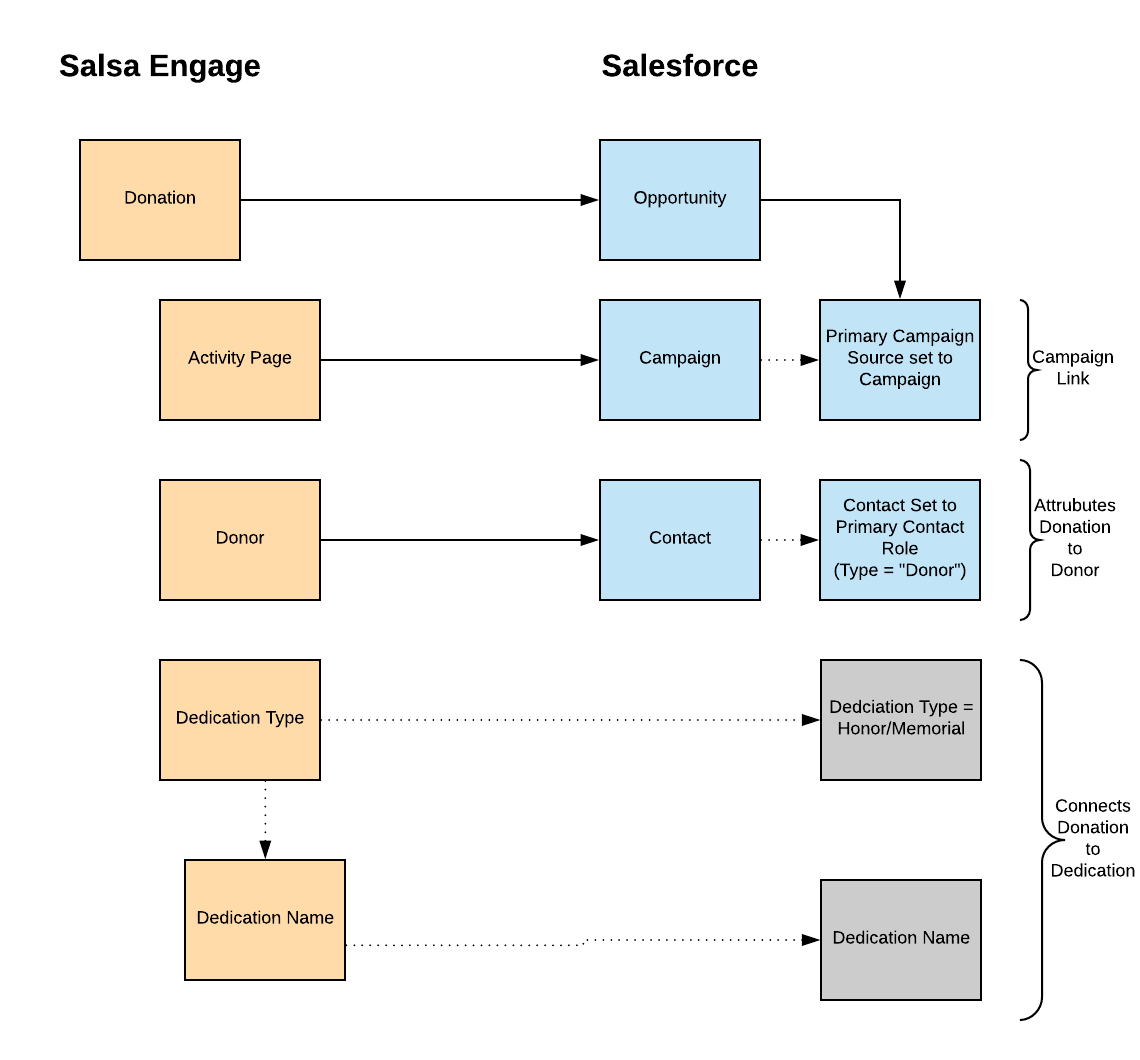 Engage Recurring Donations to Salesforce Campaigns, Contacts, and Opportunities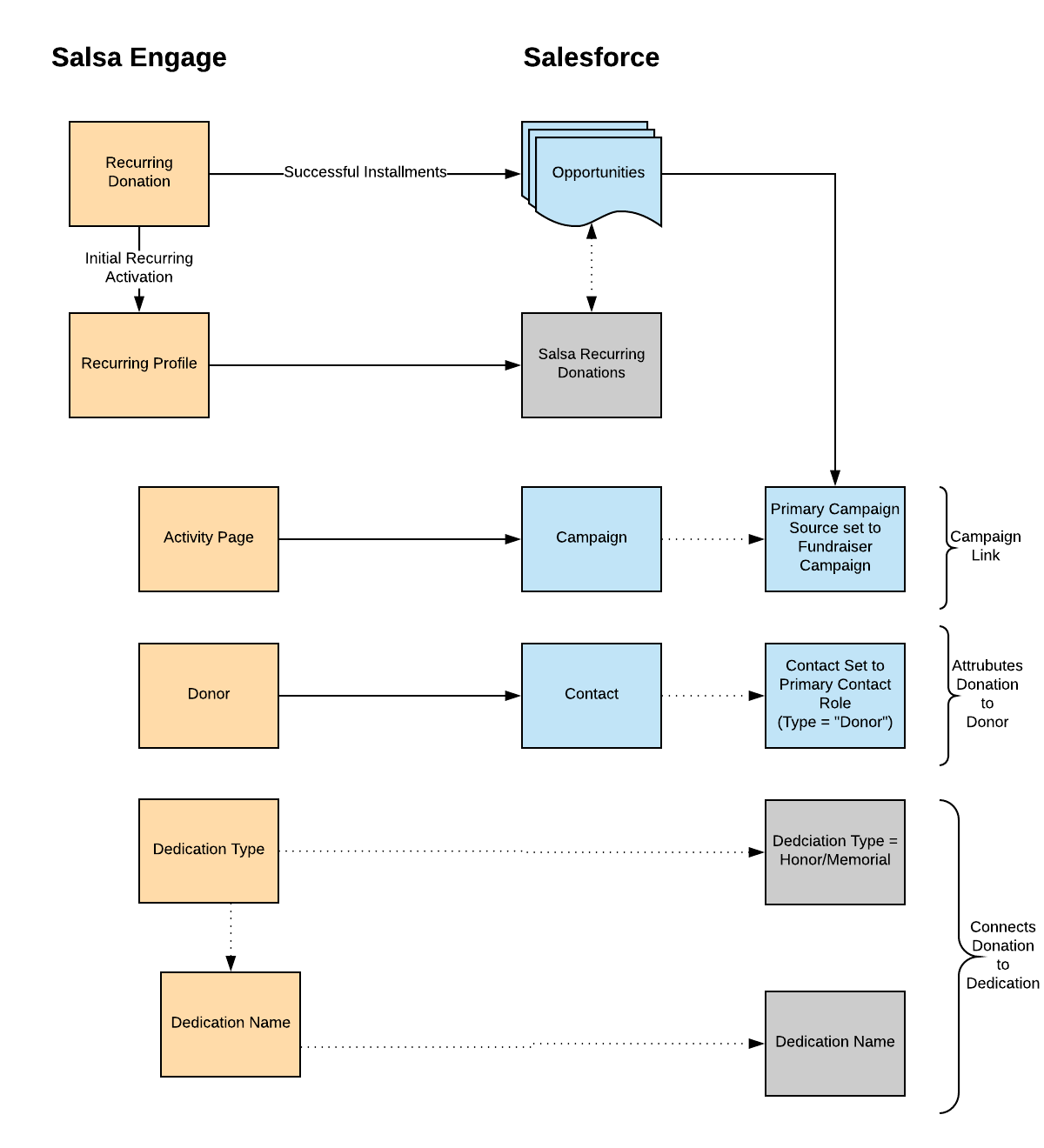 Engage Advocacy Actions to Salesforce Contacts and Campaigns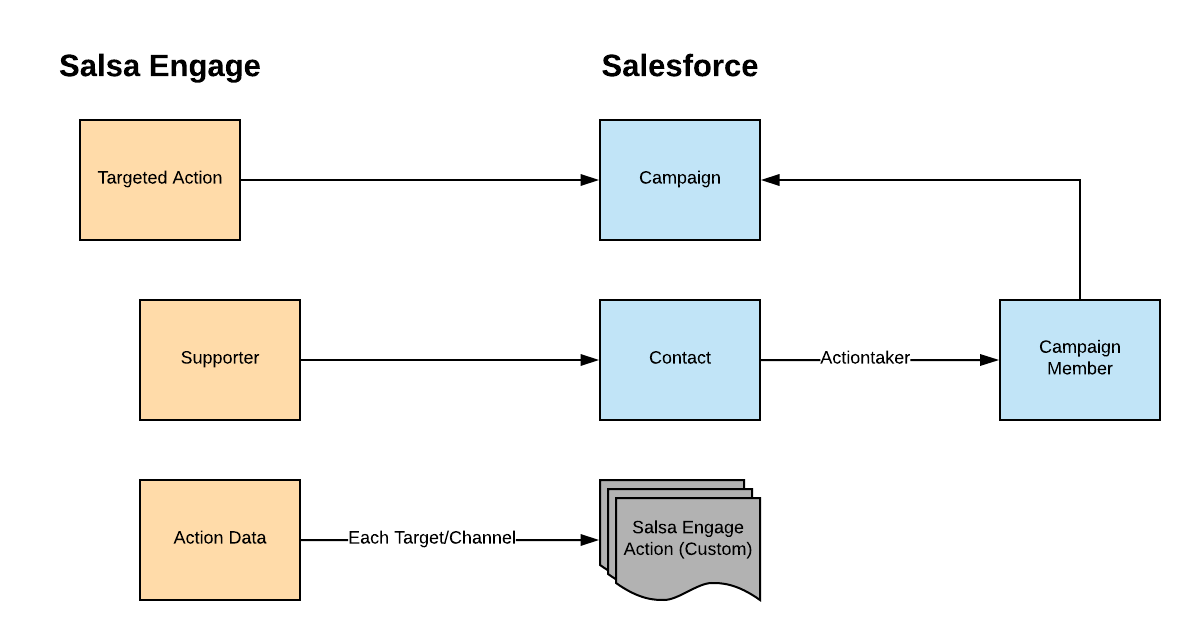 Engage Event / Peer-to-Peer Fundraising to Campaigns, Contacts, and Opportunities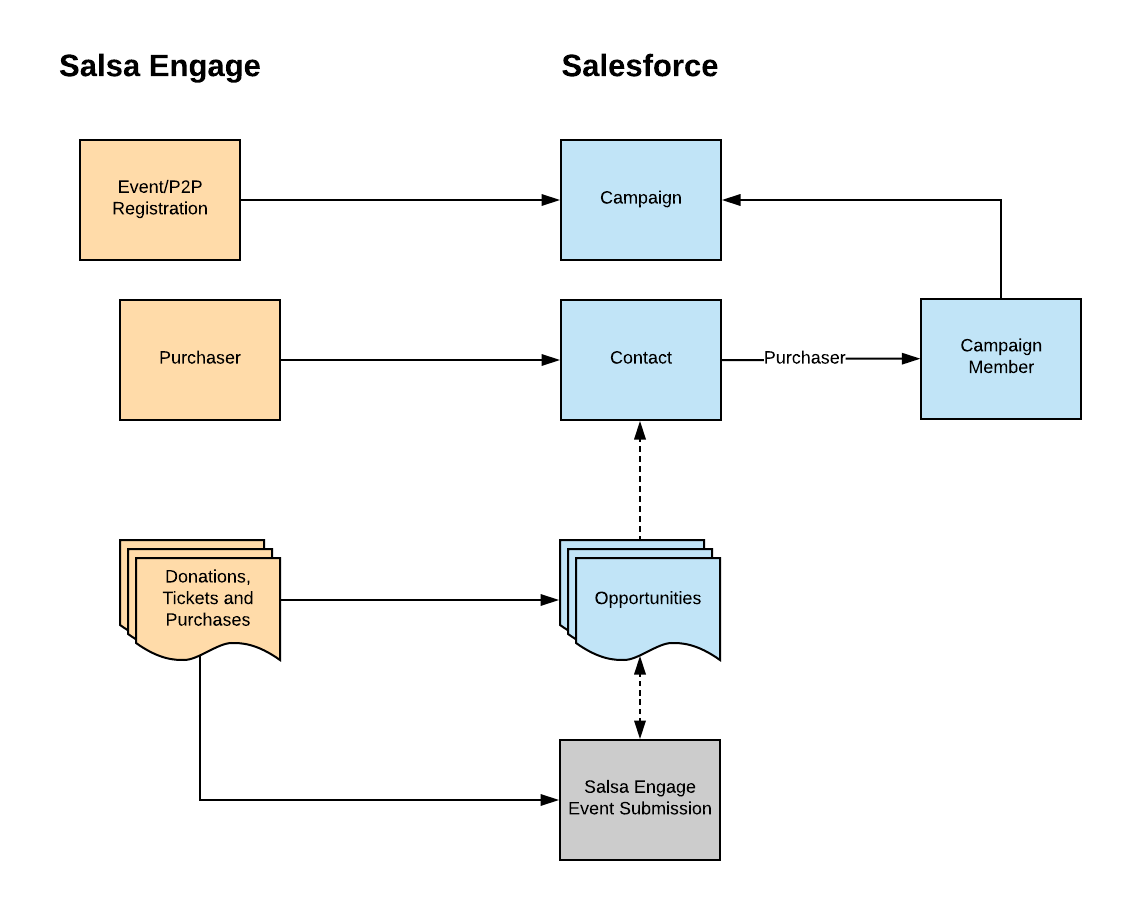 Integration Features
Salsa's integration contains a number of flexible, configurable options to assist the data transfer:
Field mapping creates a link between Salsa Engage supporter and donation data and Salesforce contacts and Opportunities, controlled by initial and ongoing data synchronization rule sets.

Identify the optimal automatic sync frequency schedule.

Create new Salesforce contacts or potentially match with existing Salesforce contacts from new Engage supporters.

Using Engage as Your Online Marketing Platform with Salesforce
When you integrate Salesforce and Salsa Engage, Salesforce is the CRM of record, and Salsa Engage provides an efficient all-in-one solution for email, online advocacy, and online fundraising. This reduces complexity and replaces various individual tools such as Classy, MailChimp, etc. Data from these online Engage activities sync to Salesforce. 
What Salesforce Versions are Supported
The integration works with all of Salesforce's standard versions and the Nonprofit Success Pack. Again, Salesforce will be the database of record; our objective is to work with existing Salesforce and Nonprofit Success Pack data modeling and functionality—enabling users to easily use built-in Salesforce tools.
What Syncs and How Often Does it Sync
The integration links Engage data points to Salesforce data points through a field mapping interface. The integration queues up a sync to be run at a scheduled time controlled by Salsa Engage settings. Standard Salesforce data fields like Contact demographics, Opportunities, and Campaigns are logically mapped to Engage supporter data points. Custom data points, such as Engage Advocacy and Email Marketing tools, are mapped to custom Salesforce data objects.
Since Salesforce limits the number of API calls that are allowed in a rolling 24-hour period, we provide statistics in a convenient dashboard, on the configuration page, that tracks the number of API calls that have been made. The count is an aggregate total of the connected Salesforce accounts total limit.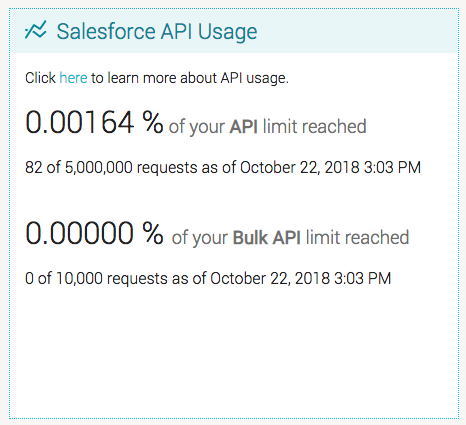 Robust Logging and Error Troubleshooting Tools
Engage contains comprehensive sync logging reporting and sync error troubleshooting tools designed to easily determine why supporters don't sync to Salesforce contacts. Detailed error codes define how to resolve those situations easily and effectively.